Wedding Dresses With Bows On Them
From dramatic to understated, wedding dresses with bows bring charm, romance, whimsy and sophistication to couture bridal wear. Whatever the size of the bow, they are a timelessly elegant design feature.
For London wedding dress designer Phillipa Lepley, bows have become a signature detail on many of the stunning bespoke wedding dresses that she creates. Bows epitomise the elegance and grace of her brand and Phillipa loves to incorporate one little classic detail with a twist on her gowns. She never over designs a dress, generally having that one strong detail that helps to make them so stunning and unique.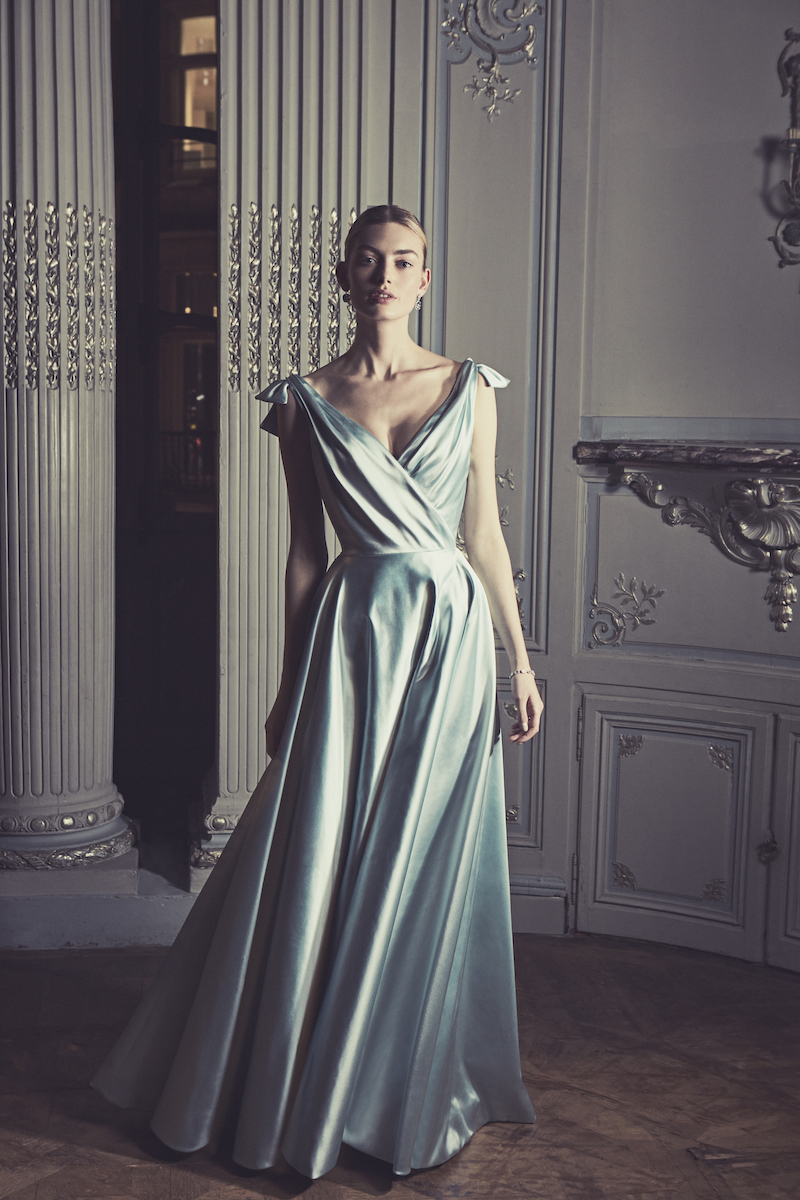 As a bride walks into their ceremony, the wedding dress is the key element in helping to make an entrance and the back of the dress particularly is on show. With this in mind, a number of Phillipa Lepley couture wedding dresses incorporate pretty, feminine and fun details at the back, like statement bows.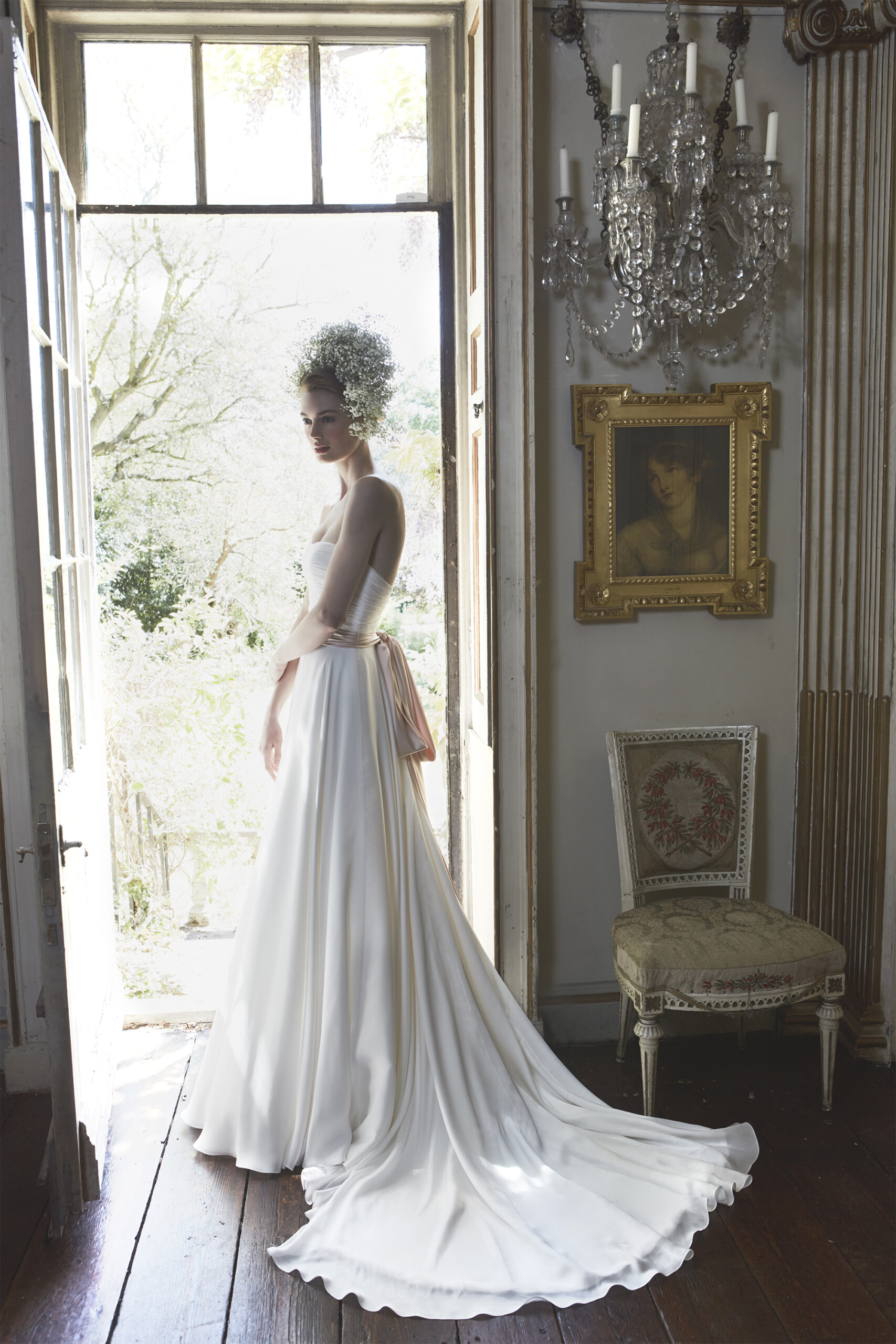 An over-sized sash with a hand-tied bow at the back made from rich, sumptuous duchess satin creates a truly memorable look. The structured fabric helps to define a bride's waist or cinch in a dress that flares out into a full skirt. Ties flowing down the back might extend into a train adding drama to the bride's entrance.
For a more subtle way to wear a bow, a pretty sash tied softly in a pale pink or blue for example, adds a pop of colour when worn against the fresh white, cream or ivory of a simple wedding dress. Any number of colours and styles of belt can be chosen for both the day and evening, to be interchangeable.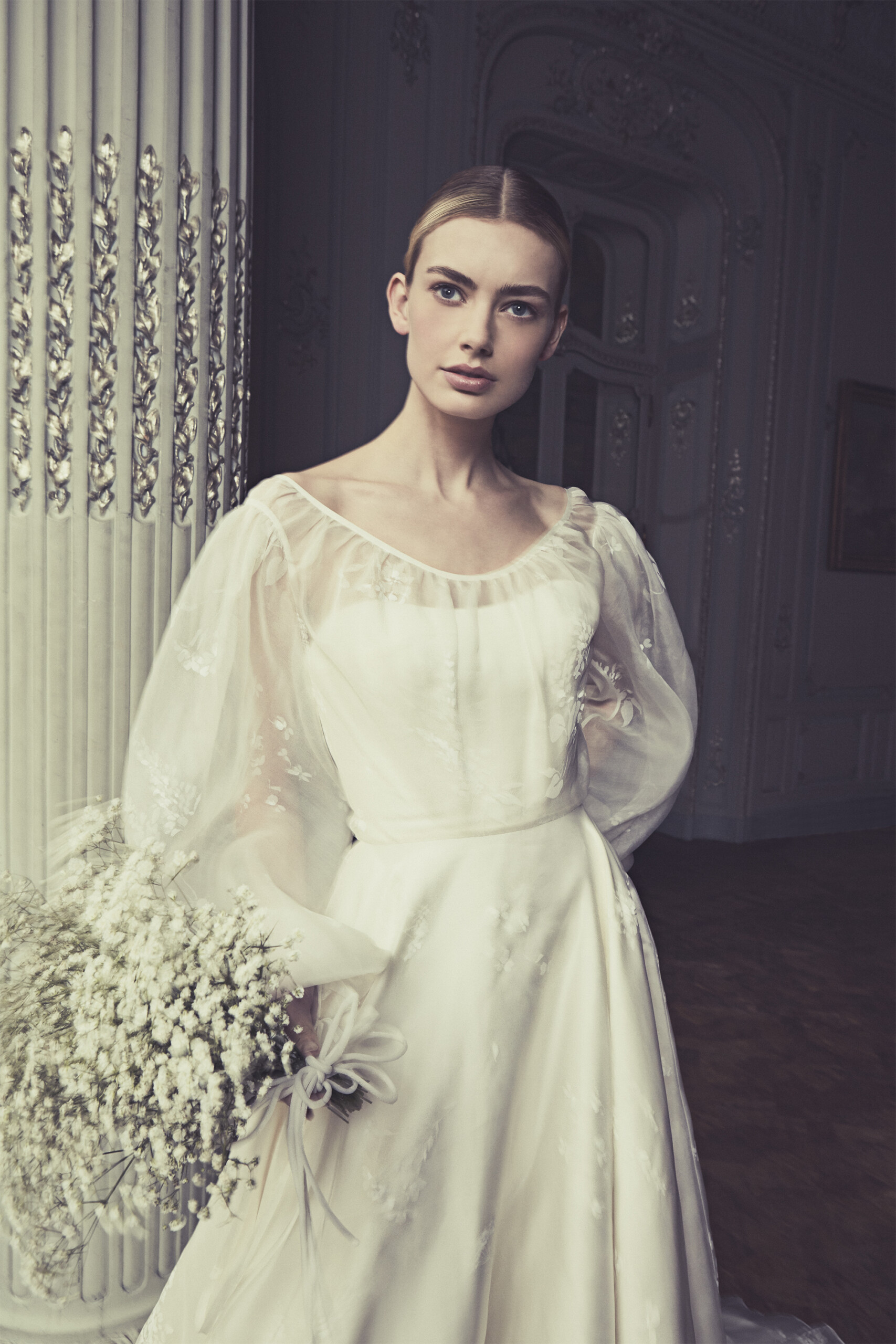 Bows can be wide and bold or just a tiny, understated detail. Phillipa will often use bows as a finishing touch with tulle overlays draped over dresses – this is seen in Vienna Wisteria Organza gown, where billowing balloon sleeves are pulled together by delicate bows at the wrist. While the romantic, voluminous Persephone Pink Honeysuckle has a hand-embroidered, beaded ivory tulle overlay which sits on top of a pink fluid satin gown, neatly belted and hand-tied with bows at the waist of the wedding dress.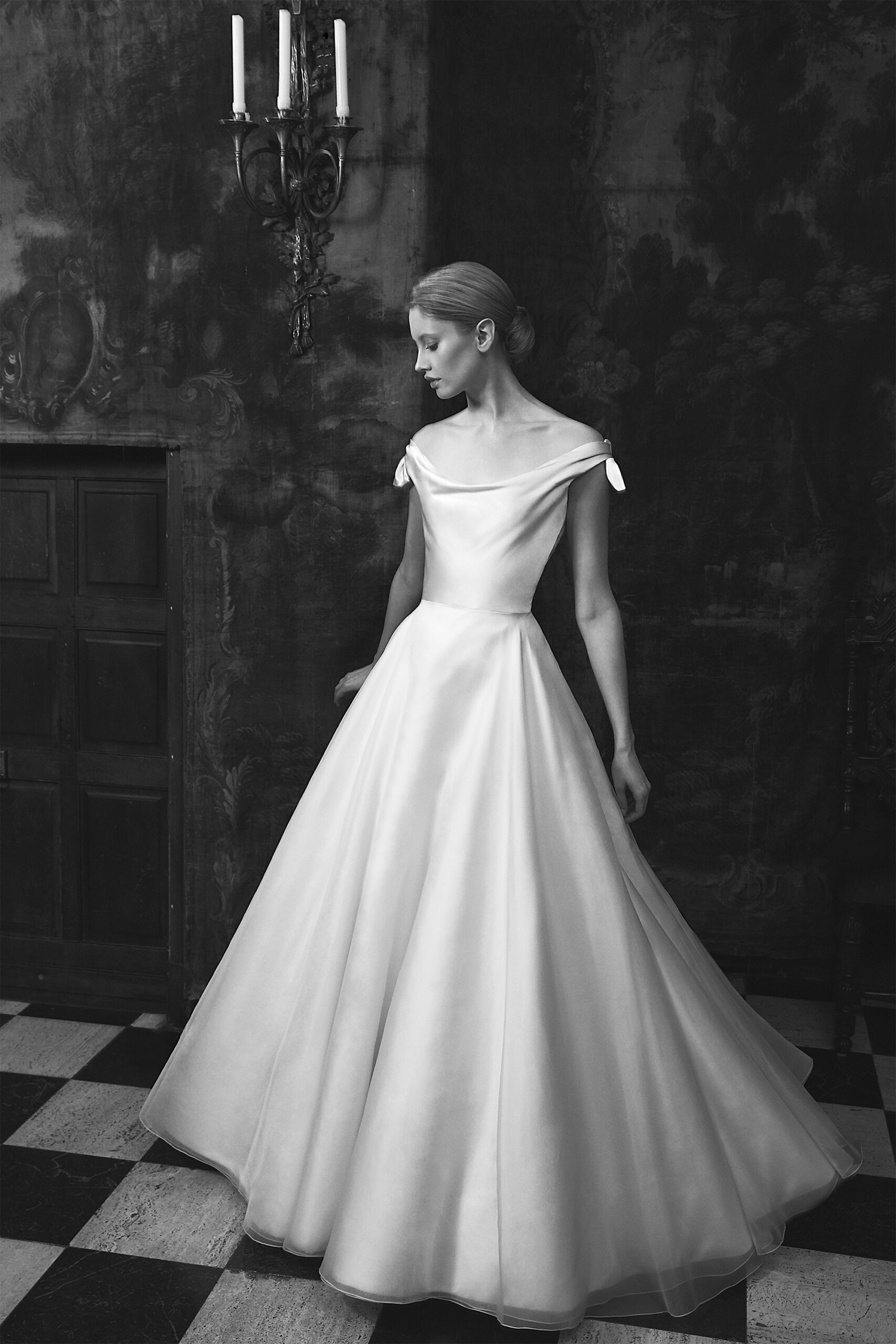 Soft, feminine bows sitting on or just off the shoulder of a bride add a modern touch to wedding dresses that might otherwise be a simple, clean or traditional design.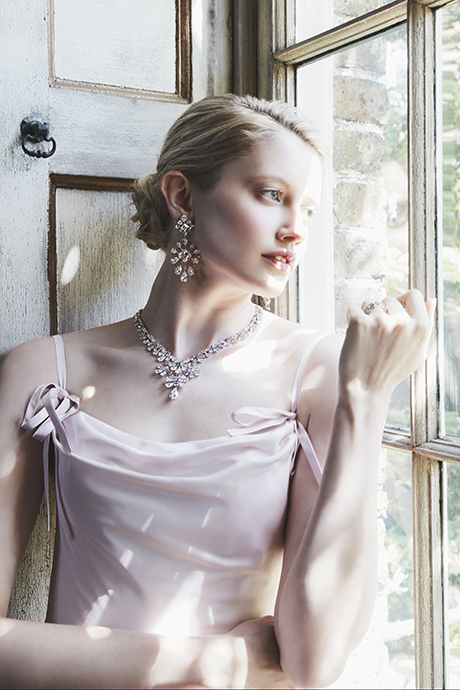 With each bride, Phillipa and her atelier work meticulously on the placement of shoulder bows, to complement their frame perfectly. Just the smallest movement of the bow from the top of the shoulders to the side can change the look of the dress completely.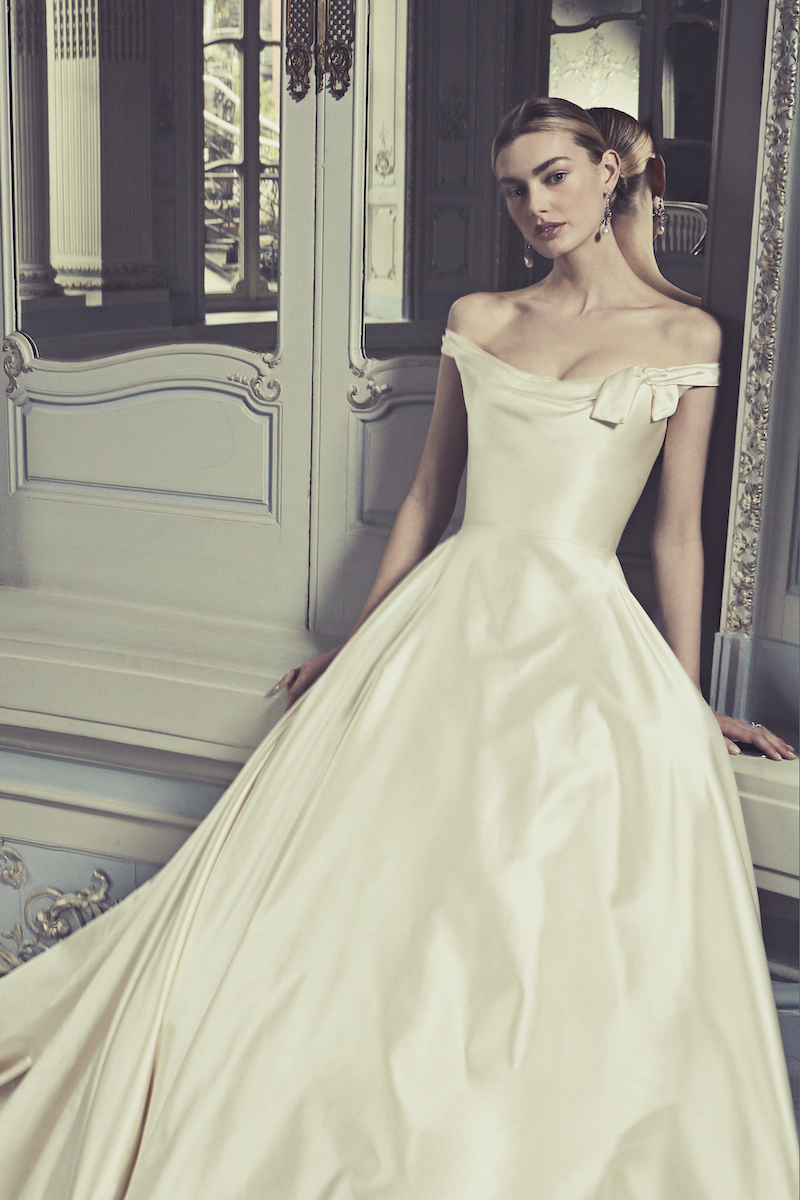 Vienna Décolleté Bow is a classic wedding dress, which was designed from the shoulders down. The delicately draped straps sit perfectly just off the shoulders, with a gently tied asymmetric bow precisely placed to the left. The placement of this bow draws the eyes to the neckline of the bride; it highlights their collar bones as the fabric curves across the chest, finishing with the delicately tied bow. This is a real fairytale look for a bride.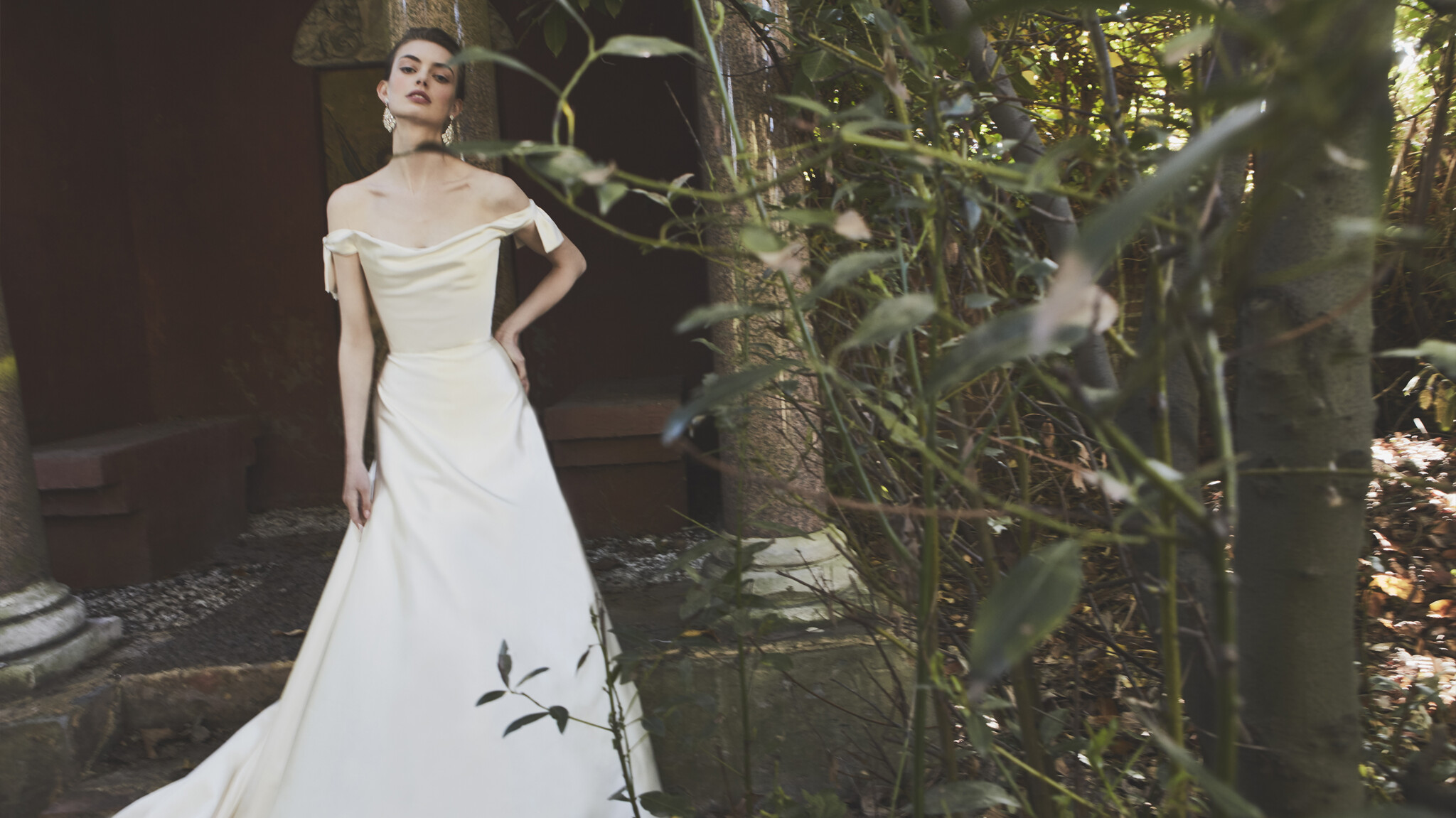 While the Vienna Décolleté Bow draws the eyes to the neckline of a bride, Venice Low Shoulder Bow draws them to the shoulders. This wedding dress is a pristinely-simple duchess satin bias cut style, which has been designed with sumptuous drapes of duchess satin fabric also at the neckline, but blending cleverly into two tied bow straps at the shoulders. The bows give an effortless elegance to the beautiful simplicity of this wedding gown.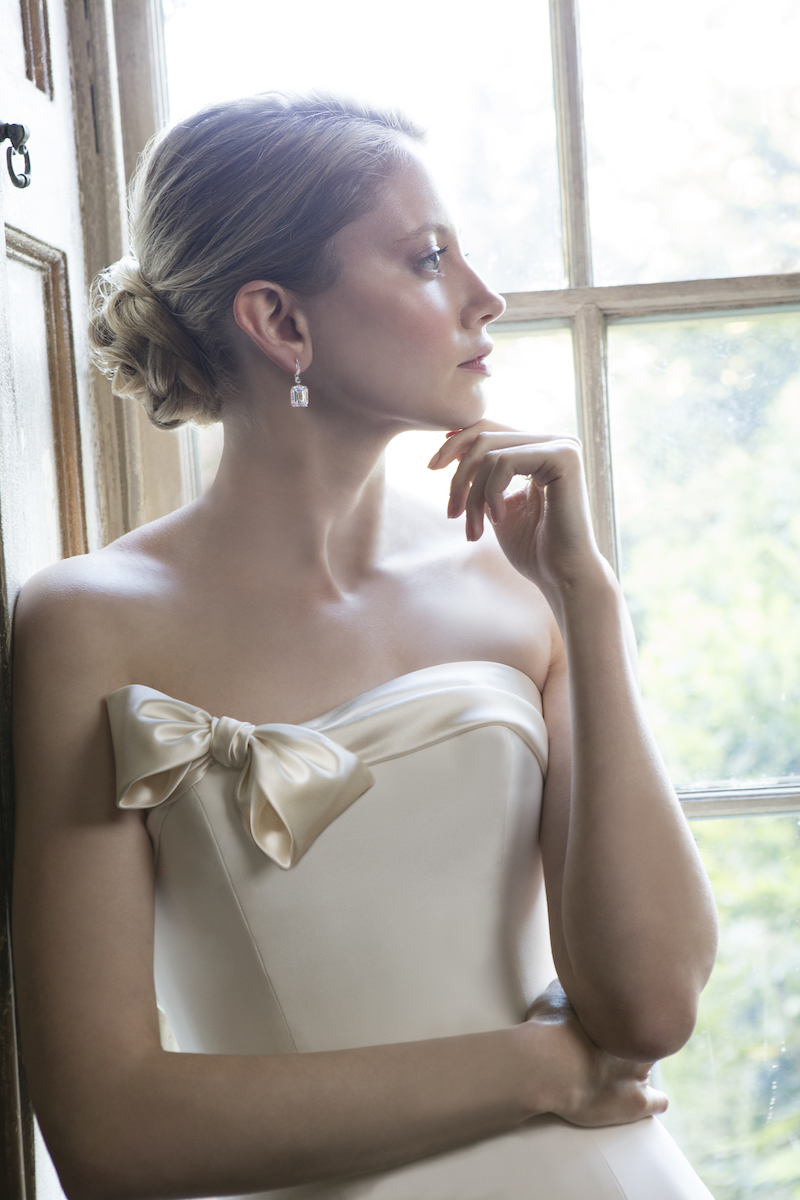 Incorporating a bow into a clean and simple look can transform an already show-stopping wedding dress into something even more intricate and special. Tallulah Crepe Satin Bow is crafted with such skill from pristine silk crepe. It highlights the craftsmanship required to create such clean lines and perfect drapery, which has been moulded into a wonderfully elegant couture wedding dress. The bow, made from heavenly silk duchess satin, creates a gown that is even more head-turning, without taking away from the stunning silhouette or exquisite fabric.
Phillipa Lepley is recognised globally as a leading British wedding dress and eveningwear designer, renowned for bespoke couture dresses of the utmost luxury. Her wedding dress shop in London, Chelsea, has over 50 dresses, all of which have been made in England from start to finish at her atelier.