WELCOME TO PHILLIPA LEPLEY
Experience an entirely unique process involving meticulous craftsmanship, bespoke design, an unrivalled attention to detail and impeccable service if you choose to create the dress of your dreams with Phillipa Lepley. The designer is renowned for custom-made, figure-enhancing corsetry, exquisite veils, hand-crafted couture embroidery and timeless style.
Following your initial enquiry, a member of Phillipa's team will be in touch to answer any questions and to book a private appointment for you. This and all future fittings take place at Phillipa Lepley on London's Fulham Road in Chelsea. The Shop and adjacent Conservatory spaces, designed by Phillipa in a style that blends contemporary minimalism with a vintage French feel, are elegant, serene, spacious, comfortable and private.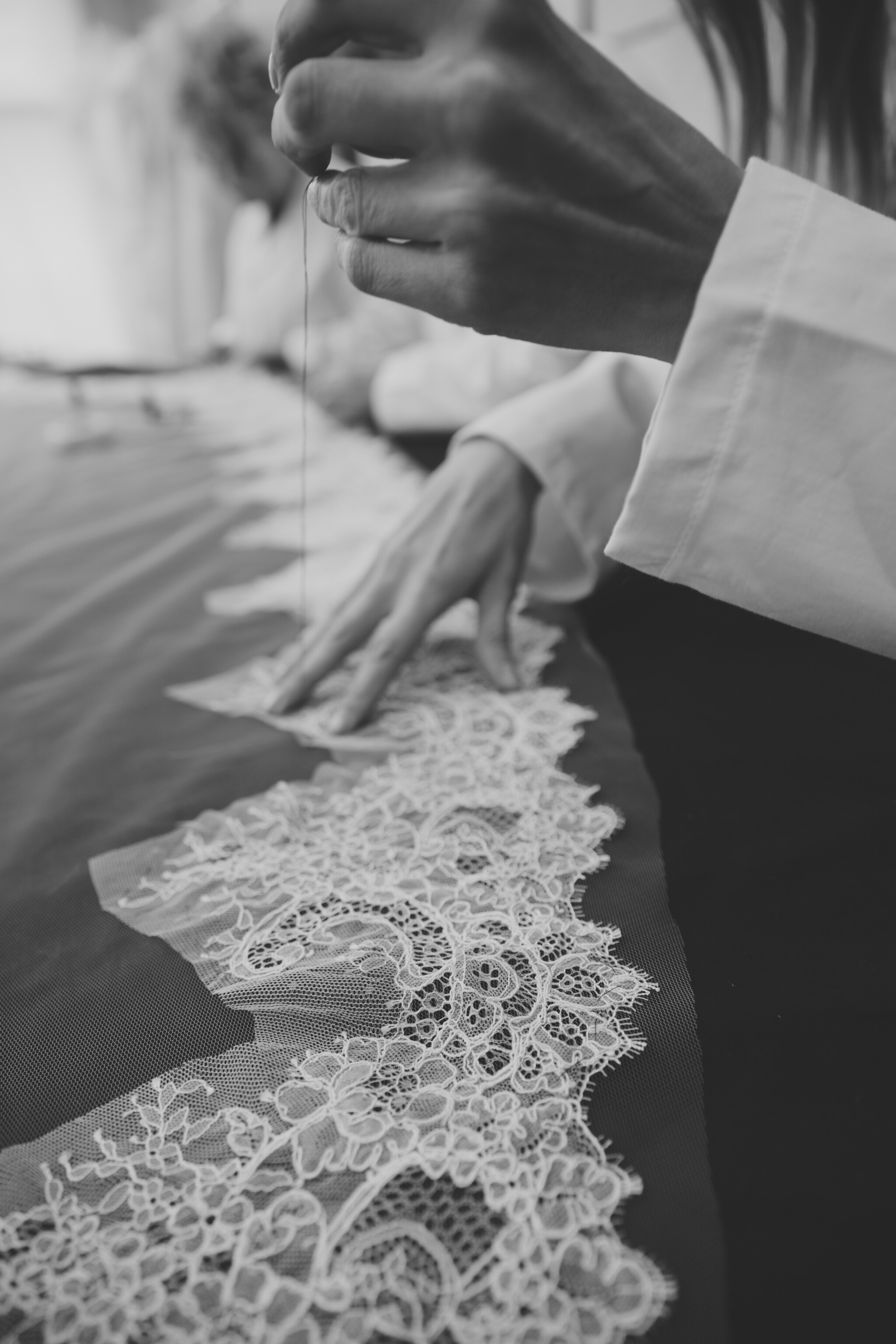 THE DESIGN PROCESS
Your initial appointment brings a vision of your dream dress to life; your specialist will consult you about your own ideas, inspiration and wedding details, as well as guiding you through the styles within the Phillipa Lepley collection and providing advice and suggestions regarding silhouettes, fabrics, necklines, corsetry and embellishment.
It may take more than one appointment to refine the design of your dress, because every element can be adapted to suit your personal preferences and because of the level of intricate, artisan detail involved. If a veil is desired, it is chosen alongside your dress or designed during its own appointment.
"It was the experience I had dreamed of. The team at Phillipa Lepley somehow manages to combine a meticulous and luxurious couture experience with a wonderful feeling of home."
PHILLIPA LEPLEY CLIENT MEGAN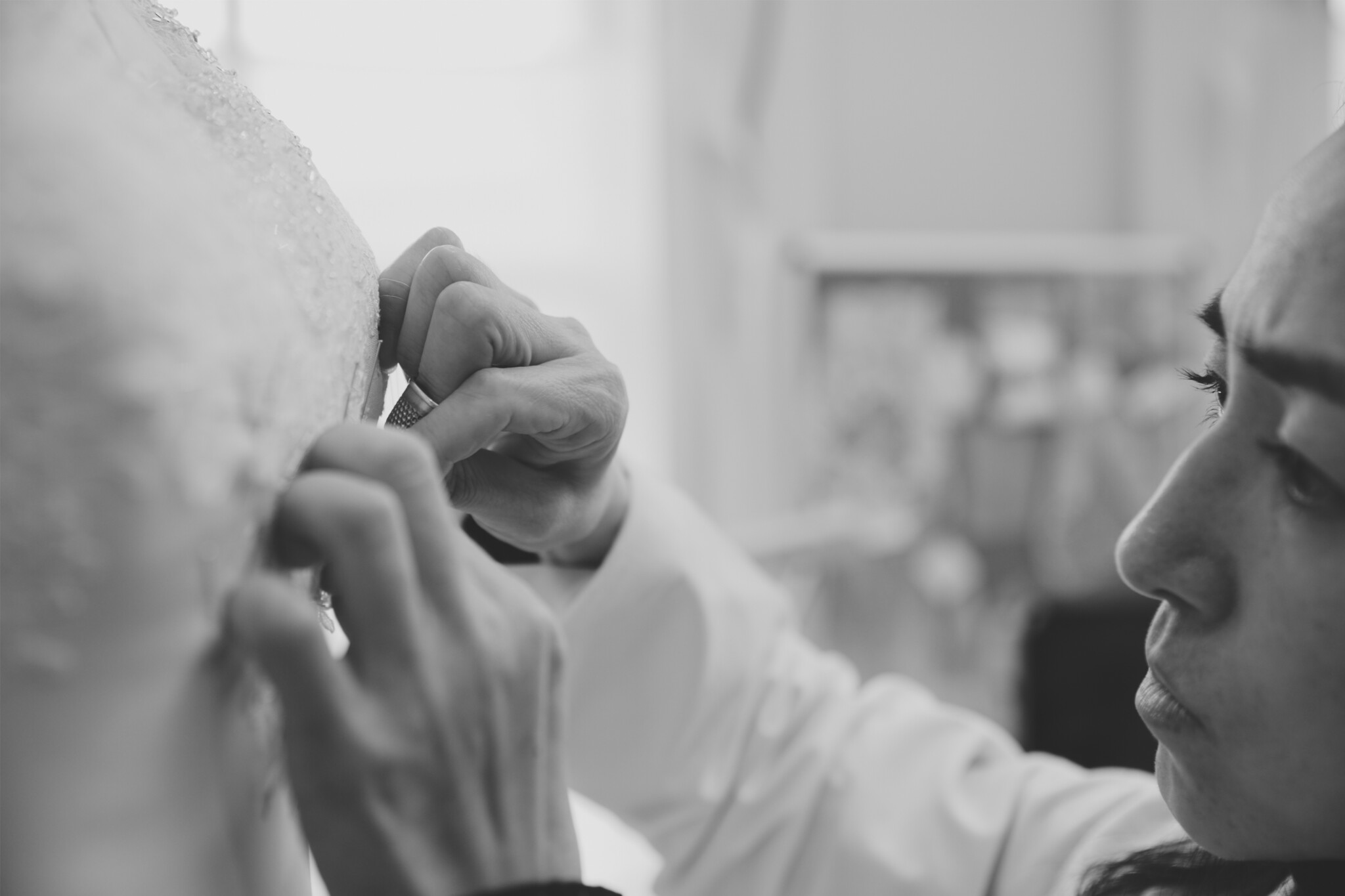 THE FITTINGS PROCESS
Once your design has been finalised, you receive a personalised order pack which includes fabric swatches and a sketch of your dress. The Director of Fittings will work with you to create a personal fitting schedule based around your requirements and, in between your fitting appointments, the Atelier team will turn your intricate design into a meticulously and traditionally hand-crafted dress, overseen and approved at every stage by Phillipa herself.
The first fitting is a very detailed measuring appointment, followed by calico toile fittings, where the lines of the dress are defined to compliment your body and the shape is perfected before your paper patterns are refined and the silk is cut. Multiple silk fittings take place as the dress evolves and is precisely hand-crafted to fit you, before the final fitting.
"Phillipa and the team made my dream a reality. I honestly can't imagine a dress more perfect for me."
PHILLIPA LEPLEY CLIENT CLAIRE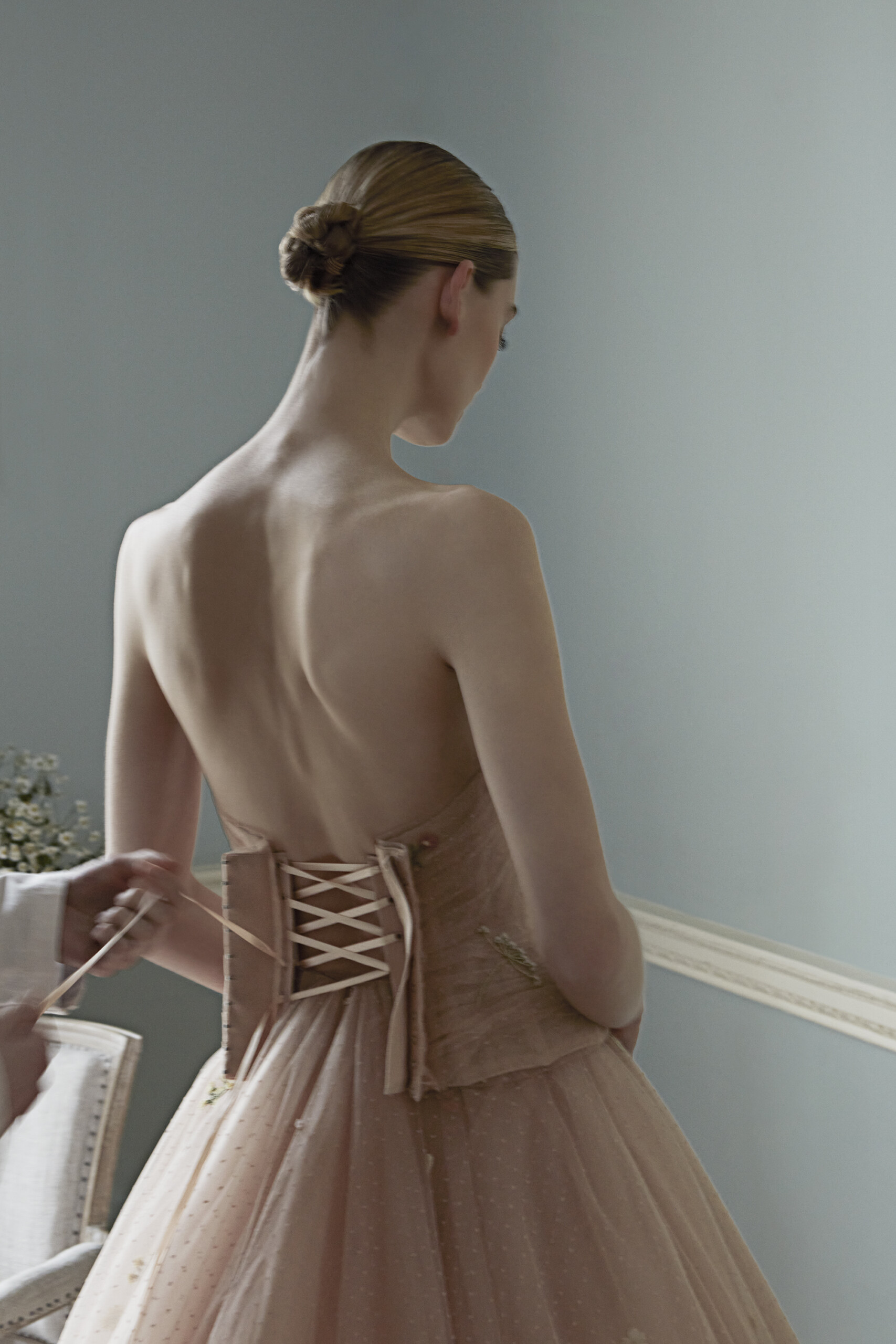 YOUR PHILLIPA LEPLEY DRESS
At the final fitting, which takes place as close to the wedding or event date as possible, whoever will dress you on the day is invited so they can be taught about all the vital elements of your dress.
After a final thorough check and press at the Atelier, your dress is beautifully packed, ready for collection. During the whole process, you will witness Phillipa and her team's depth of passion, level of expertise and commitment to couture first-hand.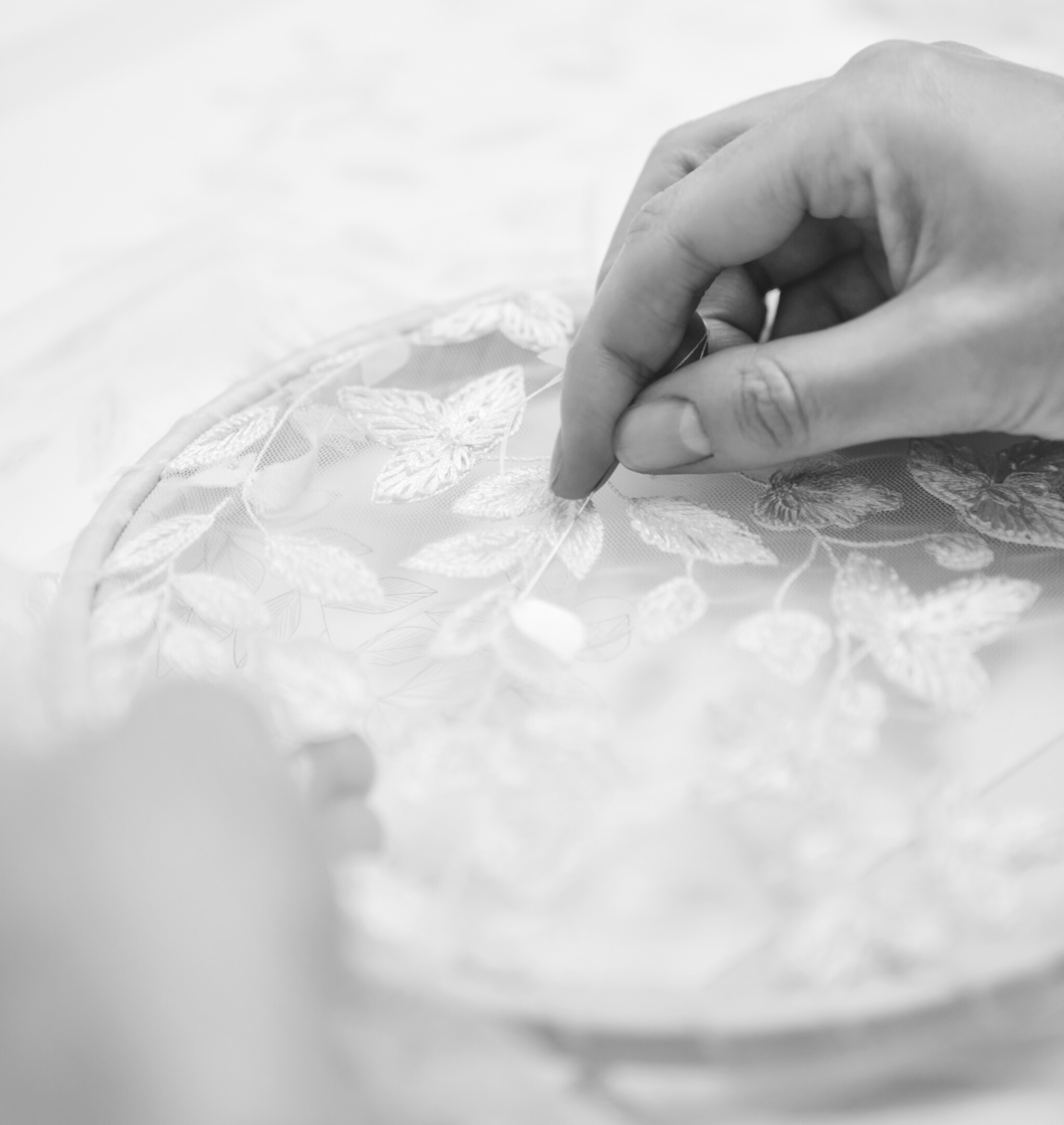 INTERNATIONAL CLIENTS
Design consultations via phone or video call allow international clients to bring their vision to life remotely and to follow their own personally tailored route.
Working with a Couture Consultant, clients can develop their bespoke wedding or eveningwear dress design remotely with absolute ease; everything, from the silhouette to fabrics and special detailing, can be reviewed using images, videos, sketches and fabric swatches. At the optimum moment, appointments to refine, measure and create are made to visit Phillipa Lepley in London.
"The journey from start to finish will remain one of the most treasured memories of my life: the meticulous eye for detail; the fascinating insight into the creation and making process; the warmth, patience and professionalism of the team; and the sacred and intimate space of the Conservatory."
PHILLIPA LEPLEY BRIDE EMILY