The Off-The-Shoulder Wedding Dress
An Off-The-Shoulder wedding dress is an iconic bridal design that effortlessly blends sophistication with sensuality, creating a silhouette that exudes luxury and grace.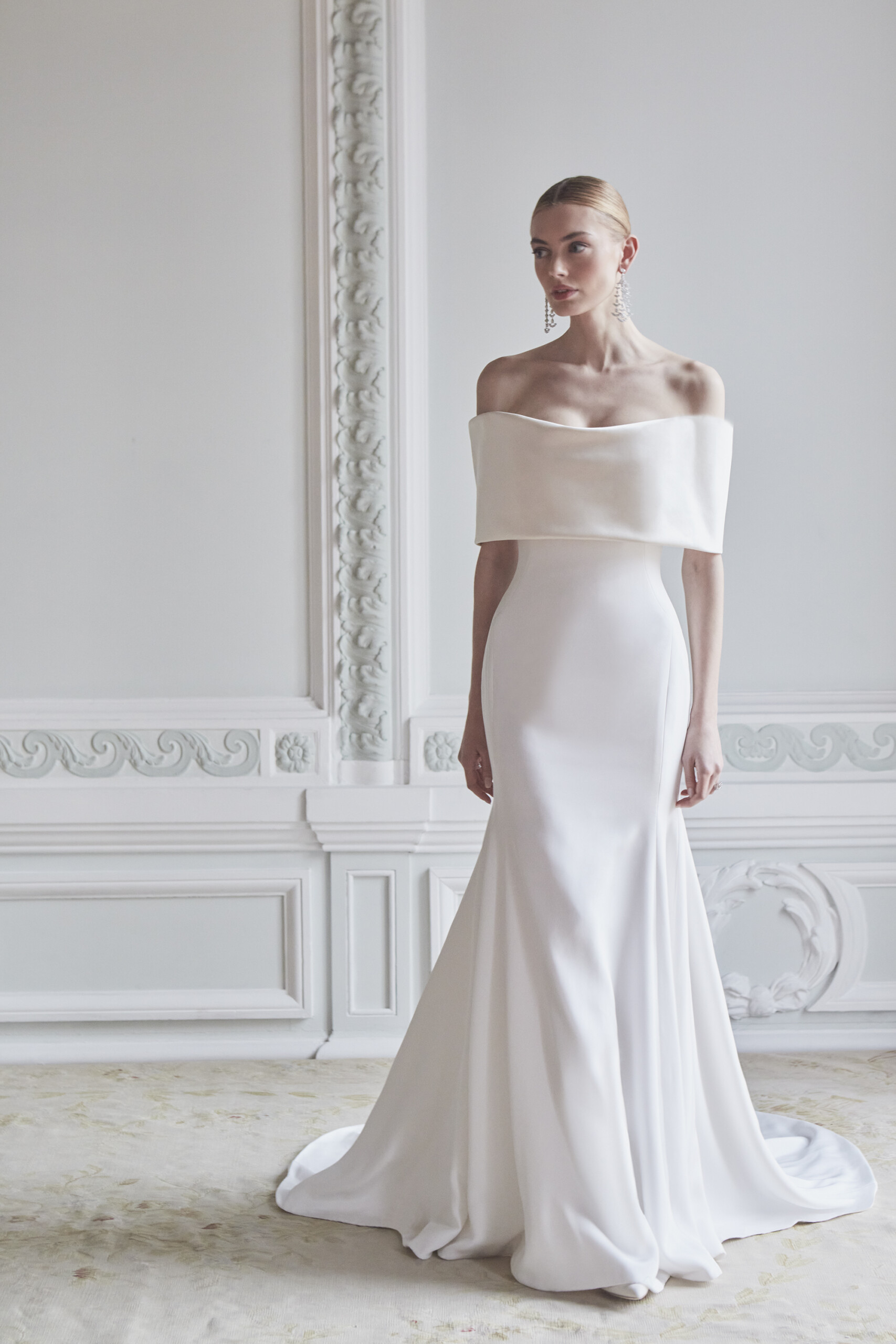 This timeless style, characterised by its elegantly exposed shoulders, is a popular choice for discerning Phillipa Lepley couture brides who are seeking refinement on their special day.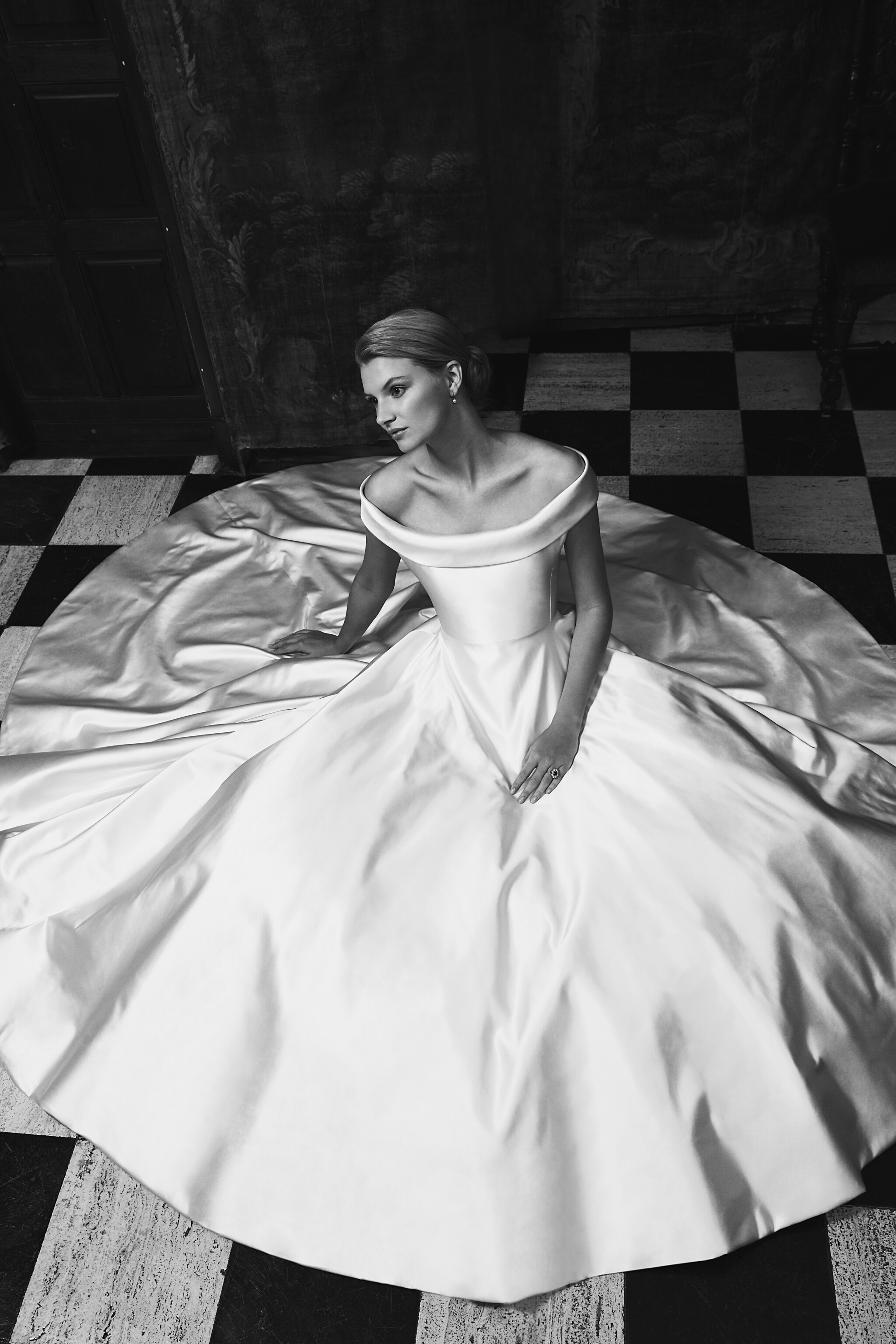 One of the most captivating aspects of off-the-shoulder wedding dresses is their versatility. Whether your wedding is an intimate or grand affair, this style seamlessly adapts to various settings.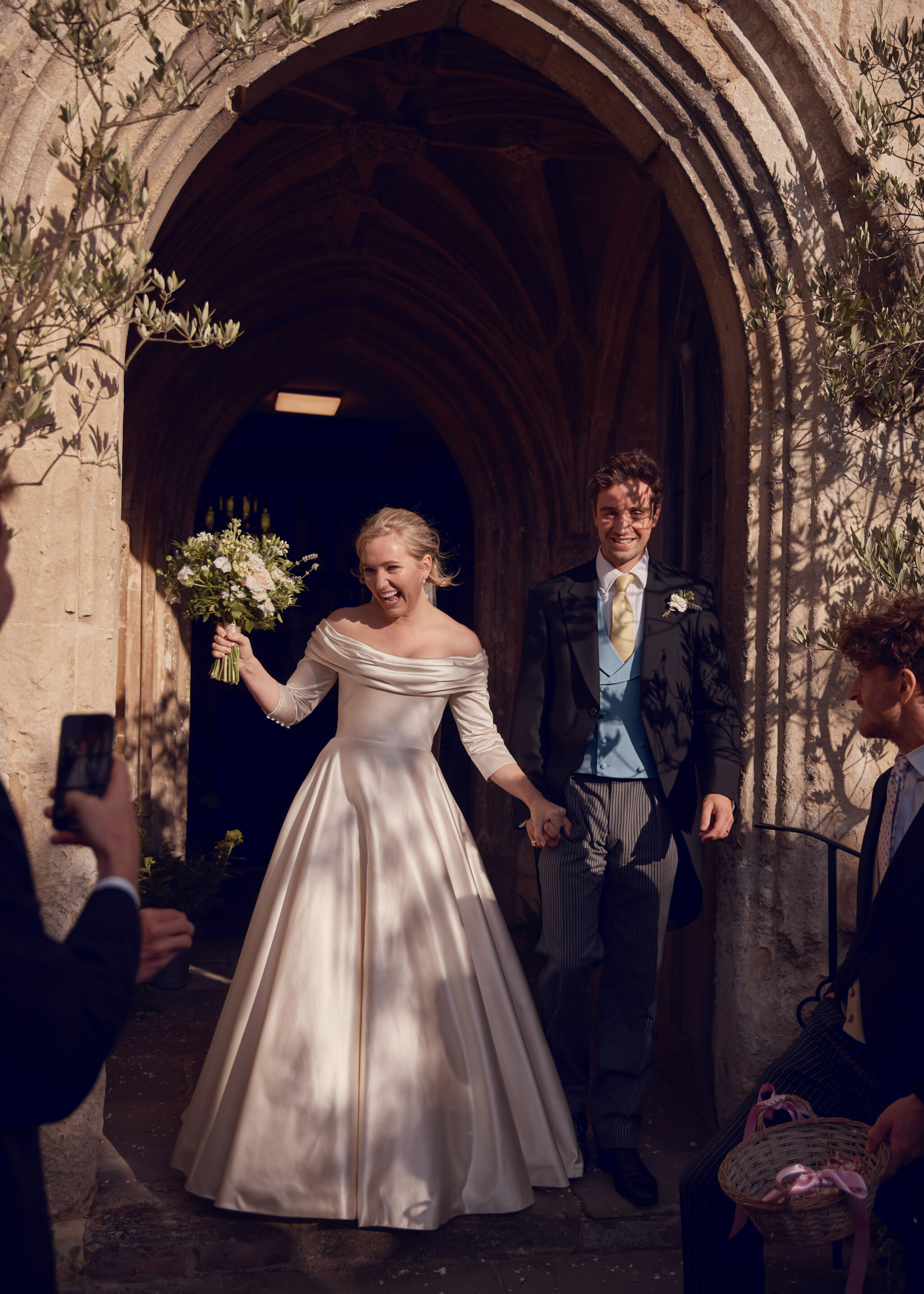 Phillipa Lepley bride Davina.
The elegant neckline can be combined with a variety of silhouettes, refined to each bride's personal style.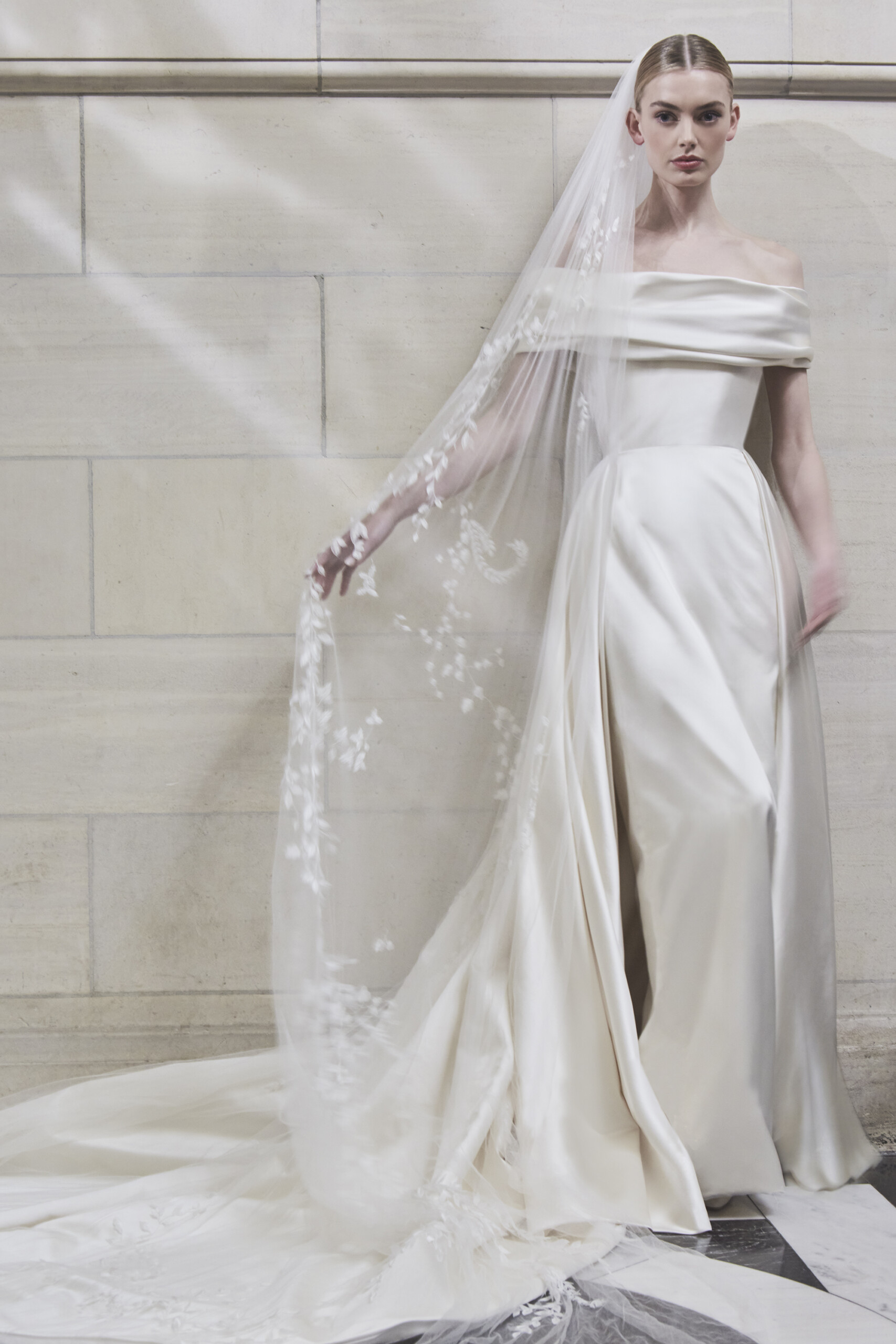 For the modern bride, the clean lines of an off-the-shoulder collar wedding dress may be suited. The horizontal lines created by the neckline effortlessly draw the eye to the narrowest part of the bride's silhouette, highlighting the corseted waist and accentuating her curves. The result is a look of sheer sophistication.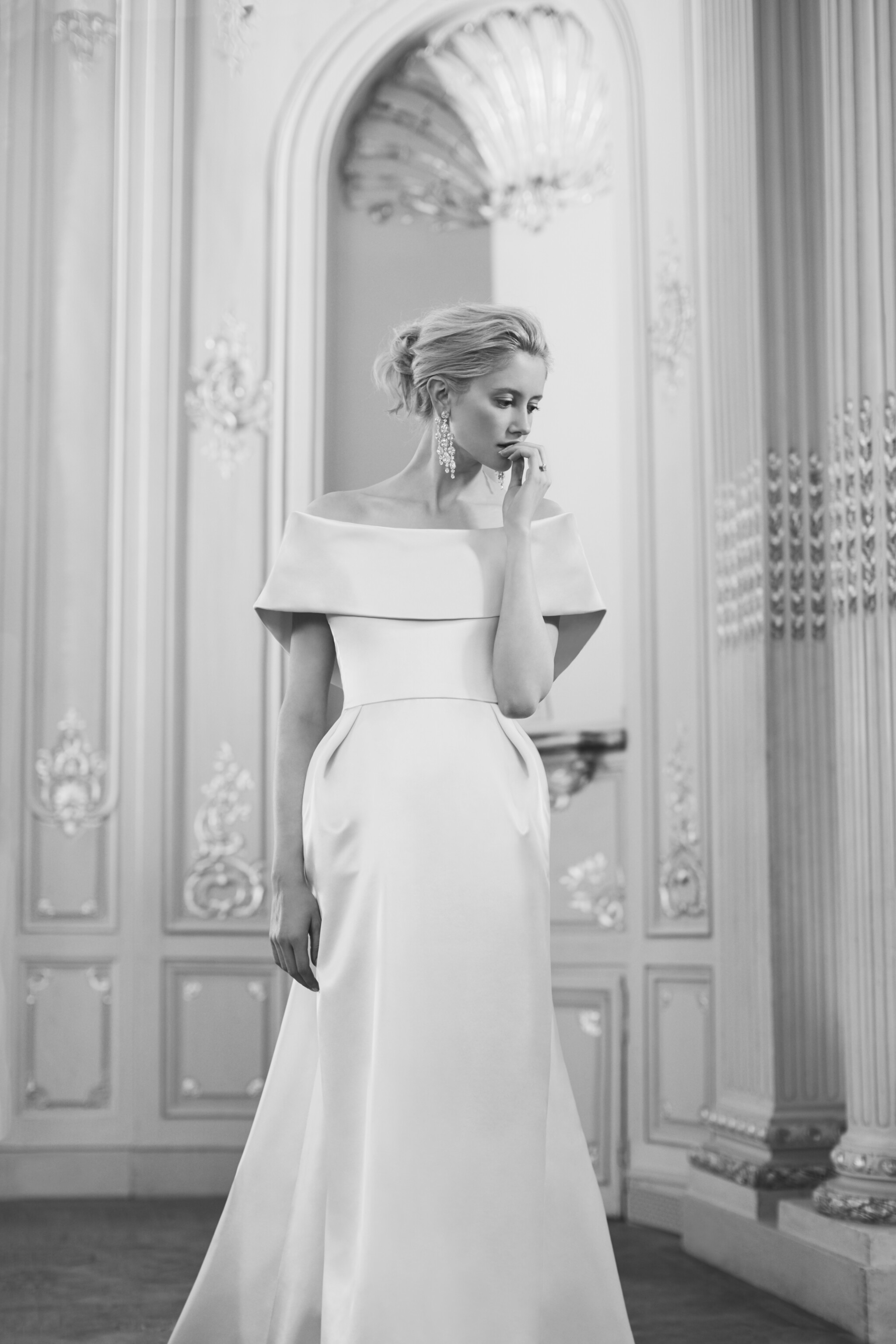 For those seeking a more ethereal look, the edges of an off-the-shoulder couture wedding dress can be softened by satin draping, lace, or embroidery.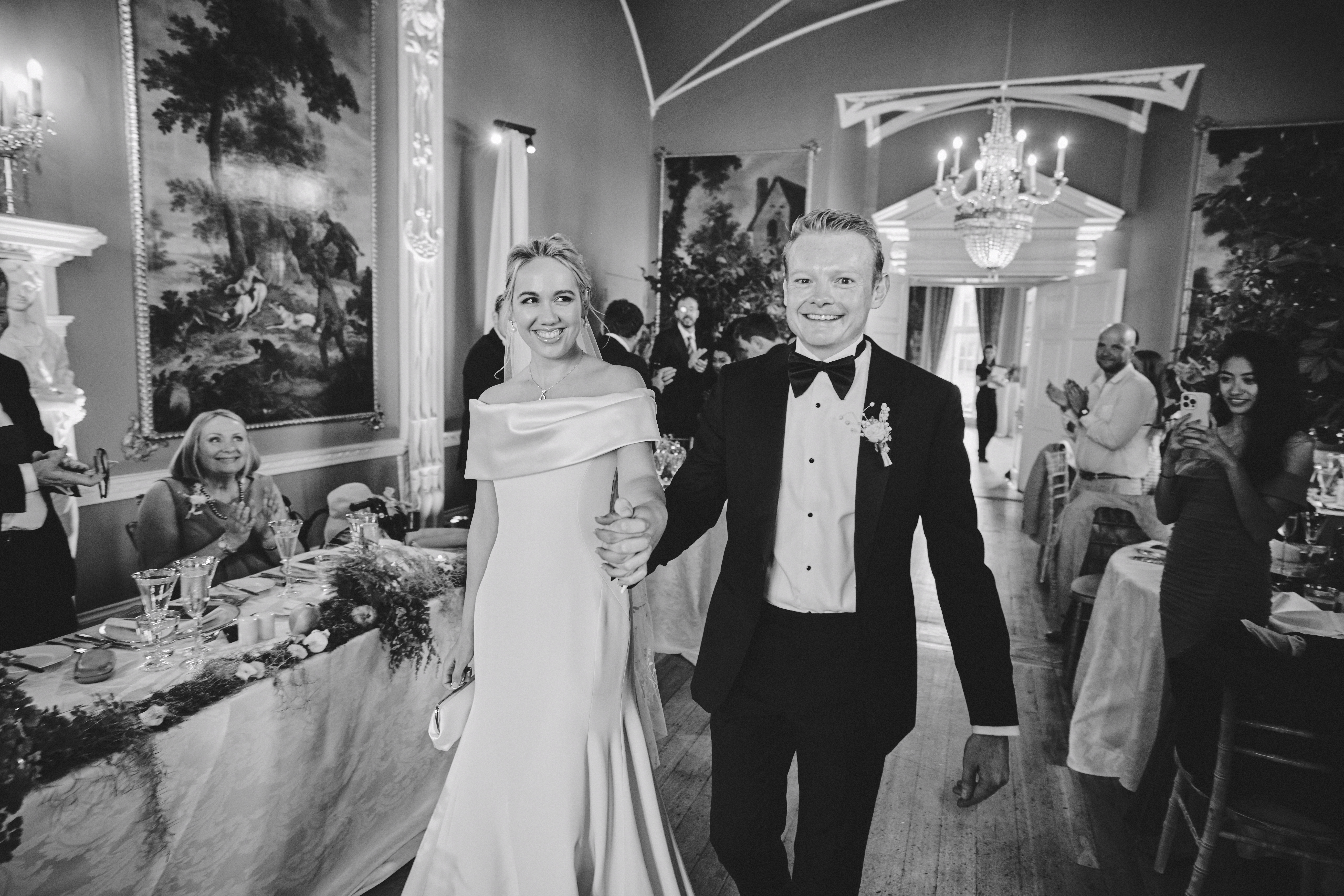 Phillipa Lepley bride Margot.
Lace scallops, with their intricate patterns and delicate edges, create a look that is both whimsical and refined, delicately framing the shoulders and collarbone with a softened lace edge.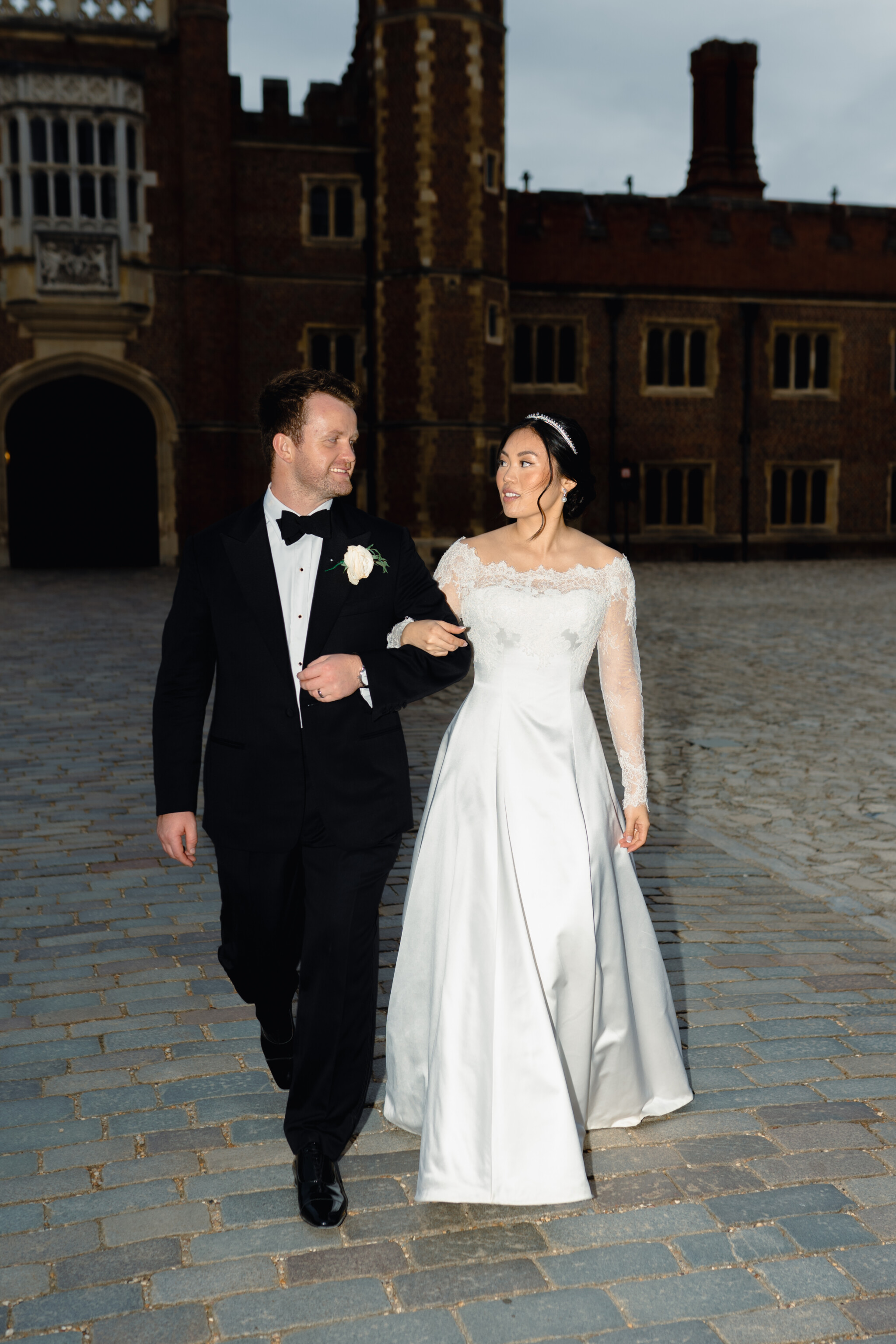 Phillipa Lepley bride Johannah. Photography by Rebecca Searle.
Draping techniques can be employed to create a flowing effect to duchess satin, with fabric gently cascading from the neckline.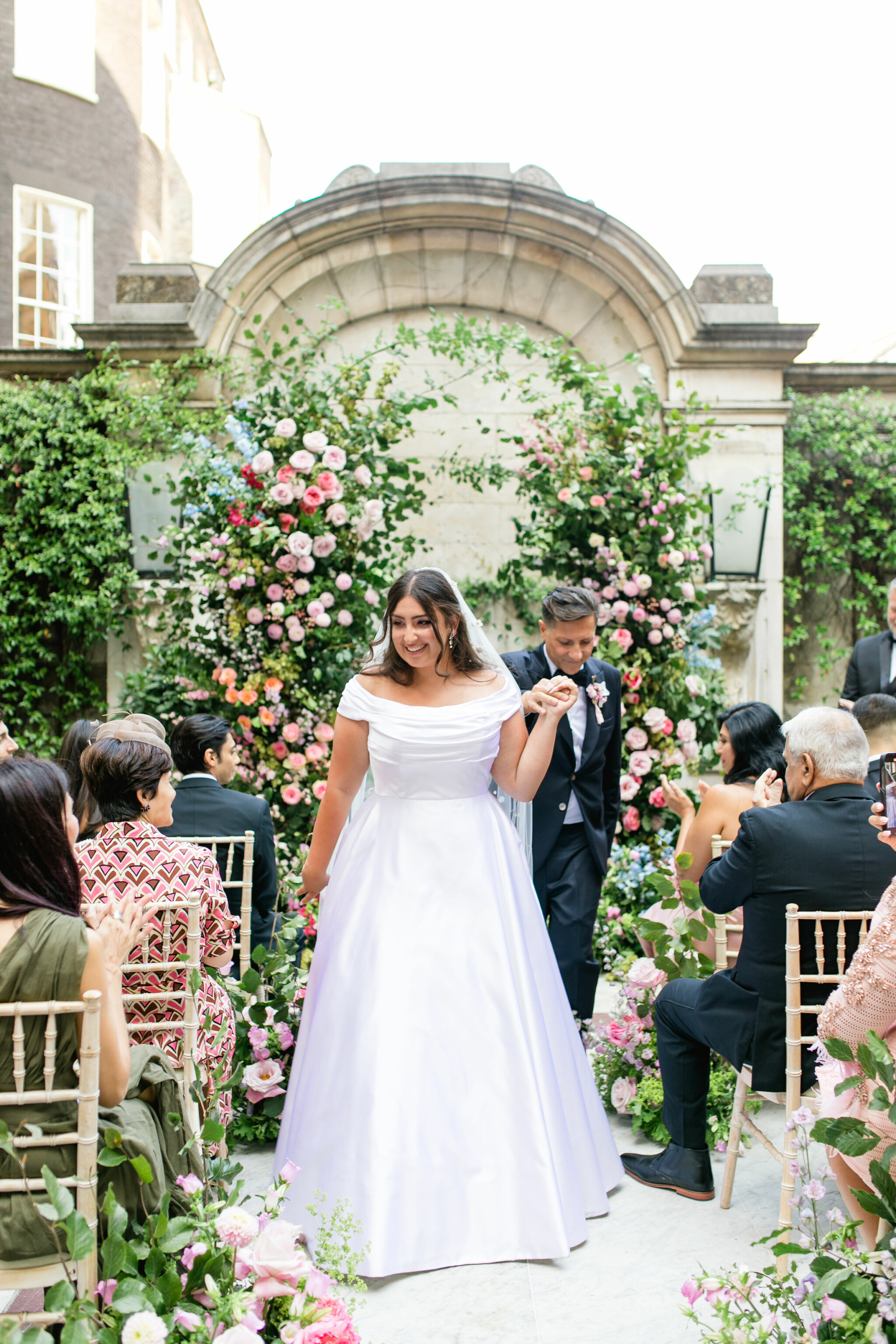 Phillipa Lepley bride Arevik. Photography by Roberta Facchini.
Hand-crafted by our skilled artisans, intricate embroidery can be added to an off-the-shoulder wedding dress, gracefully wrapping around the shoulders, adding a layer of texture and dimension to the gown.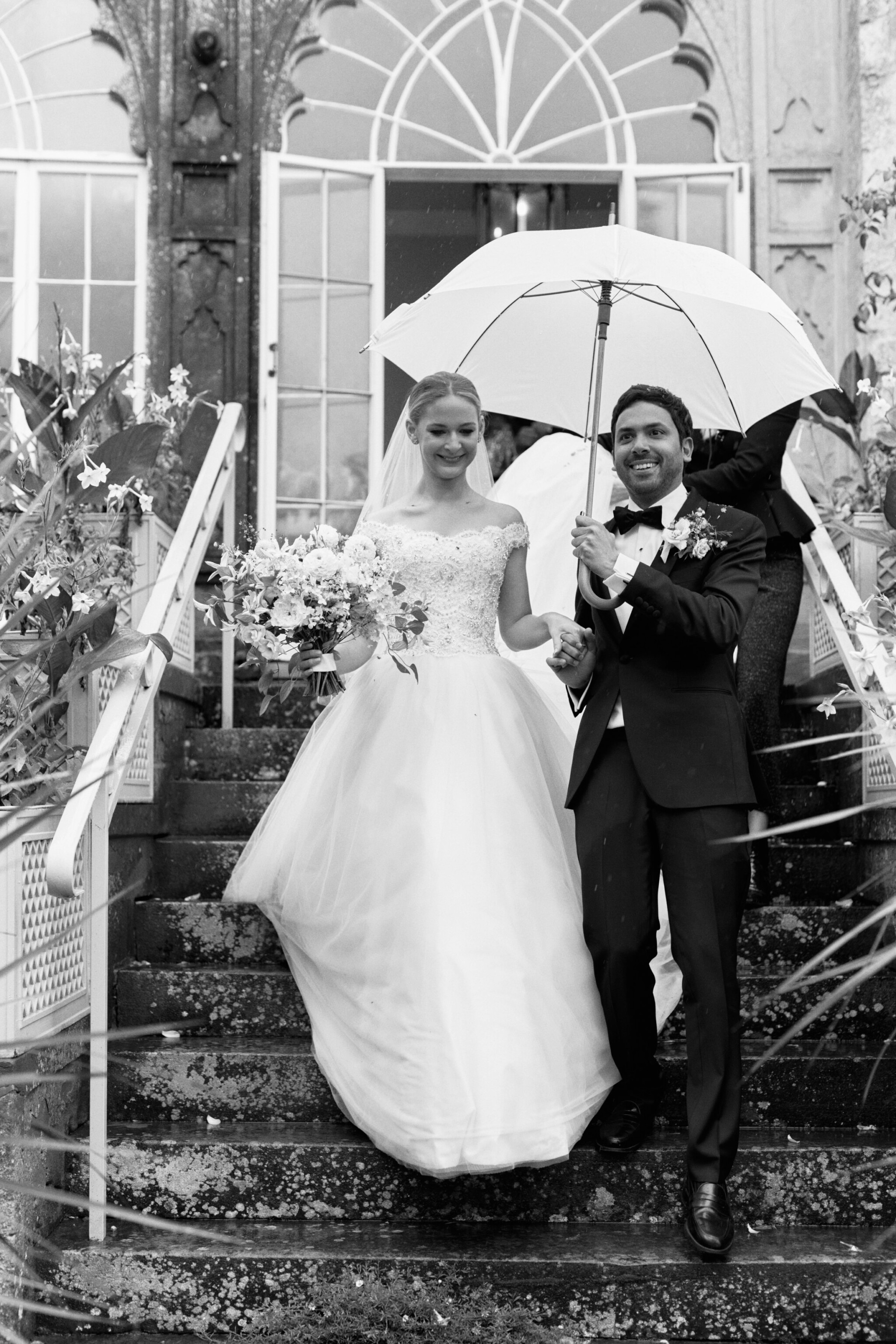 Phillipa Lepley bride Olivia. Photography by M&J photography.
Luxury lies in the details, and a couture off-the-shoulder wedding dress is no exception. Every line, stitch, and bead is meticulously considered by Phillipa's talented team to ensure a flawless finish. Phillipa is one of the last remaining traditional couture, independent wedding dress designers, with every dress made from start to finish in her London Atelier.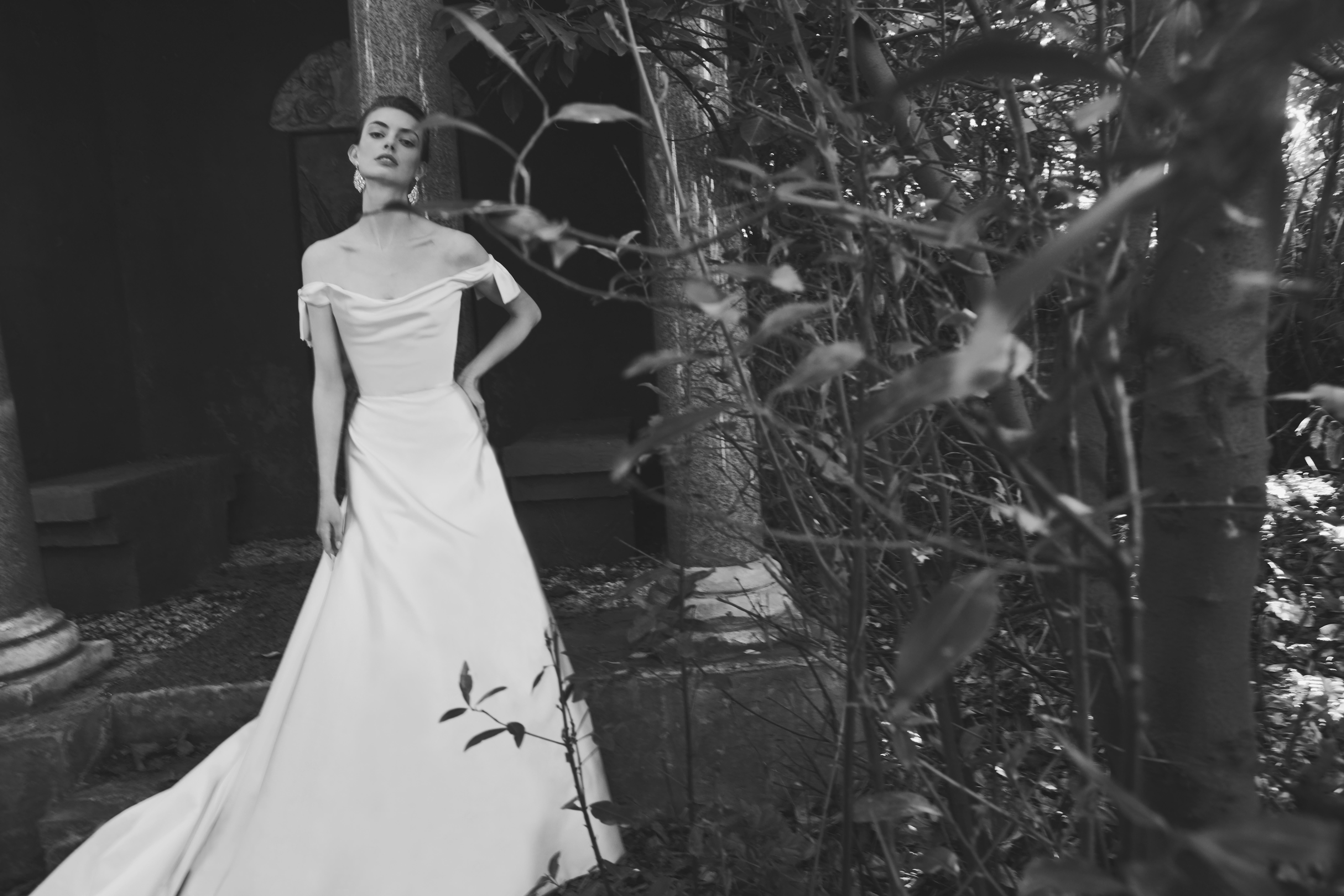 The beauty of off-the-shoulder wedding dresses lies in their ability to blend the best of both worlds: clean, structured lines that exude modernity, and soft, flowing elements that evoke a sense of timeless romance. Whether the minimalist look of a clean, satin collar, or a classic lace edge, the off-the-shoulder wedding dress is an exquisite choice for the bride who seeks to make a statement on her special day.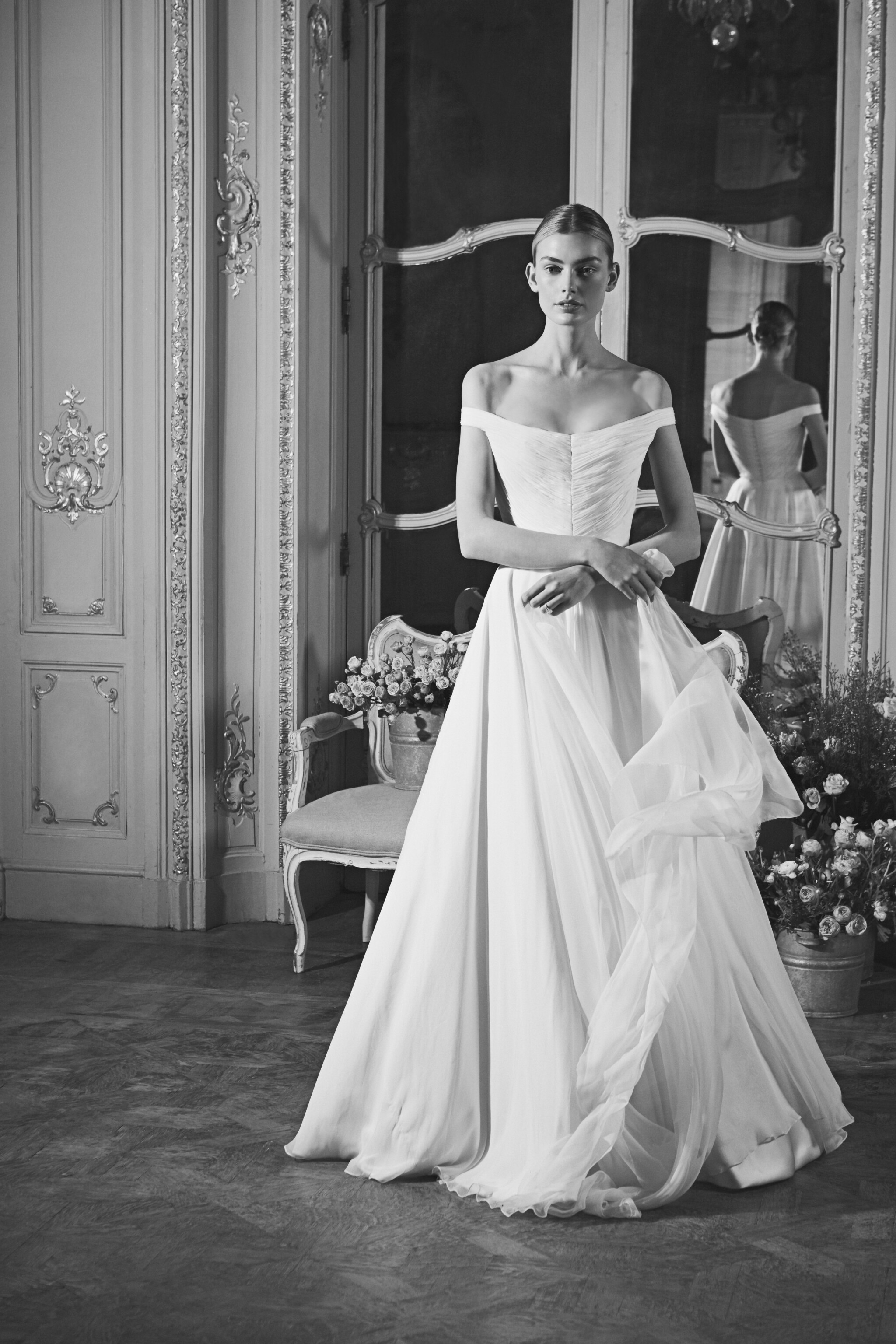 Phillipa Lepley is recognised globally as a leading British wedding dress and eveningwear designer, renowned for bespoke couture dresses of the utmost luxury. Her wedding dress shop in London, Chelsea, has over 50 dresses, all of which have been made in England from start to finish at her atelier.