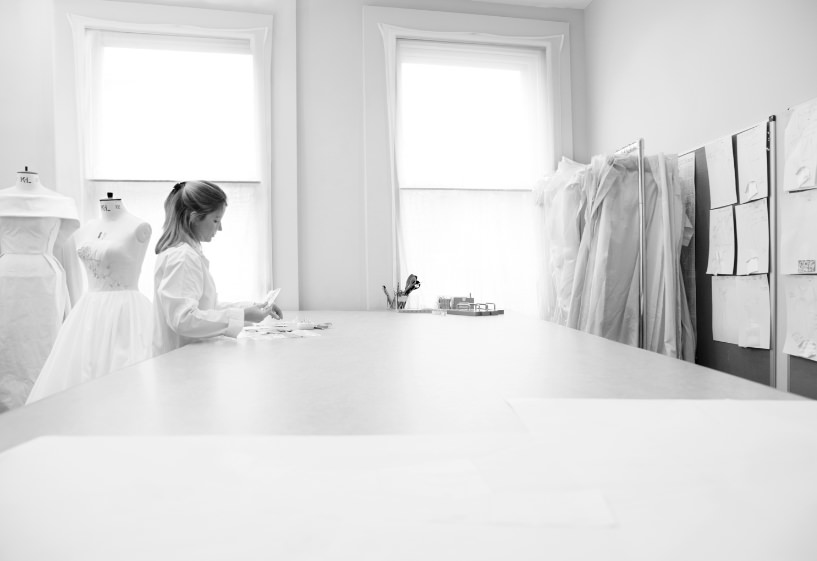 Working with us
We're always on the hunt for talented, passionate individuals to join our handpicked team of specialists.
Please email you CV and covering letter to careers@phillipalepley.com
Current opportunities
Digital Marketing / Team Assistant
We are looking to hire a passionate and driven individual with some digital marketing and administration experience to join the Phillipa Lepley team. The successful candidate will be immersed in the company, assisting with brand communications (with a focus on digital) as well as across the retail and studio spaces. They will report to the company founder and the external communications strategist.
We are looking for a candidate to join at this exciting time of growth and innovation, who will recognise the opportunities for the brand, with a solid understanding of the direction we are going in.
There is scope to progress within the company over time, with more responsibility across 'brand' work.
Experienced Couture Bridal Design Consultant / Vendeuse
We are seeking a full time Experienced Couture Bridal Design Consultant / Vendeuse with a minimum of 3 years experience in the bespoke Couture Bridal or Eveningwear field. Luxury must be at the core of their being, with strong technical knowledge of fabrics, garment design and construction, a meticulous eye for detail and immaculate customer service. Above all the candidate must be creative and possess love and integrity for looking after clients at this level, helping create their perfect bespoke dress.
The role will be multifaceted and will involve offering our global clients the highest level of customer service at all times, whether designing on the client, in client appointments or over the phone/email, or assisting other team members during client appointments. The candidate will operate with dedication and pride as part of the driven Phillipa Lepley 20 strong team.
In between taking care of clients, the role will grow and develop to the candidate's strengths. We are interested to hear where each candidate could add value to the company with their personally defined skills. (For example, this may be admin orientated, social media, IT, photography, shop merchandising and maintenance, fitting, embellishment).
We are looking for a warm, charming, punctual and genuine team player with interpersonal skills, strong values and integrity. We value initiative and creativity supported by dedication and a strong work ethic.
We offer a great working environment, value our employees and aim to ensure that individuals enjoy job satisfaction whilst developing to their full potential.
Embellishment / Studio Work Placement
We are always pleased to hear from enthusiastic, responsible and hard working textiles/fashion student or graduate to assist with long-term projects within our Chelsea studio.
An internship within the Phillipa Lepley studio is a wonderful opportunity for students to gain an insight into creating beautiful gowns within a 'hands on' couture environment. Students' main responsibilities will be undertaken within the embellishment team. Tasks will vary and give the candidate experience shadowing team members, trimming lace, working on couture dresses, running errands and general studio/office duties.
The ideal candidate will be studying for a fashion/textiles degree and will be looking for a work experience placement as part of their course, or a graduate looking for professional experience in the couture field. The candidate should be looking for a work placement of a minimum of three months on a part-time basis.