Since the very beginning, when Phillipa Lepley set up her bridal design business in 1987 from a small atelier in South Kensington, the designer has made every single dress in England. Her first dedicated atelier space was in Fulham, where her team operated for over 18 years, before relocating to where they are now – just round the corner from The Shop and The Conservatory in the heart of Chelsea.
A small, expert team of seamstresses, cutters and embellishers work together at the Phillipa Lepley Chelsea Atelier, creating bespoke dresses for clients from start to finish.
Each member of the Phillipa Lepley team has a strong technical knowledge of fabrics, garment design and construction, a meticulous eye for detail and immaculate customer service. They each play a part on the 'jigsaw' (or 'frocksaw' as Phillipa calls it), bringing to life brides' visions for their perfect wedding day.
Phillipa is one of the last remaining traditional couture, independent wedding dress designers. She is proud to make dresses here in England which then travel all over the globe with her international clients. She nurtures the incredible talent her team possesses, incorporating traditional couture techniques such as tambour beading, appliqué and her internationally renowned corsetry.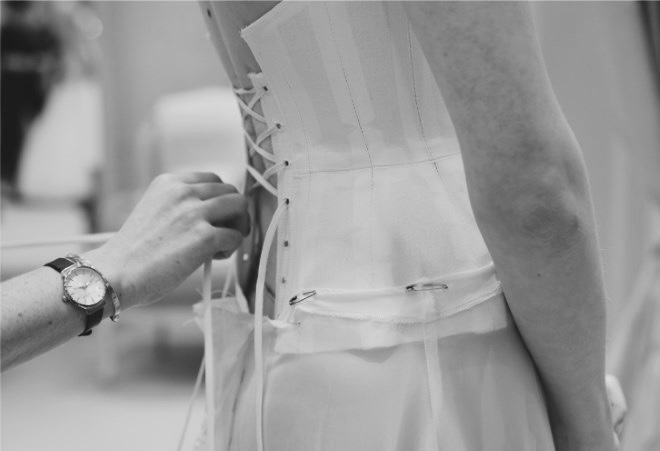 Many of the bespoke fabrics the atelier team use are made exclusively for Phillipa Lepley, and they are of the highest quality, sourced from all over the world. Sumptuous Italian silks, the finest French laces and decadent Swiss embroideries all play a role within the Phillipa Lepley collection. The atelier team also create fabrics in-house, hand-stitching together individual pieces of lace to form showcase pieces of art, and design bespoke embroideries to create a truly unique and personal finish to a custom gown.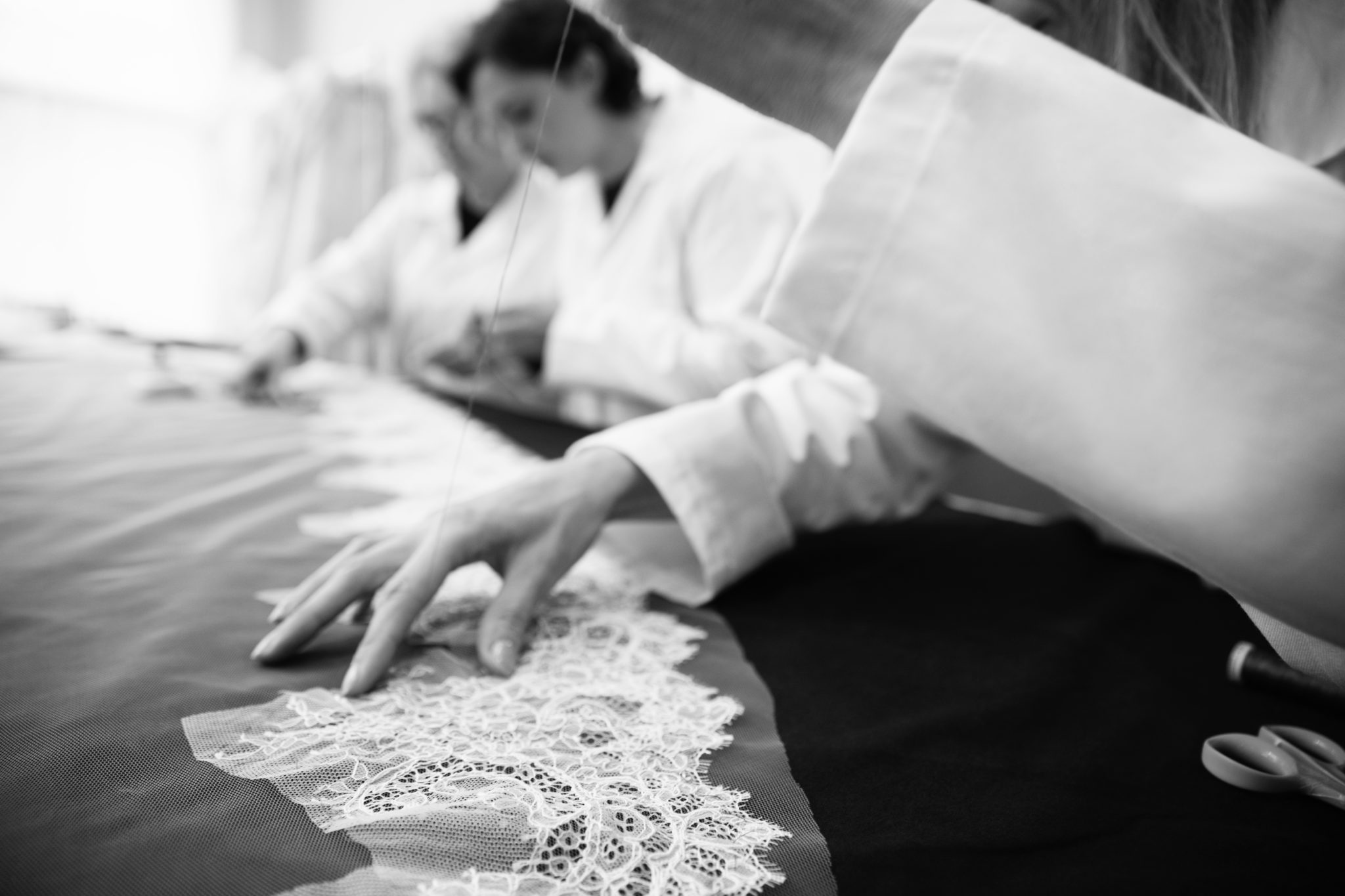 The embroidery and embellishments that the London atelier create for Phillipa Lepley's dresses have become a design signature, and they are one of the reasons why No.46-48 Fulham Road has become the go-to atelier for a couture bridal gown. From delicate satin stitch thread work with hand-embroidered pearls, to individually placed crystal xillion beads layered over intricate satin chiffon appliqué, flowing florals and winding vine details can be incorporated into any couture dress or heirloom veil – it is these artisan touches that take a tailored dress to the next level of beauty.
Each Phillipa Lepley dress can take hundreds of hours of careful planning and meticulous, skilled execution, with each atelier team member's unrivalled skillset playing a part in its creation, right here in London.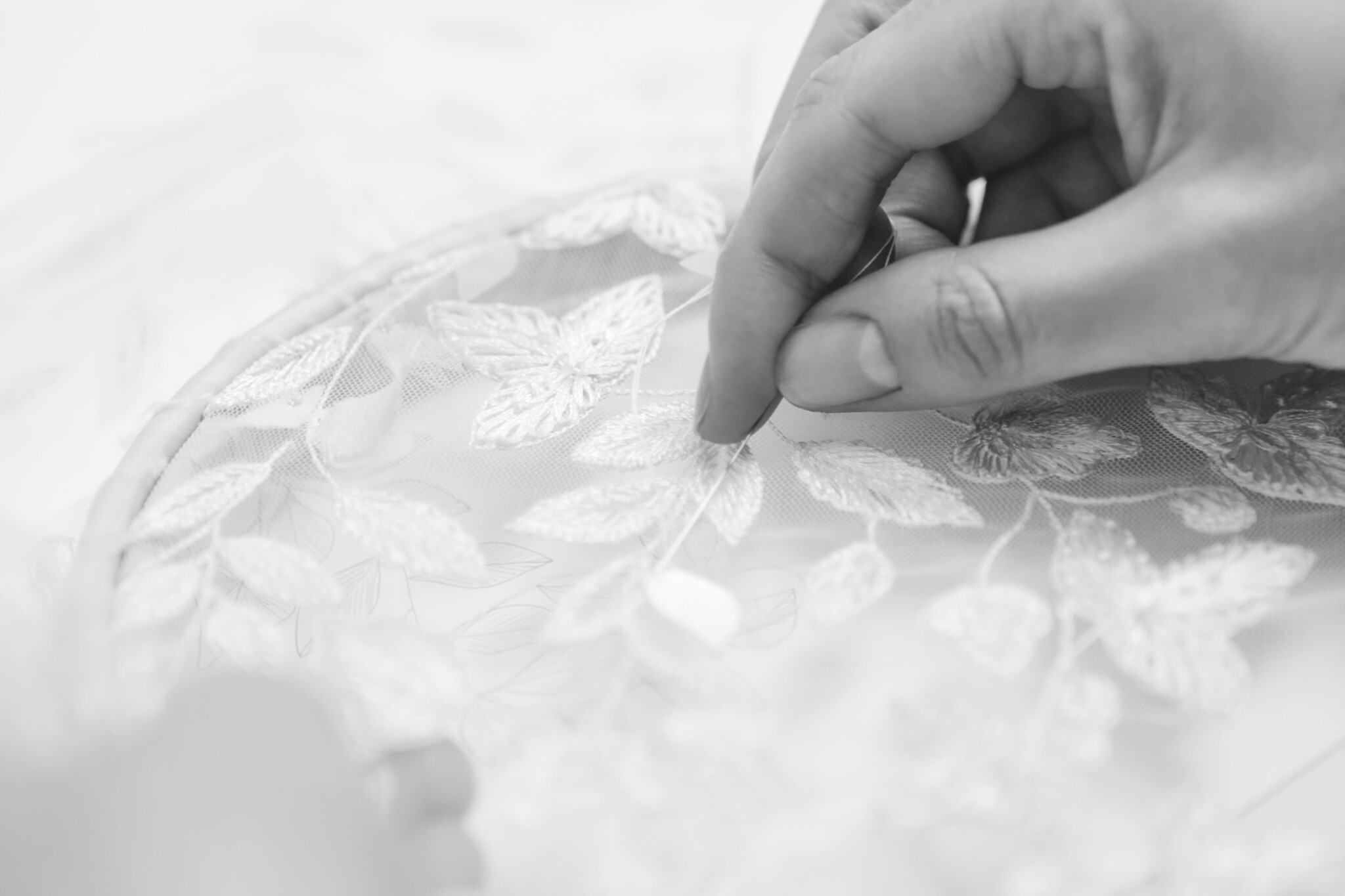 Phillipa Lepley says, "I am absolutely passionate about British design and British craft, and I am proud to be in a position to make that available to our global brides. I am fortunate to work with the most talented and passionate people who are as inspired as I am to see dresses coming to life from scratch, designed and made here in England, supporting and strengthening the UK's reputation for unparalleled fashion design and manufacturing." 
Phillipa Lepley is recognised globally as a leading British wedding dress and eveningwear designer, renowned for bespoke couture dresses of the utmost luxury. Her wedding dress shop in London, Chelsea, has over 50 dresses, all of which have been made in England from start to finish at her atelier.