Phillipa Lepley bride Carolina
Carolina's journey with Phillipa Lepley began many years ago after she read a blog on which a client had shared their own memorable experience.
'When the right moment at last came along, I reached out to Phillipa Lepley first, and I'm so happy I did. The team were exceptionally professional, detail oriented, organised and good-humored too. As someone passionate about the importance of handcraft and with 7 years of experience in the fashion and textiles industry, the couture experience at Phillipa Lepley was the right decision for me personally as it allowed me to be a part of making a one of kind wedding dress, which I will treasure forever! Even though I'm based in New York, the team were able to make it all work seamlessly and it was incredibly enjoyable as well.'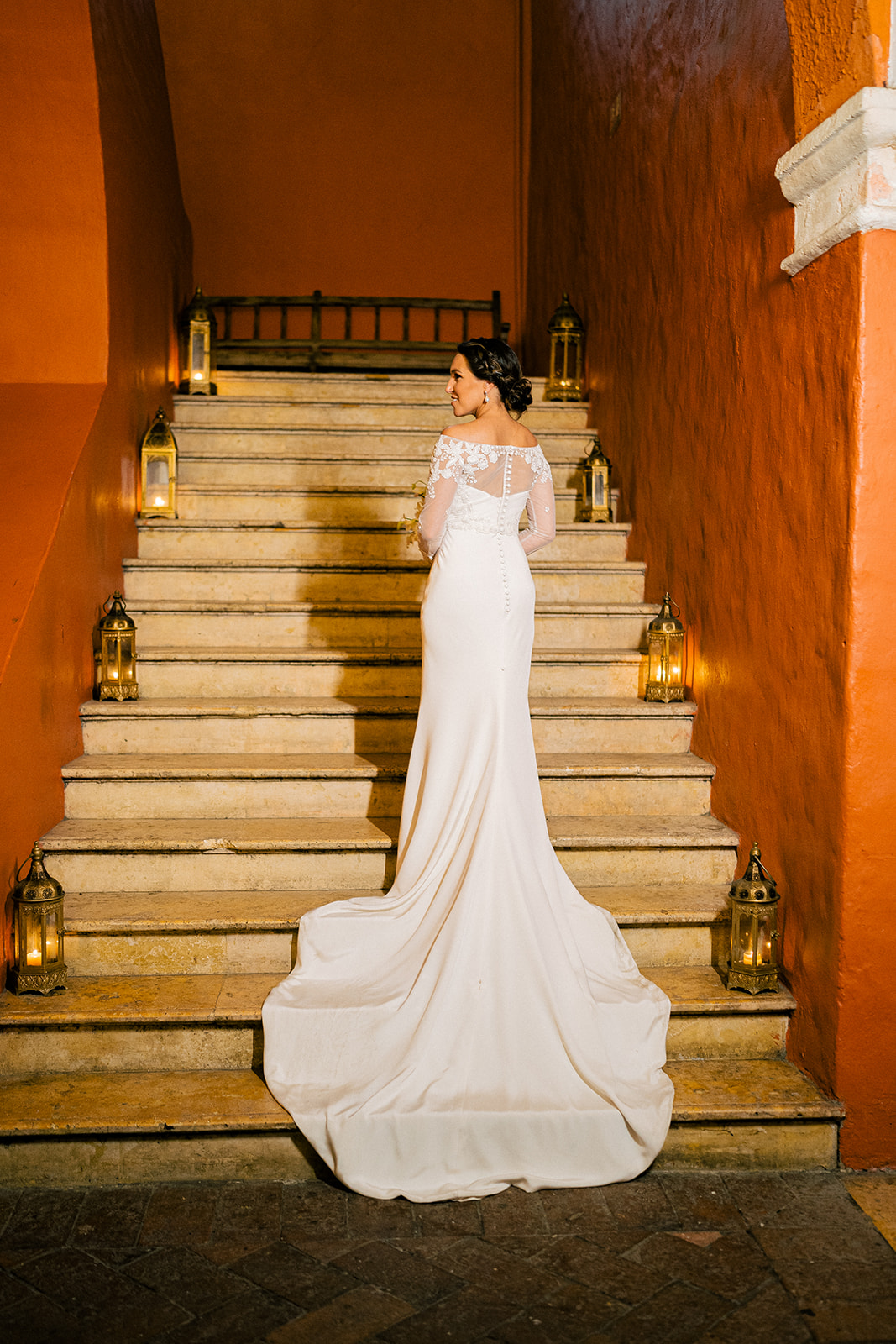 Carolina had a very clear vision as to what she'd like her dress to look like. She says, 'I am one of those people who has been dreaming about their wedding dress for almost as long as they can remember.'
Carolina chose a corseted, silk crepe strapless dress worn with a bespoke hand embroidered long sleeved top, and opted to make the top detachable for the evening to showcase the exquisite, fitted strapless gown beneath. 'The result was an entirely different but equally beautiful look which was perfect for the latter half of the wedding day. The unique motifs representing those near and dear to my heart which the Phillipa Lepley team were able to incorporate into the embroidery top of the bodice were extremely special.'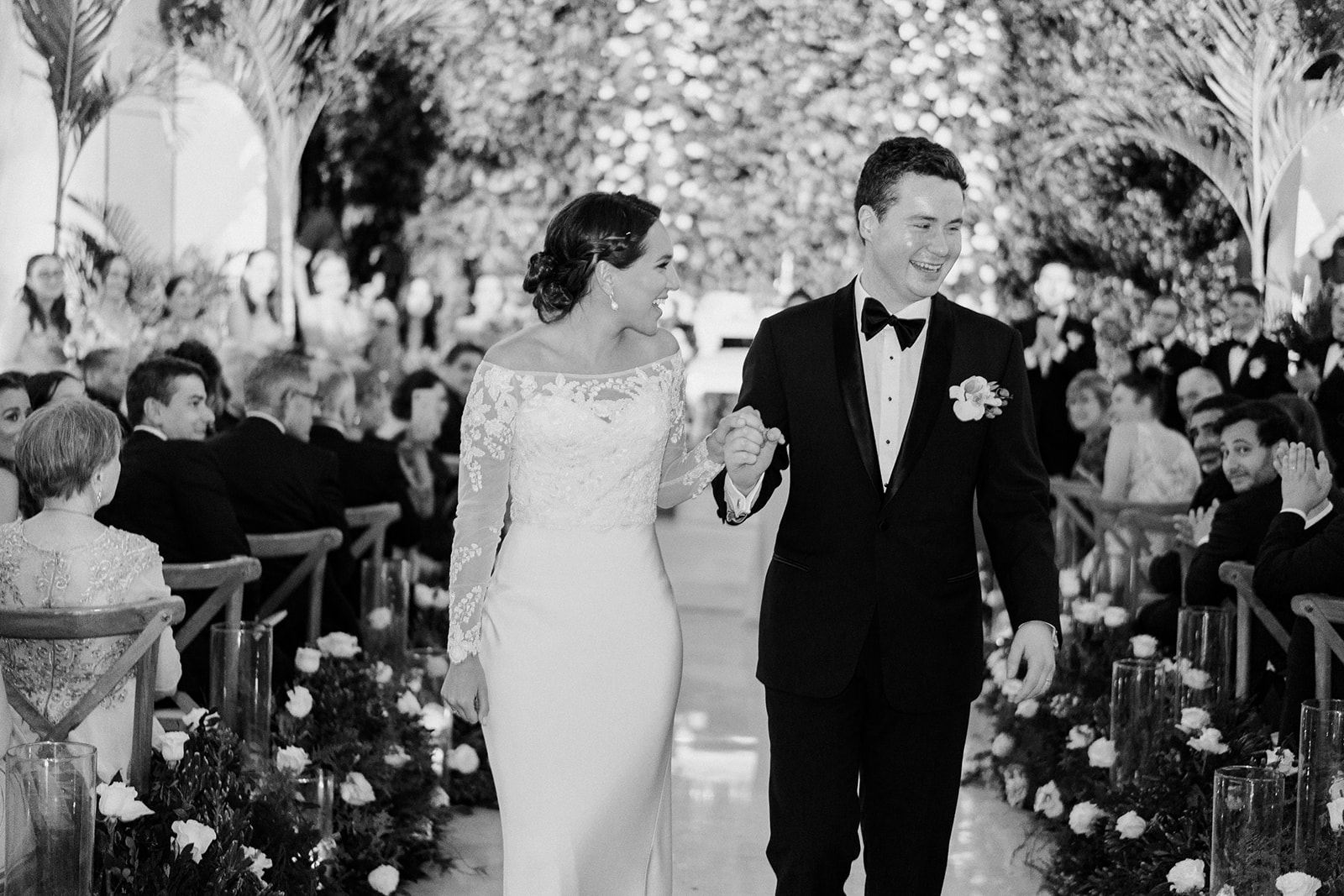 When reflecting on her appointments at Phillipa Lepley, Carolina says that 'seeing the first sketch of the dress was something I'll never forget! It was almost exactly as I had imagined it. Choosing the pattern of the embroidery overlay with Phillipa herself was also quite memorable, there were swatches of various designs, embroidery finishes and pattern pieces laid out all over the floor, we went through and discussed each piece trying each one out; it was a very "couture" moment.  There was something extremely special about my final silk fitting when I tried on the finished gown. It was a gorgeous Spring day in London, there were fresh flowers in The Conservatory, and sunlight streaming through the windows; the setting was perfect. I think I had been so caught up in the wedding planning details, and everything felt so abstract and in the distant future for the longest time, I hadn't completely processed that I was getting married, and then it all hit me once I was wearing the finished dress. It was all actually happening, and "the day" was just two weeks away, it was quite emotional.'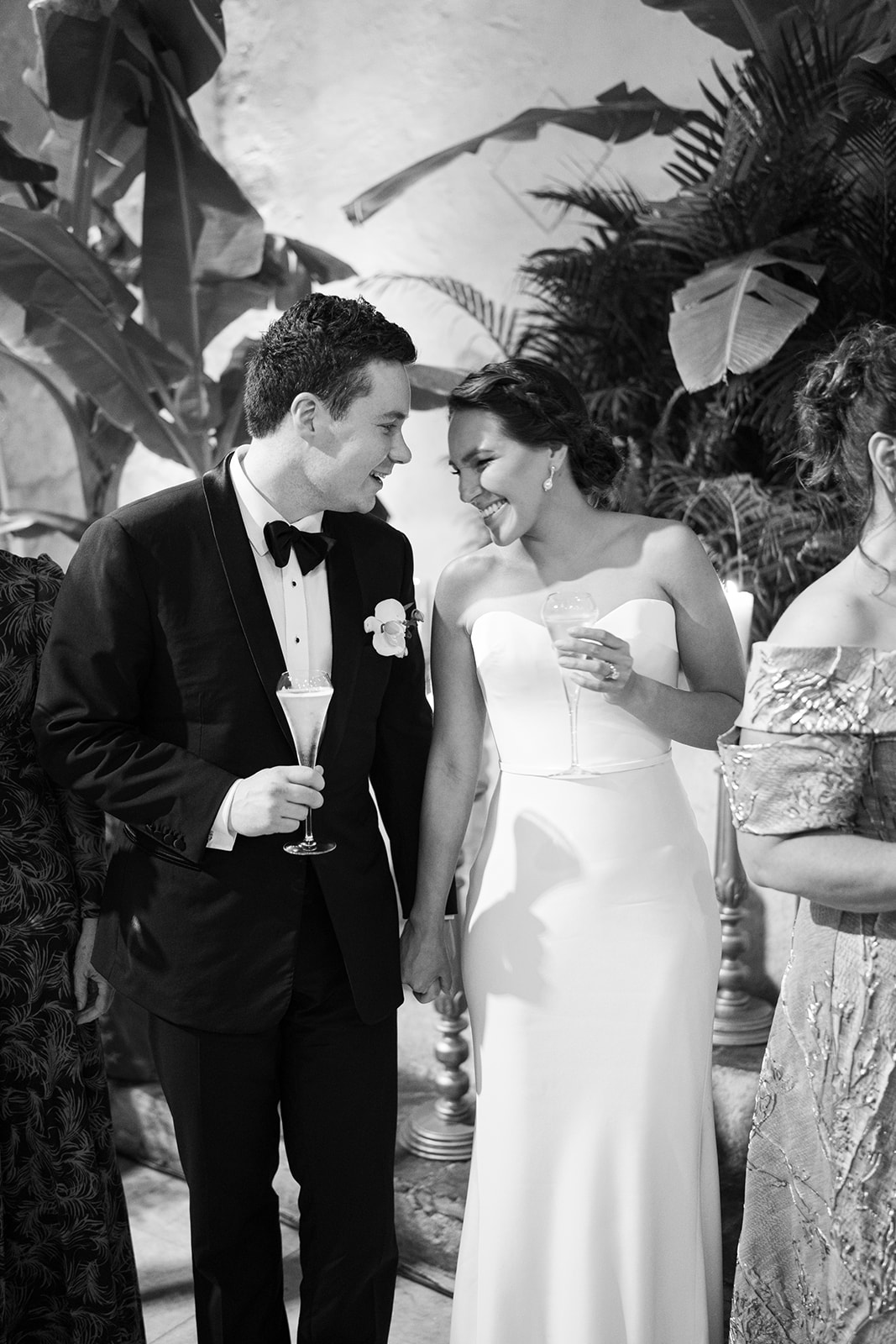 Wedding guests flew into Carolina's home country of Colombia from all over the world. She explains that 'the guiding principle of our wedding was to make sure our guests had an unforgettable experience. As such our wedding included many Colombian traditions, and was structured with lots of activities across four days with the wedding landing on the penultimate day. Our afternoon ceremony was officiated by a dear friend from university, who conducted the nuptials in both Spanish & English, and included special readings by several of our loved ones. Immediately following the ceremony we surprised the wedding party and guests with a procession of traditional Colombian dancers and musicians to guide them to the cocktail hour. After taking photographs we re-joined at the cocktail hour, which concluded with a fireworks display after the sunset.'
'At midnight we incorporated the tradition of the "hora loca" or crazy hour, where professional dancers came in to re-energize guests with dancing competitions, midnight snacks were then served, and the party continued until around 3am.The next day, in lieu of a farewell brunch, we gathered all of our friends and spent the day poolside at a beach house on the island of Baru, where we had restorative coconuts, an "asado" grilled lunch and danced into the night.'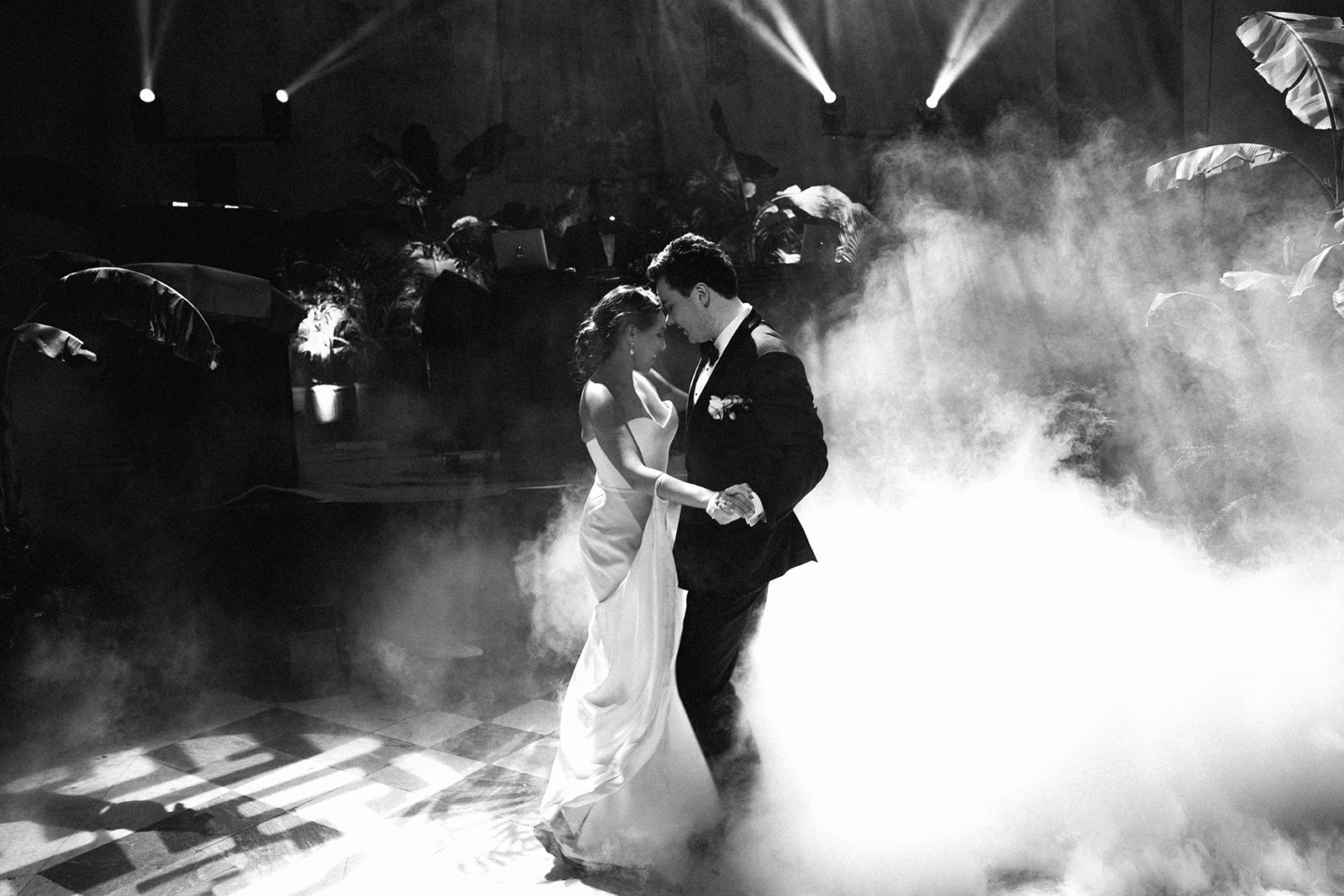 To anyone currently planning their own wedding she advises that 'once the day comes, let go of the vision on paper, and remember that if something unexpected does crop up, take a step back, because it's very hard to let go when you have been so emotionally invested in planning this day –  and try to react with a positive mindset. This will impact how much you enjoy the day (and you can look back on a happy, smiling bride in pictures). In more tactical advice, I would also suggest doing a physical walk through of the run of show with your wedding planner, coordinator (or deputised organizational lead) and photographer. Especially if there have been any last minute changes of venues or if you have different ceremony & reception locations! If your photographer is coming from out of town, ask them to join via video call. This will allow you to visualise the day ahead of time, and catch anything that might have been missed on paper.'
When asked how she felt wearing her couture wedding dress, Carolina's response was 'the minute I stepped into my dress I felt a sense of serenity and of course very beautiful! It fit like a glove.'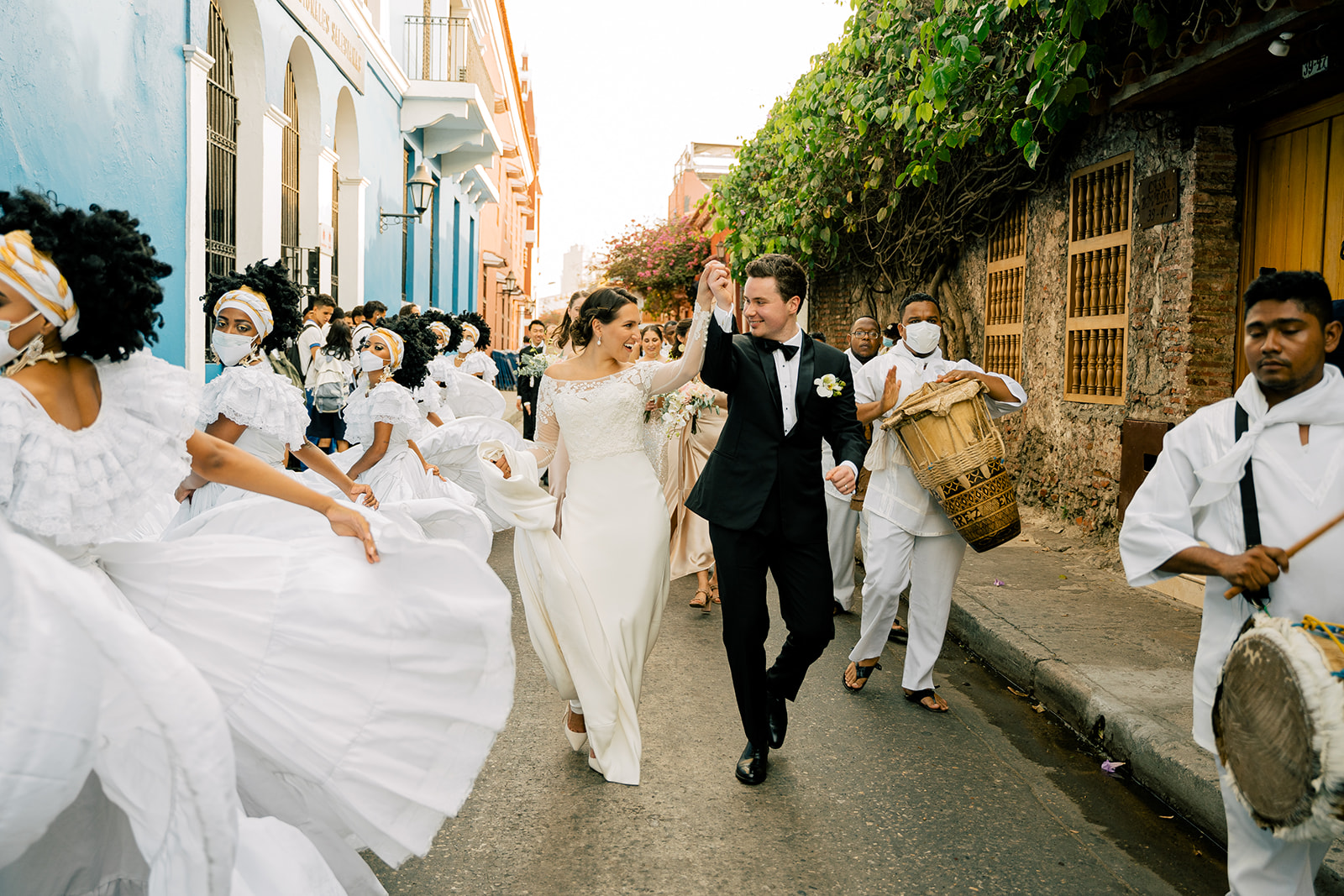 Photography –  Donna Irene Weddings  @donnaireneweddings
Phillipa Lepley is recognised globally as a leading British wedding dress and eveningwear designer, renowned for bespoke couture dresses of the utmost luxury. Her wedding dress shop in London, Chelsea, has over 50 dresses, all of which have been made in England from start to finish at her atelier.