Phillipa Lepley bride Madeleine
Phillipa Lepley bride Madeleine was married in London in a beautiful, bespoke ivory duchess satin wedding gown.
'We decided we wanted a December wedding in London as this was the city we had met and fallen in love in.'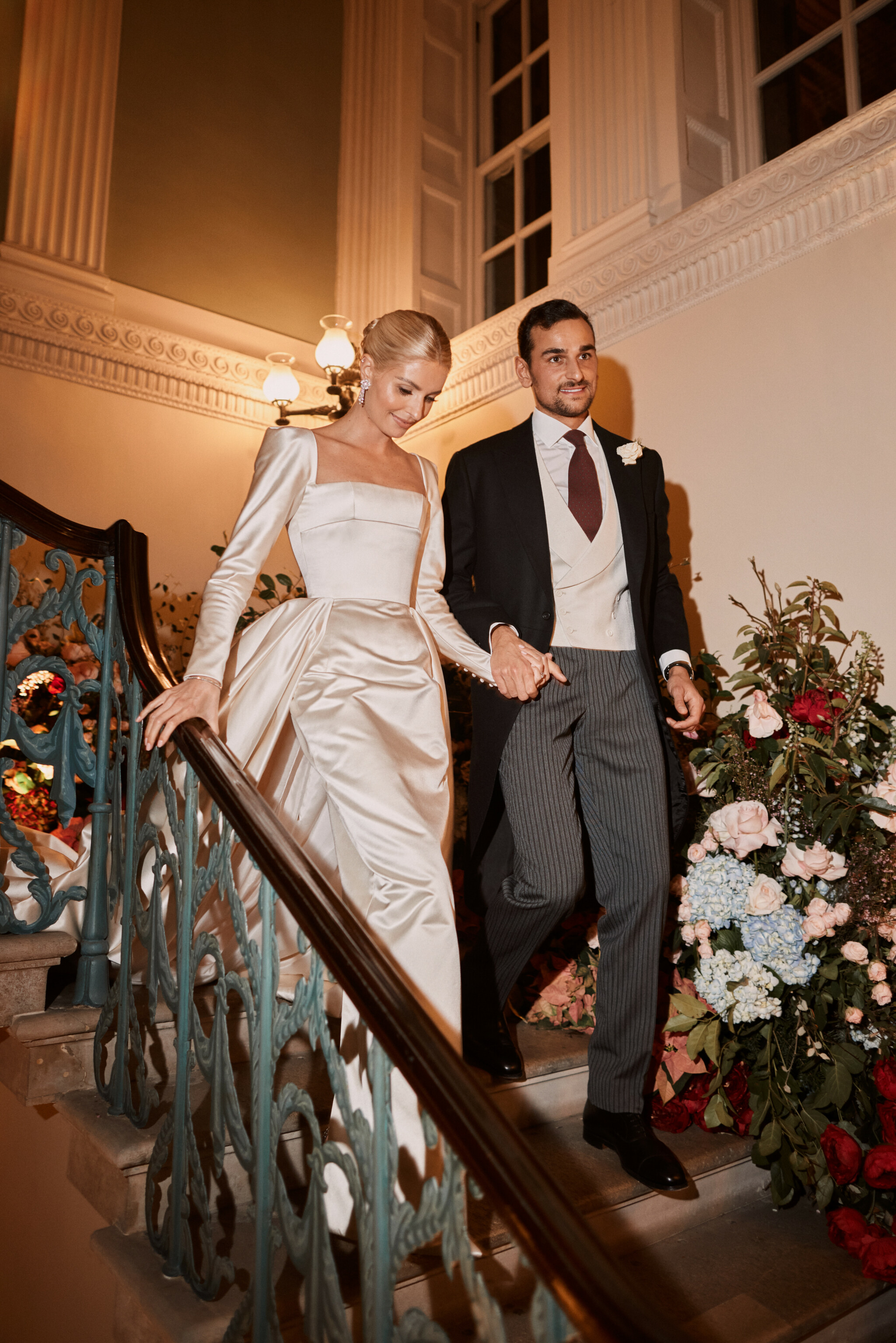 With her own special vision in mind for her dress, Madeleine attended a series of design and fitting appointments at The Phillipa Lepley Shop and Conservatory in Chelsea, London, where she met with the specialist Phillipa Lepley Team to co-create her wedding dress and veil.
'I knew the exact wedding dress design I wanted and realised I would have to go down the bespoke route as I couldn't find what I was looking for off the rack. My sister introduced me to Phillipa Lepley's designs and I loved how classic and timeless they were. I also loved that they were made with such skill and craftsmanship along with the most beautiful fabrics. The option of a corset gave my body a beautiful shape and I loved that you could choose from two different corset styles depending on the look you wanted to achieve. Most of all, I loved that the team were so open to designing exactly what I had envisioned and I knew the dress would be made so beautifully and the process would be calm and stress-free!'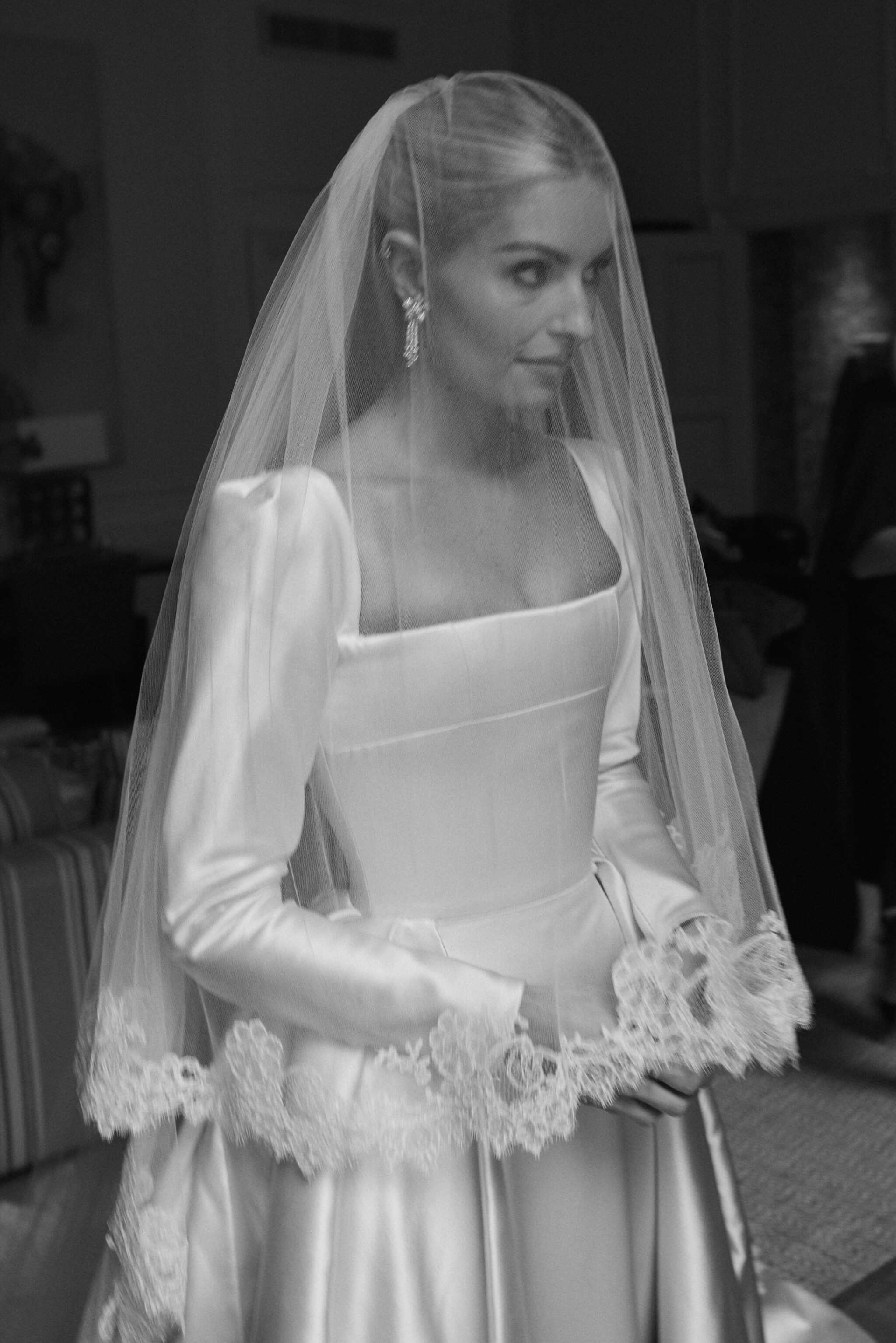 'When I tried on some designs in my initial consultation, it was the first time I had cried when trying on wedding dresses. I felt so confident and beautiful and from then on, I knew I had to choose a Phillipa Lepley dress! I truly feel Phillipa's designs always let the wearer shine through, the dress never overwhelms the person which is so important for your wedding.'
With such a bespoke design, highly skilled and exceptionally detailed work occurs behind the scenes to perfect the design before any real fabric is cut. Following her measure appointment, Madeleine's dress was mocked up in a full-length calico toile, where the lines of the dress were precisely fitted to her silhouette before the silk fittings began.
'I remember the first time I tried on the toile – seeing the shape of the dress I had imagined in my head in real life was so exciting.'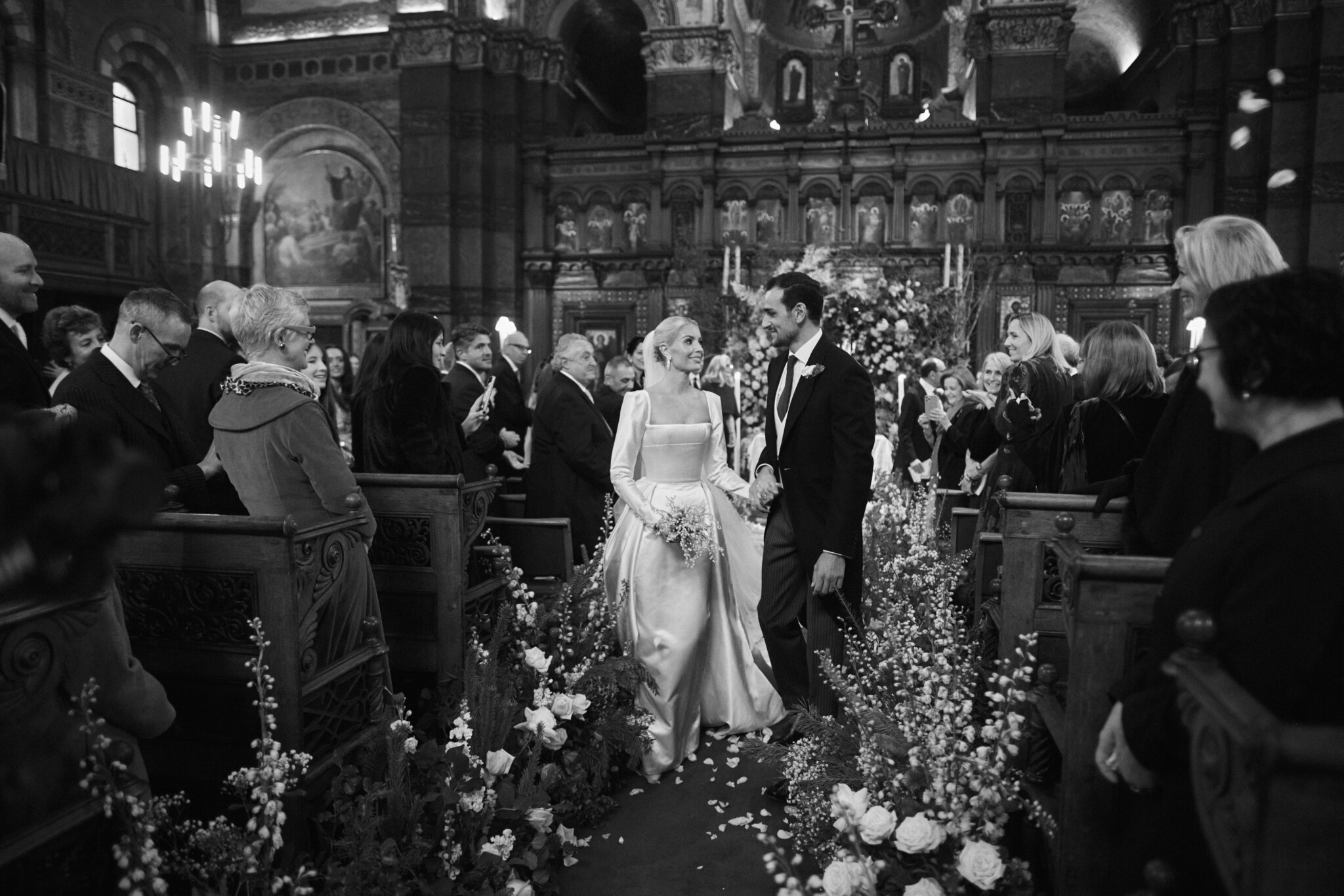 Madeleine fell in love with the quality of our ivory Italian duchess satin, and drawing inspiration from across the existing Phillipa Lepley collection, opted for a corseted slim, straight dress complete with a dramatic overskirt featuring wide box-pleats which created rich and sumptuous deep folds of fabric. The incredible volume of the skirt provided a striking contrast to the corseted waist; an example of the unparalleled sense of balance and proportion apparent in all of Phillipa Lepley's designs.
'When I tried on dresses and veils in my first consultation at Phillipa Lepley and discussed the design I was hoping to achieve, we played around with different fabrics and veil styles and the duchess satin was just so beautifully simple and chic and I felt the most 'me' in this material.'
'What I loved about the overskirt was that it offered almost two different looks, with the column skirt at the front which felt very London/city wedding and then the full skirt at the back, adding the romantic, traditional and dramatic element.'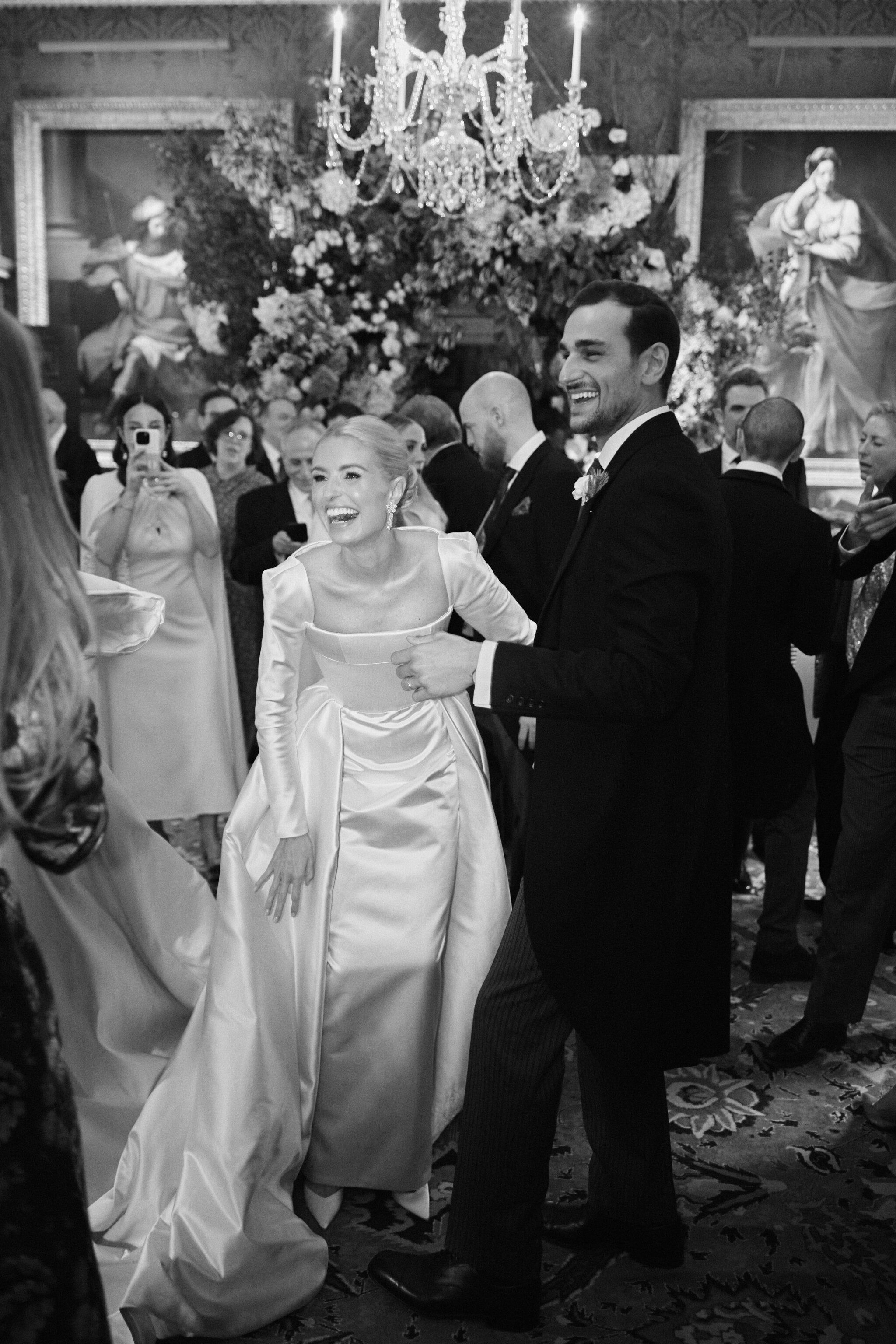 A framing square neckline and structure within the sleeves created a strong line over the shoulders, achieving a contemporary elegance before descending into long sleeves with delicate buttons and loops on the cuffs. Intricate seaming detail at the under-bust enhanced the strong, statement lines of the square neckline and sleeves.
Madeleine's long, dramatic and intricately beautiful silk tulle veil featured a seamlessly appliquéd and scalloped 'Buttercup' French corded lace edge. To add a personal touch, she chose to include additional bespoke embroidery in her veil. Through meetings with the Embellishment Team who drew out the artworks for her to approve, Madeleine chose exactly where each motif was placed as well as the scale and positioning, so that each was incredible personal to her.
'I loved the opportunity to include meaningful embroidery which added such a personal element to the veil. The rose and olive branch represented my english and my husband's greek heritage joining together and our dogs are such a huge part of our lives so I had to include them as a surprise for my husband! I hope my veil is passed down through generations of our family with each bride adding their own personal touches.'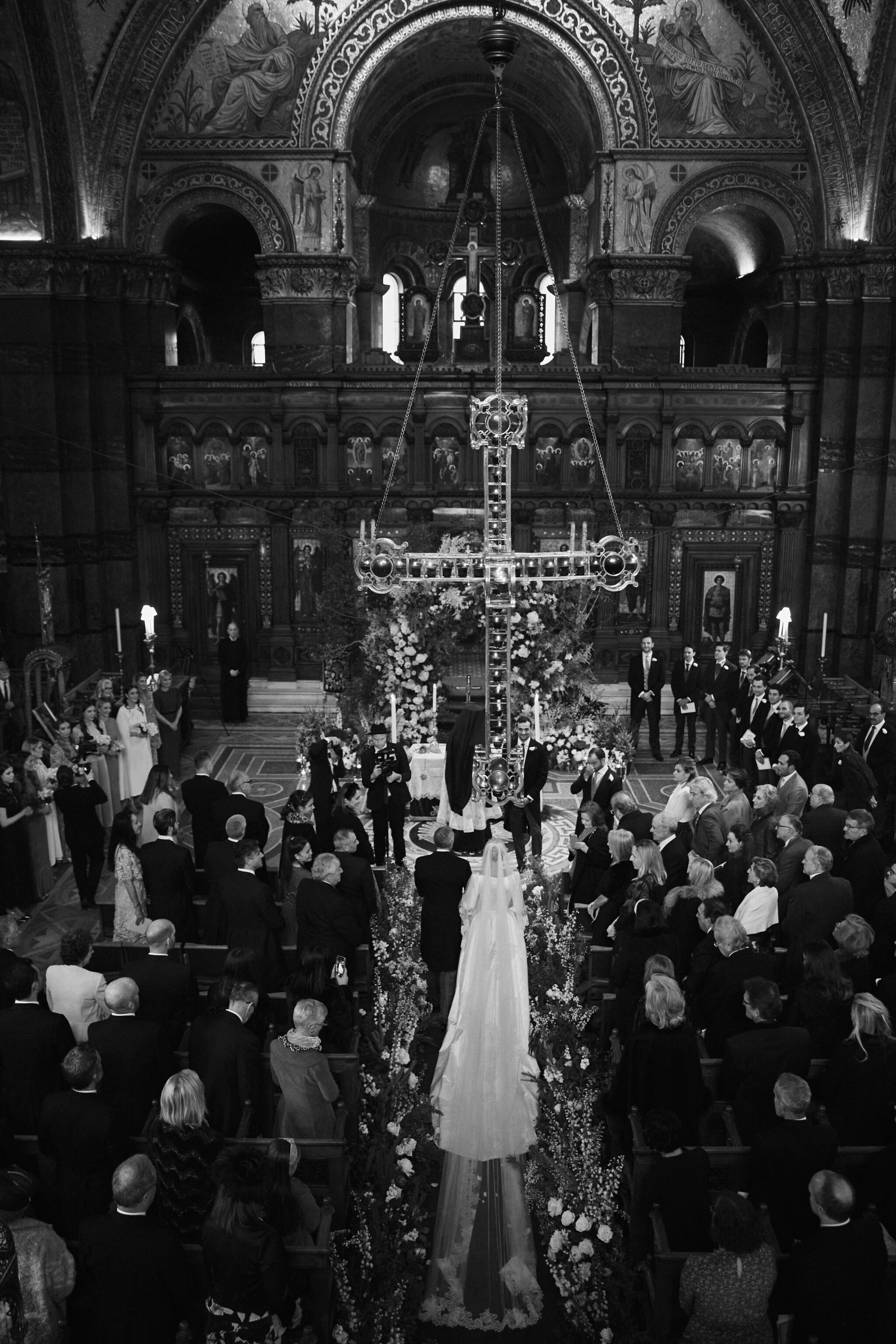 'We wanted our wedding to combine the traditional elements of a Greek wedding with a very personal, intimate dinner party feel. The day started at St Sophia's Cathedral which is only 10 minutes away from our house and very special to us as my husband's parents were married there. After the ceremony, the guests were transported to Spencer House in St James's where they were greeted by a gospel choir singing Christmas carols along with a Christmas tree forest scape. We had a lunch reception with food from our favourite restaurants, Nobu and Mazi. All For Love London decorated both the cathedral and Spencer House with the most beautiful flowers we have ever seen. We had a break for a few hours for our guests to pop home and have a cup of tea and then headed to an intimate dinner with a group of our closest friends and family at Mark's Club. After a delicious meal and many wonderful speeches, we started the dancing off with our first dance to the same song my parents's danced to on their wedding day – You Send Me by Aretha Franklin. We then danced the night away to our favourite soul and disco songs.'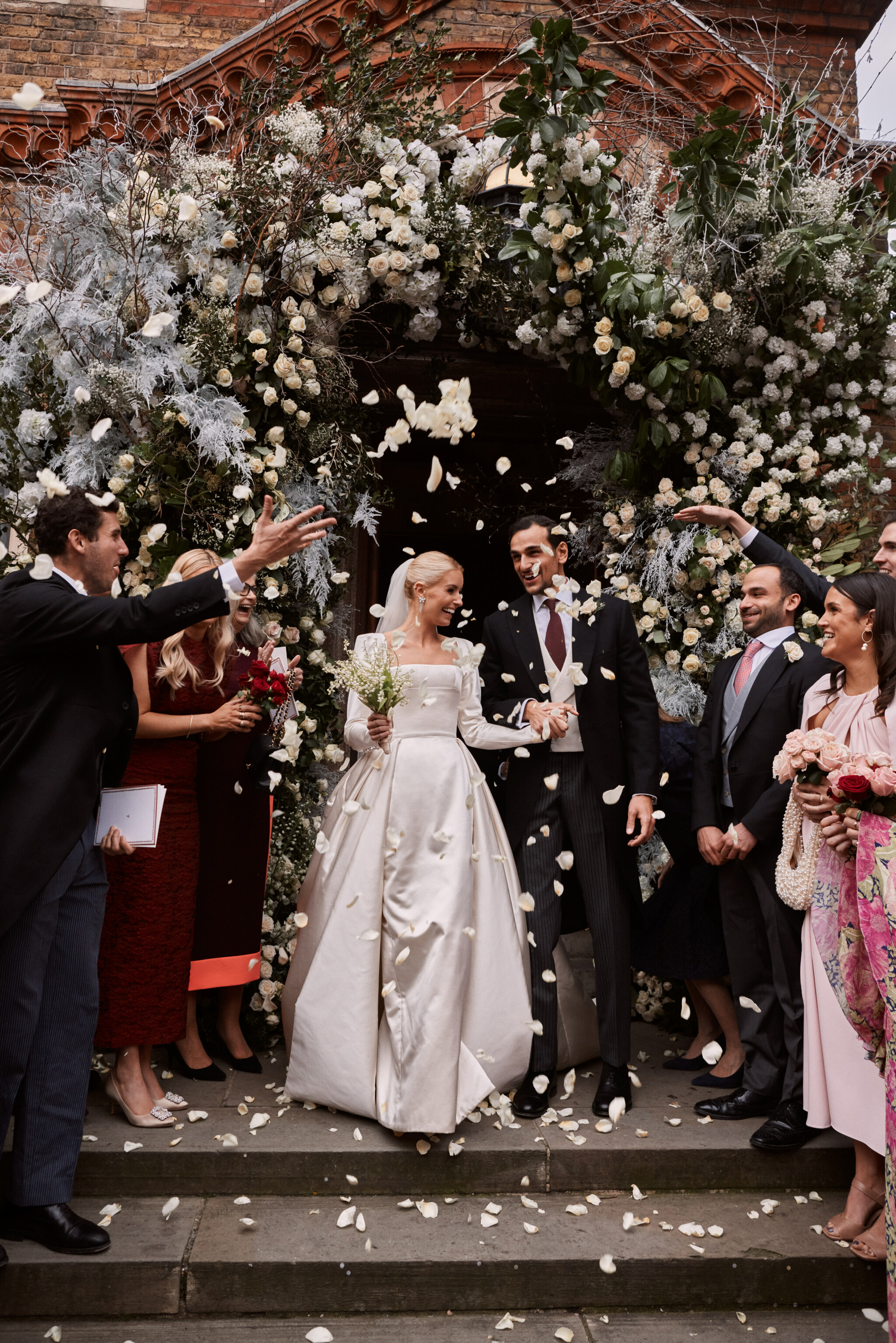 Photography: @benjaminwheeler
Phillipa Lepley is recognised globally as a leading British wedding dress and eveningwear designer, renowned for bespoke couture dresses of the utmost luxury. Her wedding dress shop in London, Chelsea, has over 50 dresses, all of which have been made in England from start to finish at her atelier.