Phillipa Lepley bride Alexia
Alexia attended a series of appointments at The Shop and The Conservatory in Chelsea, London, where she experienced each stage of her couture dress from toile to final silk. She says, 'I found the initial appointment very fun, getting to try on all the different styles of dresses that had been selected based on the brief. I loved being able to bring friends with me at various points in the fittings process and see the dress take form over the months, and my mum, who had helped me select it to begin with, came over from France to see the final result.'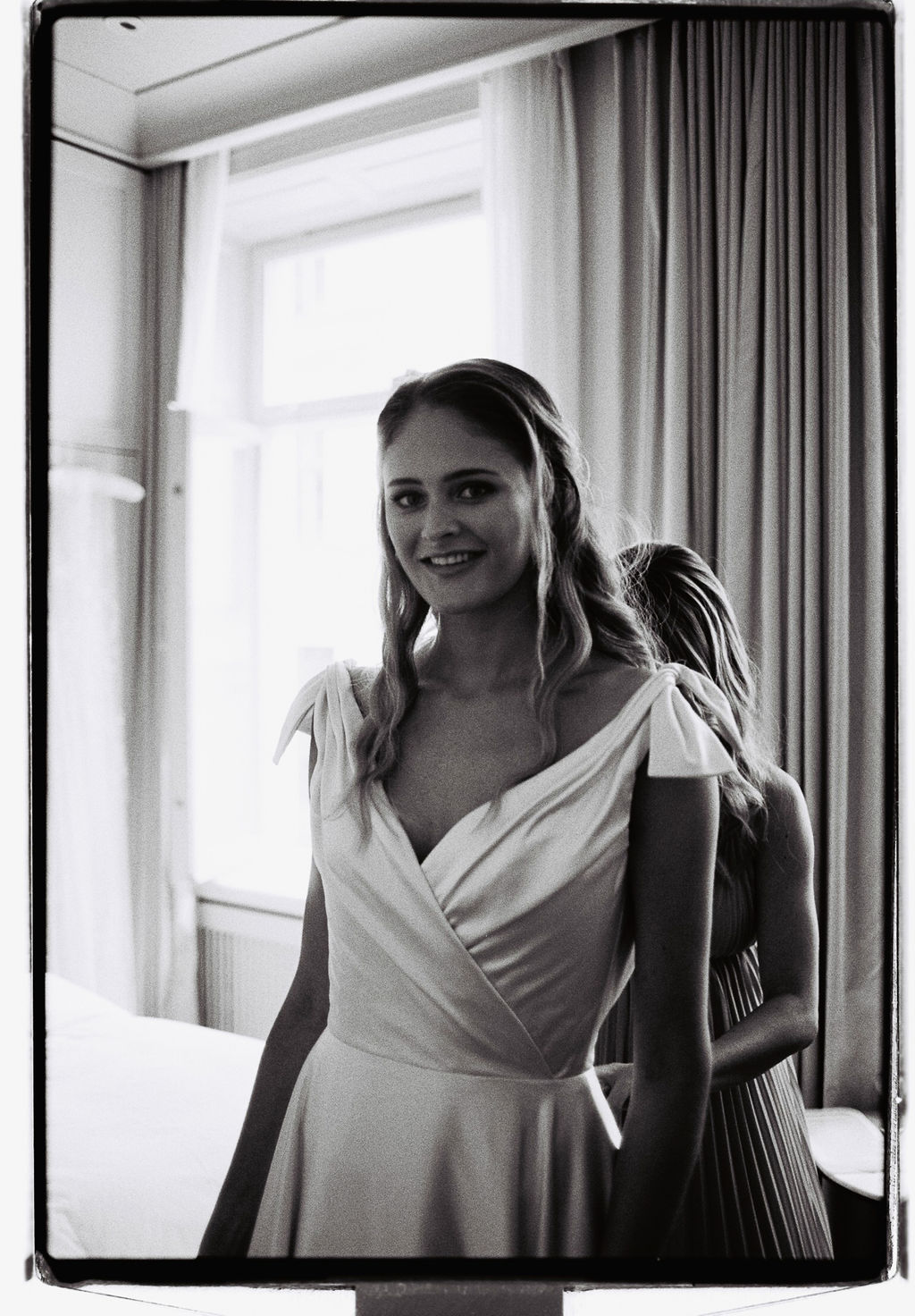 Opting for a corseted, softly draped ivory Italian duchess satin cross-over wedding gown, Alexia's dress had a low V-neck front and back neckline and a full circular skirt, creating a beautifully balanced silhouette. The cleverly manipulated silk was carefully draped across the bodice, flowing seamlessly into beautiful 'on-the-edge-of-shoulder bows'; a Phillipa Lepley signature. In the skilled hands of The Atelier, our duchess satin can be moulded and sculpted to create rich, deep folds of fabric which catch the light, as seen in Alexia's dress.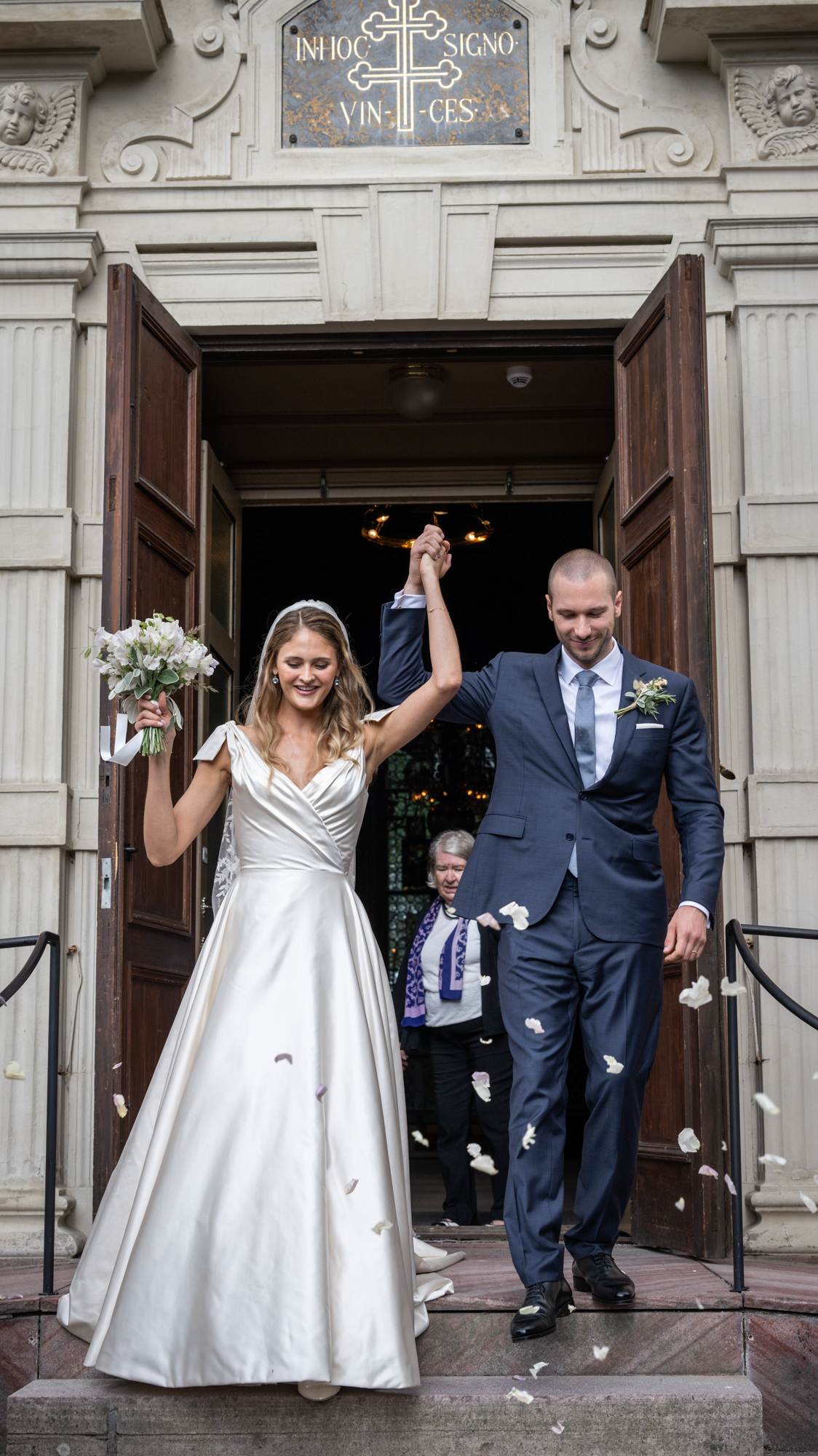 'I knew I wanted the dress to be simple and timeless, and I settled on ivory satin because the warmer colour went better with my skin tone. The dress felt comfortable, young and relatively relaxed which suited the venue and the atmosphere. I often wear V-necklines, so the silhouette wasn't too unlike something I'd choose to wear normally. The duchess satin was the most amazing material I'd ever tried on and that corset had a magic effect on my waist, yet I was still able to breathe!'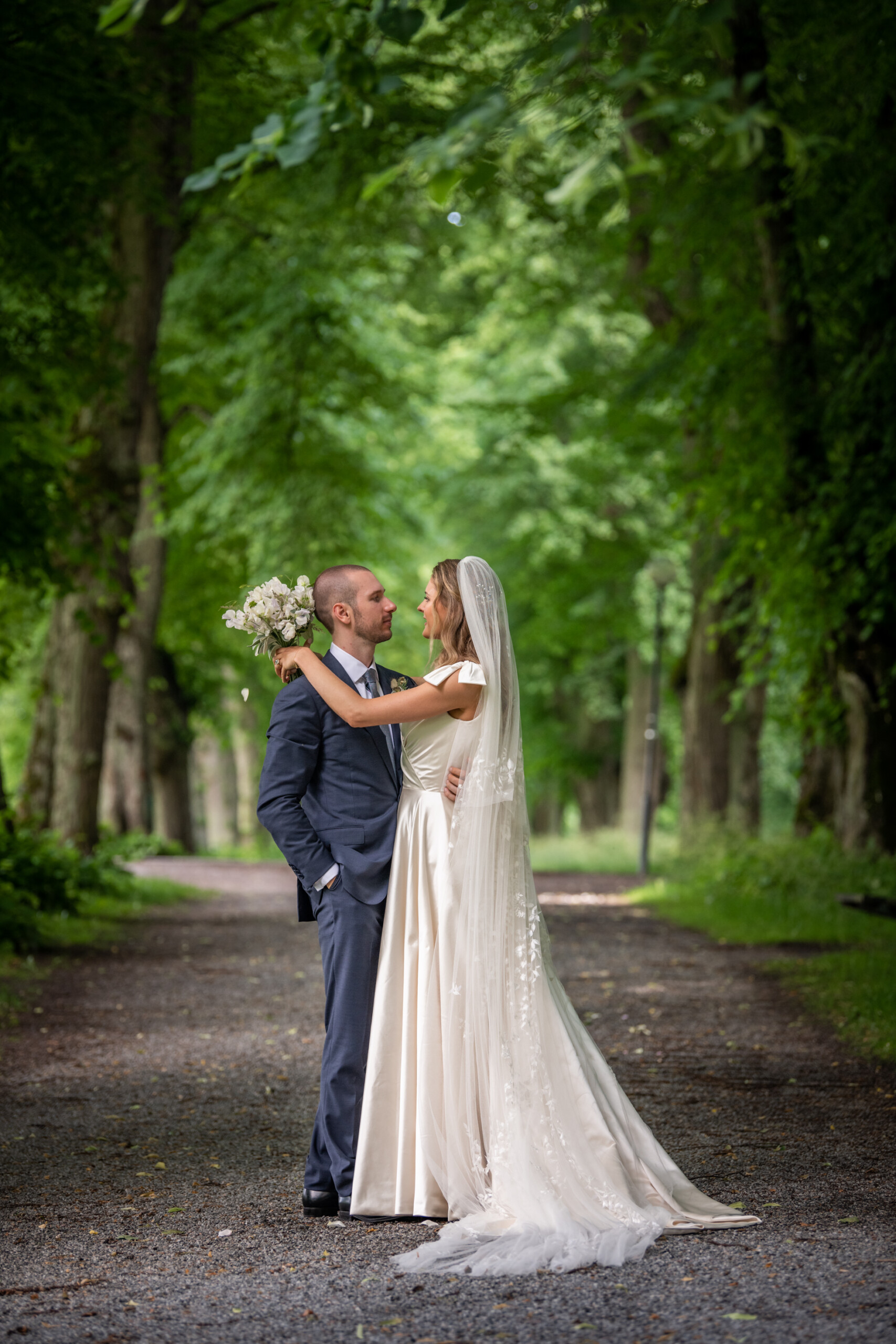 Alexia paired her exquisite duchess satin dress with a mesmerising two-tier silk tulle veil which was hand-embroidered with winding woodland leaves, with additional 3D laser cut petals appliquéd over the top.  Multiple levels of embroidery techniques and a touch of texture created a lovely depth, bringing the veil to life for her wedding emersed in nature. She says 'I love the forest, so it was an easy choice. The embroidered veil elevated the whole look and made it feel extra special. I decided to wear it over my face as I entered the chapel, for my fiancée to unveil at the altar, for that little bit of drama.'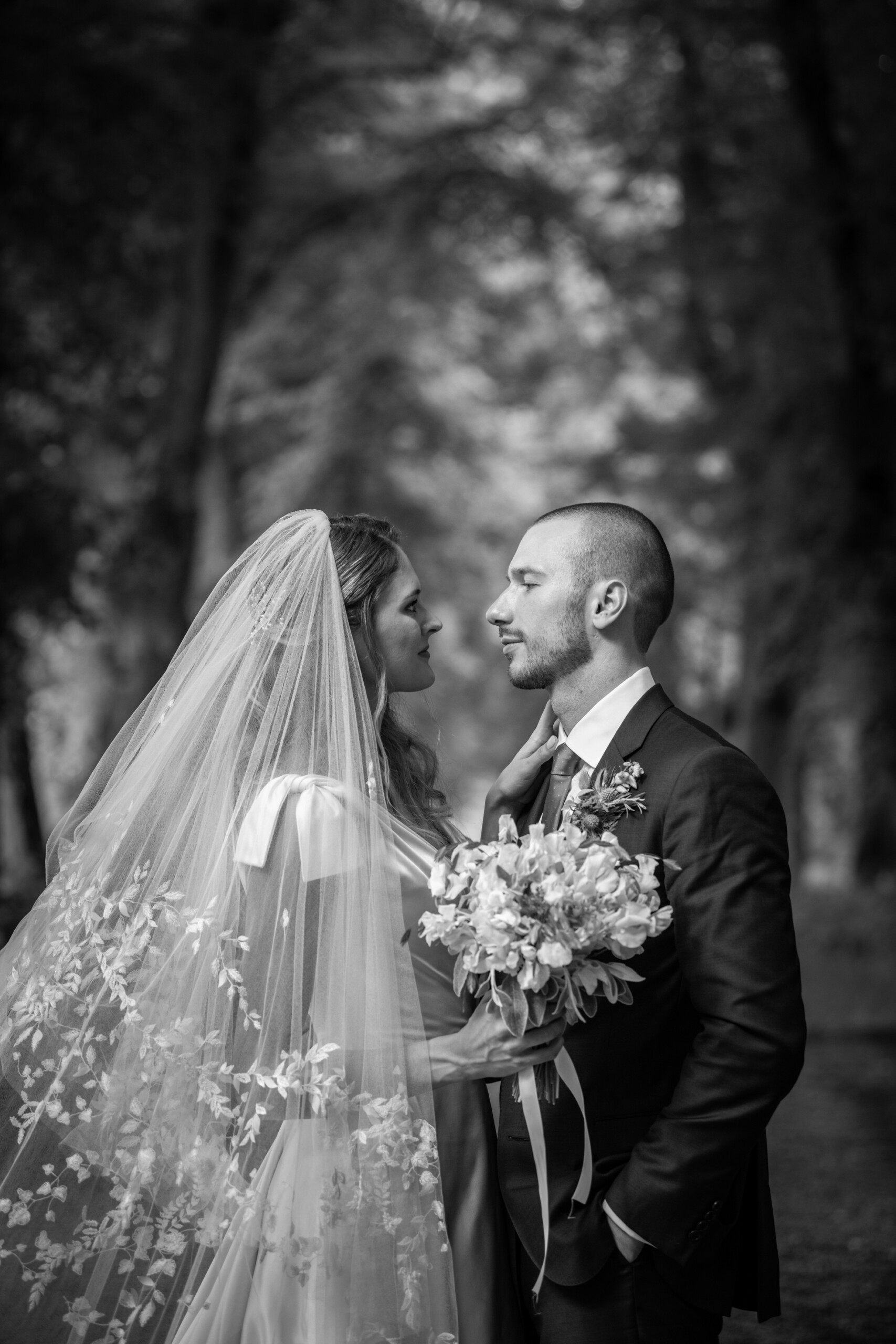 For the ceremony, Alexia's guests were taken by boat to the grounds of Ulriksdal Palace, on the banks of Edsviken Lake, in the National City Park in Stockholm. 'It took place in the royal chapel which was the perfect size for our 140 guests. Afterwards, there was a long drink in the garden of the next-door Inn of Ulriksdal (we were very lucky with the weather, 27 degrees and sunny which is unusual in Sweden!) followed by dinner in the Inn over two long tables. The restaurant is surrounded by forest, the sea, and farmland, and they grow much of their own food, which they serve modern Scandinavian-style. We'd brought lots of wildflowers and greenery inside to feel close to nature.'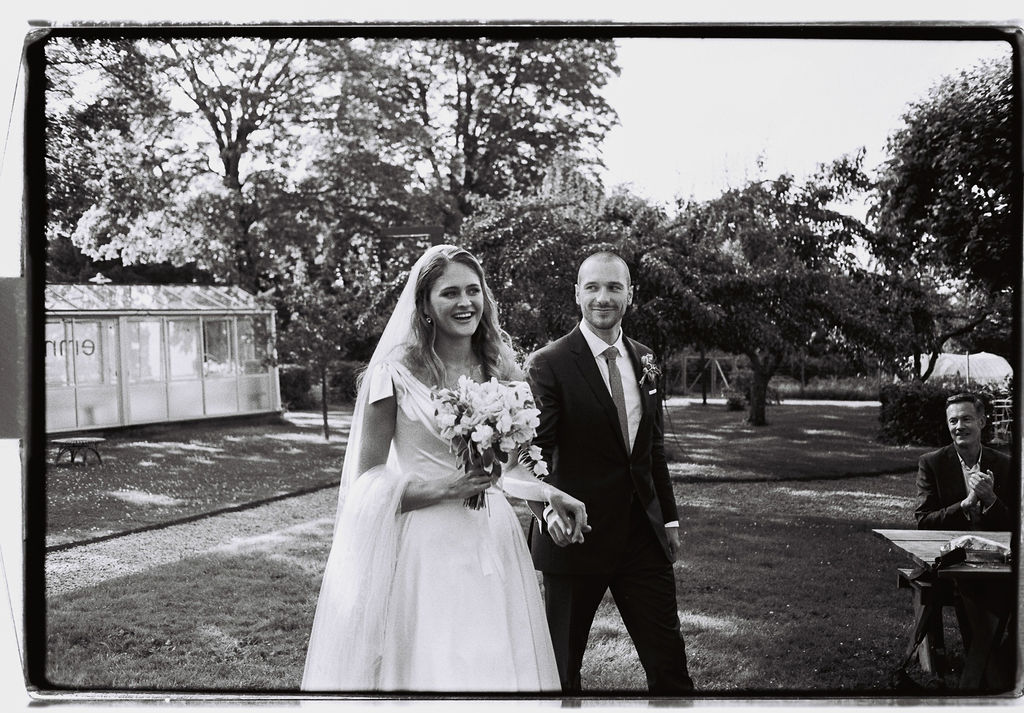 'The best part was the dancefloor. We had transformed the adjoining octagonal glass room into this funky dancefloor and bar which was unveiled after dinner, and it felt like you'd been transported to a club in some warm country far away. At dawn I went swimming in the lake (don't worry, I took off the dress!) with my new husband, our siblings and their partners, which was probably my favourite moment of the whole day – it was liberating after a day where everything was planned, the morning light was beautiful over the lake, the cool water felt so good after the sweaty dancefloor, and we were together for the first time as our new family.'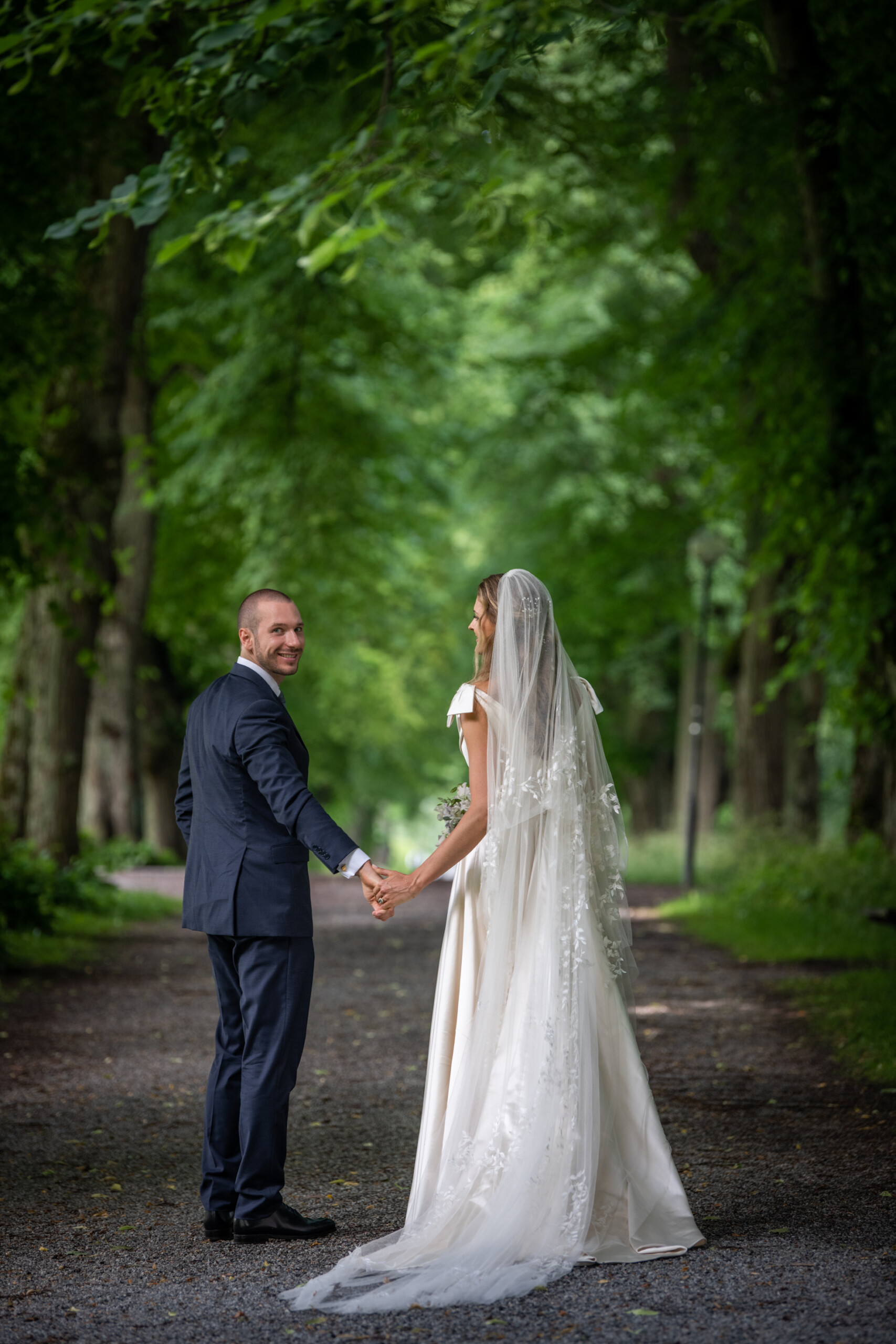 When asked what her lasting memory of the Phillipa Lepley couture dress journey was, Alexia says, 'it was a happy moment when I arrived at the dress that immediately just felt right and was able to tweak it in different ways to suit me.'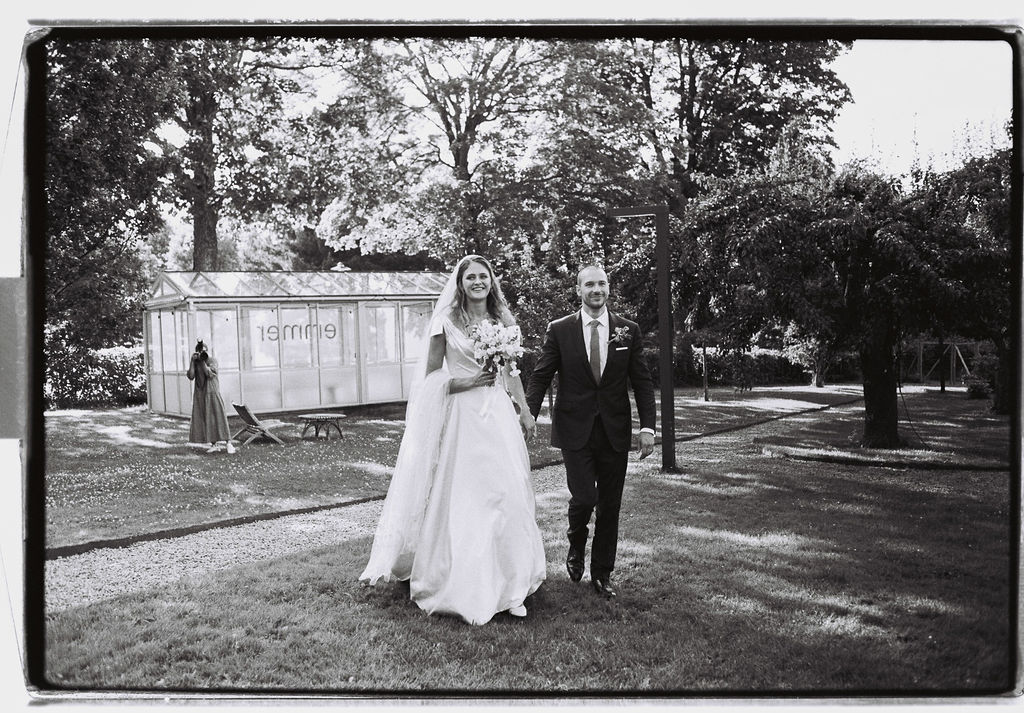 Phillipa Lepley is recognised globally as a leading British wedding dress and eveningwear designer, renowned for bespoke couture dresses of the utmost luxury. Her wedding dress shop in London, Chelsea, has over 50 dresses, all of which have been made in England from start to finish at her atelier.