Phillipa Lepley Bride Megan
Megan didn't look anywhere other than Phillipa Lepley for her wedding dress. She says 'Phillipa Lepley is the obvious place to go for beautiful, couture, one-of-a-kind wedding dresses. I had walked past the store often over the years and knew that nowhere else would come close in terms of providing the wonderful standard of service, and attention to detail, that every bride hopes for.'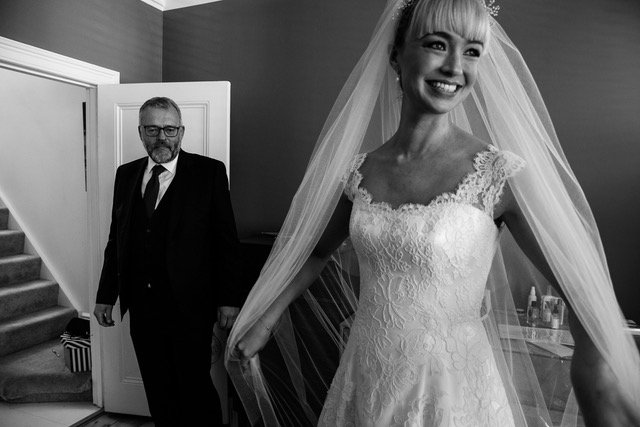 'The team at Phillipa Lepley somehow manage to combine a meticulous, precise and luxurious couture experience, whilst also maintaining a wonderful feeling of home. They are wonderful and fun, which meant that lots of memories are made before even arriving at the wedding.'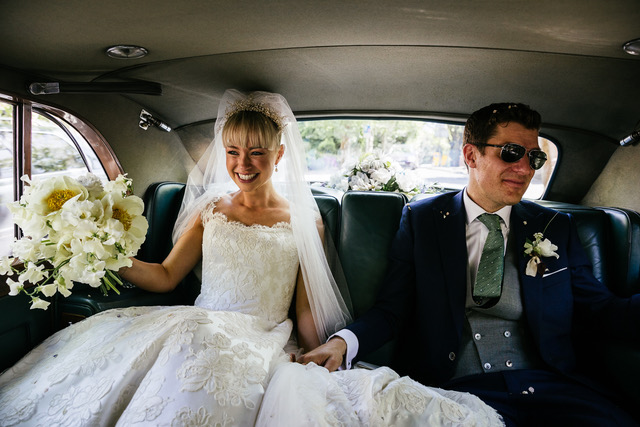 Megan didn't have any pre-conceived ideas before entering The Shop. 'The team at Phillipa Lepley encouraged me to try several different types and just go with what felt right – and I'm so pleased I took this approach.'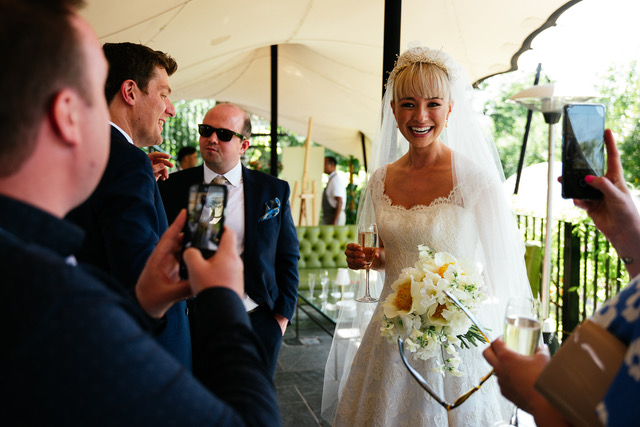 She opted for an intricately beautiful dress featuring two different types of French corded lace over an ivory duchess satin base. With larger roses on the skirt and smaller briar roses on the bodice, Phillipa and her expert atelier team painstakingly selected, positioned and appliquéd each flower to create the effect of the roses growing in size down the body. A sweeping skirt, scooped décolleté neckline and delicate cap sleeves were complete with the most exquisite undulating scalloped edge. The elegant wide off-the-shoulder straps enhance the beautifully defined corseted waist before journeying out to a lovely full skirt, creating the perfect sense of proportion and balance.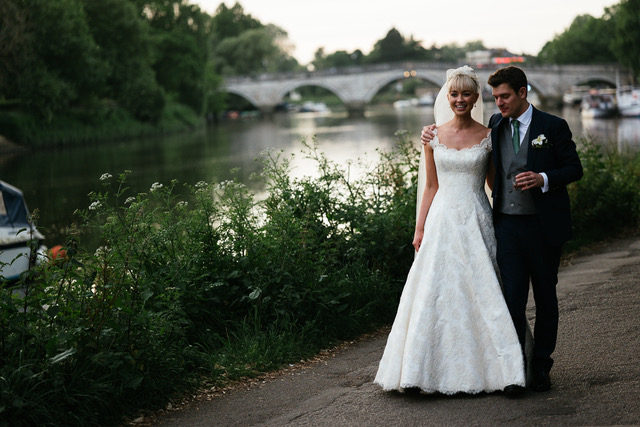 'I loved everything about my dress.  The corded lace overlay across the entire dress made for a very bold impact, and whilst the shape of the dress was classic – the lace felt unusual and unique.  The dress somehow felt simultaneously modern and traditional.  I also loved the colour, a very warm ivory, which was actually one of the features most commented on during the wedding.'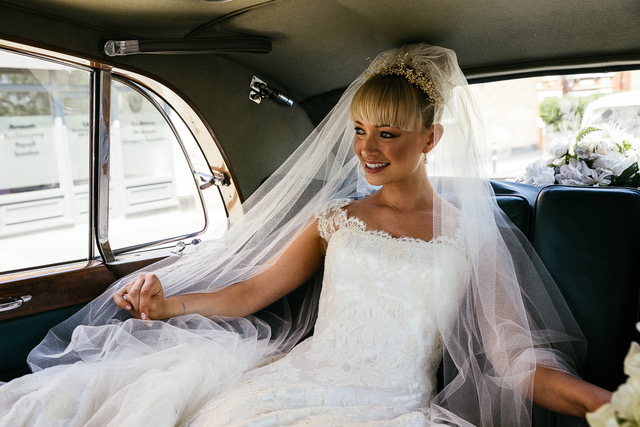 'I felt wonderful, comfortable and happy in the dress.  One of the biggest surprises for me was how genuinely comfortable the dress was to wear.  Weddings are long days, and not once did I feel like the dress was weighing me down.  The corset felt secure and supportive and the full skirt was fun and fabulous –  I would wear it every day if I could!'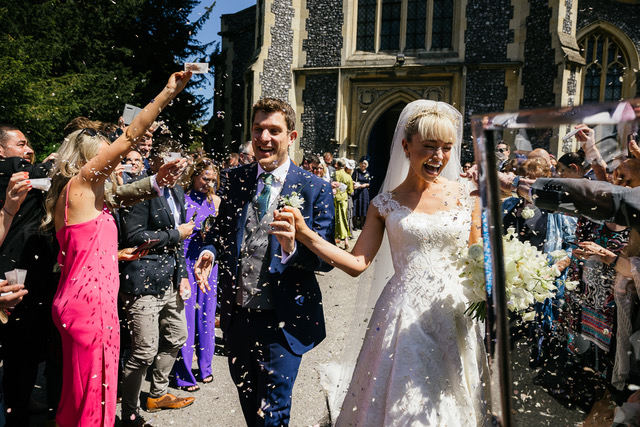 Megan's stunning bridal look was complete with a 'Mistletoe' headdress handmade with individual pearls bound into little vines of gold, and a simple and pristine two-tier silk tulle veil. She says, 'the mistletoe headdress and veil were the finishing touches and complimented the dress perfectly.  I actually also wore my mistletoe the following morning, such was my determination to keep the party going…!'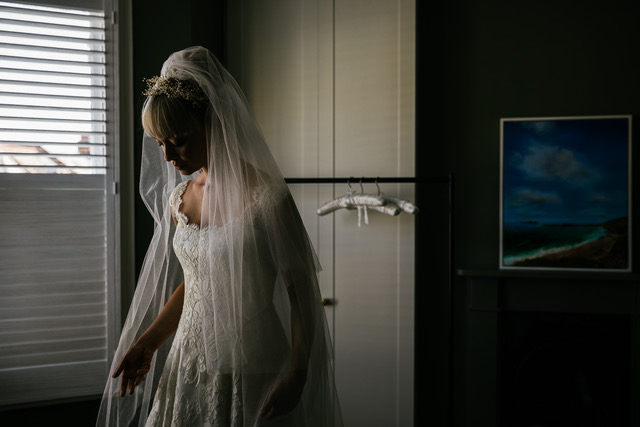 Megan got ready for her wedding at her home before her ceremony held at St Mary's on the edge of Wimbledon Village, and reception at Bingham Riverhouse.
'It was a beautiful and bright spring day – we were so lucky with the weather – and the dress felt just as perfect at the reception as it did in the Church. One of my favourite parts of the day was listening to the speeches outside, surrounded by our friends and family. Delicious food followed, and an after-dinner cocktail party for our guests, which was all useful fuel for the rather wild dance party that followed.  As you might be able to see, neither my feet, nor my dress, seemed to stay on the ground…!'
Megan's advice to future brides planning their wedding – 'Plan a happy day, and one that you and your partner will love.  That is really the only thing that matters.'
'Oh, and of course, book an appointment at Phillipa Lepley immediately!  You will not regret it!'