Phillipa Lepley bride Karolina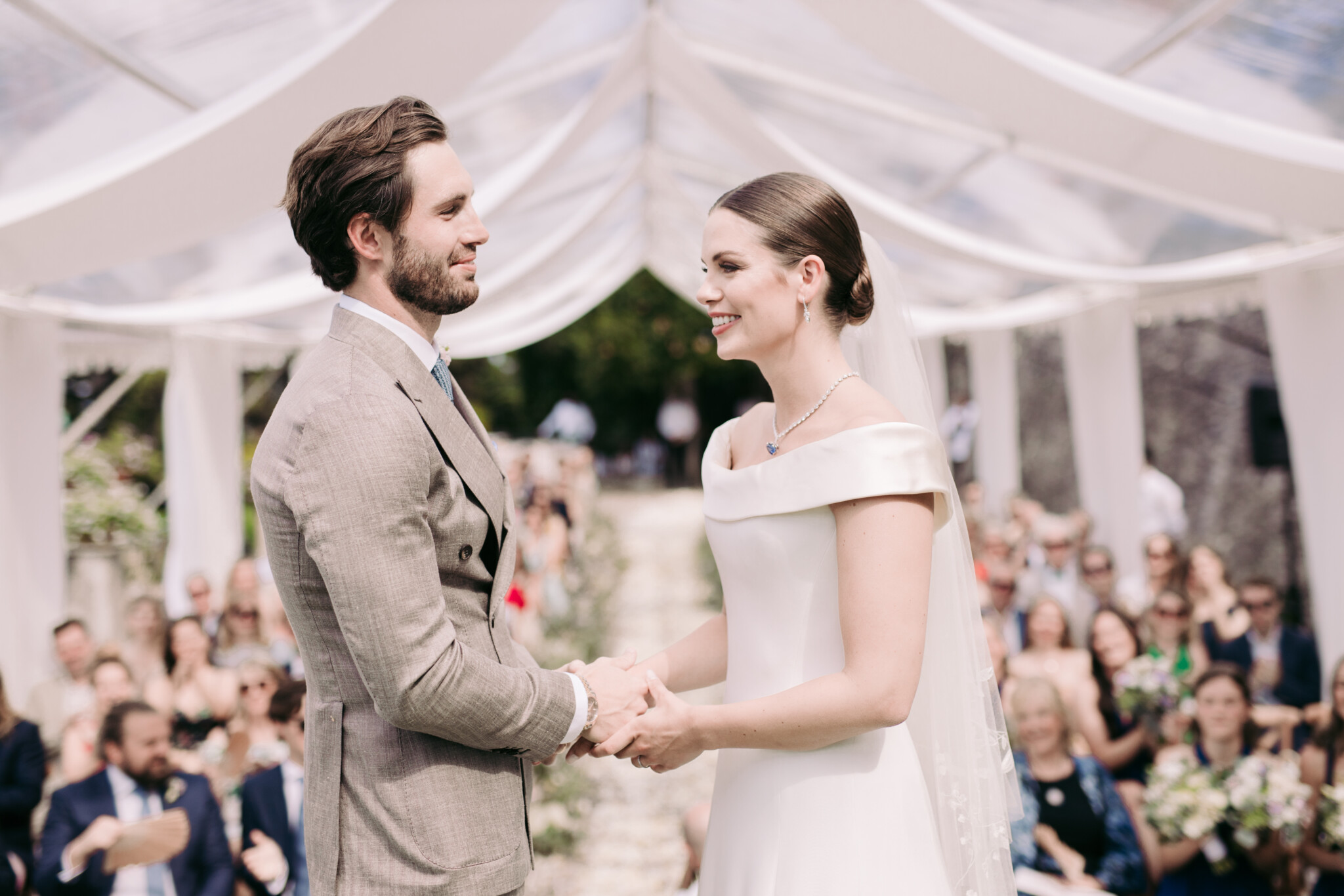 When Phillipa Lepley bride Karolina first started looking at wedding dresses, she felt a little lost. She read about Phillipa Lepley in an article in Tatler magazine and later found out that her sister in law had had her beautiful gown created by the designer as well. She immediately fell in love with the classic and romantic looks on the website and Instagram page.
Karolina had always imagined herself in a dress that had lots of embroidery, details, embroidered pearls and embellishments. She started off trying on a lot of dresses of that style, but although they looked beautiful, she felt they weren't for her.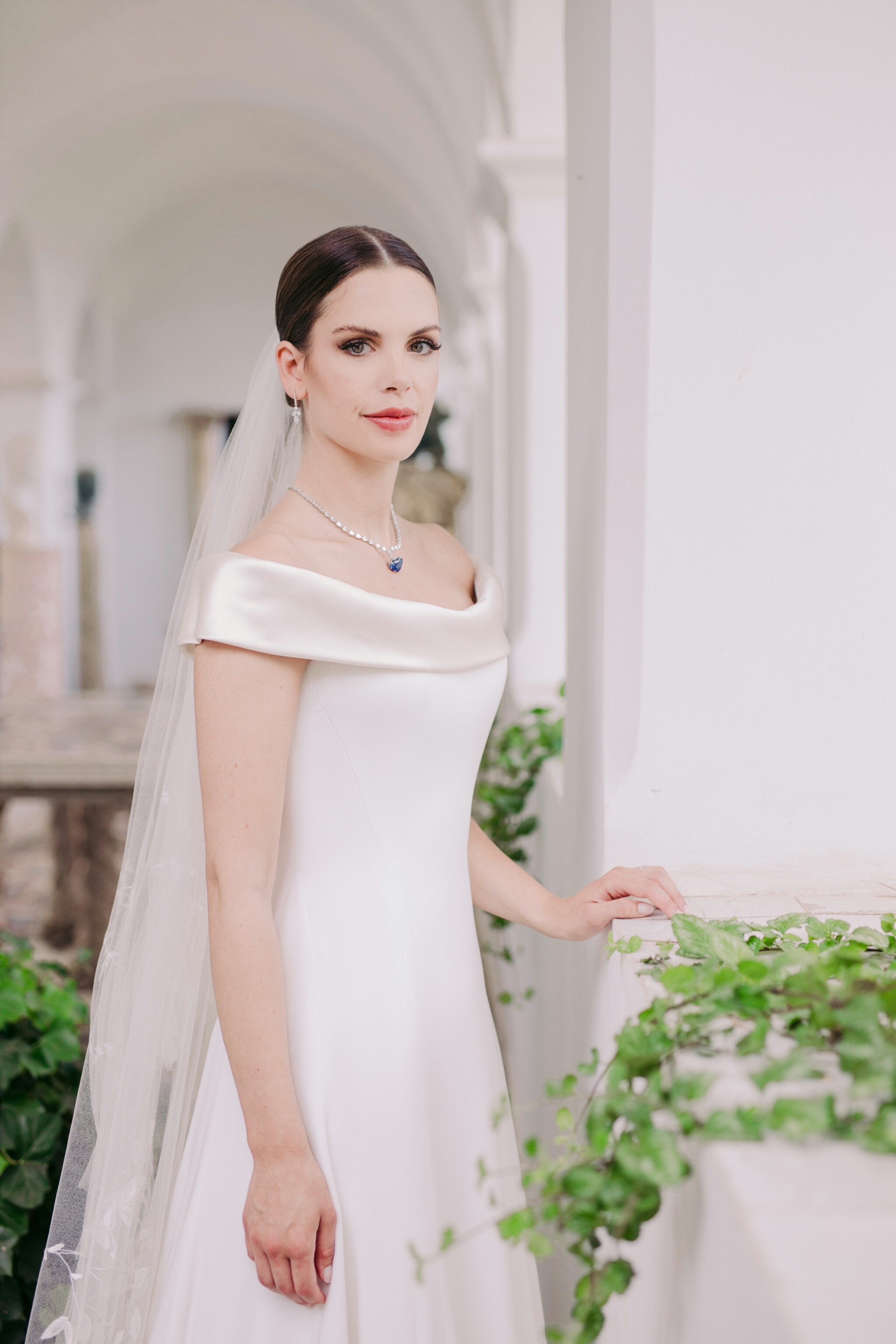 On finding her dress, Karolina says, "The team at Phillipa Lepley suggested a few dresses that they thought would suit me and I fell in love with one especially that was very simple yet very elegant. The original dress I tried on was in full duchess satin and I was worried that it would be too hot on the day as we were getting married in Italy. They then suggested that I had the same dress made in silk crepe instead as it's a lighter material, and I loved the idea! The dress reminded me of vintage glamour (I'm obsessed with the whole Grace Kelly/Greta Garbo glamour) and it worked perfectly."
Karolina's bespoke Phillipa Lepley wedding dress was made of the finest ivory silk crepe, cut with princess seaming and incorporating the signature Phillipa Lepley corset, carefully fitted and moulded to Karolina's form over her fittings. A narrow duchess satin collar crowned her dress, wrapping around the shoulders and finishing with a delicate line of silk covered buttons at the back.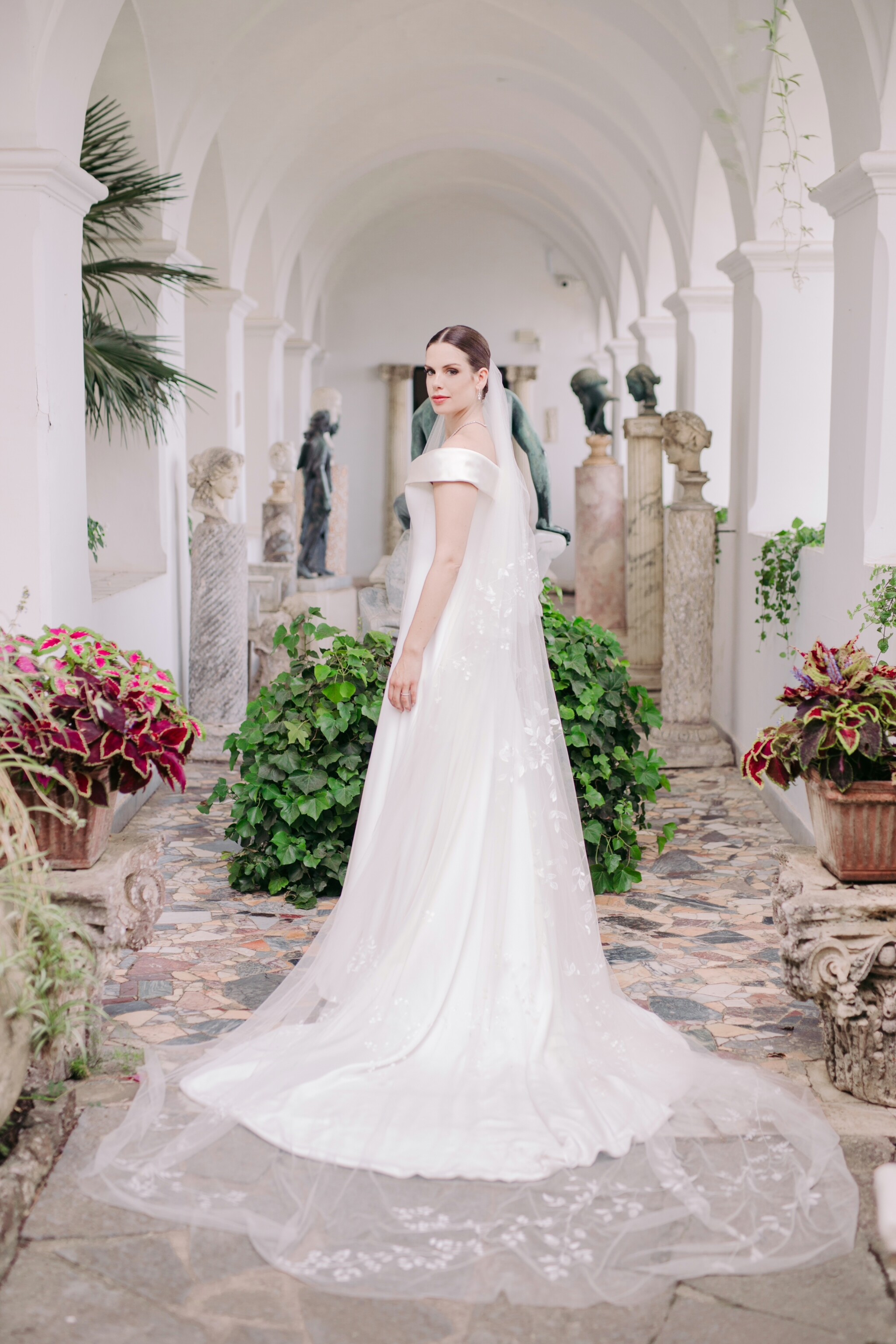 Karolina hadn't planned to wear a veil, but then she saw an image of a Phillipa Lepley couture embroidered veil and she thought it was beautiful: "Our wedding was going to be held in a garden, so the embroidered vine detail felt like it was made for the venue. What I loved most about the design was its simple elegance, and the crepe fabric against the satin collar (and the vine detail of the veil of course)."
Each Phillipa Lepley veil is created using the finest French silk tulle, and the embroidery is completed entirely by hand. For Karolina's veil, stich by careful stitch was skilfully built up into the silk tulle to create an organic winding garden of fern and leaf motifs that added another dimension to her look when laid over the long wedding dress train.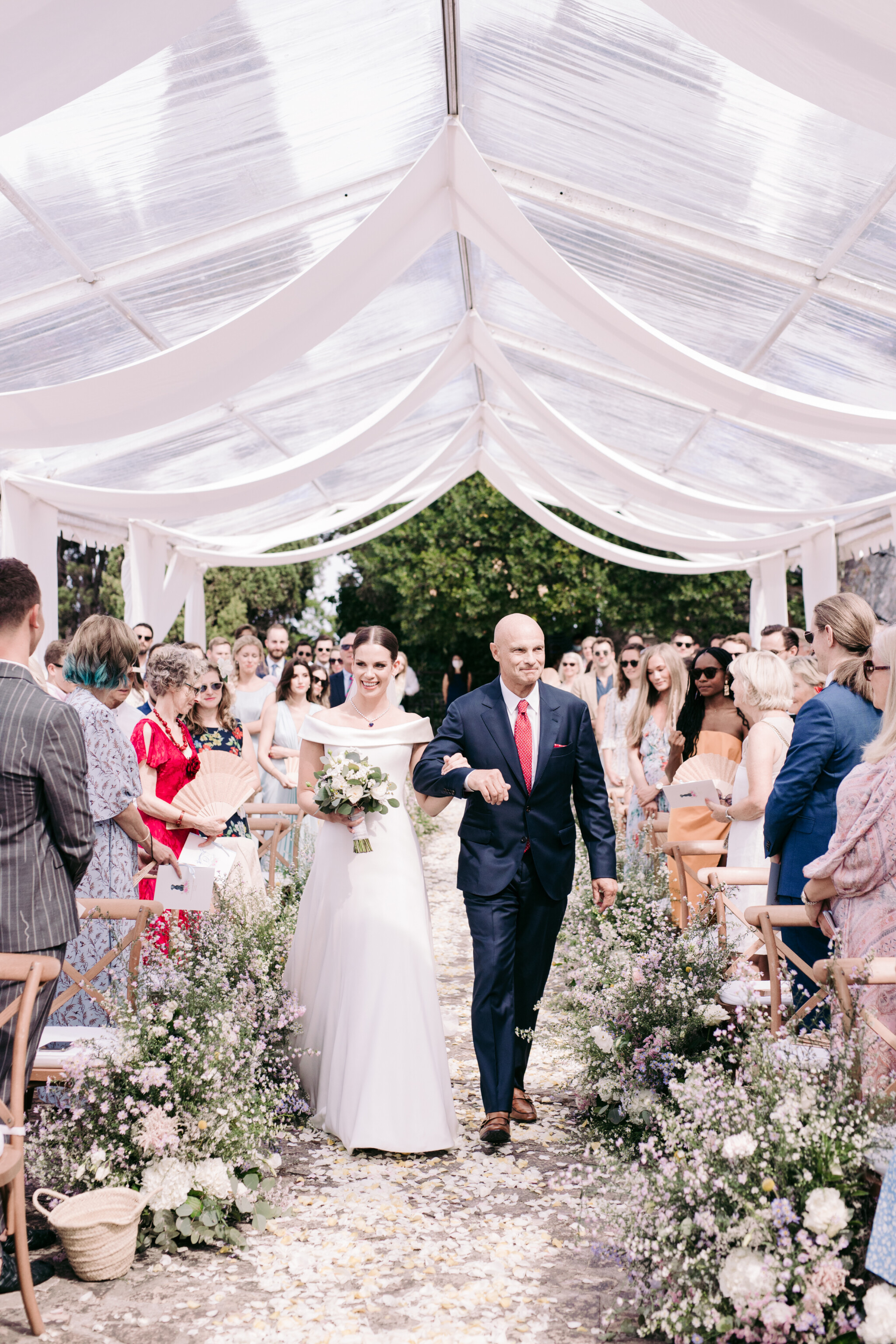 Speaking about the fittings process, Karolina says, "I loved going into each and every one of my dress fittings, from finding the perfect dress to trying it on for the last time before the day. We had to postpone our wedding quite a few times due to the pandemic, but the way the team at Phillipa Lepley were able to work with all of our date changes and stress made everything even more memorable. I loved the detail that was taken while making the dress, checking if I was comfortable sitting down, walking, how it looked from all different angles, how my arms fitted, making sure I could hug people, the list goes on…But I also loved receiving my little welcome pack right at the beginning that included the beautiful sketch made for the dress (I now have that framed)."
The wedding was in Capri in the gardens of Villa San Michele. The couple wanted to host a very elegant day, but for it to be very natural, like something out of A Midsummer Night's Dream meets La Dolce Vita. They brought in natural flowers from a meadow and an Italian band.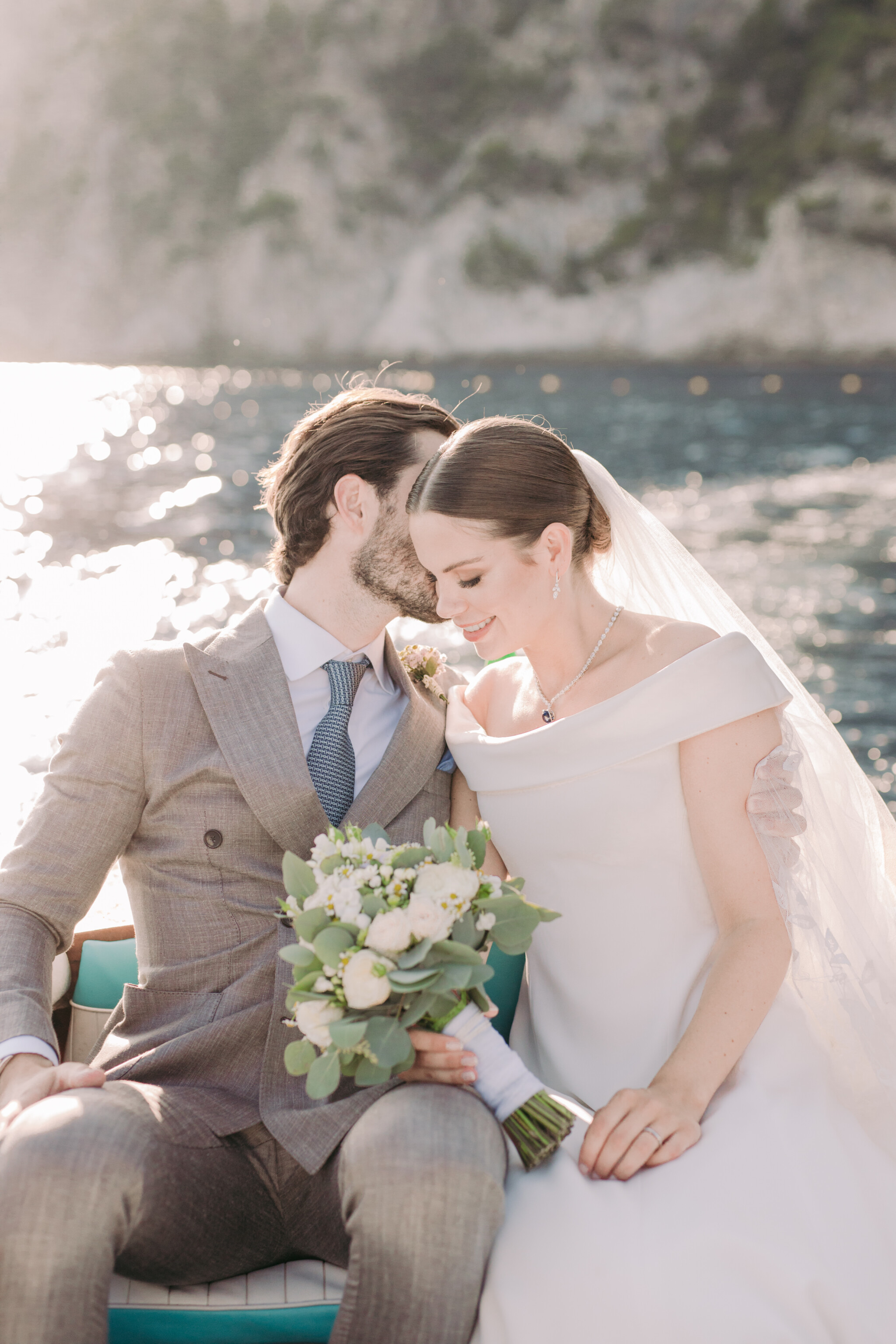 "My bridesmaids and I got ready in a beautiful hotel near the venue, where we had a long breakfast in the room. The ceremony took place at 2pm in September, so we knew that it would be quite hot, and so we wanted the ceremony to not be too long, in order to spend more time in the gardens. We then walked down to the piazzetta with all our friends and family where we took off to the marina in a vintage taxi and hopped on a Riva boat for some pictures and a ride to our evening reception that was held at a local Lido by a lighthouse. All our friends and family welcomed us as we arrived by boat, and we then sat down for dinner with views of the sun setting over the sea."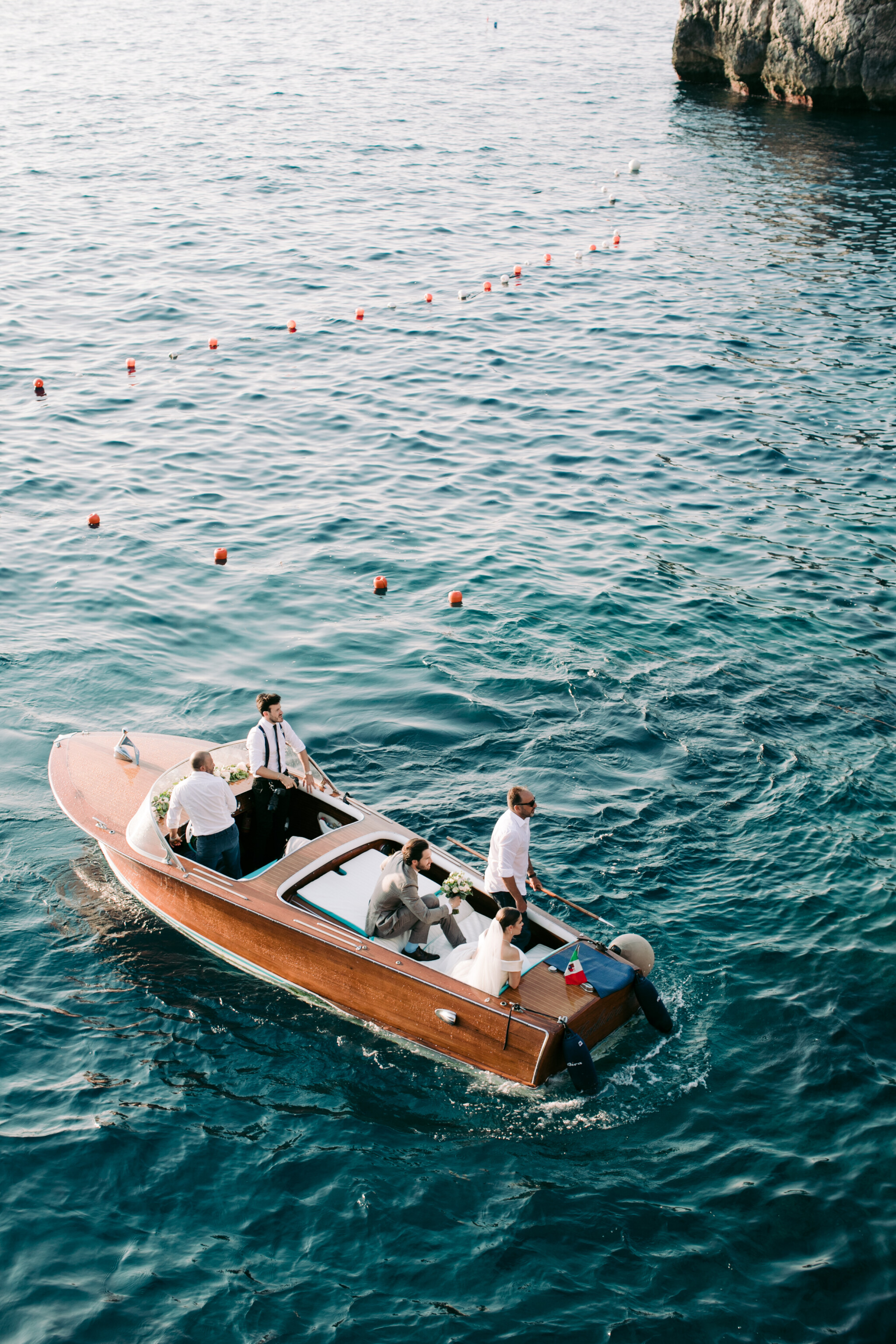 Reflecting on how she felt wearing her wedding dress, Karolina says, "I felt like a princess in my dress, and although it had a built-in corset and a lot of layers, it was very comfortable to wear throughout the day and dinner. I love how the corset made my figure look, and I love looking back at all of the pictures of it from the day."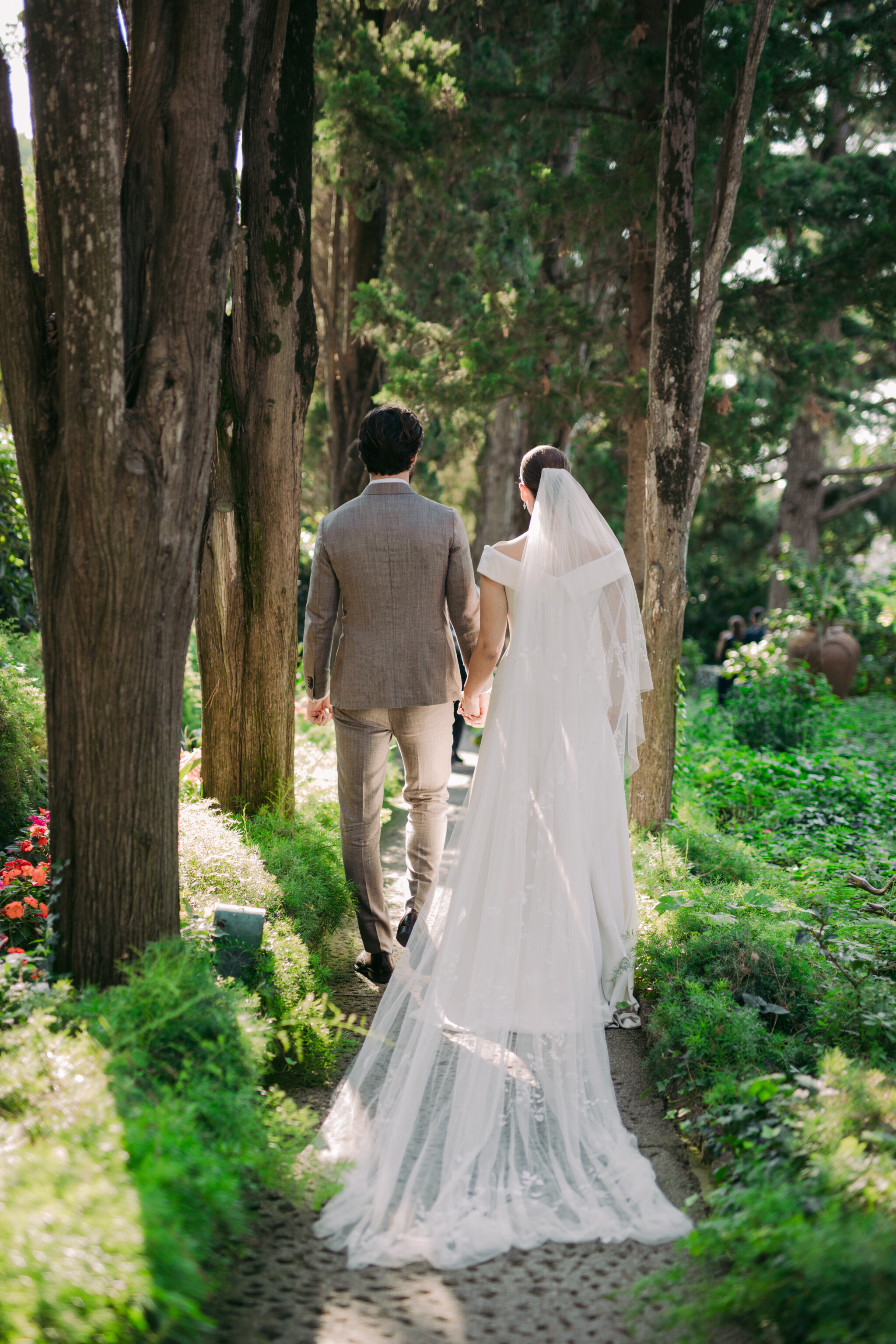 Photography – Gianni di Natale @giannidinatale_photographers
Phillipa Lepley is recognised globally as a leading British wedding dress and eveningwear designer, renowned for bespoke couture dresses of the utmost luxury. Her wedding dress shop in London, Chelsea, has over 50 dresses, all of which have been made in England from start to finish at her atelier.