Phillipa Lepley bride Georgina
For her London wedding, Phillipa Lepley bride Georgina opted for an ivory, corseted off-the-shoulder dress with an oversized collar.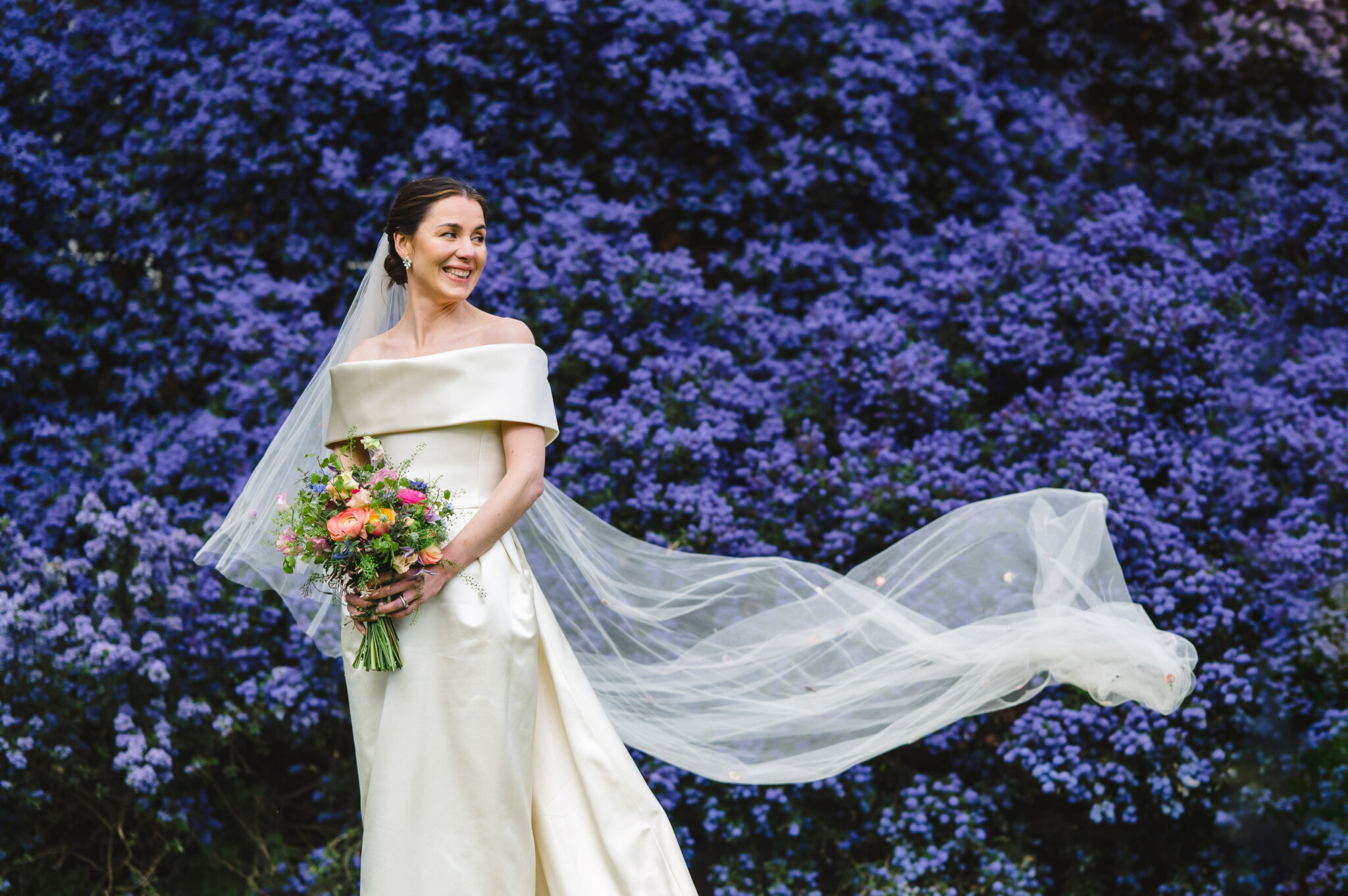 Georgina came to The Phillipa Lepley Shop on her mother's recommendation, travelling internationally to Chelsea's Fulham Road in search of the dress of her dreams.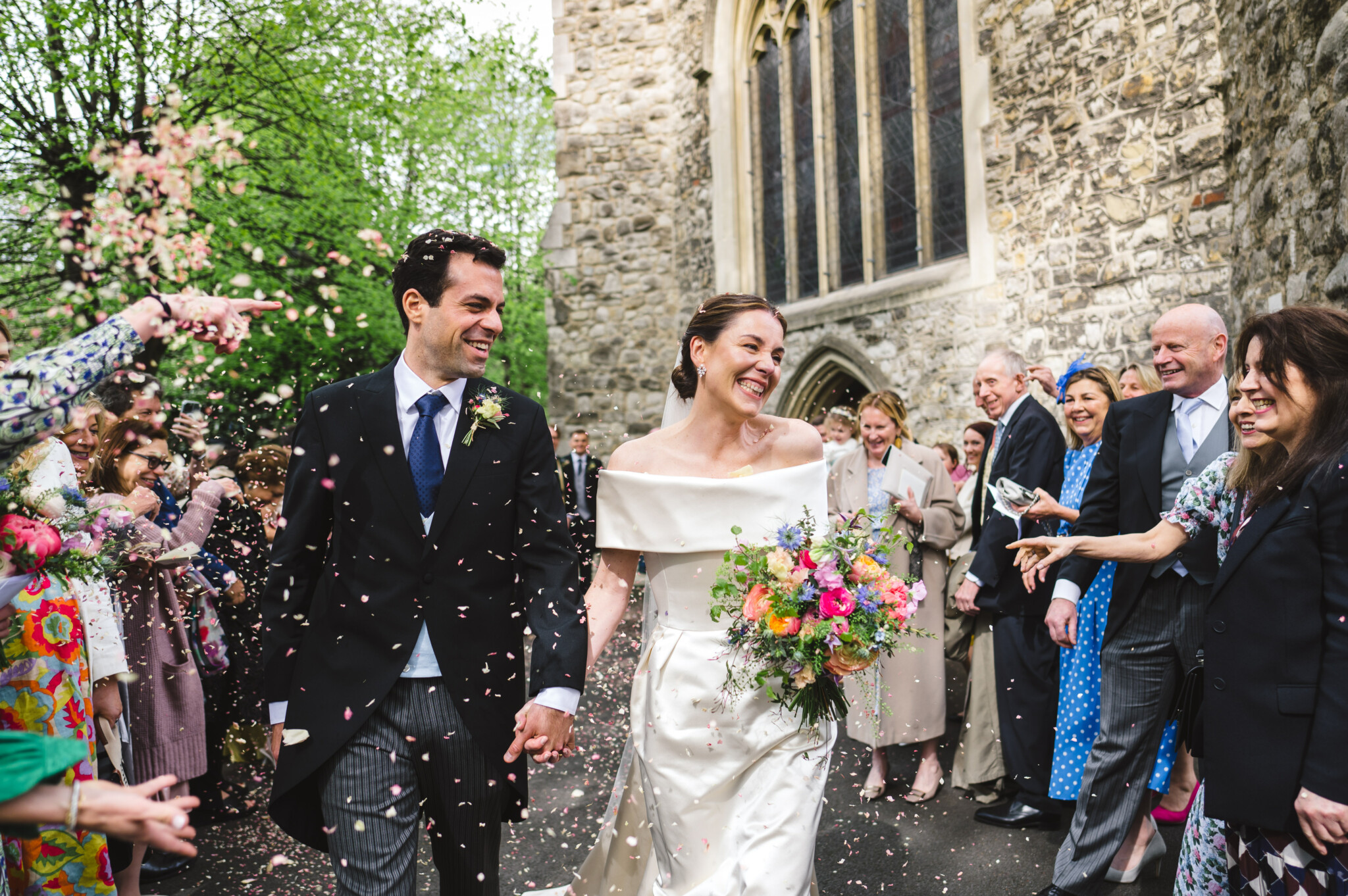 Crafted entirely from sumptuous Italian duchess satin, perfectly suited for a city wedding, Georgina's couture gown is a celebration of architectural brilliance and meticulous attention to detail.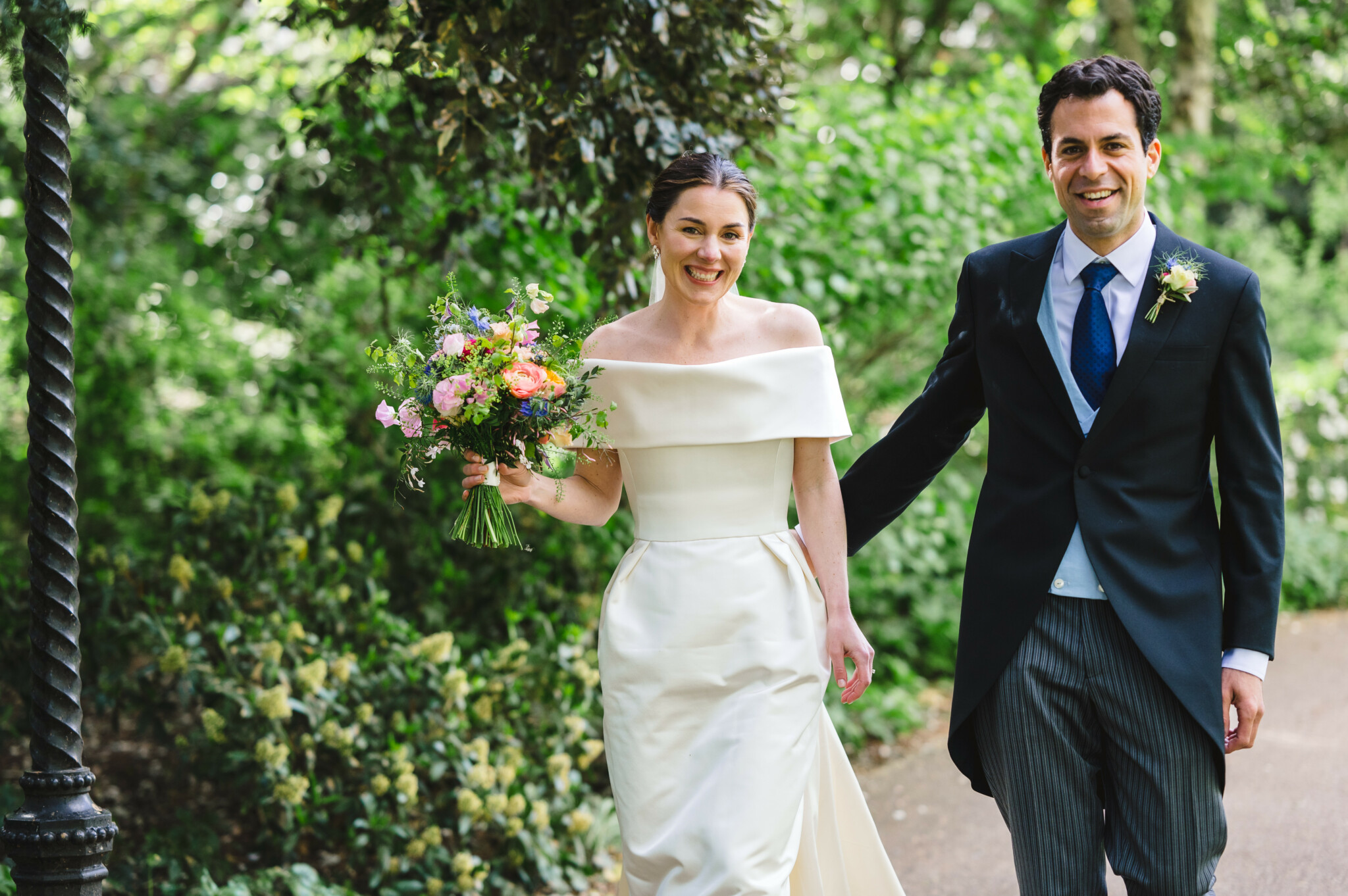 The dress features a deep off-the-shoulder collar that gracefully frames the neckline, creating a striking modern twist on a classic silhouette.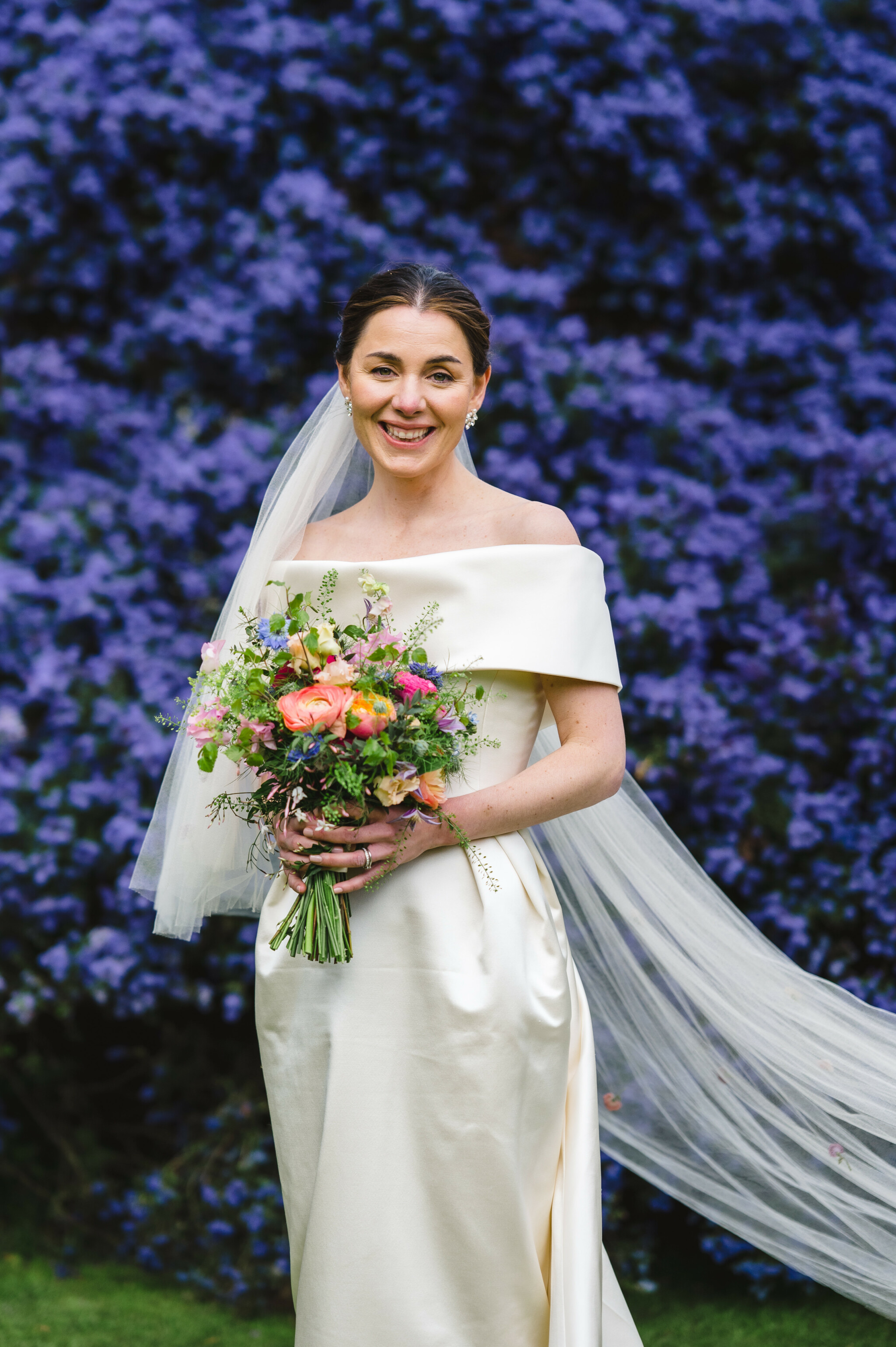 Crisp 'knife pleats' artfully adorn the waist, forming an inverted tulip shape that flows into a column skirt. Although slim-fitted, the dress retains all of its bridal magic with a long, sweeping train that extends from the narrow skirt.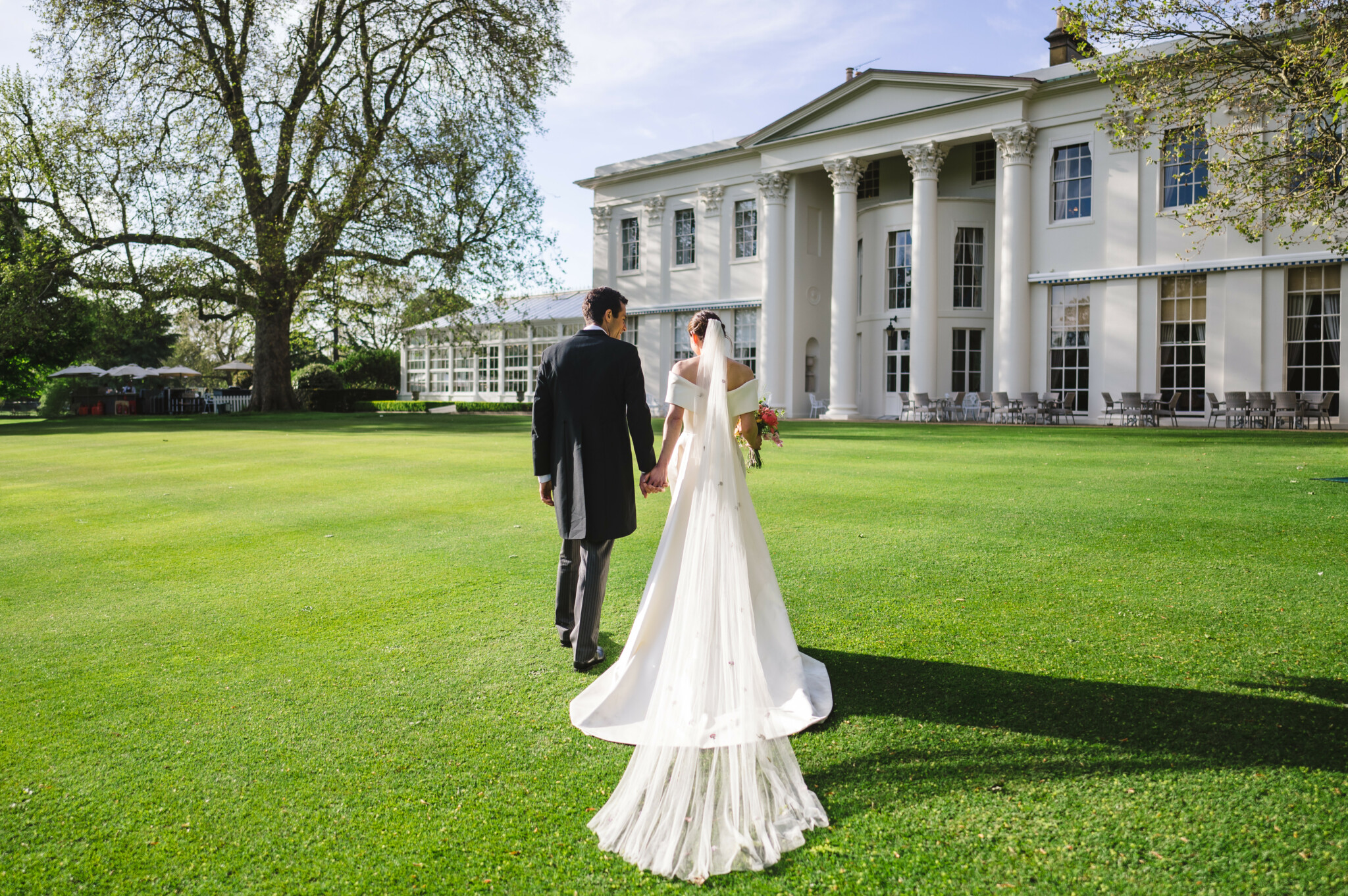 The true marvel of Georgina's couture wedding dress lies in its angles—straight, crisp lines define the collar and waist seam, while cleverly cut pleats lead captivating diagonals that traverse the dress, creating an illusion of seamless integration between gown and bride. The dress is a harmonious blend of structured precision and ethereal beauty, a true architectural triumph.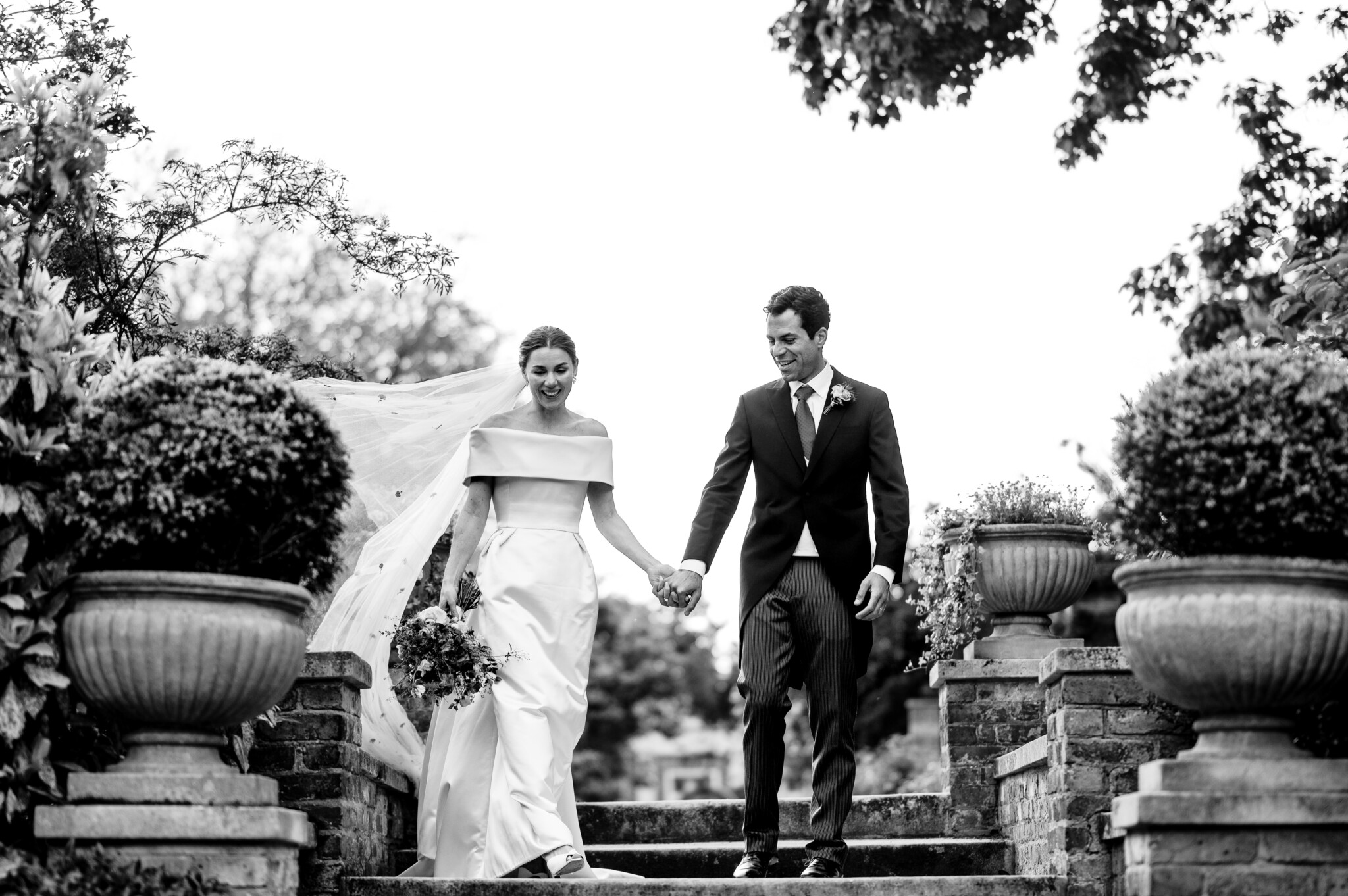 The team of specialist couture consultants worked with Georgina to tailor the dress exactly to her proportions, refining the design to suit her frame. Looking back on the design and fitting process, Georgina recalls the serenity that enveloped each appointment at the Phillipa Lepley Conservatory: "The first time I tried on my dress I couldn't believe how perfectly it fitted me and complimented my figure. Every fitting was so well organised and the atmosphere was very serene. I felt in the safest hands from start to finish."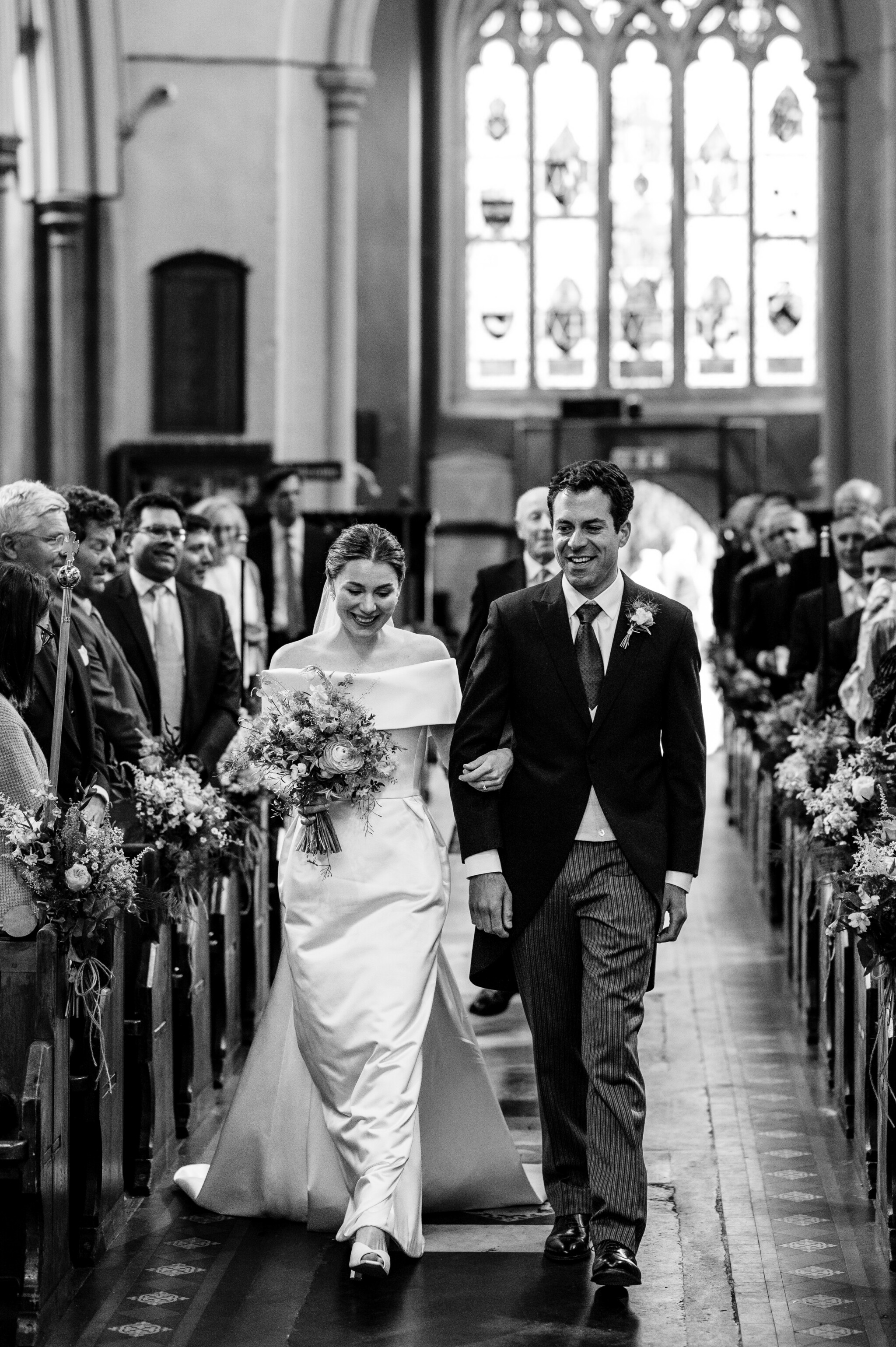 Georgina complemented her modern wedding dress with a silk tulle embroidered couture veil. Adorned with meticulously hand-embroidered wood anemone flowers – some of Phillipa's favourite florals – her veil added a touch of freshness and vibrancy, symbolising spring's joyful spirit.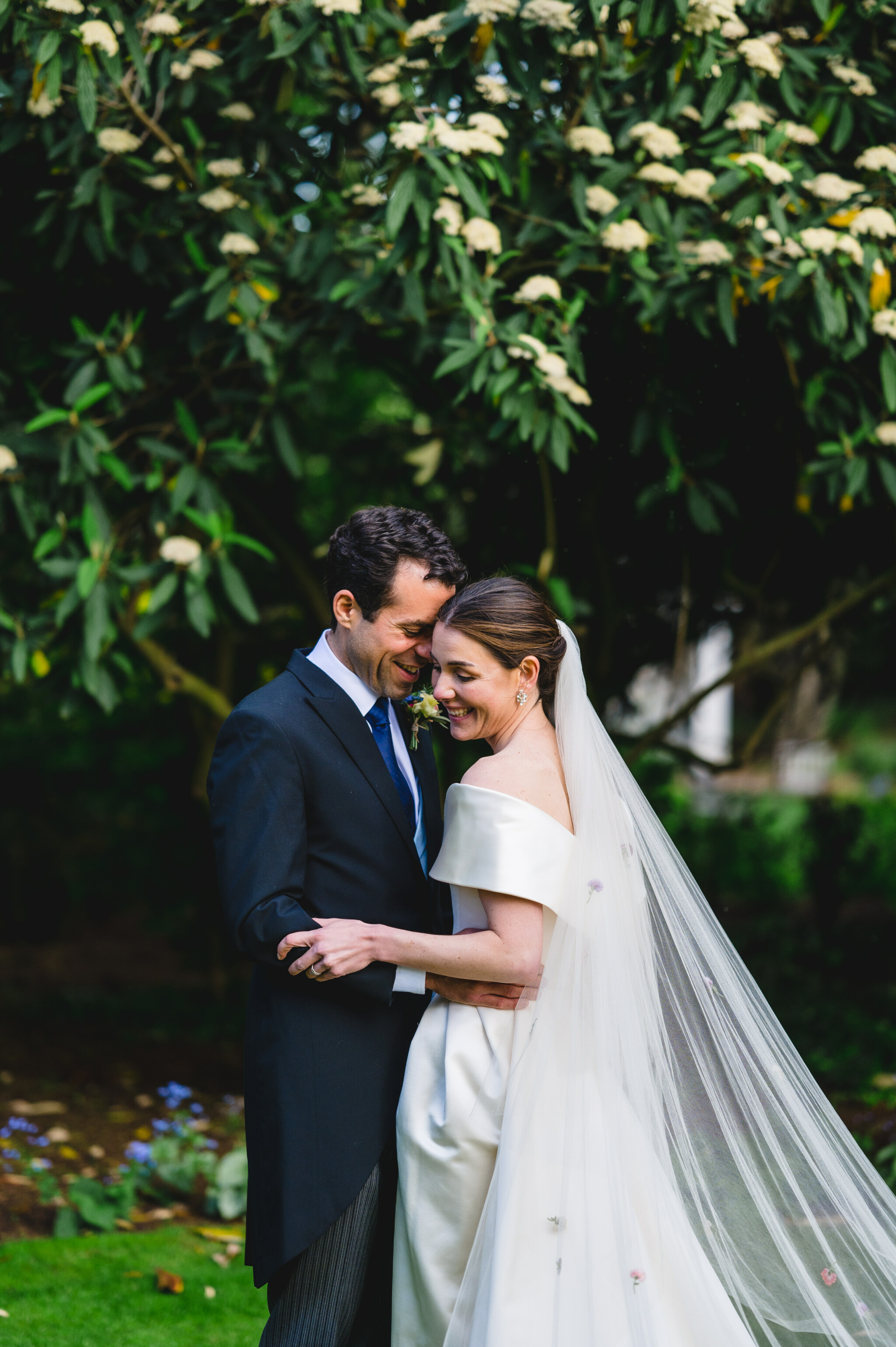 Georgina's wedding day was a culmination of love, resilience, and anticipation—delayed for three years due to the pandemic, yet even more cherished in its fulfilment. The ceremony took place at the picturesque All Saints Church in Fulham, followed by a grand reception at The Hurlingham Club. Family and friends gathered from around the world, bearing witness to a magical day illuminated by the sun's golden rays.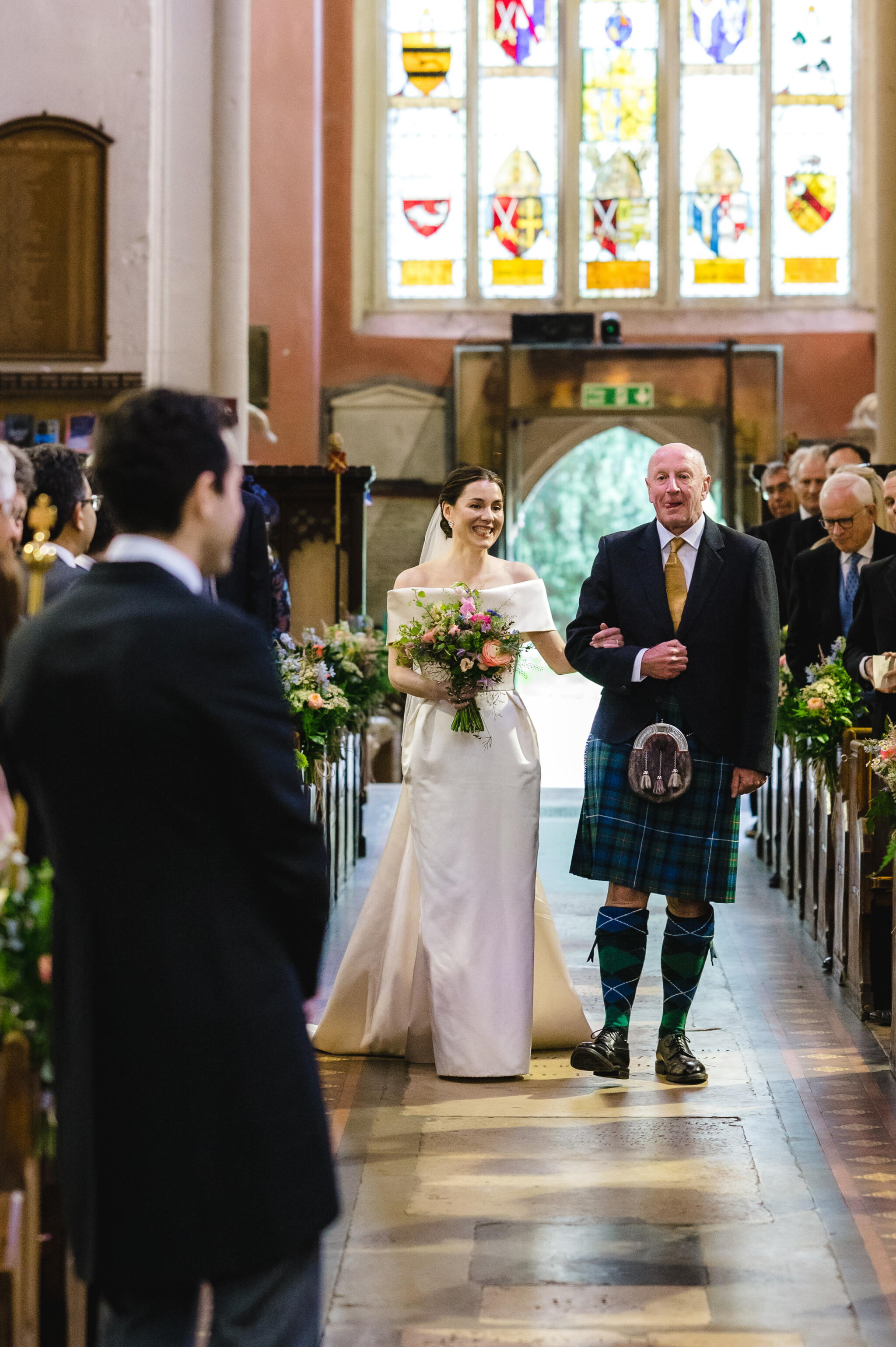 Georgina's beautiful couture wedding dress boasts an exquisite play of architectural lines and angles: a captivating masterpiece that beautifully marries classic design with a modern flair. Wearing the dress made Georgina feel 'confident and beautiful', a testament to the harmonious blend of couture design and craftsmanship at Phillipa Lepley.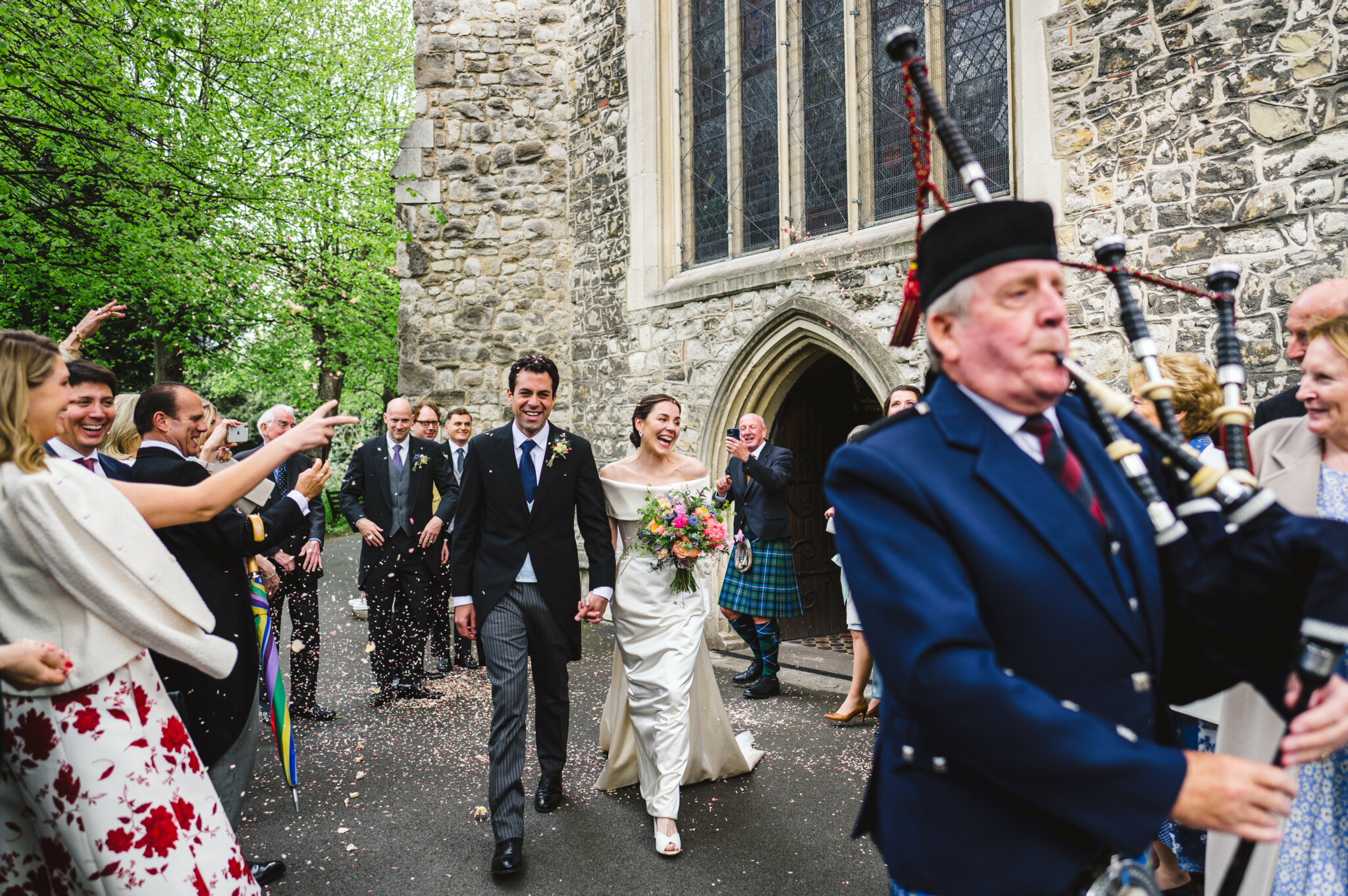 Photography: Louise Adby Photo
Phillipa Lepley is recognised globally as a leading British wedding dress and eveningwear designer, renowned for bespoke couture dresses of the utmost luxury. Her wedding dress shop in London, Chelsea, has over 50 dresses, all of which have been made in England from start to finish at her atelier.