Phillipa Lepley Bride Allison
Allison flew over from her home in America to The Shop and The Conservatory in Chelsea, London, to have her bespoke wedding dress, veil and shoes created at Phillipa Lepley.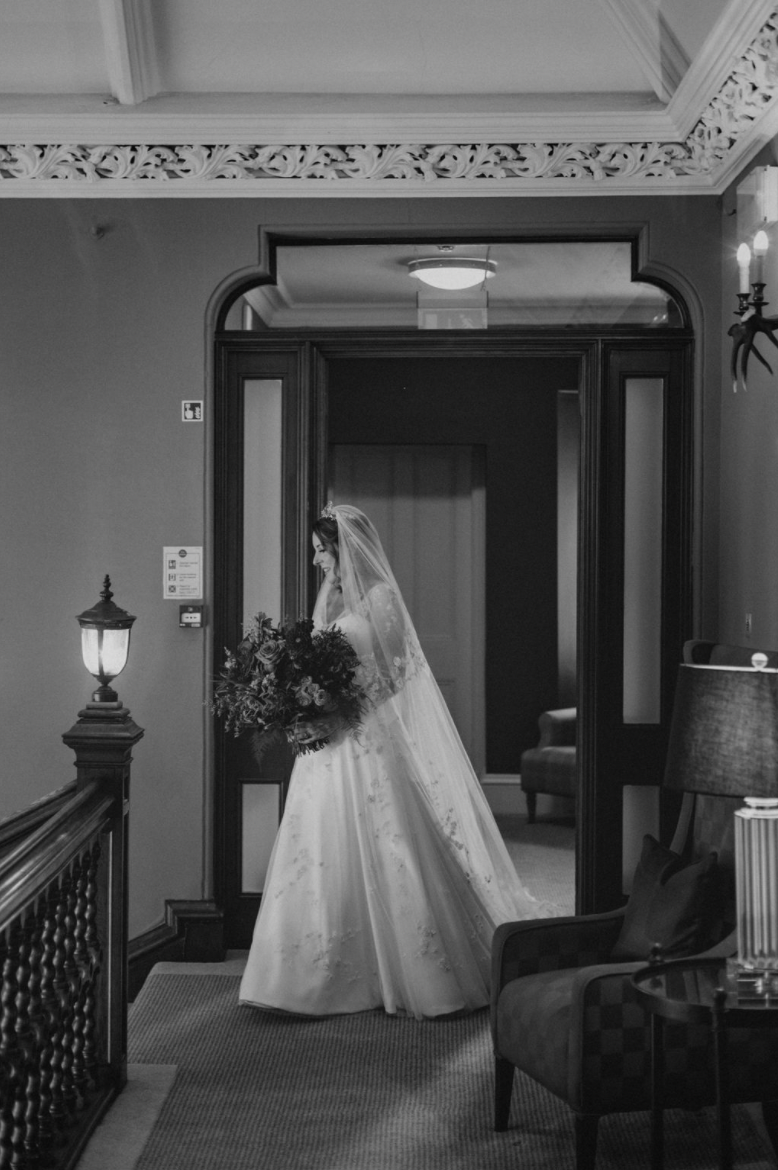 'We became engaged during Covid so my search for the perfect dress started online. I wasn't sure what would feel right for the day or look good on me as I'm an older bride.  When I started visiting bridal salons in the US, I wasn't happy with what I found.  Many of the offerings were tailored to a much younger bride and the lack of ability to customize made the search challenging. When the UK opened to US visitors, I came over with my mother and sister to see family, and we visited many of the UK's best bridal designers. Phillipa Lepley was the last visit of my trip, and it did not disappoint. The fabrics, the workmanship…it was above and beyond. When I finally tried on the dresses, I needed just one look at my normally stoic sister overcome with emotion and I knew I had found the right designer.'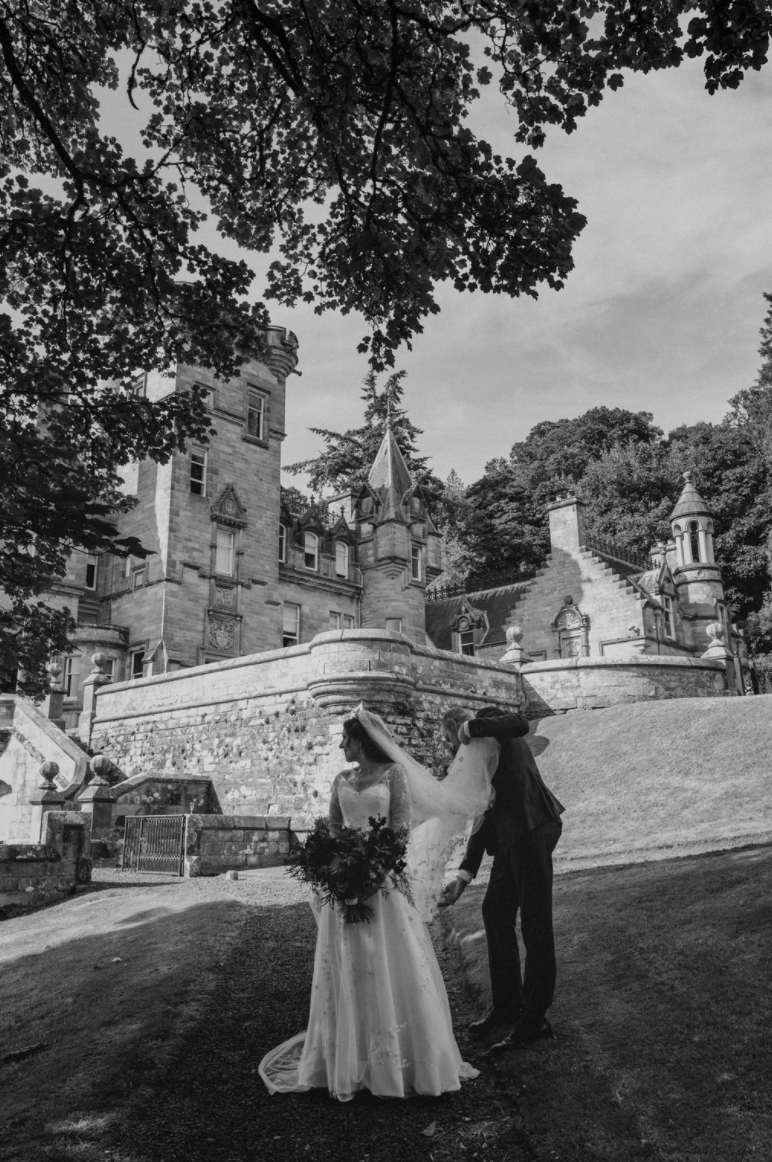 Allison was inspired by the Thomasina Magnolia Jasmine in the Phillipa Lepley collection and opted for a silk slipper satin strapless dress paired with a detachable overlay embroidered with magnolia and jasmine. She chose to have the overlay cut slightly bigger than the gentle A-Line corseted dress underneath to achieve movement and drama between the two layers. It was also cut longer on the train to highlight the exquisite embroidery as she walked down the aisle.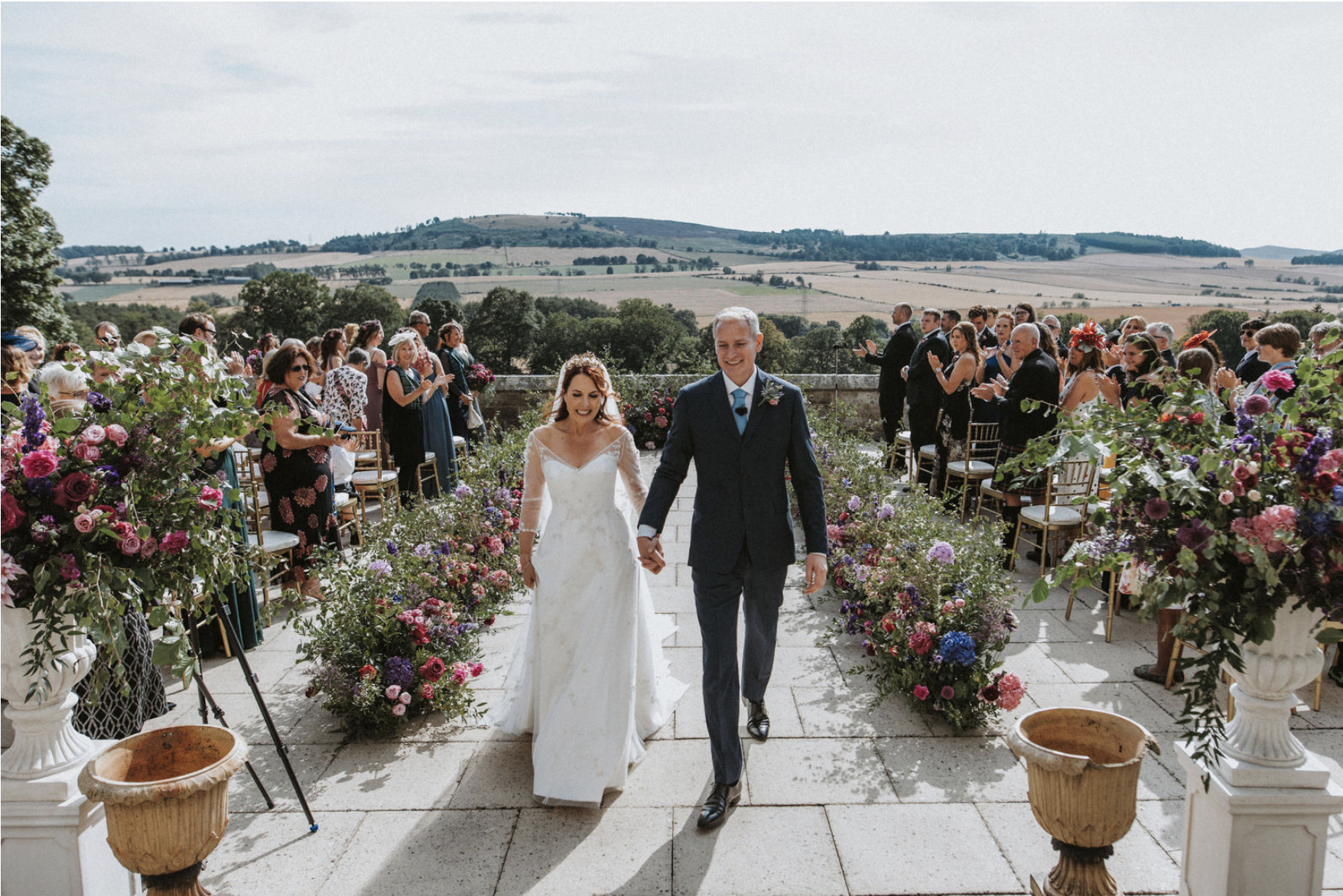 Allison worked with The Embellishment Team to design a bespoke embroidery for her dress  that suited the format of her day and her venue in Scotland. Whilst Allison was in America, meetings were held via video consultation, and fabric swatches based on her reference images was sent via post for her to approve. Working with a global clientele, Phillipa Lepley is able to approach the design and development of each dress according to each bride's location and requirements.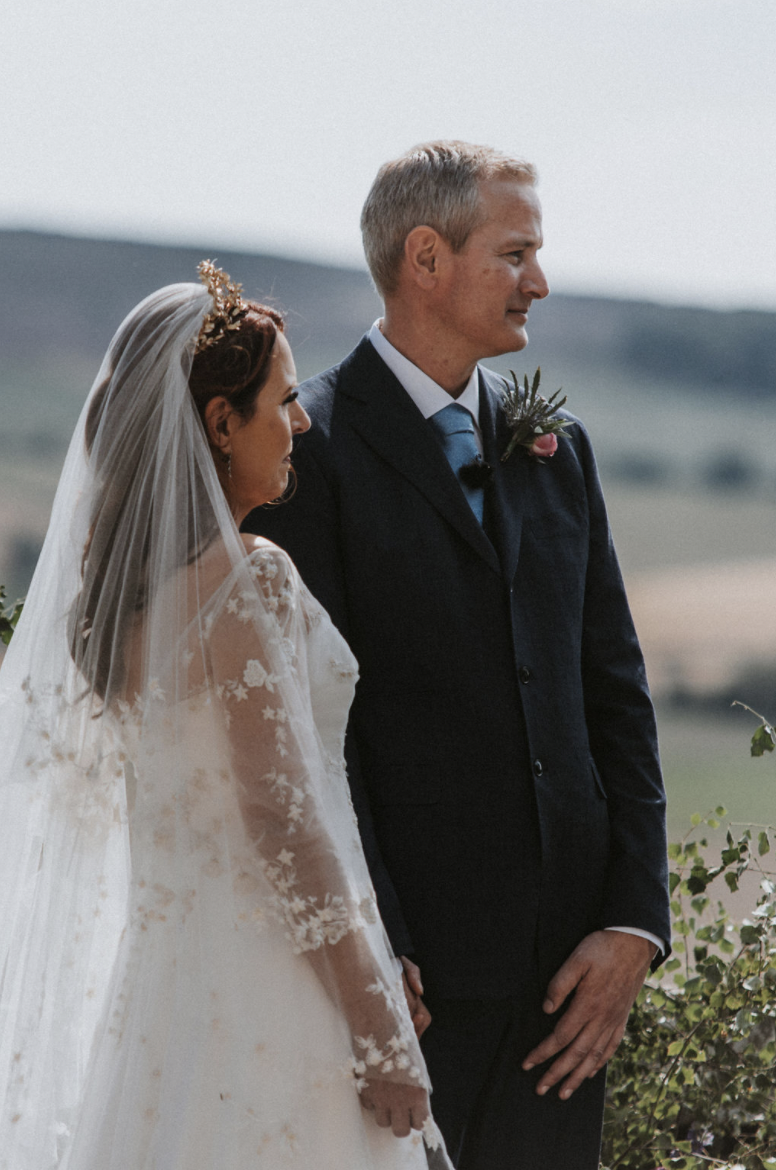 Warmer thread tones were incorporated throughout the organic, winding embroidery to enhance the look and compliment her colouring. To coordinate with the embroidery on her dress Allison worked with the team at Phillipa Lepley and the team at Emmy London to have a pair of bespoke shoes designed and created to complete her look.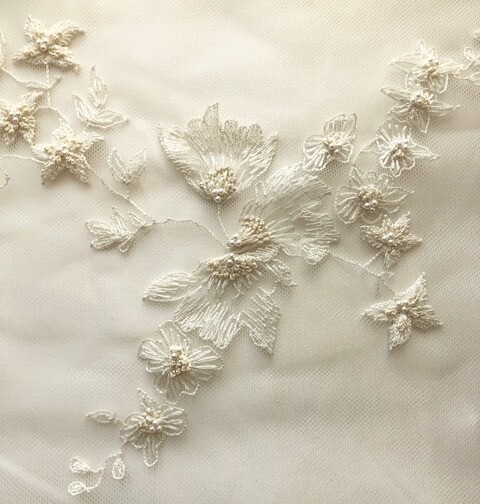 'I'm more of a minimalist in fashion so bridal was tough for me. Full-on lace felt too much, and non-embellished gowns didn't feel up to the moment. I loved the idea of a slipper satin base with the embroidered tulle overlay.  The dress was light feeling but still had structure to help you look your best. The embroidery had just the right amount of white space and felt very organic. I felt dressed for the occasion but still very much myself and not as if I were wearing a costume.  I just loved touching the gown's satin and the embroidery on my overlay and veil – the artisanship was so incredible…it still blows me away to look at it.'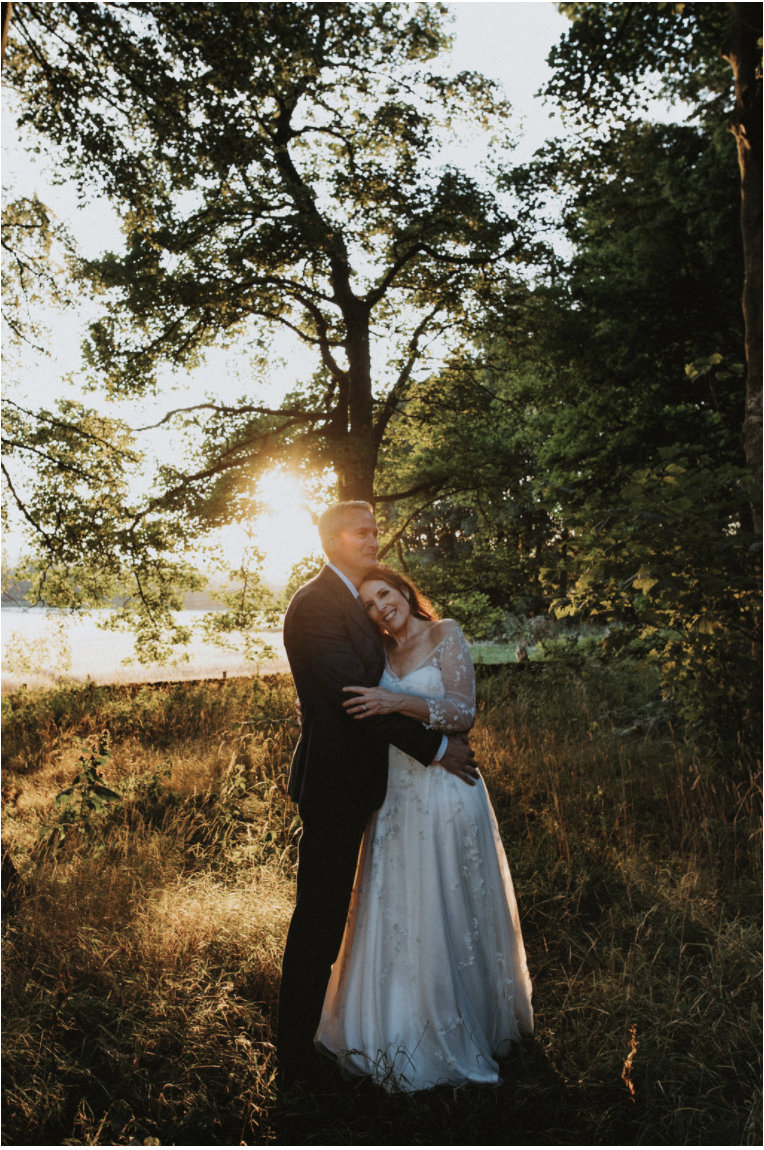 'I flew into London a few times to have my fittings. The team were incredibly flexible and managed to make all situations work. I loved every minute of working with the team and will forever be in awe of their masterful skills.'
Allison chose to incorporate an embroidered thistle and a few sprigs of heather into her Magnolia Jasmine silk tulle veil to conjure a special connection with her design – 'the thistle was an homage to my Scottish grandmother and the sprigs of heather for my mother, whose name is Heather.'
'My favourite fitting was when I finally got to try the dress and veil on together and see the vision come to life. It's where the wedding started to become real for me. I loved that week of fittings and spending more time with the team.'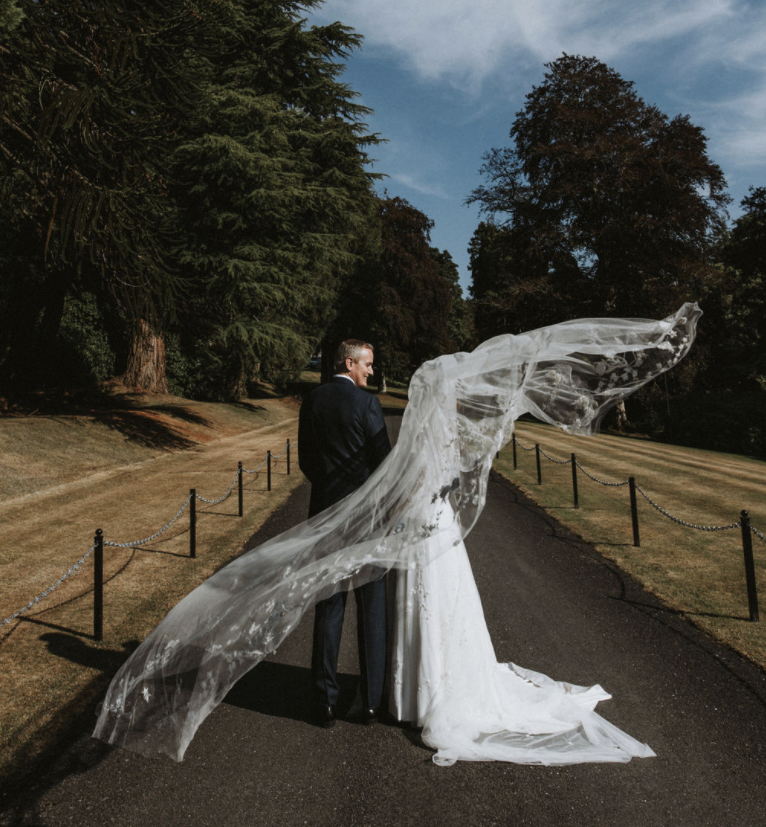 Allison and her husband were married at Kinnettles Castle in Forfar, Scotland. 'The location and venue were meaningful as my grandmother and my family are from the Glamis/Forfar area. We wanted a modern Victoriana, garden vibe to the setting with an outside ceremony.  We had about 70 of our family and friends from the States, Scotland, and England. The one thing we didn't plan for happened—an amazingly sunny warm day!'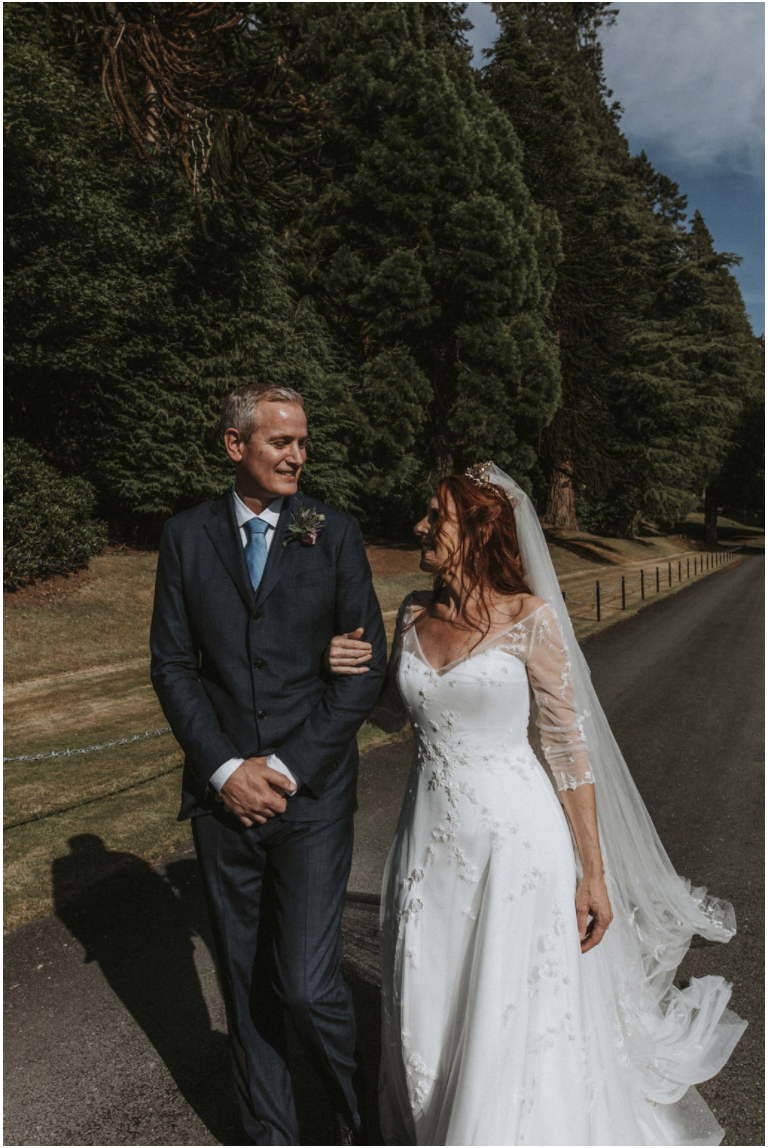 'The most special moment was my three sons taking turns walking me down the aisle. I had to come down two sets of stairs and a long walkway and I was a bit nervous about it but having my sons next to me made me calmer. I think I was so proud of them and the way they looked that I forgot all about being nervous!  We had all our children in our ceremony, including my husband's daughter, and his nieces and nephews. Our ceremony really celebrated family, of the past and the present, the ones you are born with and the ones that you choose.'
'I'd like to thank the team for making it easier to travel with the dress. I had to travel to Scotland and they packed it all in a way that it came through beautifully.'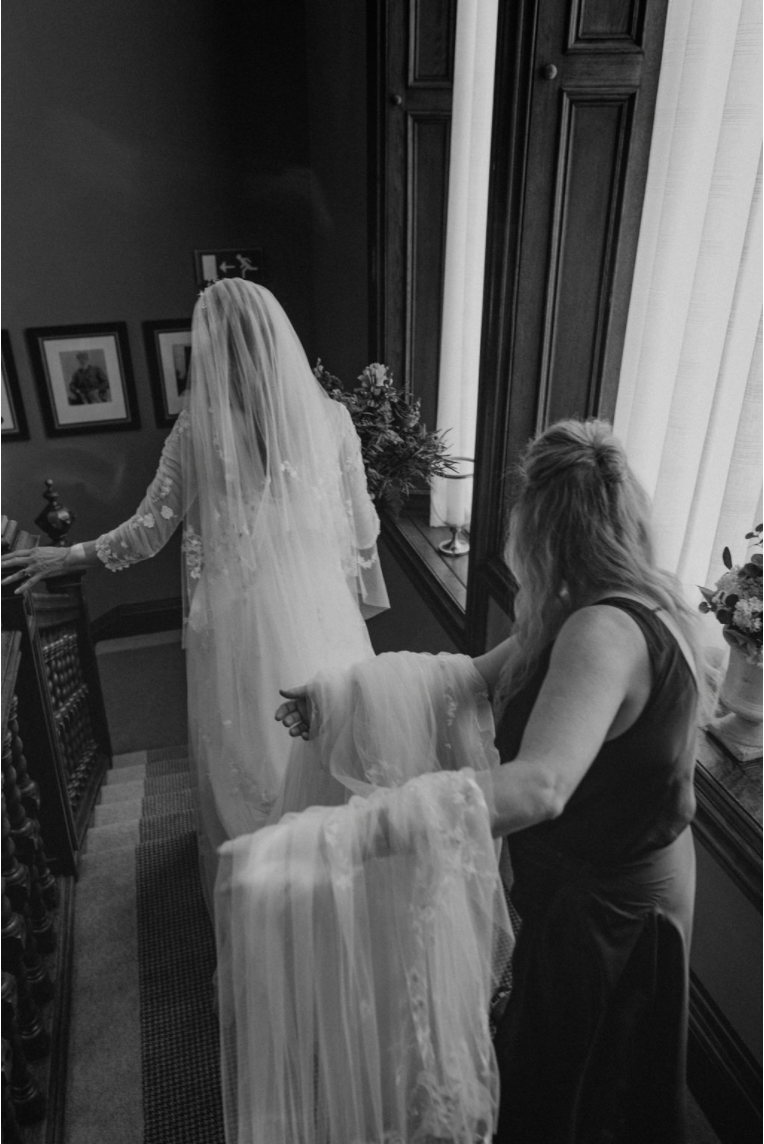 When asked how she felt wearing her bespoke Phillipa Lepley couture dress, Allison said, 'I felt so incredible. It fit to perfection and I didn't worry once how I looked in it.  Even though the day was warmer than expected, I was still comfortable and able to move. My only regret is the day went too fast and I didn't get to wear it enough! I totally plan on wearing it to celebrate our anniversaries!'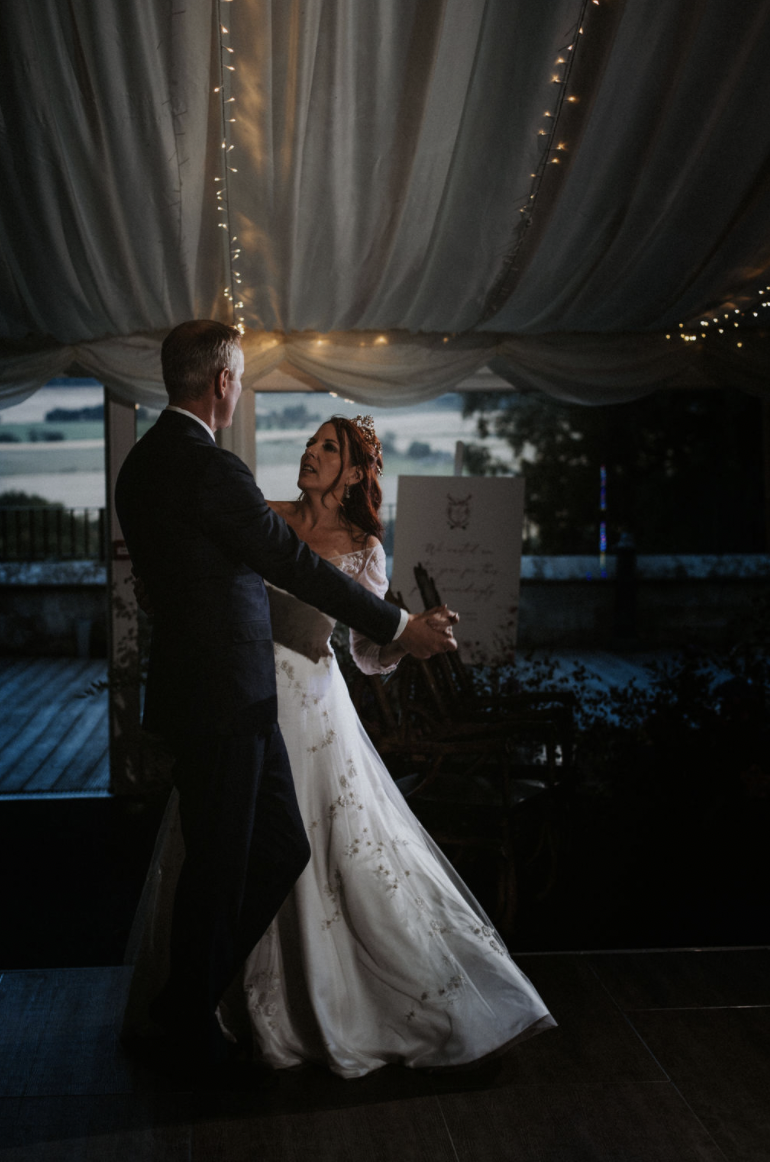 Photography: @apricottreephotography
Phillipa Lepley is recognised globally as a leading British wedding dress and eveningwear designer, renowned for bespoke couture dresses of the utmost luxury. Her wedding dress shop in London, Chelsea, has over 50 dresses, all of which have been made in England from start to finish at her atelier.