Phillipa Lepley Bride Sasha
Sasha's incredible wedding, featured in Tatler here took place within the very special setting of Newby Hall. She wore a couture Phillipa Lepley wedding dress, created for her in the London Atelier.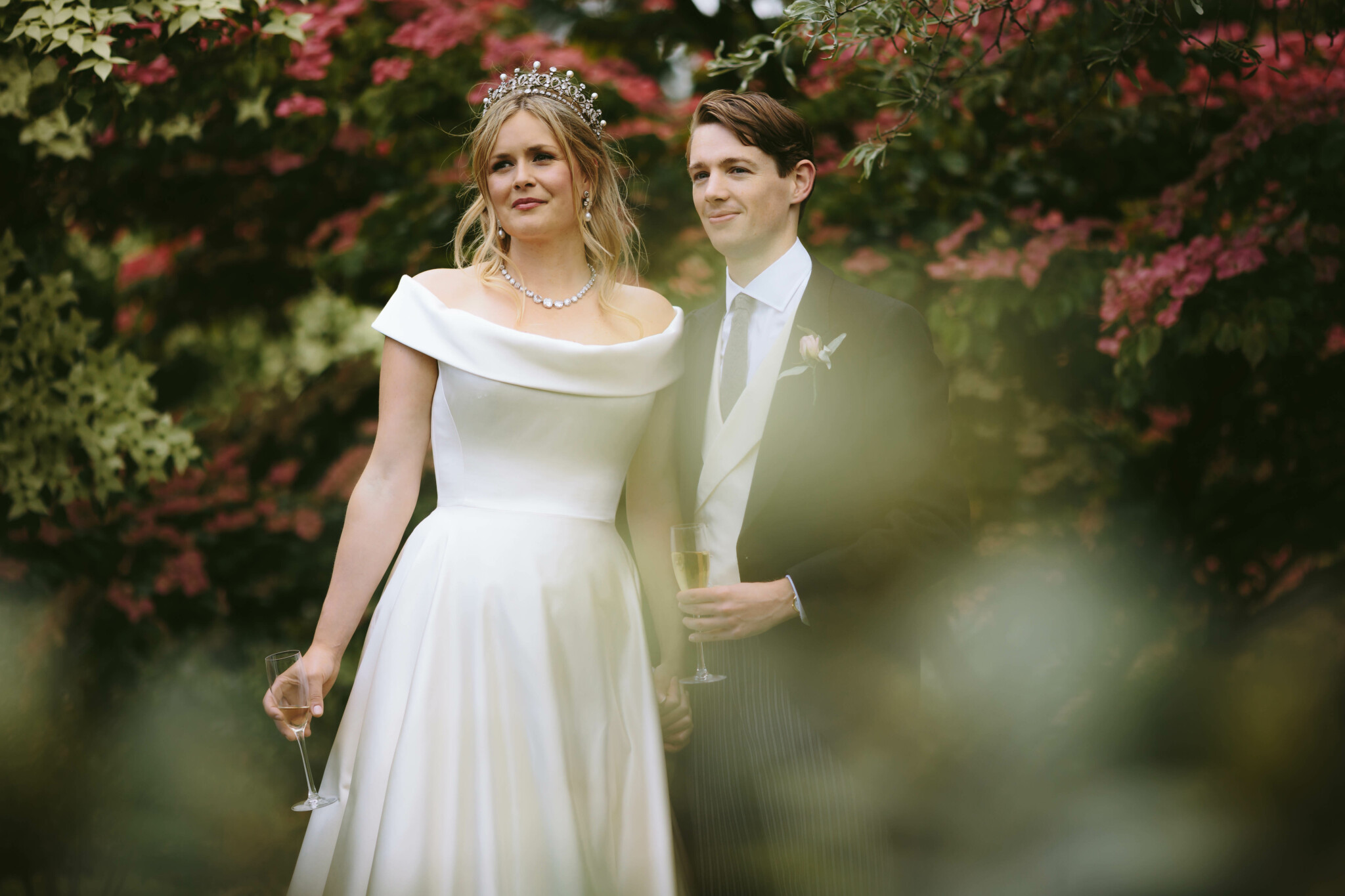 Following her very first visit to the Phillipa Lepley Shop with her mother, Sasha says 'we both fell in love with the colour of the duchess satin, the idea it could be bespoke to my figure and the elegance of [Phillipa's] designs.'
'Originally I imagined I would be in an arty, floaty and romantic dress for a low-key Scottish country wedding, but when we decided to get married in Ripon Cathedral and do the reception at Newby Hall, my parents and I thought a fuller, classic dress would be more appropriate for the day.' Sasha's corseted wedding dress was draped with heavy-weight ivory Italian duchess satin, featuring an elegant collar sitting just off the shoulders, creating a perfectly balanced neckline. In the skilled hands of our Atelier team, duchess satin can be moulded and sculpted to create rich, deep folds of fabric, gathered into sculptural pleats at the waist which result in a full, circular skirt.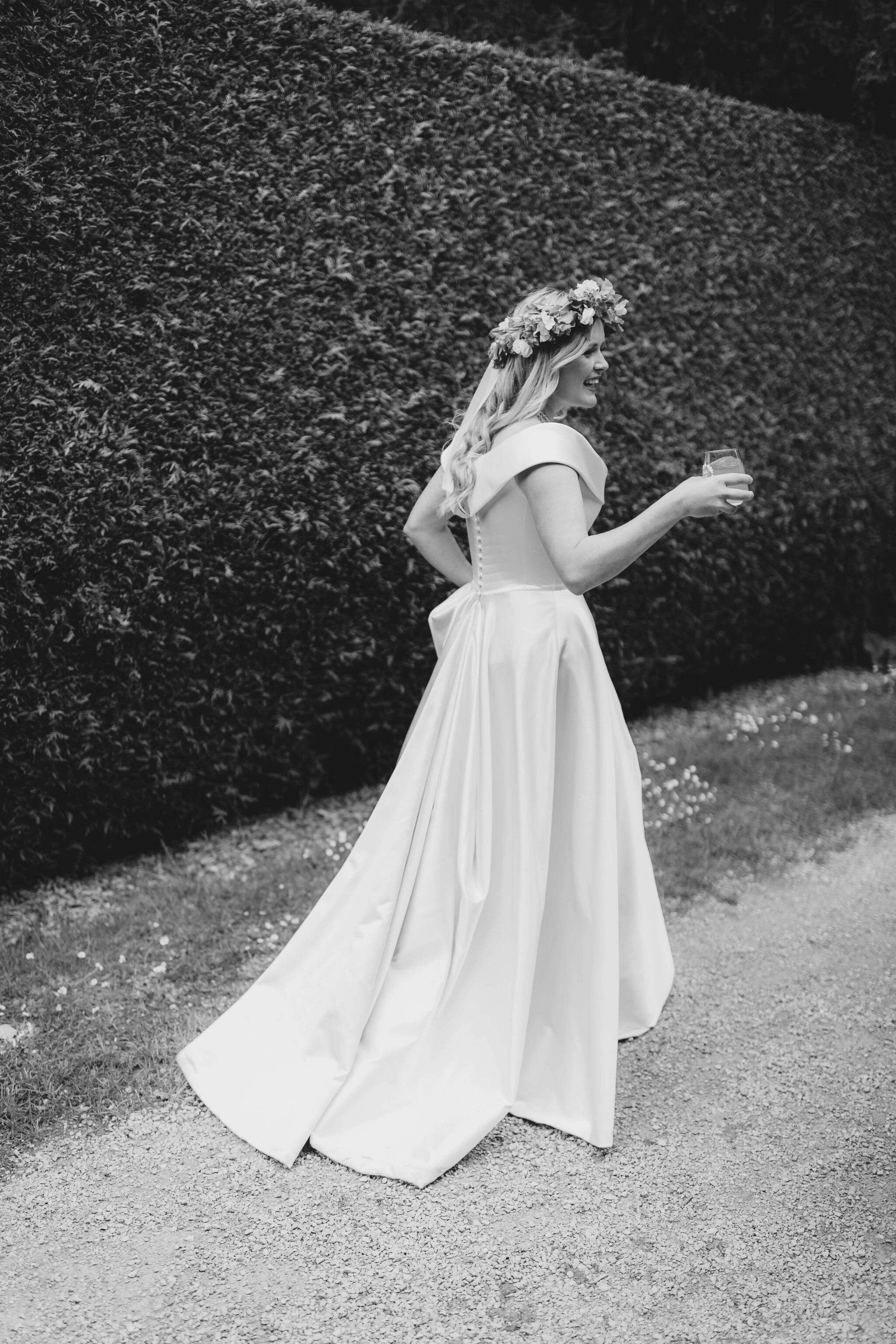 'At first, I was drawn to the warm colour of the duchess satin dress, it complimented my skin tone and gave me a lovely glow. The duchess satin was so smooth and beautiful to touch. I have always loved the timeless aesthetic of the 'off-the-shoulder collar' look, I haven't seen a bride where this look isn't flattering! I was wary of not choosing something that was very 'in fashion now' as I thought I might regret it when I am older. So timeless, minimal and classic was the decision. Phillipa and her talented team worked wonders to make the dress come to life and to fit me perfectly. I have a large bust so the corset was key for me, it gave me so much support, and hugged my figure in all the right places, allowing me to feel confident and worry free on the day.'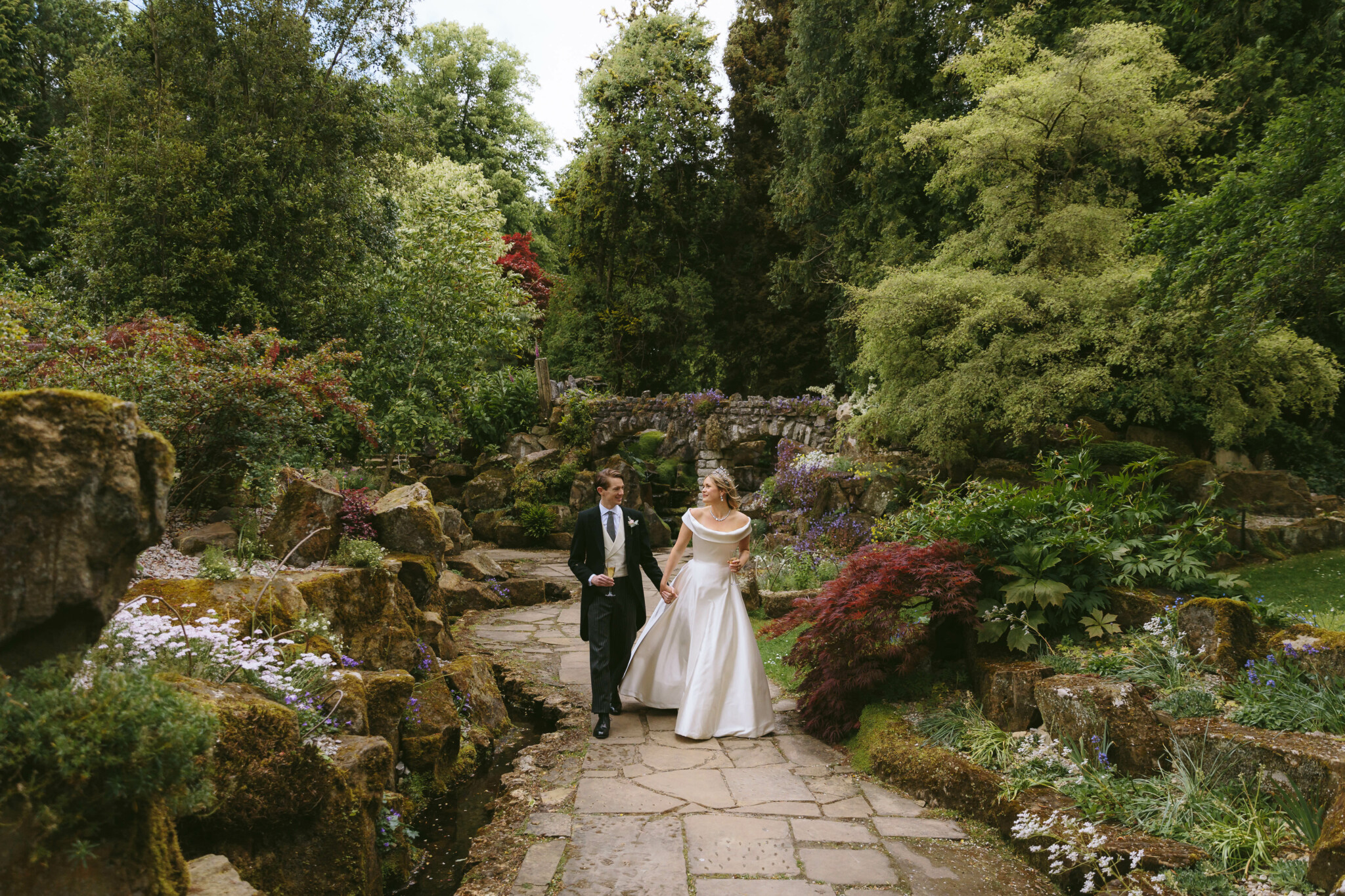 As an artist, Sasha relished witnessing the creation of her dress. She says, 'it was fascinating seeing the stages from the sketches to dress coming to life; developing from the calico stages, to altering darts, the collar width, and final hems, it was a true work of art. Walking loops of the fitting room in the dress and heels for the first time was a pinch me moment. I didn't want to take the dress off!'
Following the ceremony, close family and friends enjoyed dinner, speeches and dancing at Sasha's childhood home, Newby Hall. She says, 'I loved going on the miniature railway at Newby where ciders were in hands and friends were on board. Arriving by barge boat for dinner with Tom was really fun too. I also loved the Scottish pipers and the reeling. Being around so many great friends and family in such a beautiful setting made for a very happy day for all, I feel so grateful.'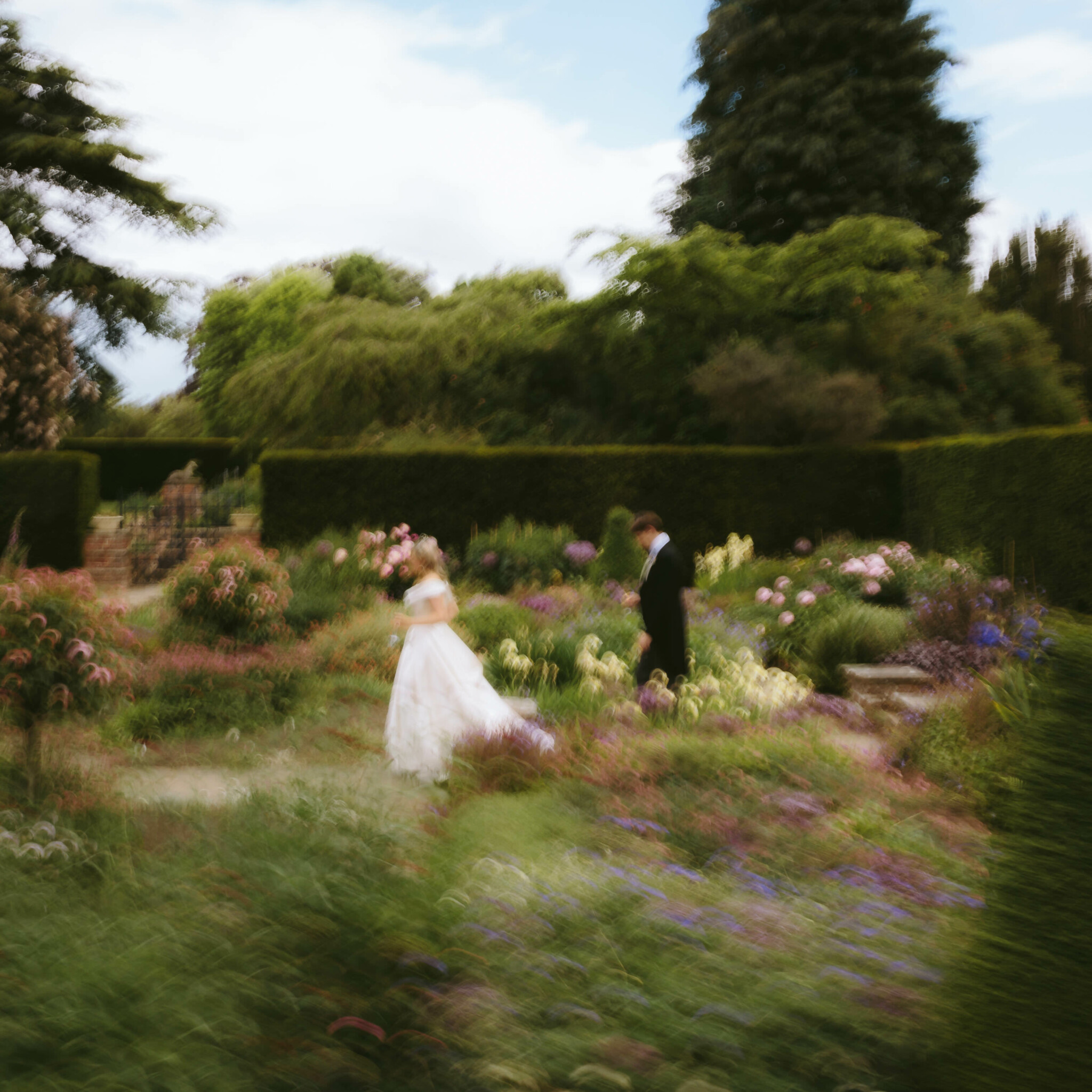 Sasha and her brand strategist husband approached their wedding as though it was a 'design brief', using the breath-taking 18th-century interior decoration and exquisite gardens of Newby Hall to inspire their designs. 'My husband and I went to Central St. Martin's, and we wanted our wedding day to be just right, personal and creative. We came up with the theme Rustic Romance and I designed a constant visual thread that related to Newby and importantly, us.'
'The blue was inspired by Robert Adam Blue (who designed the interiors of Newby) and the ornate text box on our invitations and menus was inspired by the lily pond shape by the front of the house. We both love the outdoors, contemporary art, and craft ciders/beers so we wanted the visual identity to be fun and playful with nods to nature and contemporary culture. The food for dinner was seasonal to embrace the magical moment of eating outside along the borders in the gardens. We had a clear design in mind for pretty much everything and it became a part-time job of mine for a while. As well as designing all our wedding invites, order of service, menus, name placements, table plan, cider/beer glasses and signage myself (I offer this service via my website sashacompton.com), we also designed other elements like our unique cake with Blossom Tree Cake Company and wedding jewellery with William White and our friend and jeweller Kitty Joyas. We chose lots of small businesses and tried to keep the wedding as understated in the details as much as we could, which was apparent in the evening. Most of the flowers in the Cathedral, the house and the marquee were from the garden, so it was important for us to include floral motifs in our designs. The wedding tiles for the table were a last-minute moment of madness where I decided to paint 150 a few days before the wedding for guests to take home! It was worth creating and focusing on all the extra handmade touches to make it unique and personal.'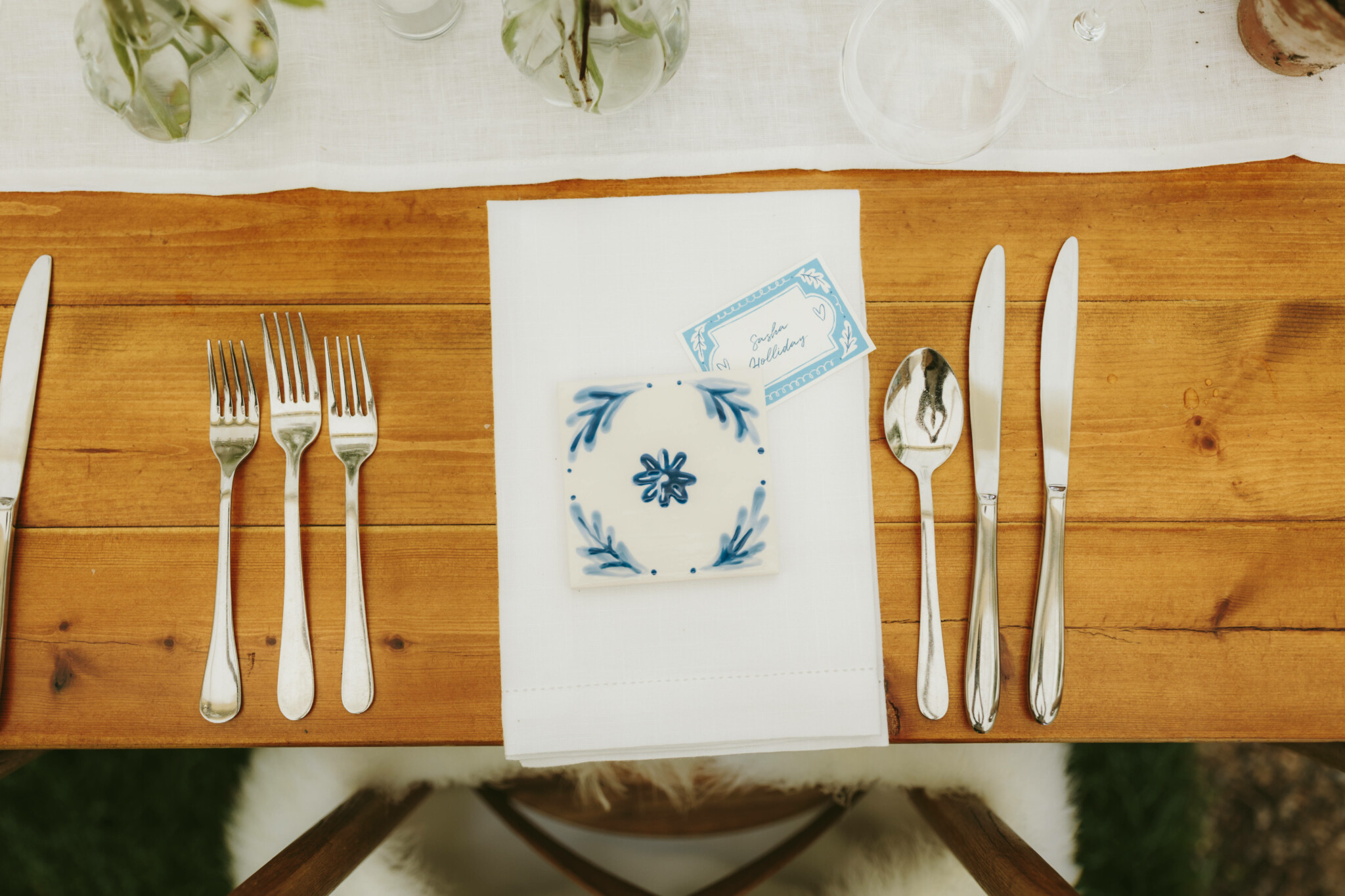 Reflecting on wearing her Phillipa Lepley couture wedding dress Sasha says, 'I felt so confident and happy, the dress was one of my highlights of the day.'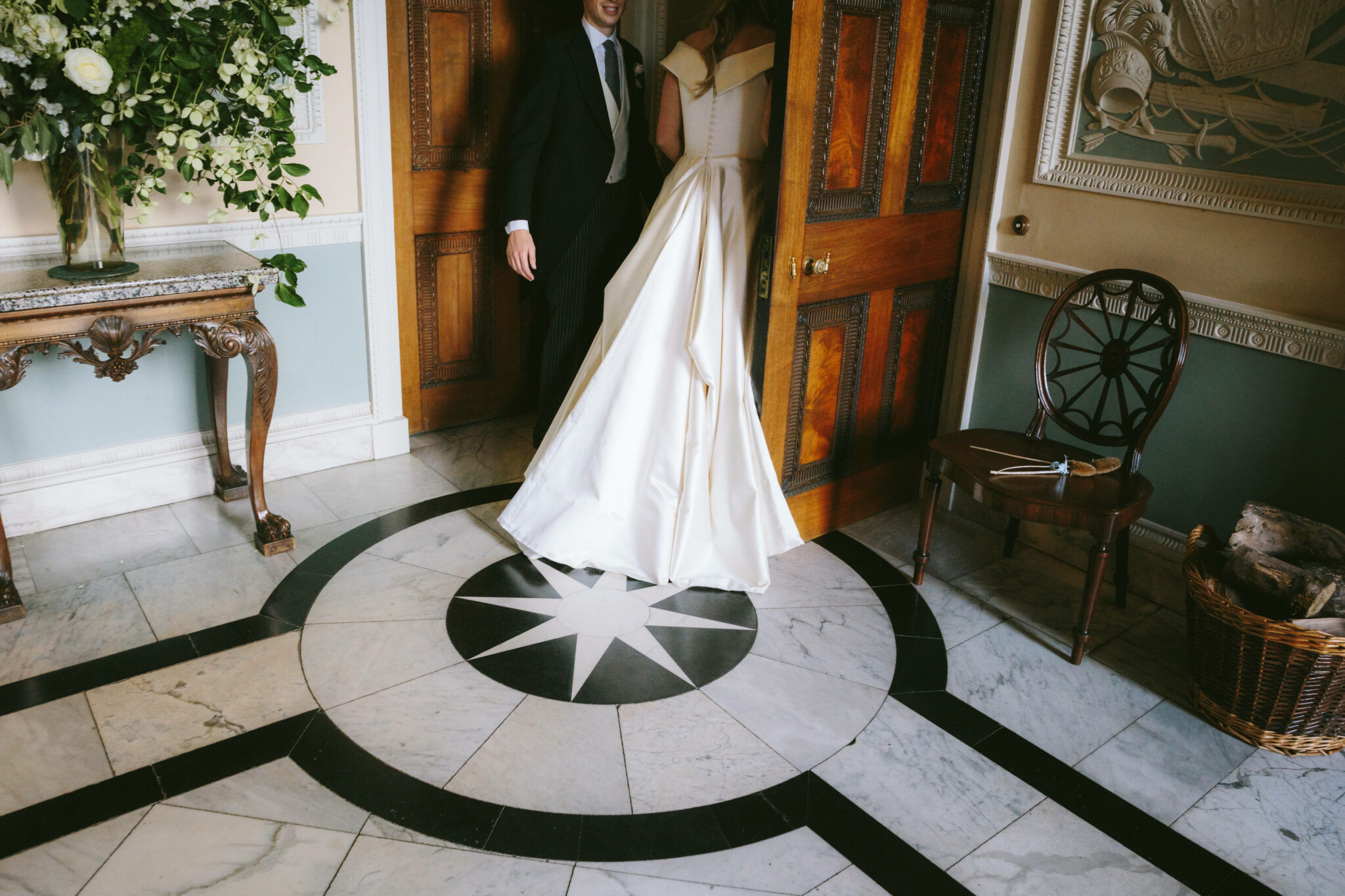 Phillipa Lepley is recognised globally as a leading British wedding dress and eveningwear designer, renowned for bespoke couture dresses of the utmost luxury. Her wedding dress shop in London, Chelsea, has over 50 dresses, all of which have been made in England from start to finish at her atelier.