Real Bride: A Romantic Bespoke Wedding Dress
"Phillipa Lepley is such a famous, well-known British brand. What she, as a wedding dress designer, is perhaps best known for is her classic and timeless designs." Claudia
On a bright and sunny day in August, our beautiful bride Claudia wore a couture Phillipa Lepley wedding dress to marry her groom Simon at Aynhoe Park. Claudia herself readily admits that it took trips to almost every bridal shop in London to realise that Phillipa was the wedding dress designer for her.
She told us "I didn't know what I wanted or what would suit me so I went everywhere! I tried on anything and everything and I quickly realised that actually the quality of a lot of the dresses I tried on wasn't great. I found that there are a lot of 'fashion' wedding dresses at the moment. Ones that I'd look back at and think was obviously from around the 2000's. I wanted something that wasn't stuck in time and was very classic."
Phillipa Lepley's London wedding dress boutique was the last the shop that Claudia visited. "The quality of her fabrics were just way beyond any of the other wedding dresses I'd tried on," Claudia said. "I had a little bit of vision of what I wanted in my mind by that point and then the fact that Phillipa could make anything was what swayed me."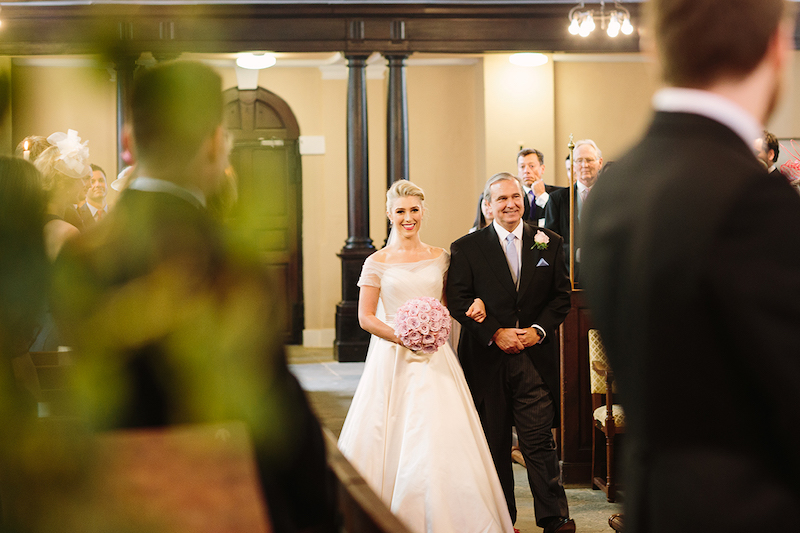 "I went backwards and forwards with the off-the-shoulder design and Phillipa sketched out lots of different designs. I was so indecisive but the team were very patient with me and accommodated any requests."
Claudia had a timeless Phillipa Lepley wedding dress made of Italian heavyweight duchess satin with a soft sweetheart neckline and dramatic long train. The dress had the Phillipa Lepley corset hidden within to enhance Claudia's beautiful shape. The skirt of the dress was cut to skim and flatter over her body before flaring to a full skirt, which is a signature look of Phillipa's. The rich and warm toned duchess satin formed the perfect base for Claudia's two very different looks through the day.
For Claudia's church ceremony, Phillipa Lepley created a bespoke ruched silk tulle top for her to wear over the dress with an off-the-shoulder neckline that highlighted her décolleté. The fine silk tulle was delicately ruched by hand in our Chelsea studio – secured with thousands of tiny hand stitches nestled invisibly within the folds of fabric – a true artisan skill. The ruching was then moulded and perfected on Claudia in her fittings with a crossover detail at the front and button closure down the back. Claudia felt that her tulle top was "just perfect – it was light as a cloud!"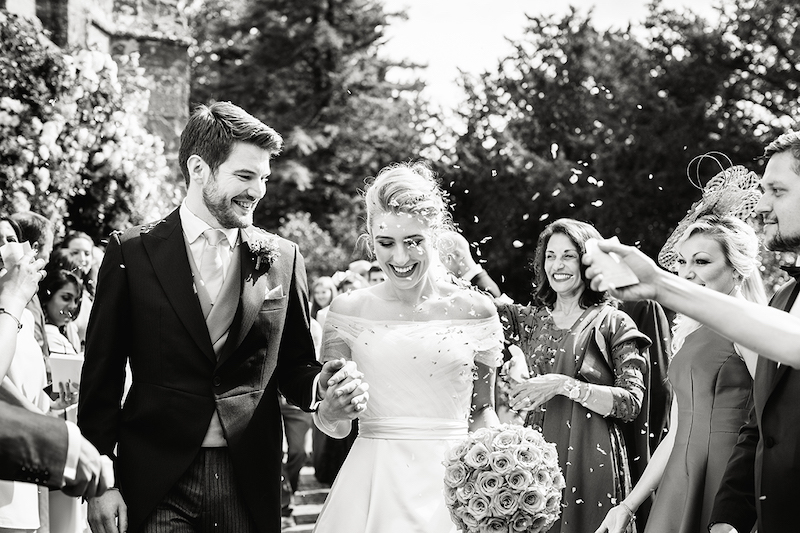 Her soft, romantic and feminine ceremony look was completed with an ivory sash tied around the waist with a bow at the back, and a long, cathedral length silk tulle veil.
"My best friend was going to give me her veil as my 'something borrowed' but when I tried it on with my dress (two weeks before the wedding) I realised it didn't work! The colour of satin ribbon on the veil clashed with my dress so luckily I got one from Phillipa Lepley at the last-minute," Claudia explained.
Claudia's couture dress and accessories were created with her over multiple detailed fittings, with toile mock-ups to create the initial fit and style lines, and many dress fittings where Claudia was able to see her dress grow and develop with each visit.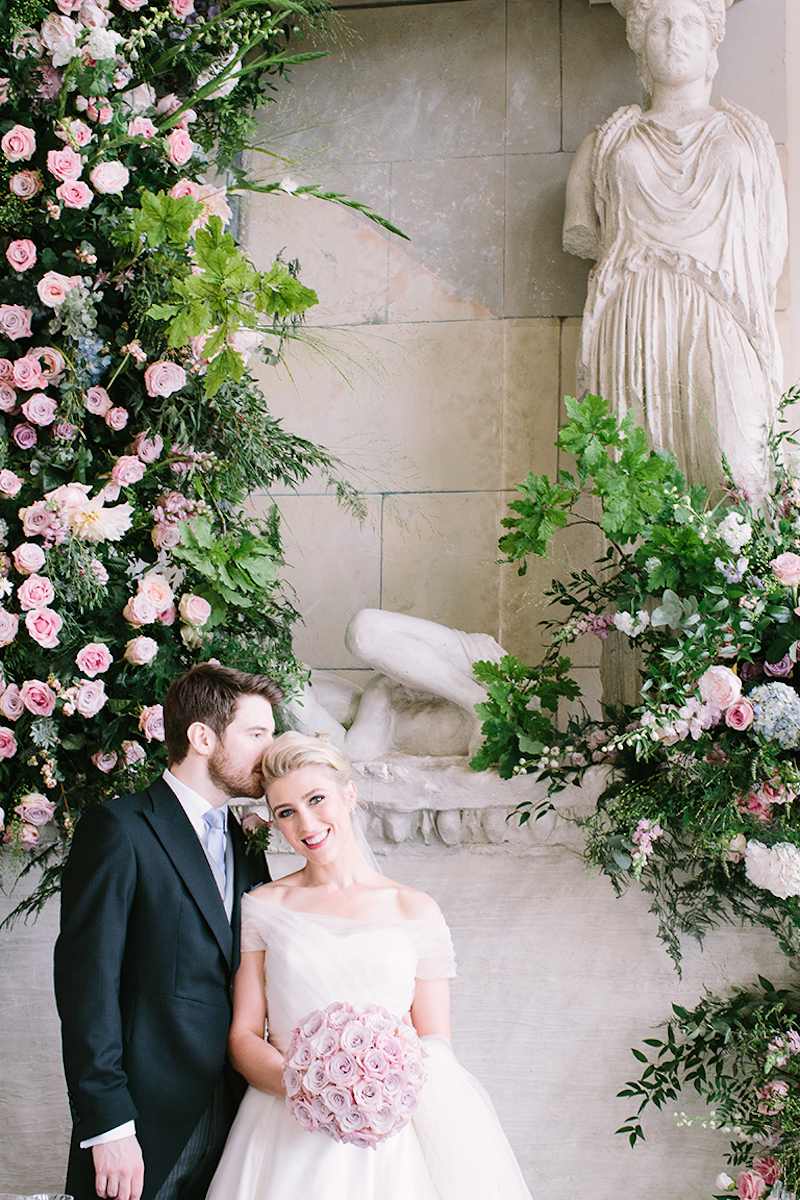 "The experience at Phillipa Lepley is just so beyond that of other stores. The way they treat you in there – you don't get the sense that it's 'one-in one-out'. In other bridal shops I didn't feel the experience was as personal. The team at Phillipa Lepley is small and they make you feel special, not like you're on a conveyer belt of brides," Claudia recalls.
"I will be totally honest, I wasn't looking forward to shopping for wedding dresses. My mum passed away when I was 18. You always see – on programmes like 'Say Yes to the Dress' – the bride going dress shopping with her mum and I knew I was never going to have that.  I did take my mother-in-law though, in fact she was with me for the Phillipa Lepley appointment and that was lovely. I also took my best friends and my god mother to some of the fittings."
For the evening, Claudia removed the silk tulle top and ivory sash and instead added a hand embellished 'cushion cut' diamanté and crystal belt. Claudia's belt was intricately hand-beaded in England, and made to order for her. It tied with a satin bow and tails at the back – a nice detail carried through from the ivory sash worn at the ceremony. The sparkle of the beading and the sheen of the luxurious duchess satin gave the perfect glamorous evening look.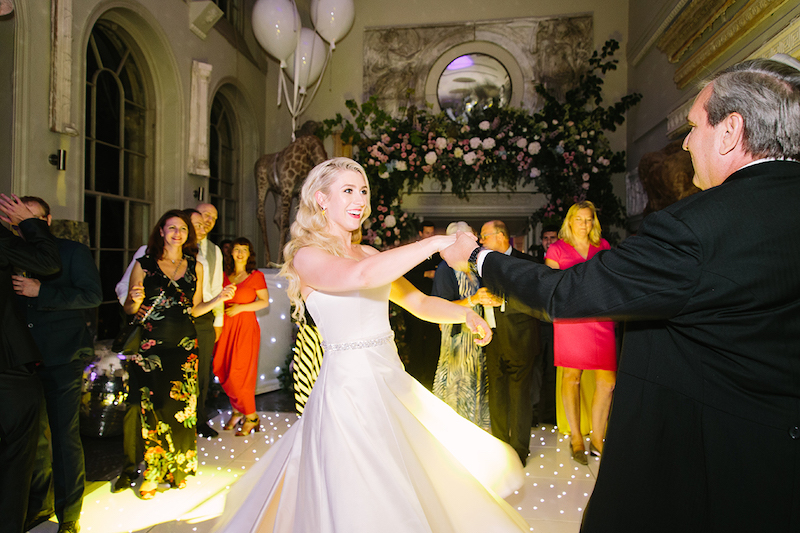 "The way the jewelled belt kept catching the light was perfect for my evening look, it gave my dress a bit of sparkle and pizazz!" Claudia said to us.
"The dress is just so beautiful. One day, if I had a daughter and if she got married and wanted to use my wedding dress then she could."
Phillipa Lepley is recognised globally as a leading British wedding dress and eveningwear designer, renowned for bespoke couture dresses of the utmost luxury. Her wedding dress shop in London, Chelsea, has over 50 dresses, all of which have been made in England from start to finish at her atelier.