The Story Of Rose's Embellished Wedding Dress
"I have never had a piece of clothing made to fit me so perfectly. I wish I could cut out the corset and wear it under all my clothes!"  Rose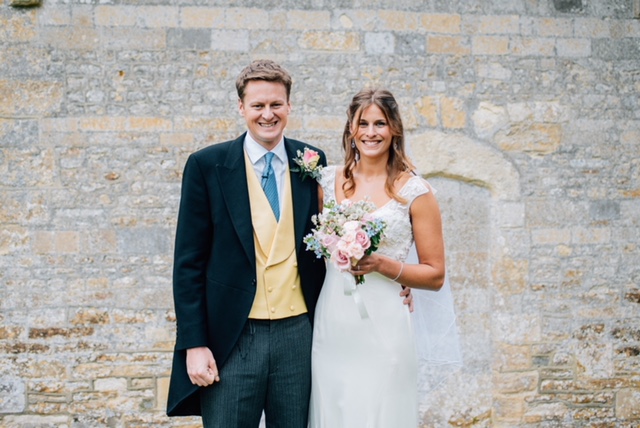 Rose chose an embellished Phillipa Lepley wedding dress when she got married at a beautiful village church in Dorset in May last year. Although Rose had lived in Fulham and walked past the wedding dress designer's windows for many years, it was actually a friend (who also wore Phillipa Lepley on her big day) that recommended Rose visit the Chelsea shop.
Rose had a fairly good idea about what sort of wedding dress she wanted. "I knew I wanted something quite slim fitting. The church I got married in was very small and a wedding dress with a fuller skirt wouldn't work for that environment. I didn't think I wanted an embellished dress. I was sure I wanted lace instead," she told us.
On the day of her appointment, Rose came to the shop with her Mum. "I pulled out about seven dresses to try on and Mum suggested an embellished one, which I rejected. As soon as I tried the first dress on my Mum started crying. That's when we knew we wouldn't be going to any of the other wedding dress shops we had appointments with."
"The dresses are just so beautiful and the quality and craftsmanship of them make you feel amazing. So we knew that Phillipa Lepley was the shop."
Although they knew that Phillipa Lepley would be where they found Rose's wedding dress, Rose hadn't decided on exactly which dress that would be. Then Ania (a member of the Phillipa Lepley Team) suggested that Rose tried on the embellished couture wedding dress that her Mum had chosen initially. It was a slim-fitting, slipper satin dress with our signature Phillipa Lepley corset hidden within and deep sweetheart neckline.
The dress has a tulle overlay with an ornate floral beaded design made up of ivory-toned beads, sequins and 3D silk chiffon flowers. The embellishment detail was focused around the neckline and delicate tulle straps, trickling down onto the dress and growing up organically from the hem. The dress also had a minimal tulle train completely embellished with twines and vines of floral motifs.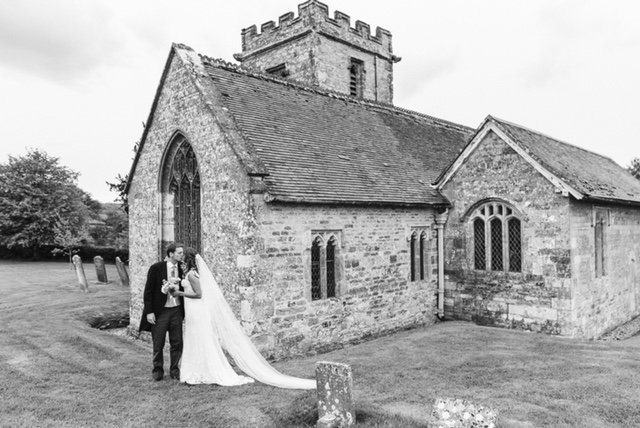 "I was so excited about wedding dress shopping but I think Mum was dreading it as I'm so fussy, and I wasn't expecting to find anything. But first shop and fourth dress we found it. We cancelled all our other appointments and went for Champagne instead!" said Rose.
"The whole wedding dress experience was so fun," she told us. "The team in the shop were so helpful and suggested which dress suited me based on what I liked."
Her advice to other brides is to relax. "People can get so wound up with weddings, so it's important to enjoy it. Wedding dress shopping with my Mum was such a fun thing, we made a party of it!"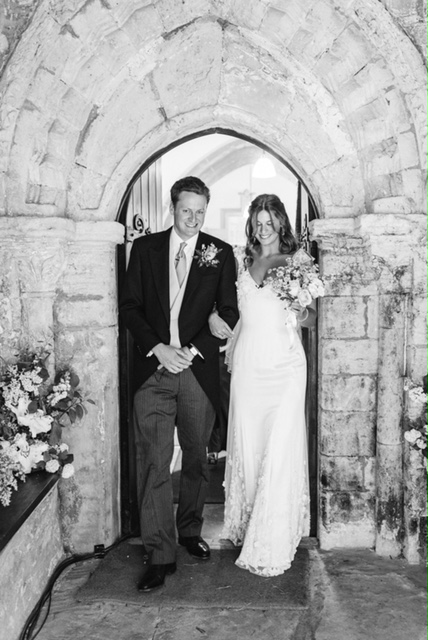 Like most of our brides, Rose came for several fittings at our London atelier. "I loved going back for all the fittings," she told us. "Most people try their wedding dress on and then don't see it again until their wedding day. It was nice to see the dress so much in the build-up. I have never had a piece of clothing made to fit me so perfectly. I wish I could cut out the corset and wear it under all my clothes."
How Phillipa's dresses fit her brides is of course an extremely important element of the wedding dress designing process but it's how a bride feels when they put it on that really matters.
Rose told us "I felt so so amazing and was so happy wearing my dress. Fred told me how beautiful he thought I looked. I think he was actually overwhelmed by how happy I was with my dress. I felt great all day!"
Rose is now living in Abu Dhabi with Fred but her wedding dress is hanging on the back of her door in her room in Dorset for her to see whenever she goes home.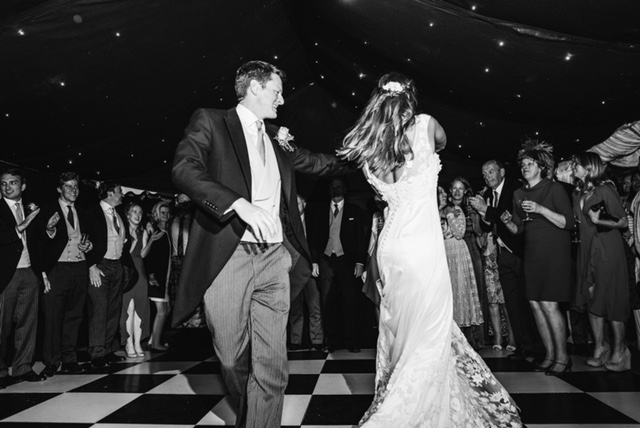 Phillipa Lepley is recognised globally as a leading British wedding dress and eveningwear designer, renowned for bespoke couture dresses of the utmost luxury. Her wedding dress shop in London, Chelsea, has over 50 dresses, all of which have been made in England from start to finish at her atelier.