An Elegant Irish Celebration At Adare Manor Hotel
"I have been walking past the Phillipa Lepley store almost every day for the last 10 years and hoped one day I would have one made for me." Kelly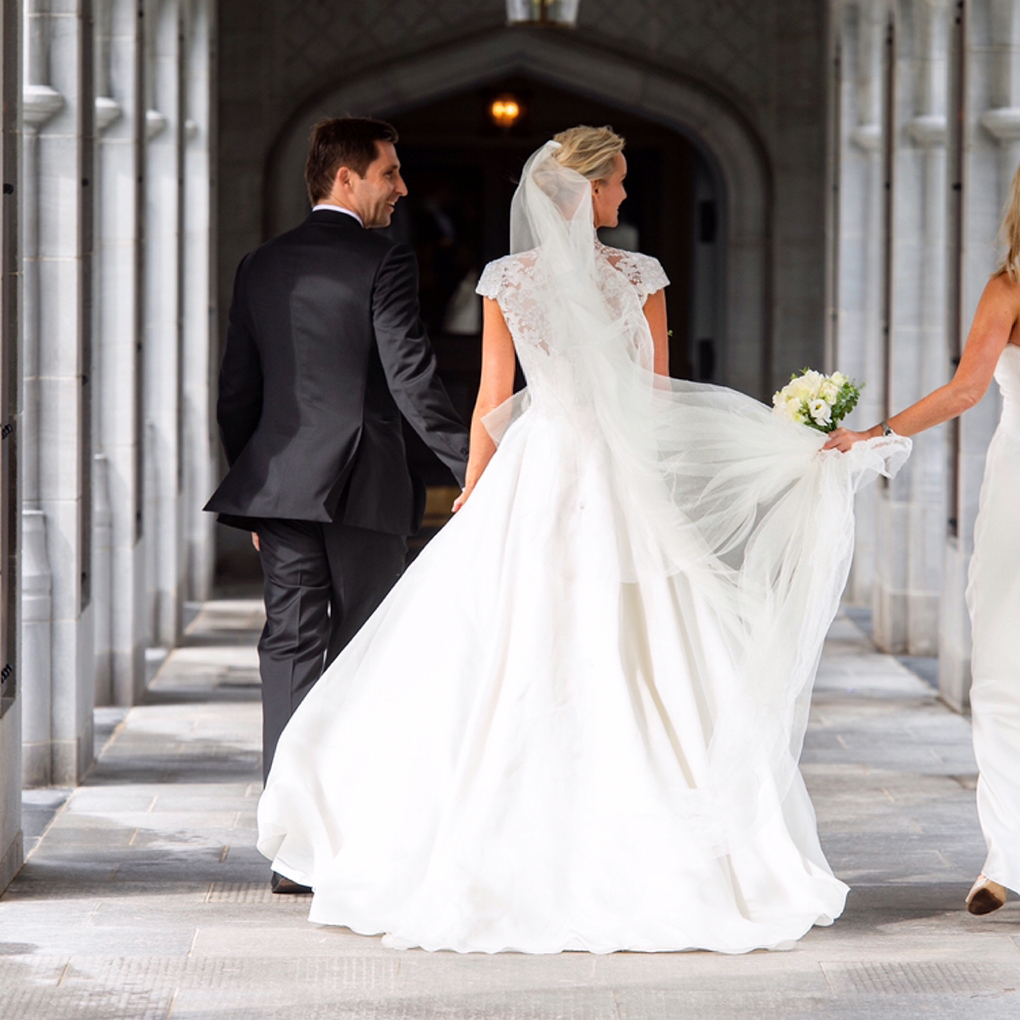 When Kelly married Matt in Holy Trinity Abbey, Adare, County Limerick, Ireland in August 2018, she chose the Margaux Maiden's Fern dress to wear on her wedding day.
Having a couture wedding dress by Phillipa Lepley fulfilled a decade of dreaming for Kelly. "I have been walking by the window of Phillipa Lepley nearly every day for the last 10 years, since I moved over to London from Ireland to go to university. I always loved the dresses on display and hoped someday I would be having one made for me," she said.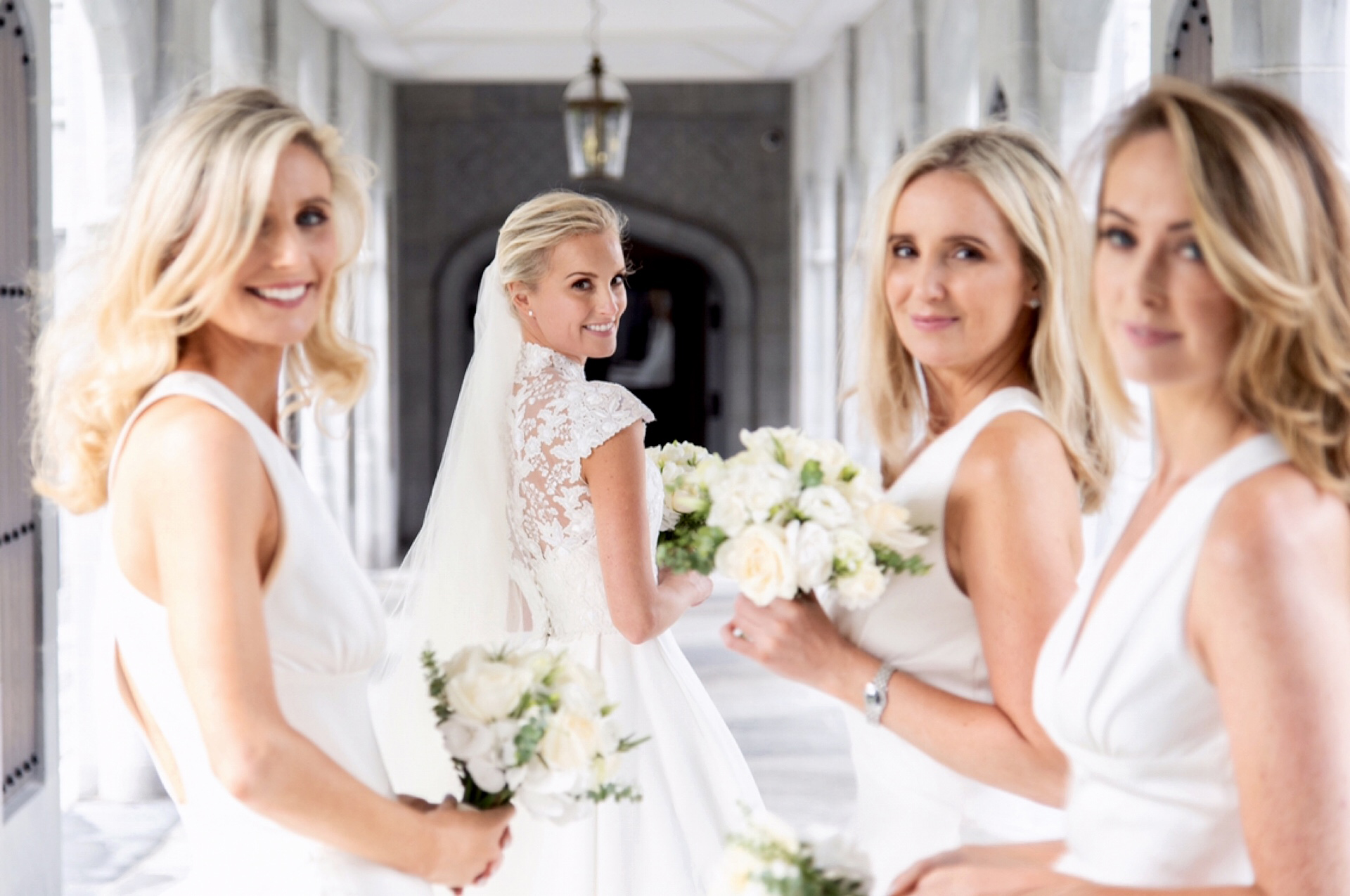 Kelly, who's day job is a derivatives broker, has worked as a professional model and worn hundreds of wedding dresses for photoshoots, had a good idea of what style of wedding dress design she would like when she came to us. "I had a fair idea that I wanted a high neckline and a full skirt, but more than anything I wanted the high quality that I just could not see anywhere else that I looked at wedding dresses".
Because of her modelling background, Kelly said she "expected that shopping for my wedding dress would be like another day at the office, but it was not at all; it was a whole new experience and far more special than I ever expected. It was personal and emotional."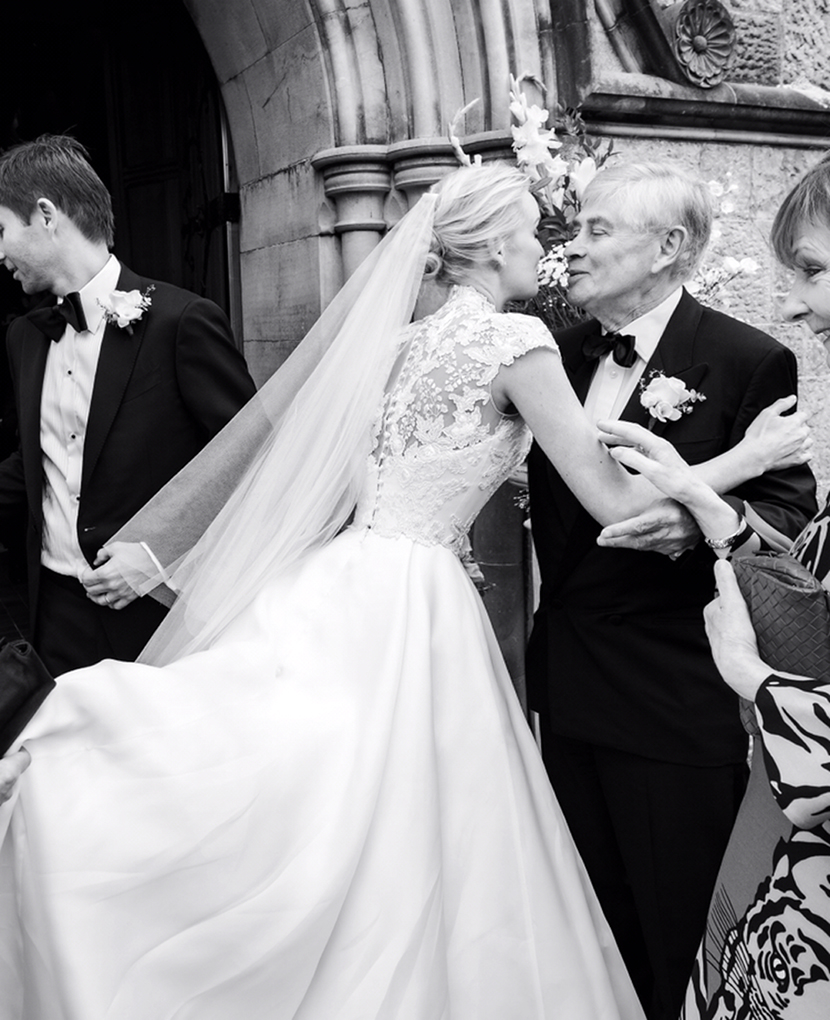 As with all our Phillipa Lepley brides, at Kelly's first consultation with our team we helped her select a variety of wedding dresses to try on and get an idea of what sort of design suited her best.
"Geetu was amazing, she helped me to select three or four dresses to try on, one of those being Margaux Maiden's Fern, which was the one I had my eye on. Geetu knew it too without me having to say anything. She has a lovely way of letting you absorb the moment and she really recognises when a bride has found the right one", said Kelly.
Once Kelly had decided that Margaux Maiden's Fern was the wedding dress for her, the couture dress-making process began and Laura, our fittings co-ordinator, took over for the initial measurement appointment.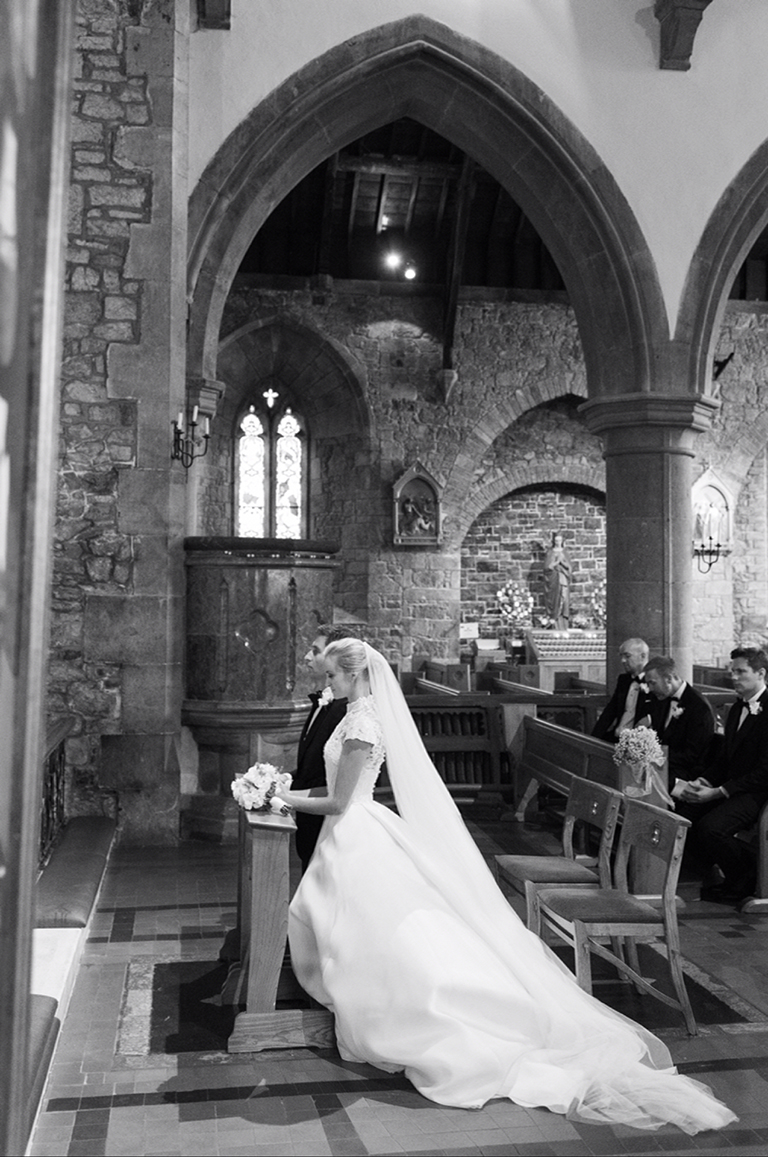 Kelly told us that "Laura was the epitome of professionalism and grace, and had so much patience, especially when I did not have my shoes on time – BAD bride! I was also very lucky to have Phillipa herself involved in the whole process. She was so lovely and helpful – her inner and outer beauty echoes through her designs."
The hand-embroidered wedding dress that Kelly wore features intricate detailing of Maiden's Fern, Orchids and Primroses, the artwork for which was hand-drawn by our atelier team, then embroidered onto tulle and highlighted with clusters of pearl beads. The high neck and shaped cap sleeves of the dress gives it a regal and elegant feel.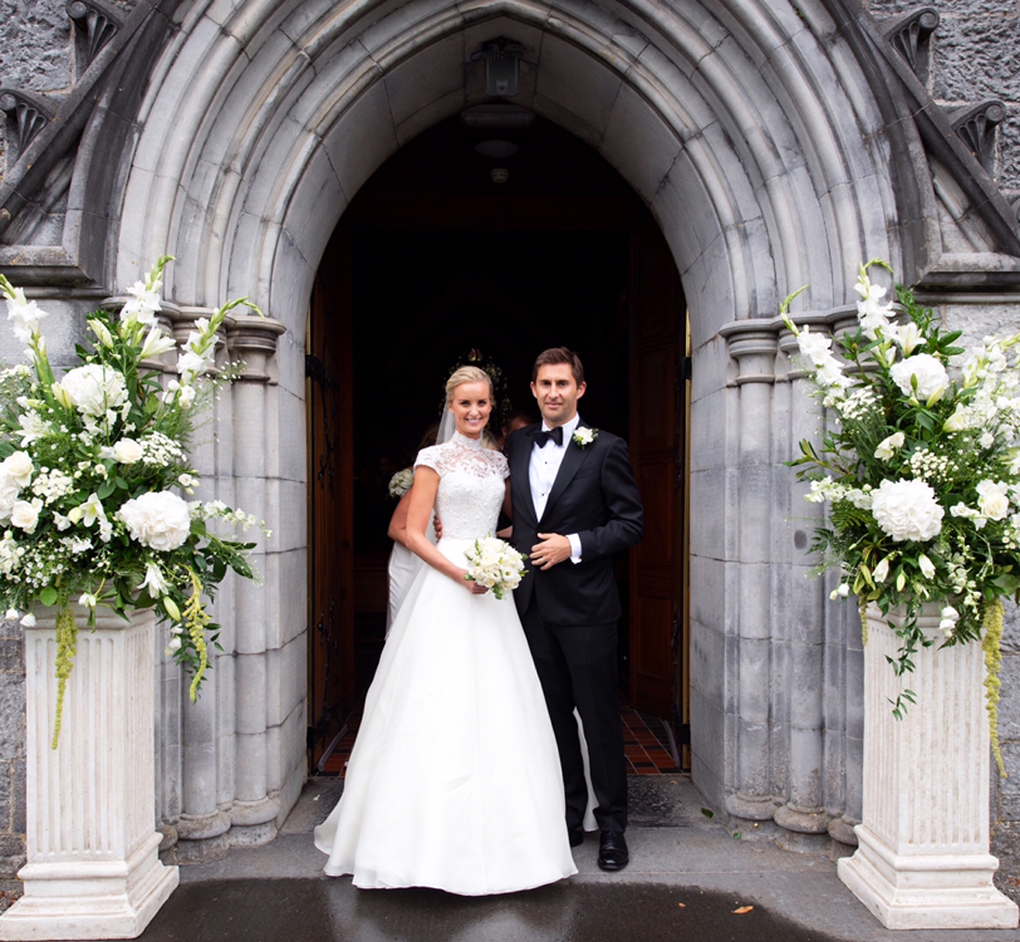 The skirt has two overlays of satin organza, which is beautifully light whilst still giving structure to the full skirt. It has a rich, nearly opaque finish that works to balance the detail of the embroidery and is completed with a wide-box pleat at the back for added depth. Lastly, Margaux Maiden's Fern has our signature Phillipa Lepley corset hidden within, which moulds and defines the waist to further enhance the full skirt and dramatic neckline.
Kelly chose a two-tier veil to complement her dress – the veil was the finest silk tulle with a clean, cut edge finish so that the intricate work within the dress shone through.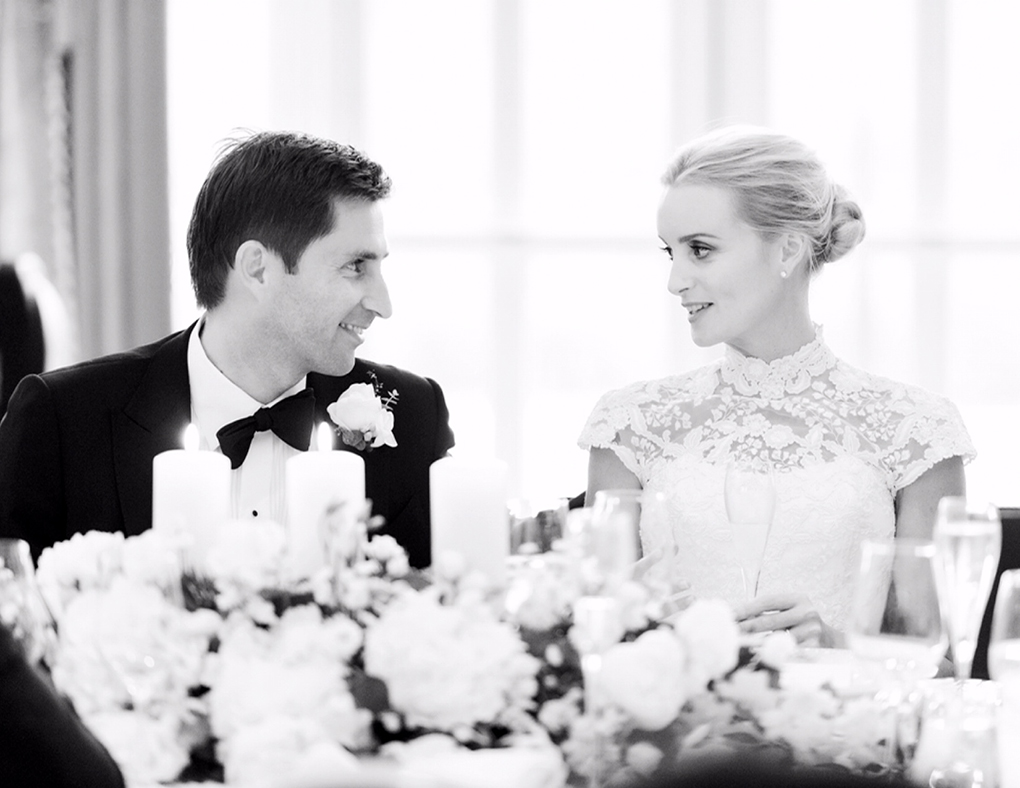 While Kelly knew what she was looking for from her wedding dress, her husband's vision might have been somewhat different.
"Early in the engagement when I asked my husband what he imagined I would wear on our wedding day, he said he could see me in a simple, long, narrow column dress, something very simple. So no train, no volume and no veil. When I ended up going for all three of those things I was worried about his reaction. But on the day, he was beaming so I think he was happy with my choice and I felt like a Princess."
Passing on her pearls of wisdom to brides to be, Kelly advises them to "ignore the rules and go with what you feel best in, whether it's long sleeves and a high neckline in the middle of summer or strapless and short in the middle of winter. And don't cut corners in the quality of your fabric."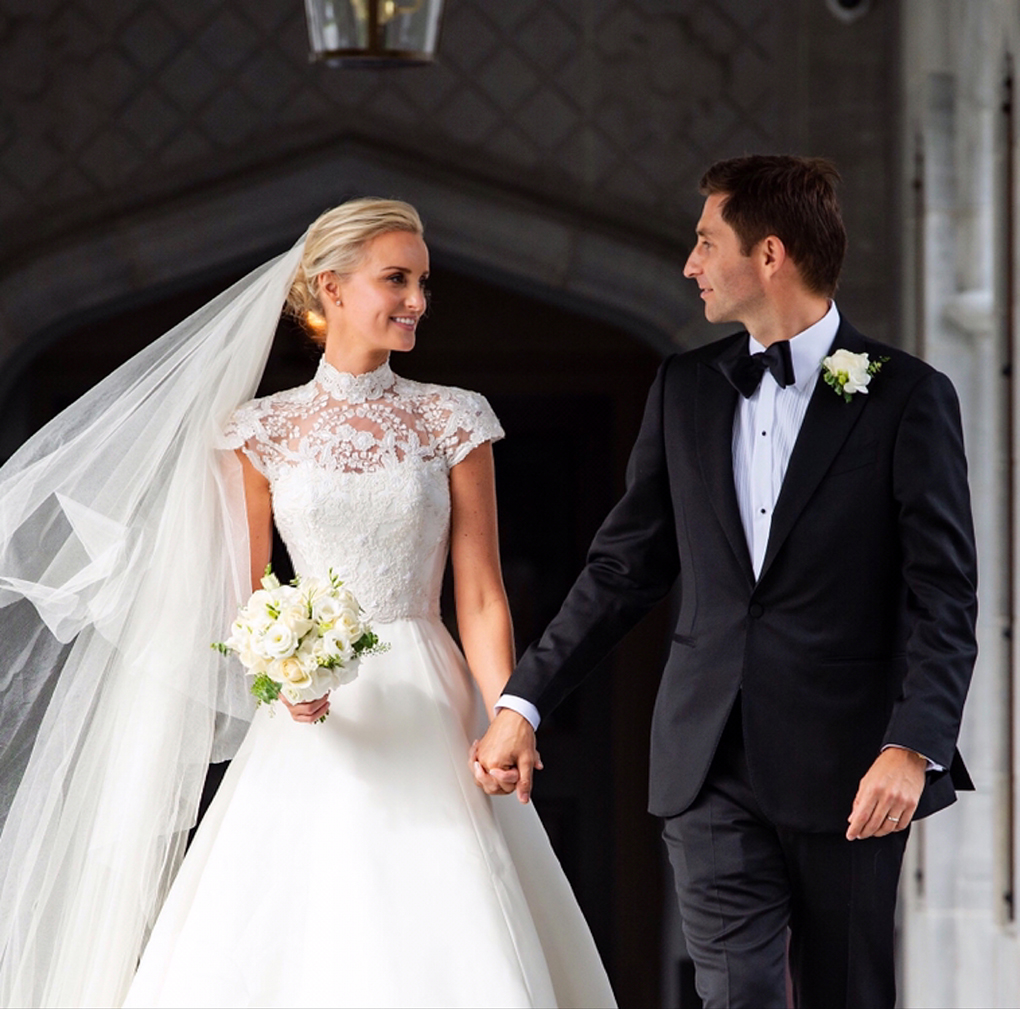 Photographer: UNIKEYE Photography
www.unikeye.com  |  www.instagram.com/unikeye_wedding_photography
Phillipa Lepley is recognised globally as a leading British wedding dress and eveningwear designer, renowned for bespoke couture dresses of the utmost luxury. Her wedding dress shop in London, Chelsea, has over 50 dresses, all of which have been made in England from start to finish at her atelier.