Phillipa Lepley bride Sophie
Sophie started her search for a wedding dress as soon as she got engaged, using Instagram to find inspiration. 'I was drawn to Phillipa Lepley by the timeless elegance of all her dresses. My Granny and I have a shared love of art, Pre-Raphaelite and impressionist in particular. Phillipa's dresses reminded us of Degas and that was a big factor in being drawn to her collection.'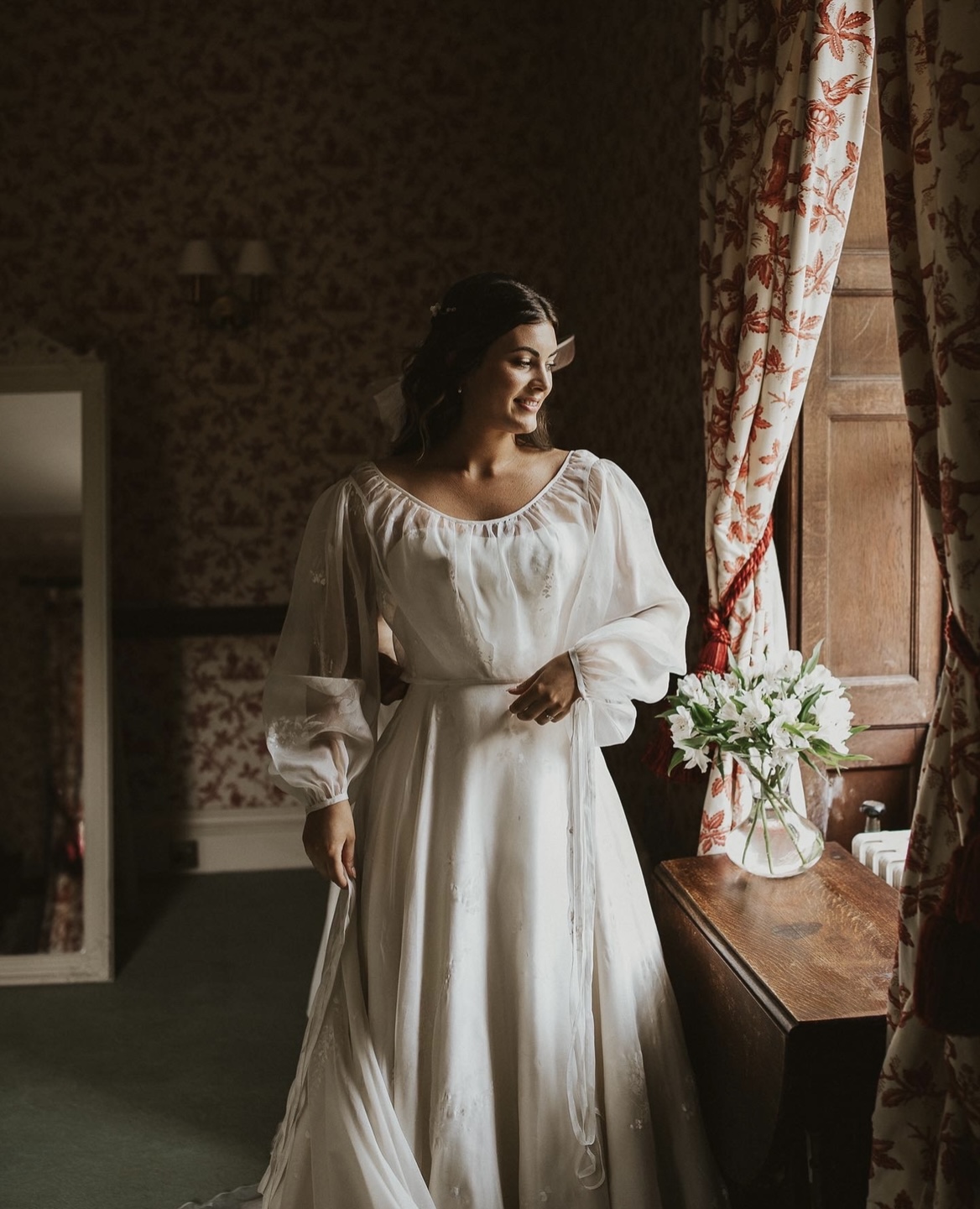 'When initially choosing my dress I had a consultation on my own with one of the Phillipa Lepley specialist and I felt able to honestly convey my tastes and vision for the day without any outside influence. I then only took my mother to fittings and decided to show my bridesmaids and family my dress once I had chosen it. Choosing your wedding dress can be daunting and overwhelming but it absolutely doesn't have to be. Keeping your entourage as small as possible and trusting yourself and the team will ensure you get the most out of your appointments and truly feel that your dress is solely bespoke to you.'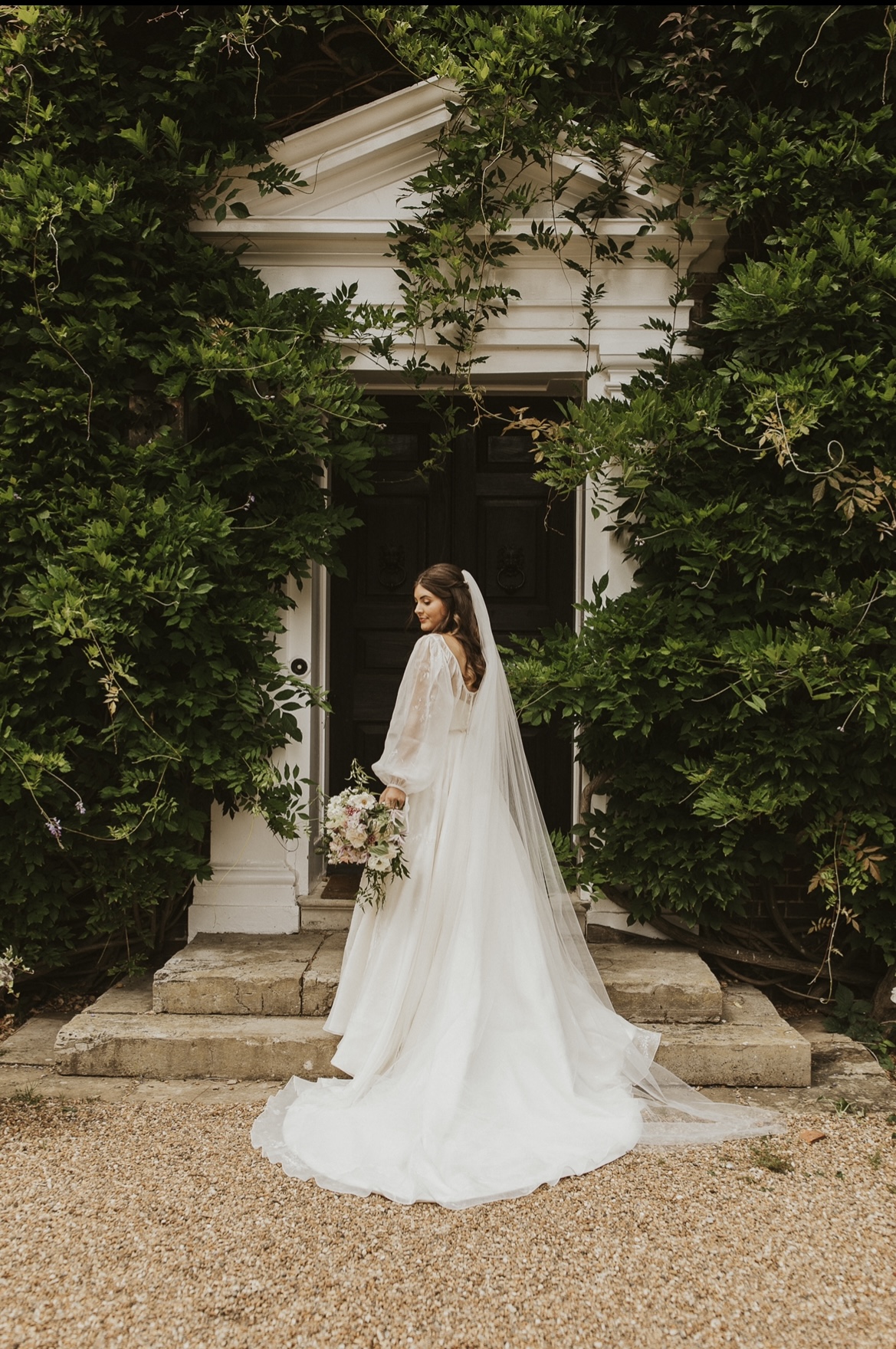 Sophie opted for a truly special piece within the collection:- 'Vienna Wisteria Organza', a romantic printed silk organza, strapless dress. The crisp duchess satin of the dress provided structure with a signature Phillipa Lepley corset hidden within, while the delicate organza overlay provided a whimsical sense of movement.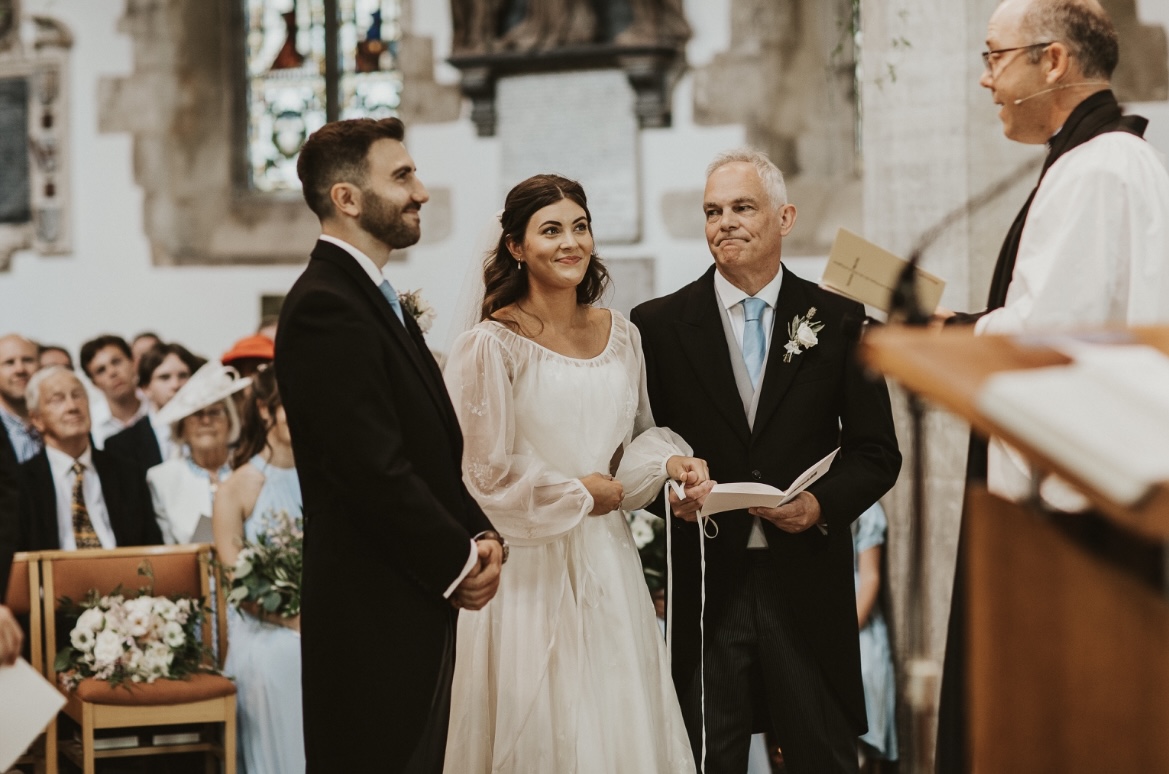 Phillipa personally selects each of the incredible silks that her designs are made from, sourced from around the world, ensuring that every dress is tells its own story. For Vienna Wisteria, Phillipa fell in love with finely painted white meadow flowers printed and scattered across the silk organza – a delicate decoration for this unique, artisan dress.
Sophie also fell in love with the fine detail of the organza, and styled her strapless wedding dress with the complimenting Vienna Wisteria sheer organza top with long balloon sleeves complete with ethereal hand-tied organza bows at the cuffs .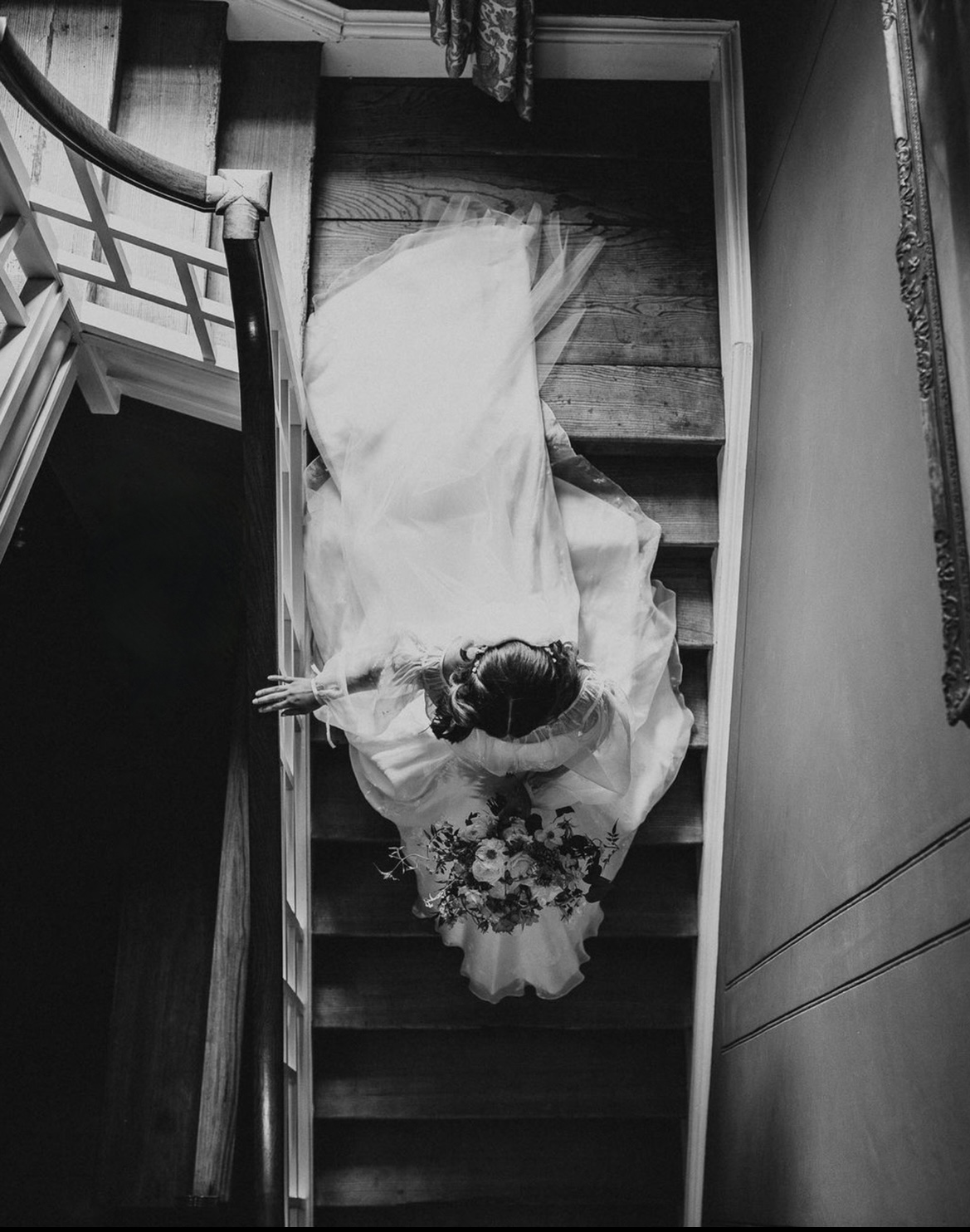 'The Vienna Wisteria dress was actually my "wild card" dress when selecting dresses to try. I loved the romantic look of the fabric but had initially thought I would choose embroidery. As soon as I put on the Vienna Wisteria (it was actually the first wedding dress I ever tried after my mother and grandmother's) and I had "the moment" where I instantly fell completely in love with it. I couldn't stop staring at the delicate organza and flowers. I felt completely comfortable and like the best version of myself in it. I also loved the uniqueness of the shape and sleeves which I found strikingly beautiful. Wearing the Vienna Wisteria made me feel so elegant and comfortable. I felt truly timelessly beautiful and I wish I didn't just get to wear it for one day!'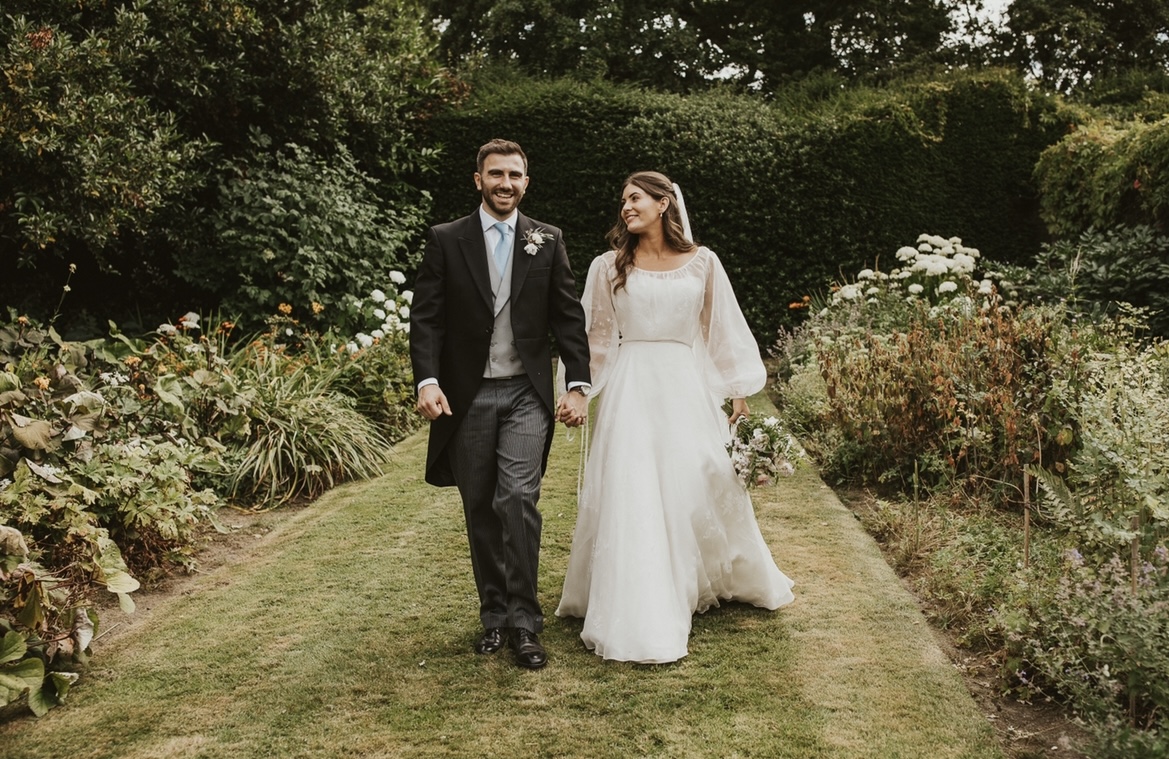 Sophie was married in the English countryside in a Georgian country house nearby where she and her husband were brought up. 'My parents, bridesmaids and I stayed at our wedding reception venue the night before and travelled to the church in beautiful classic cars. The house had a marquee in the garden for the wedding breakfast and is set in private formal gardens and 100 acres of national trust woodland. We chose our venue to fit the aesthetic of the day we envisioned; it was perfectly secluded, romantic and not too formal.'
Photography: @stephnewtonphotography
Phillipa Lepley is recognised globally as a leading British wedding dress and eveningwear designer, renowned for bespoke couture dresses of the utmost luxury. Her wedding dress shop in London, Chelsea, has over 50 dresses, all of which have been made in England from start to finish at her atelier.