PHILLIPA LEPLEY BRIDE FLORA VESTERBERG, NÉE OGILVY
'Flora and Fauna' for beautiful royal bride Flora
As Featured On: Vogue.com
Almost a year on from when the couple officially tied the knot, Princess Alexandra's granddaughter Flora Ogilvy marked her wedding to Timothy Vesterberg in elegant style in the presence of members of their families and friends in September 2021. The beautiful marriage blessing took place at St James's Church and Palace and the bride wore a couture Phillipa Lepley wedding dress.
Flora chose a light floral hand embroidered tulle overlay that sat over a fluid fine silk column with a gently flared hem sitting beautifully over soft petticoats. Full length sheer tulle sleeves and a strong V décolleté neckline finishing just on the edge of the shoulder framed the strapless base dress. Discretely hidden beneath the dress was one of Phillipa's famous invisible defining corsets accentuating Flora's incredible waist to the maximum.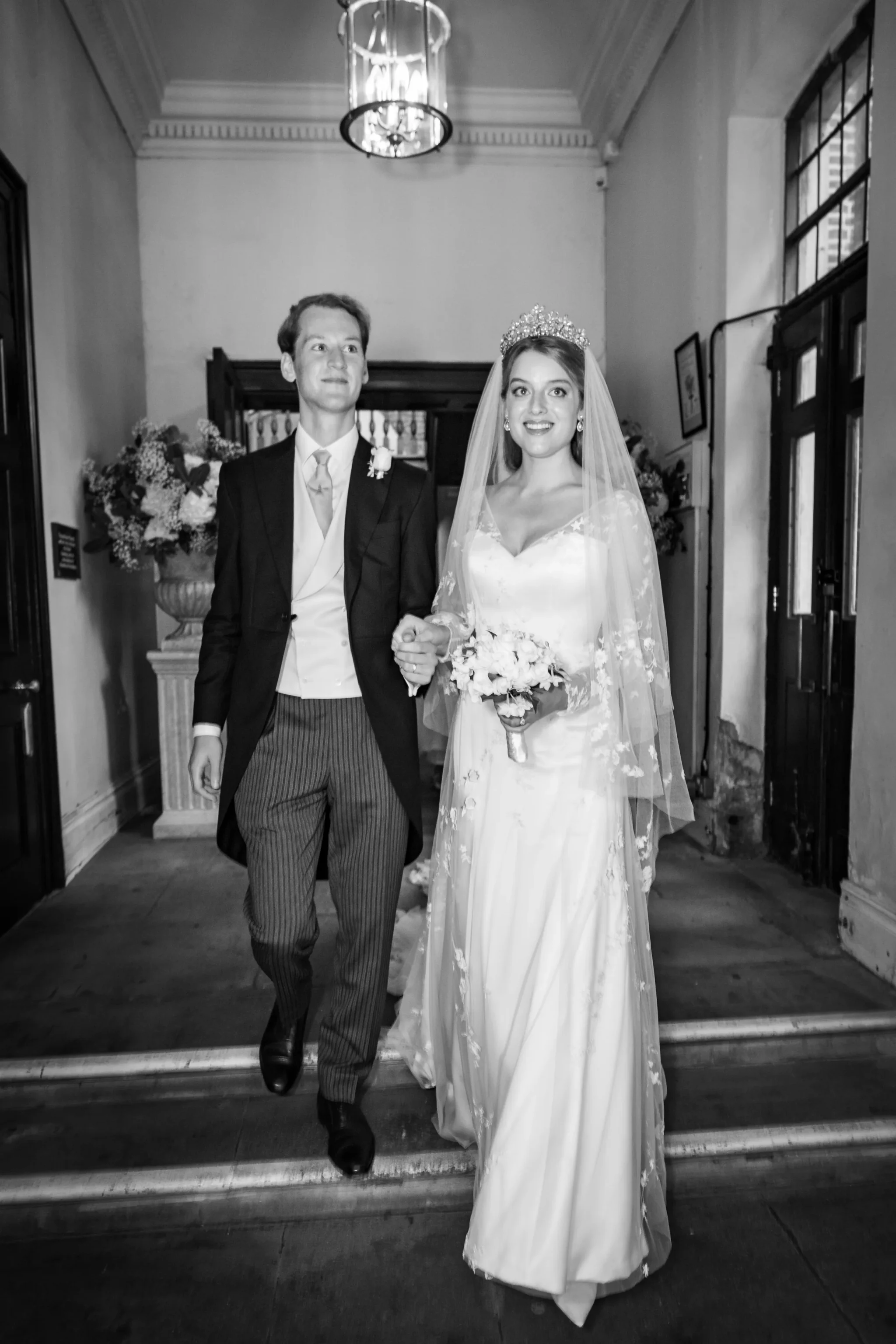 A completely bespoke delicate embroidery design was created specifically to complement 'The Ogilvy Tiara', adorning the dress. It featured Magnolia, Jasmine, Starflowers and Orchids, all with their foliage organically growing and dotting around the body. The design was finely embroidered by hand in silk floss satin stitch, chain stitch and French knots. Artisans hand-embroidered silky ivory double cut beads, pearls and pearly sequins, as well as a tiny hidden satin stitch Sweat Pea on the wrist – a personal romantic gesture chosen by the bride.
"It was a pleasure to work with Phillipa on my bespoke wedding dress. She thoughtfully interwove my specific references and involved me in the design process. Our fittings were always serene and yet productive." – Flora Vesterberg.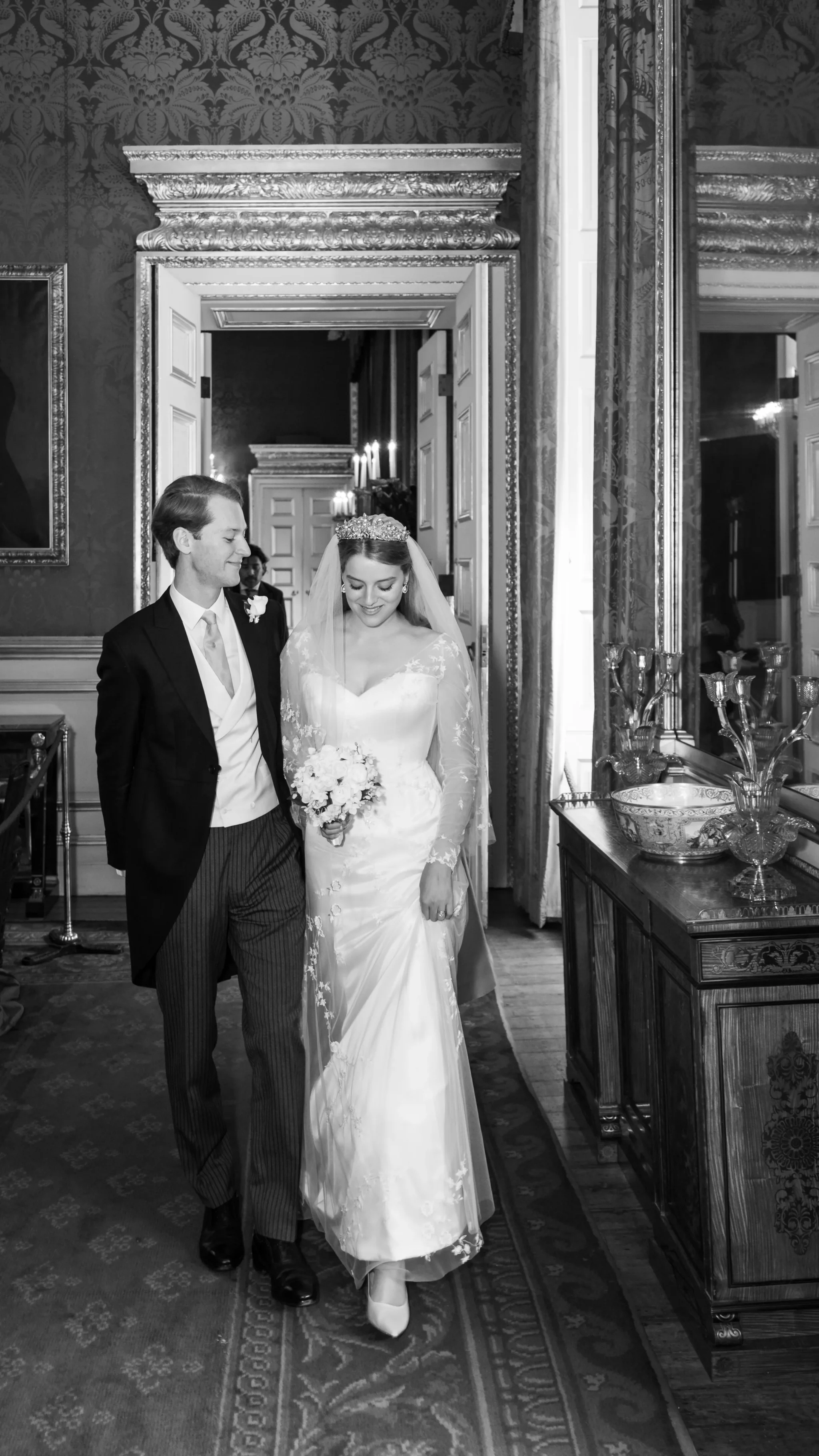 "With my grandmother's tiara as the reference, I worked with British couturier Phillipa Lepley to bring floral motifs of orchids, stephanotis, and jasmine as well as pearls into the embroidery of my wedding dress and veil. It was a pleasure to work with Phillipa. She thoughtfully interwove my references and involved me in the design process. Our fittings were always serene and yet productive," Flora says.
"The embroidery was influenced by the knowledge of botany that my landscape designer father, James, had taught me. He always finds beauty in subtle details, which has inspired me in my own life. The silhouette of my dress was inspired by my grandmother's wedding dress as well as the oeuvre of the late photographer George Hoyningen-Huene, who I recently profiled for Vogue Scandinavia. A subtle element of structure brought a sense of modernity."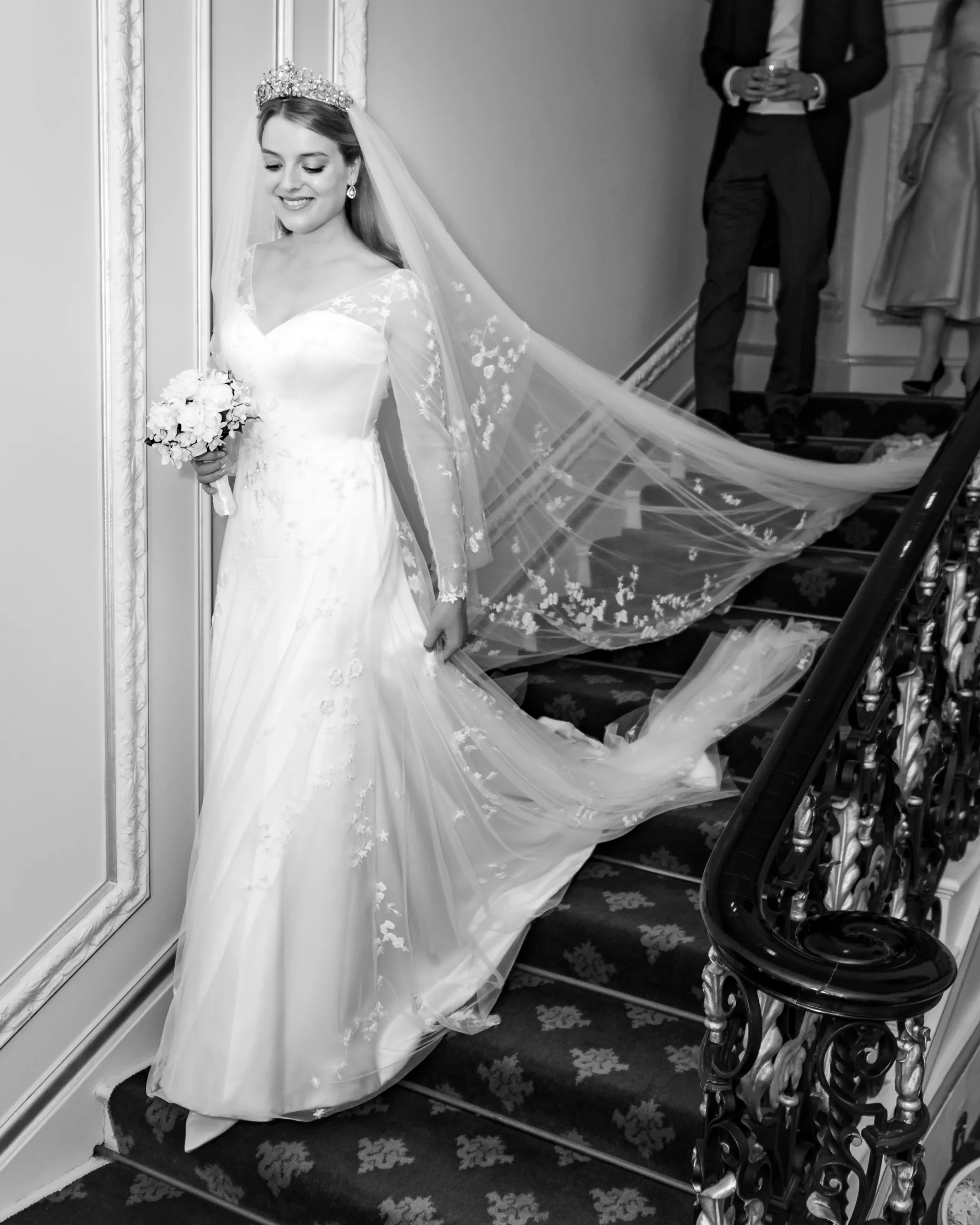 A fine French silk tulle veil was gathered at the head to sit behind 'The Ogilvy Tiara', with a train that extended beyond the end of the dress. The veil embroidery echoed the dress embroidery, featuring exactly the same flowers dancing organically around the edge of the veil, echoing the design of the tiara and framing Flora beautifully. The perfect balance of decadent intricacy and ethereal romance.
'Phillipa devised an exquisite veil to compliment the floral embroidery throughout my dress. The stephanotis and orchid were then reflected in my choice of bouquet.'
–
Flora Vesterberg. 
Phillipa says; 'It was a joy and honour to work with Flora on this incredibly feminine bespoke dress, it is always a pleasure to work alongside someone equally detailed. I loved tying the dress and veil floral embroidery together with 'The Ogilvy Tiara',  Flora looked incredible in the final timeless look.' 
Phillipa Lepley is recognised globally as a leading British wedding dress and eveningwear designer, renowned for bespoke couture dresses of the utmost luxury. Her wedding dress shop in London, Chelsea, has over 50 dresses, all of which have been made in England from start to finish at her atelier.