COUTURE WEDDING DRESS: FALLING FEATHERS
Showcasing the artisan skill of the Phillipa Lepley Atelier, the 'Falling Feathers Overlay' offers an incredibly beautiful, subtly sparkling finish. Hand embroidered feathers appear to float across the tulle, through the décolleté scoop neckline and cap sleeves, descending to the floor throughout its full train. Phillipa's vision for this design was to keep as much natural floating movement in the dress as possible.
A truly exquisite piece, the embroidery perfectly captures the natural irregularity of feathers with layers of sequins and thread work hand crafted across the finest quality tulle. The feather motifs beautifully capture the light, embellished with crystal xillion beads, silky ivory cut beads, and pearl and crystal overlapping flat sequins layered over chain stitch ivory embroidery.
With each individual feather considerately placed by the atelier team, Phillipa's vision of feathers effortlessly and organically winding throughout the full length overlay has been perfected, resulting in a truly stunning picture.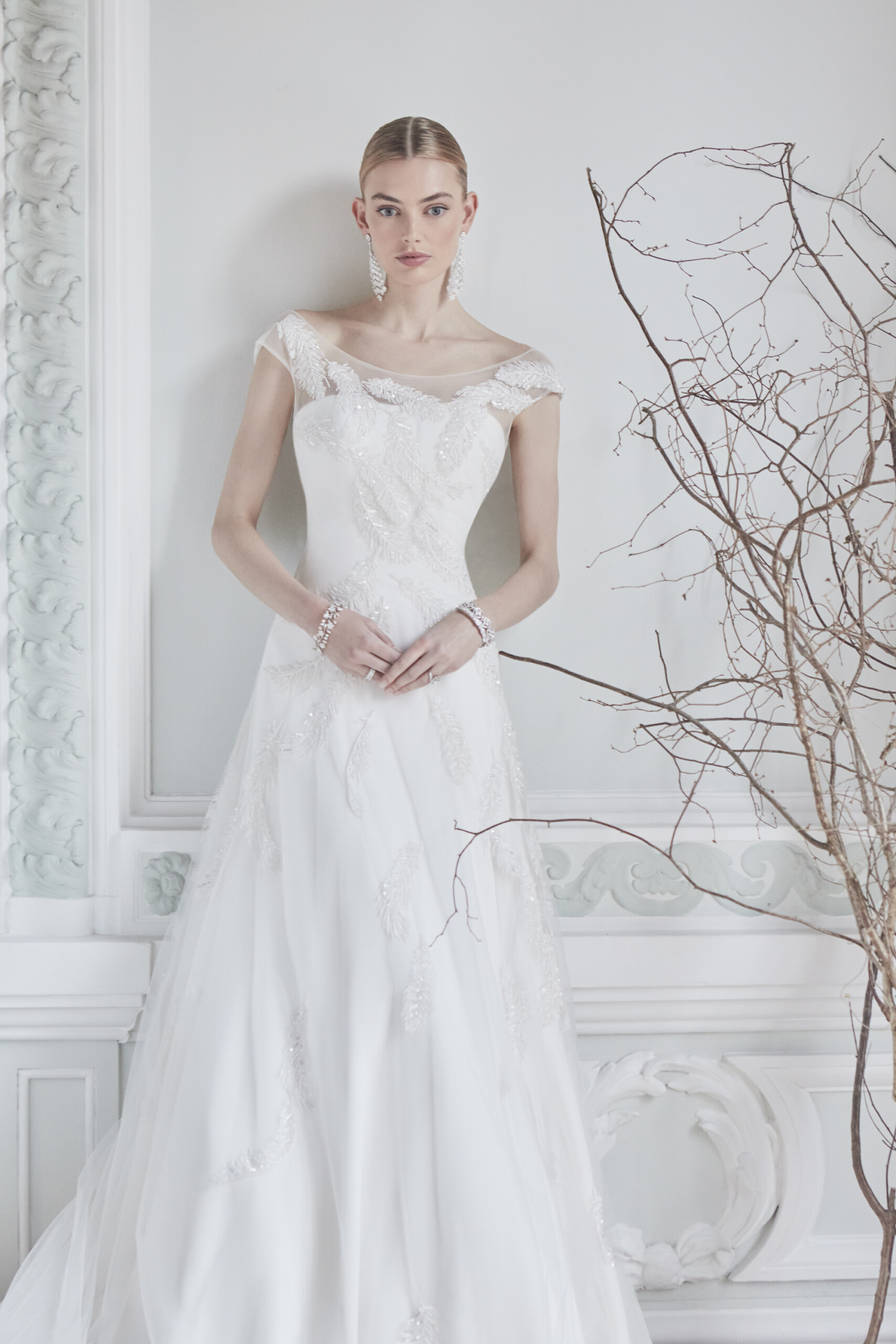 Phillipa says, 'They are all alive and flowing across the dress, creating an abundance of movement – the beauty is in the detail, I adore the odd little tuft here and there, and the gorgeous little escaping one at the end of the train. The feathers really are exquisite with incredible thread work combined with layers and layers of twinkling sequins and intricate bead work.'
A slipper satin base dress can be worn beneath this delicate overlay, as pictured here, or the embroidery could be chosen to frame a corseted duchess satin gown. With many possibilities, Phillipa's Atelier can develop the design in an entirely bespoke way based on the bride's personal preference and each individual embroidery placement will be specifically tailored to complement her frame.
Exceptionally special, this overlay could be worn either to carry the bride's look throughout the wedding day, or added in the evening for a touch of elegant glamour, allowing the bride to enjoy two looks with one dress.
Phillipa Lepley is recognised globally as a leading British wedding dress and eveningwear designer, renowned for bespoke couture dresses of the utmost luxury. Her wedding dress shop in London, Chelsea, has over 50 dresses, all of which have been made in England from start to finish at her atelier.