Transform Your Wedding Day Look With Overlays
British couture wedding dress designer Phillipa Lepley has introduced a number of truly special, hand-embroidered silk tulle overlay designs in to her new collection, created from start to finish at the London atelier. These delicate pieces can be worn over a plain, corseted wedding dress giving the bride countless options to develop a dress that can be transformed throughout the day and that is totally unique to them.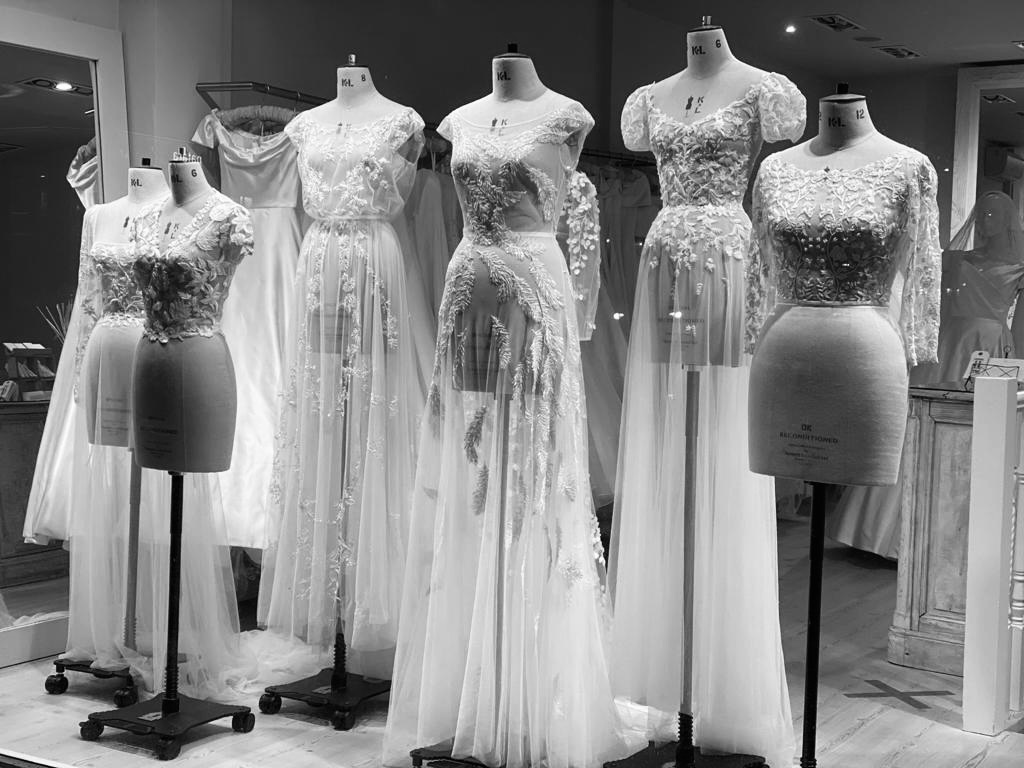 The artisan team at Phillipa Lepley's studio have designed and made the overlays and the embroideries in-house with the specific vision of layering the tulle beautifully over a base layer, resulting in an exquisite picture. Overlays can be to the waist or all the way to the floor, adding contours around the bodice, new necklines and even statement puff or long sleeves, always framing the exquisitely corseted Phillipa Lepley dress beneath.
Embroidery Artwork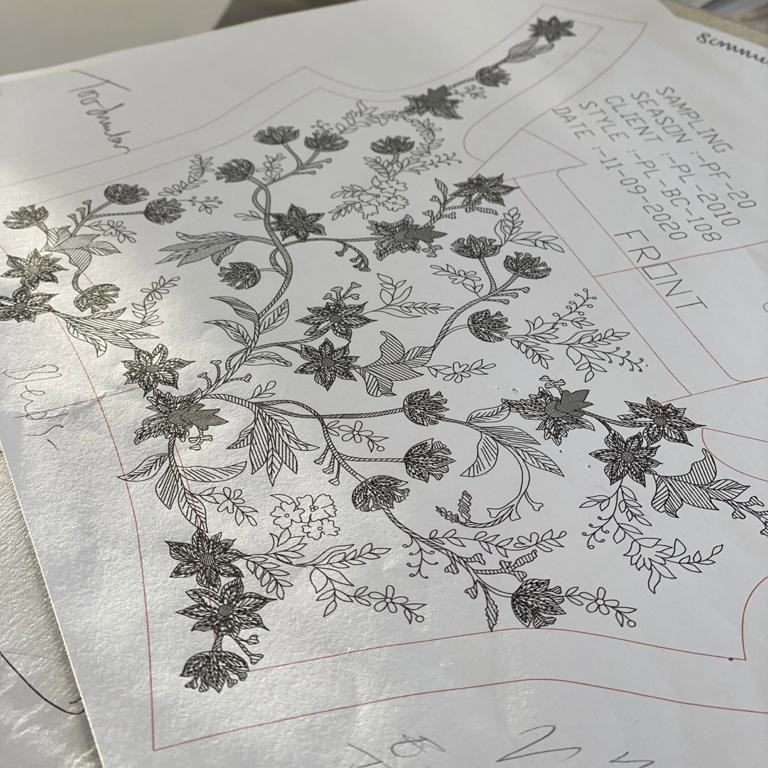 Whether a bride is looking for a dress with a significant amount of coverage for the ceremony or a small amount of coverage for the duration of the day, overlays can be designed accordingly. Coverage can extend over the shoulders and décolleté, with details positioned perfectly to build up the perfect pattern. As well as the density of cover, brides can choose the colour, density and finish of the bespoke embroidery, opting for an overlay with an extra layer of sparkle for the first dance, for example. Embroidery placements can be guided by the bride's preferences and will be tailored specifically to their frame.
Vienna Alpine Bouquet – William Morris inspired Thistle, Cosmos and Acanthas Leaves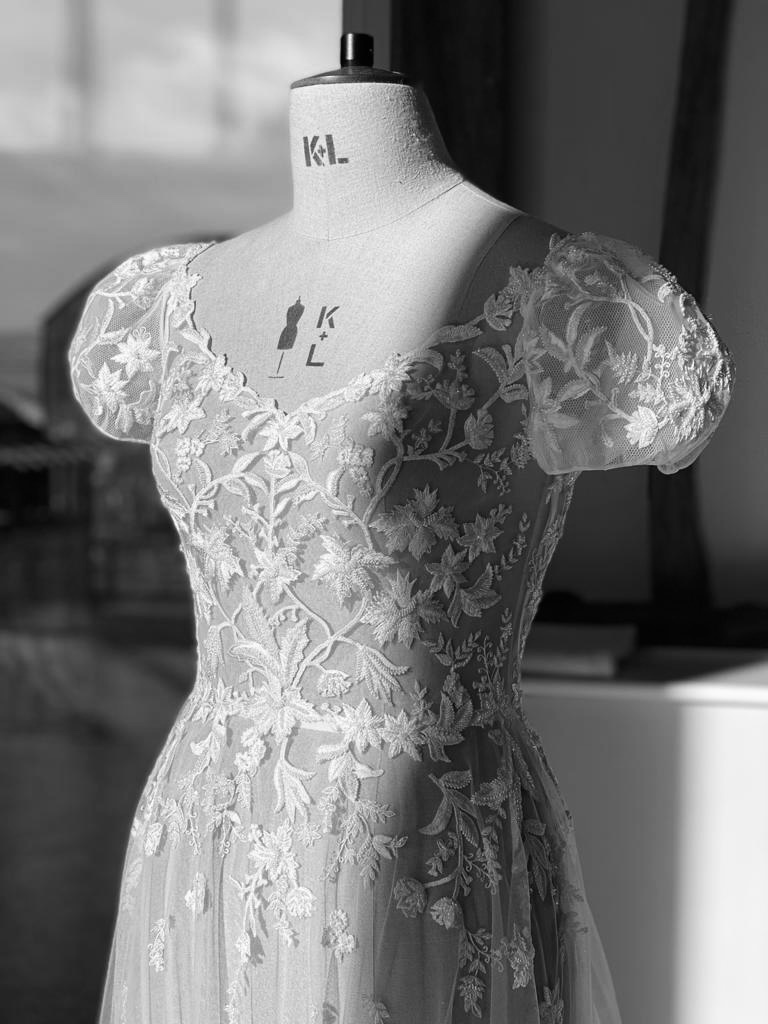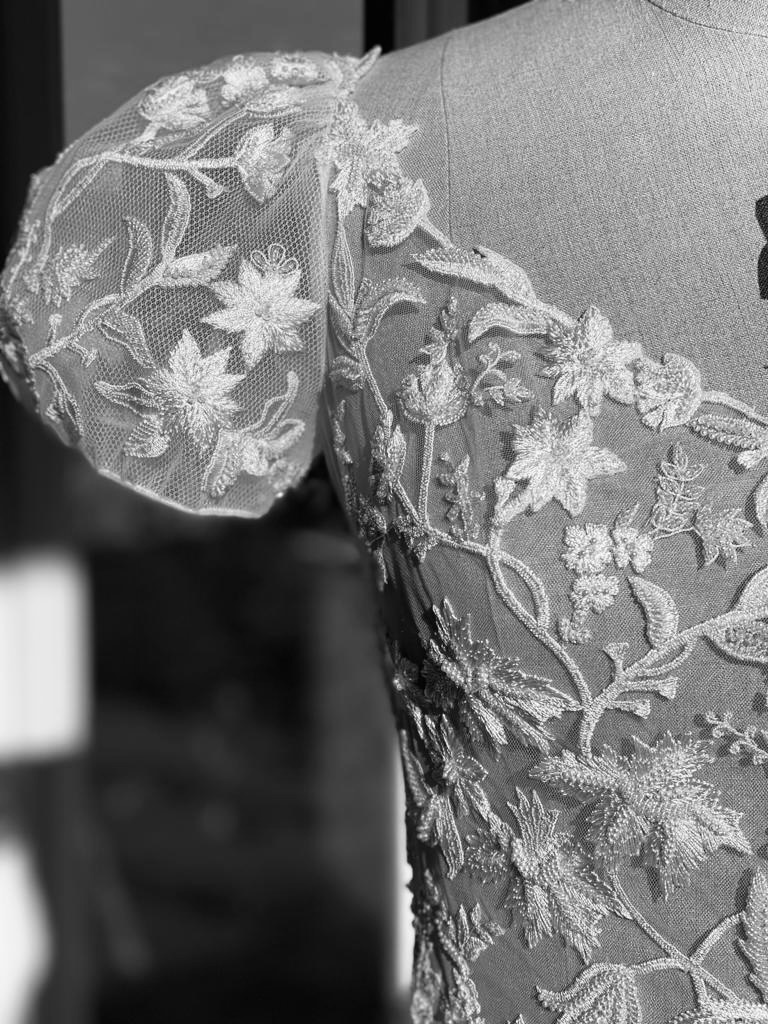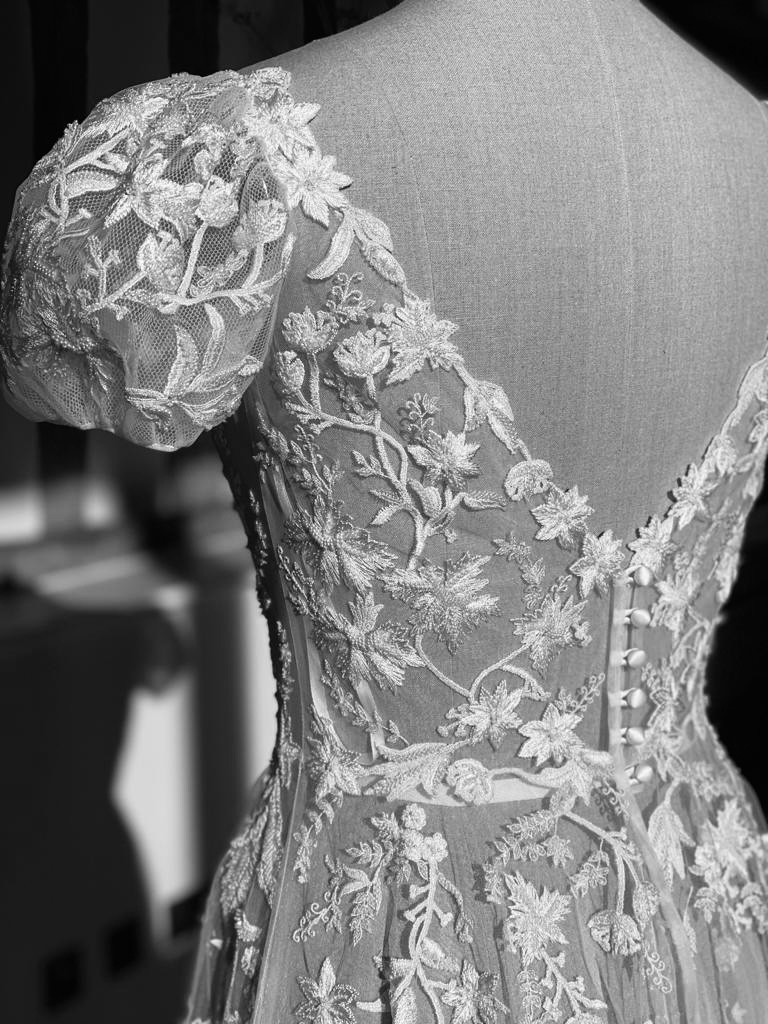 Overlay tops can finish at the waist, for a clean 'half and half' style, whereas long overlays continue to the floor for dramatic effect. Long overlays can be added alone or with a belt at the waist. Buttery silk sashes add a swish of colour, whilst skinny tonal belts have a sleek and minimal look.
Viola Top 
Once the Overlay Top is removed, it can reveal a striking, clean satin wedding dress beneath it, which can be accessorised with a crystal belt, chandelier earrings or a striking necklace provide evening glamour.
Botanical Garden Top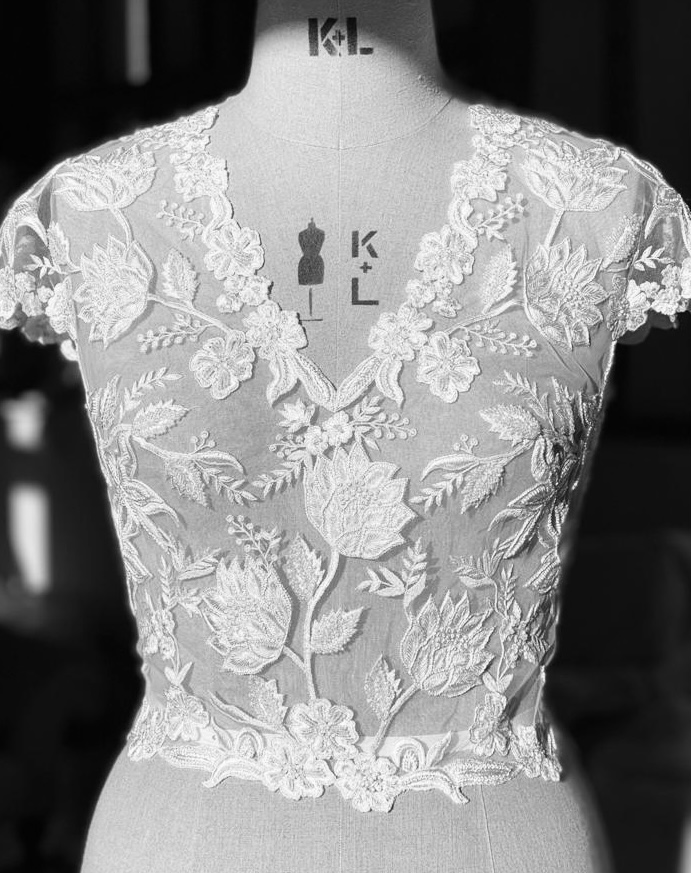 One particular dress design, loved by Phillipa, that features an embroidered overlay is 'Falling Feathers'. Phillipa's vision for this design was to keep as much natural floating movement in the dress as possible. With a full train, personalised details can extend down to the hem to be admired during the ceremony, presenting an opportunity to create a beautiful family heirloom cherished for generations to come.
Falling Feathers – embellished using Crystal Xillion Beads, Ivory Cut Beads, with Pearl and Crystal Flat Sequins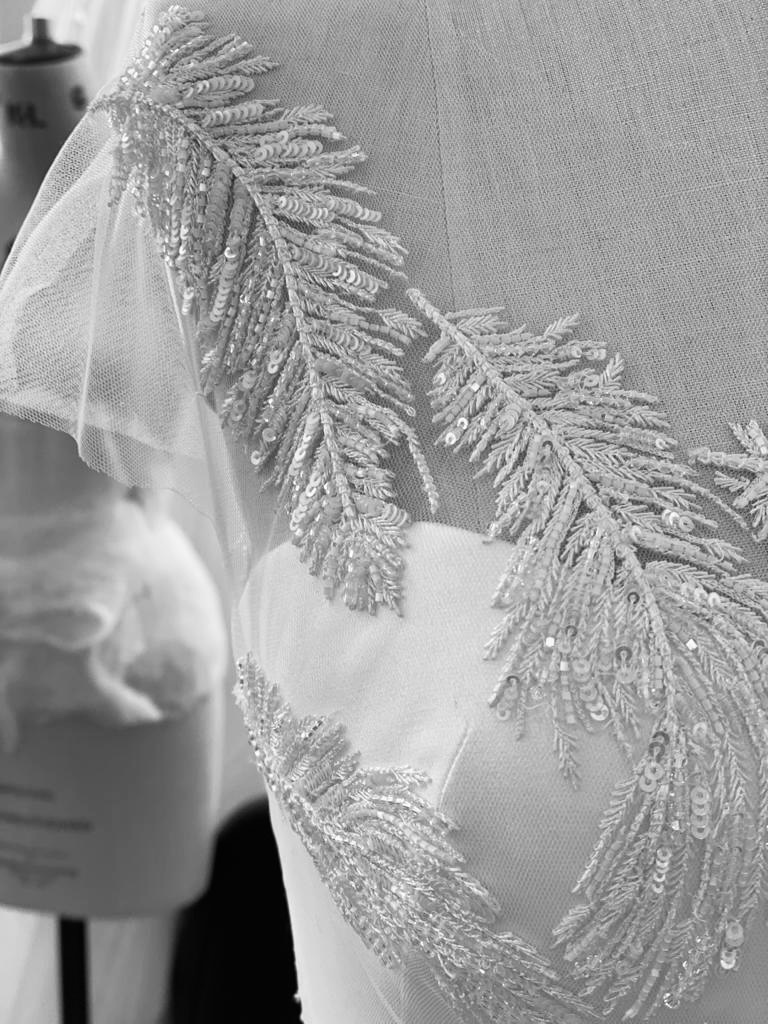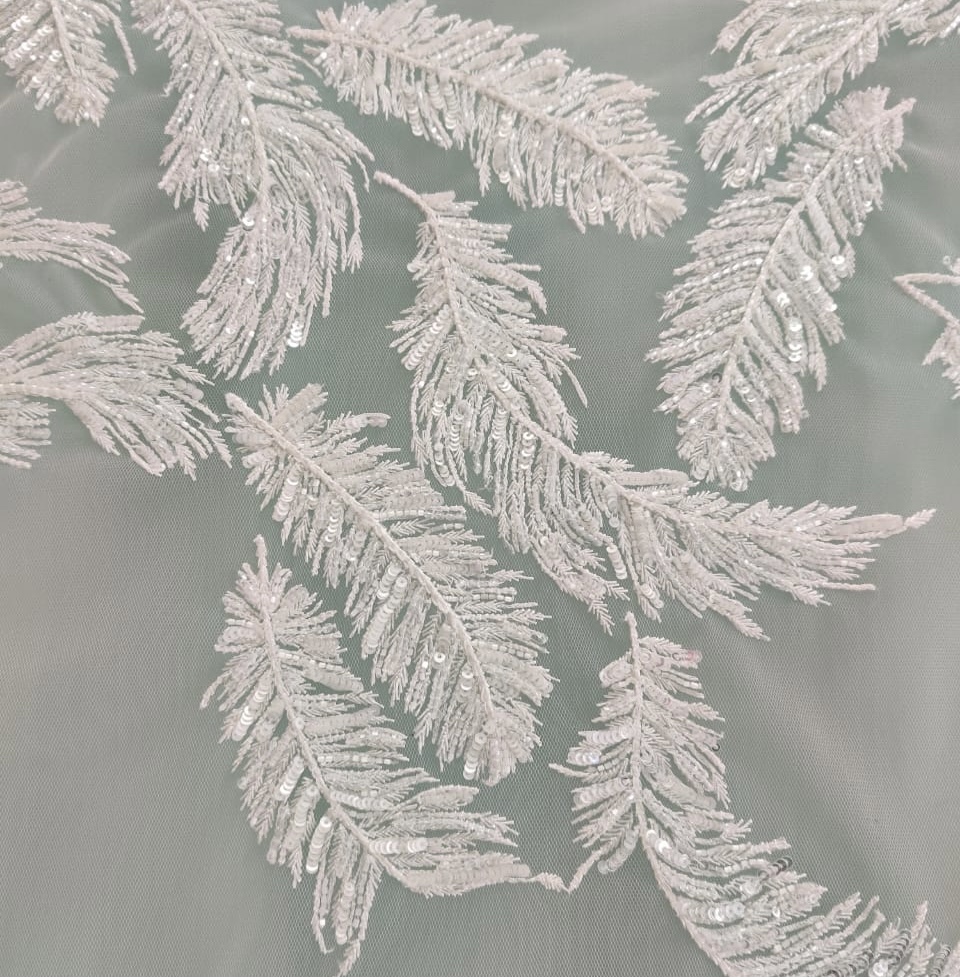 Another overlay dress design is 'Vienna Alpine Bouquet', with embroidery to the waist trickling away into folds of plain tulle from the hip down.
All overlays can incorporate bespoke sentimental details within the design – perhaps a specific flower, motif, date or initials that hold meaning for the bride and her family.
Laura Summer Bouquet – Featuring Climbing Clematis, Campanula Aucheri and Bridal Forget-me-Nots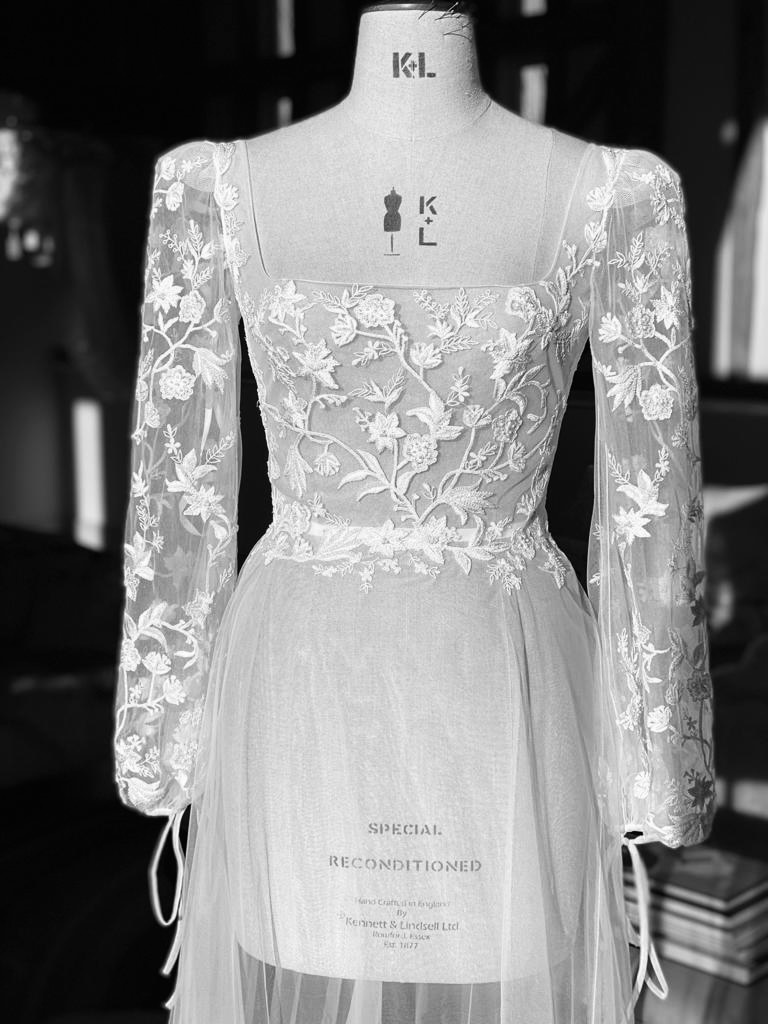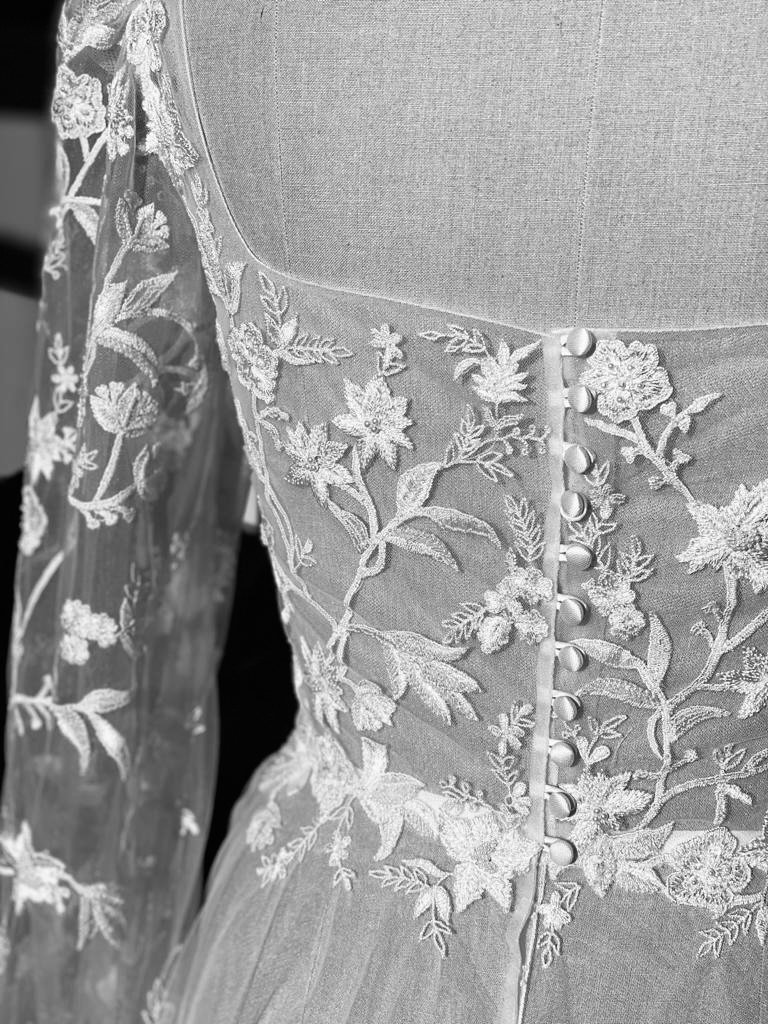 Motifs are stitched and beaded by hand onto the finest quality tulle, and the embroidery design is laid out precisely to flatter each bride in the most beautiful way. The creation of a Phillipa Lepley couture overlay highlights the impeccable skill and craftsmanship of the dedicated team, and ensures a truly personal, special and bespoke journey for each and every Phillipa Lepley bride.
Phillipa Lepley is widely recognised as being the leading British couture wedding dress designer. Her wedding dress shop in London, Chelsea, has over 50 dresses, all of which have been made in England from start to finish at her atelier.