Phillipa Lepley bride Alexandra
Phillipa Lepley bride Alexandra did not have a specific wedding dress style in mind, but she was hoping right from the start of her search to find or create something that was "both elegant and playful". She set out to discover a design that was truly unique, ideally with a bit of colour…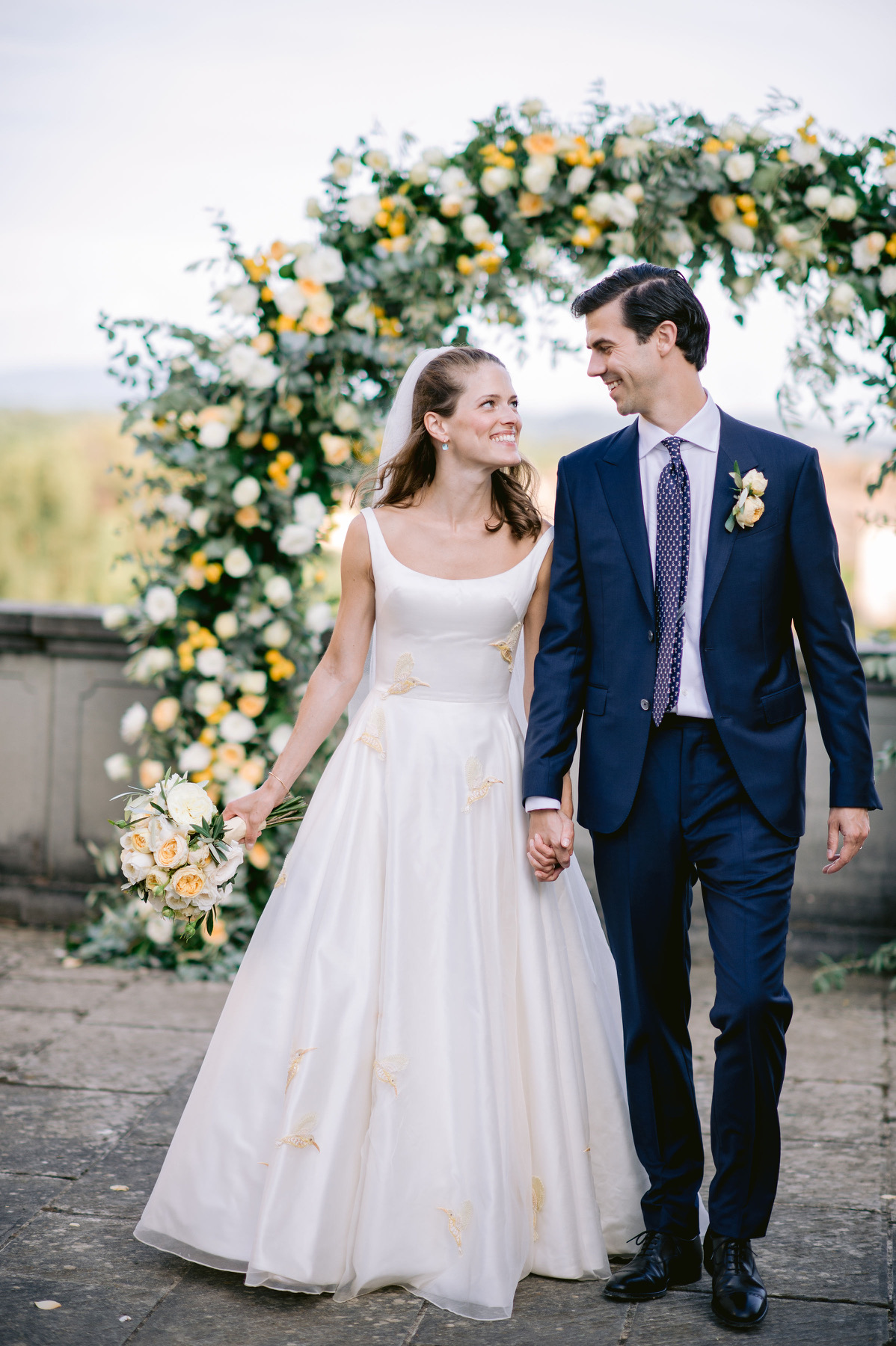 When she met with the Phillipa Lepley team at the London shop, her vision came to life, inspired by a small, hand embroidered hummingbird.
Alexandra's beautiful wedding dress had an entirely bespoke hummingbird embroidery on silk organza, finished with a plain, two tier silk tulle veil. The design and colouring of the hummingbirds was developed by Phillipa's artisan team working closely with Alexandra to allow her to approve every element through the process.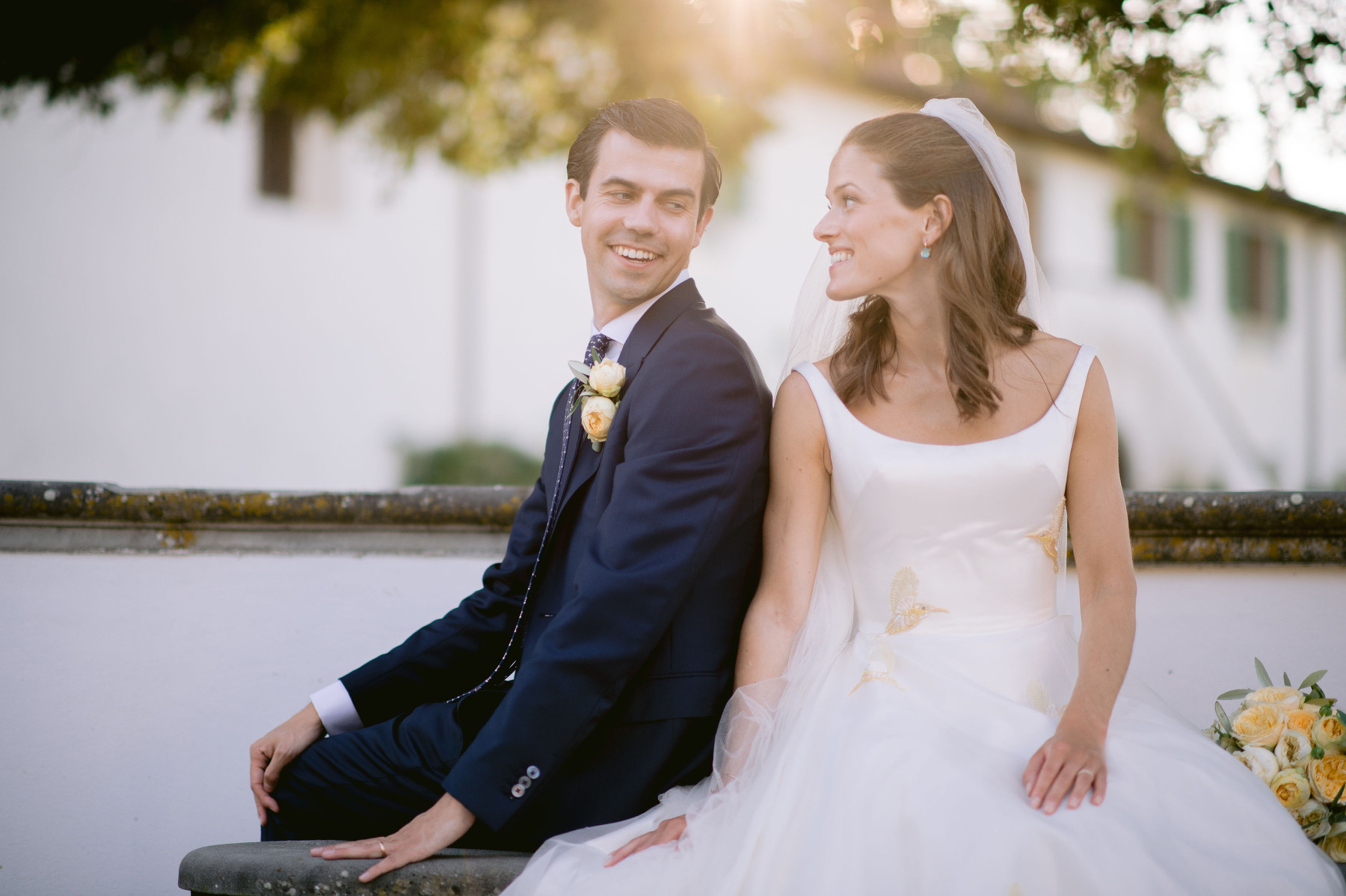 The perfect shade of pale yellow thread was selected, and various beading techniques sampled to ensure the perfect depiction of each of the hummingbirds' features – from the the wings, to the beak, to the eyes – one bird on the bodice even featured a blue crystal at the eye – an additional 'something blue' for Alexandra to treasure on the day.
With each bird hand sewn into the silk organza, appearing to flutter across the corseted bodice, full satin skirt and long train – each bird became its own work of art, symbolising joy and good luck.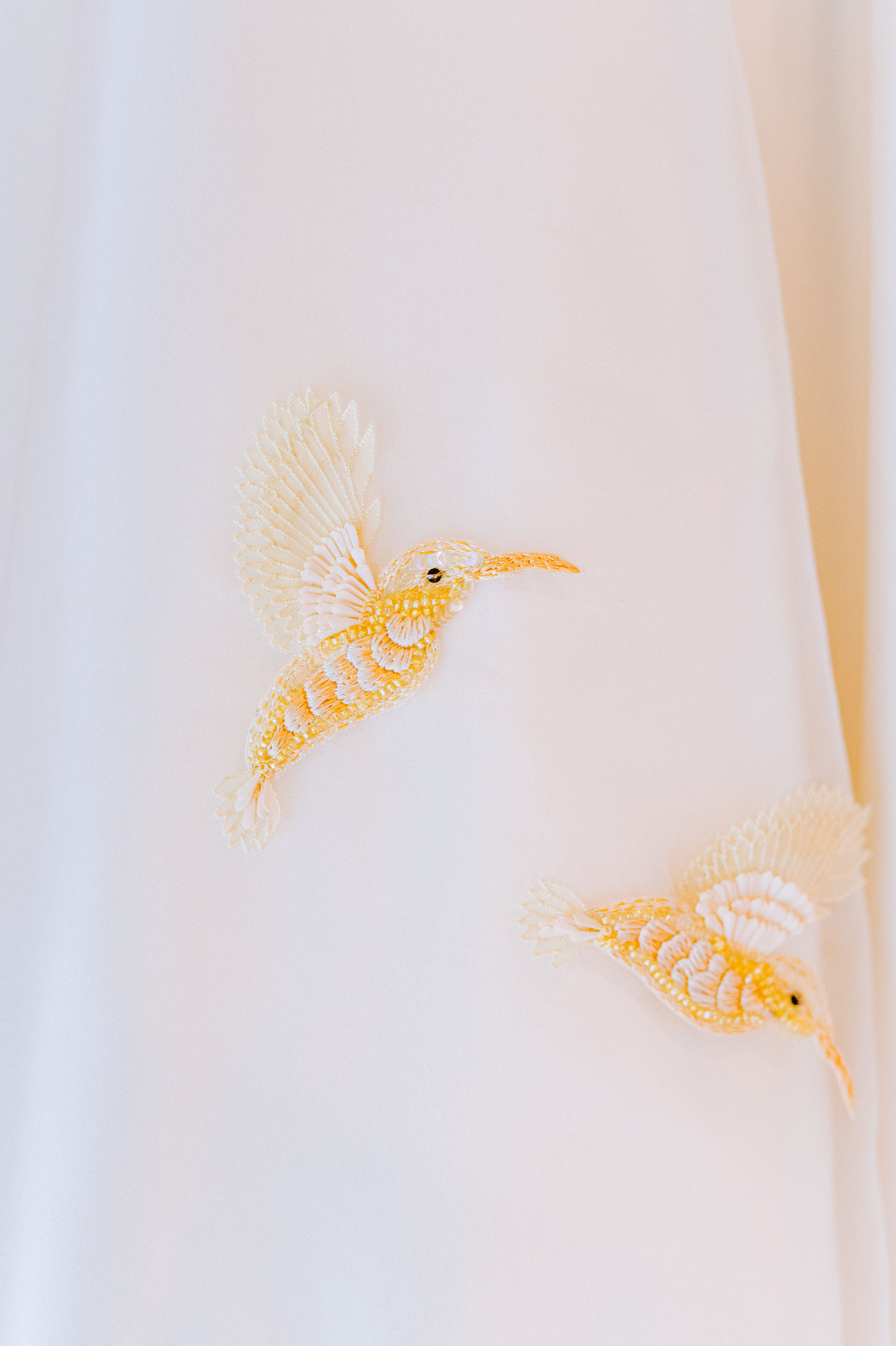 Alexandra says, "My husband and I love to travel. It is probably our biggest passion as a couple, and I knew our first dance would be the Italian song "Volare" (to fly). Because of that choosing a wedding dress design that incorporated birds was simply perfect and very fitting."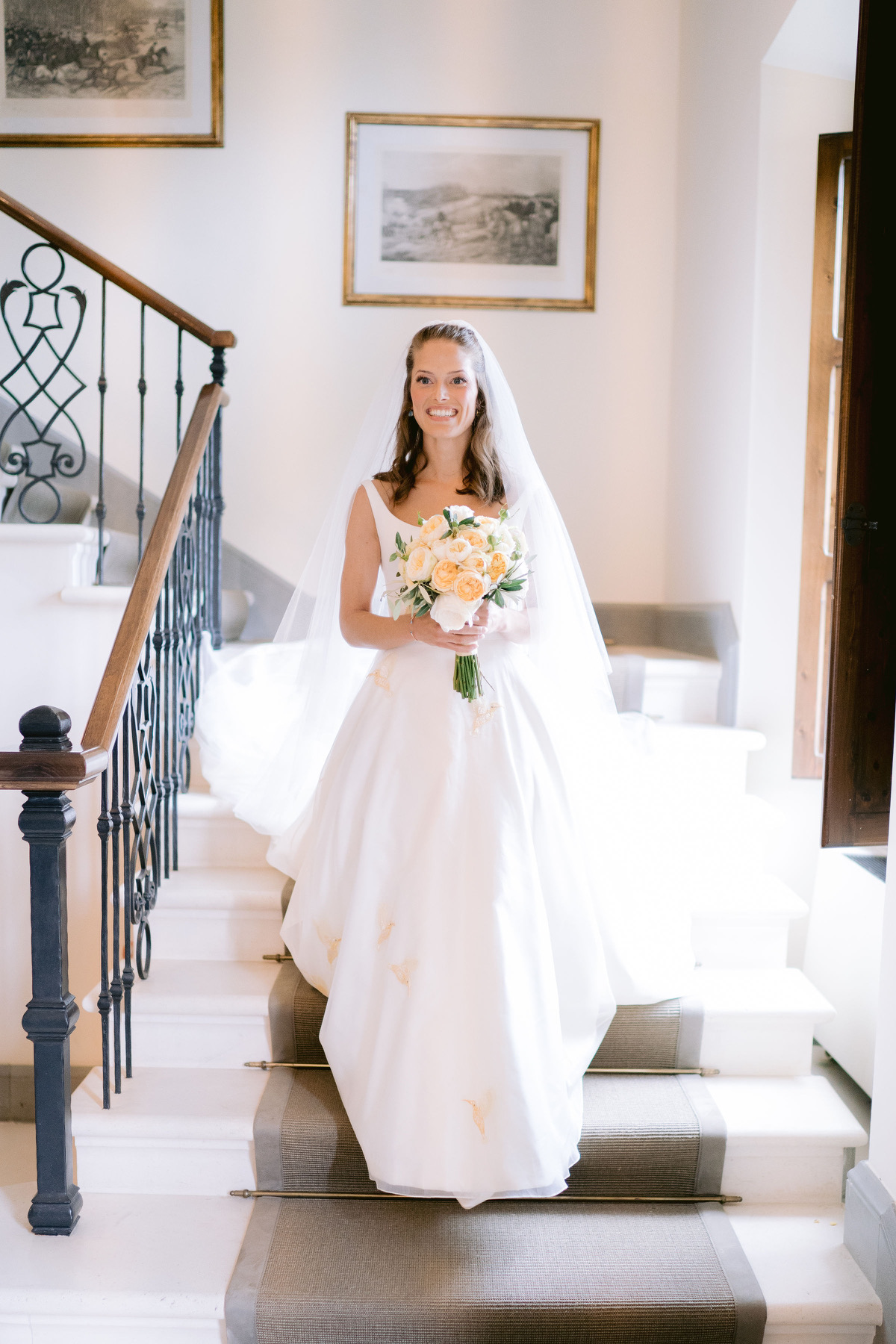 Alexandra says, "On the day, I felt really special! Our friends and family kept saying that they had never seen such a unique wedding dress. It was absolutely worth it!"
Alexandra's advice is to get into your dress as early as possible, so you have plenty of time to feel comfortable in it.
Having chosen something truly extraordinary she also advises brides to do the same: "After all, you only wear a wedding dress once so why not go all out?"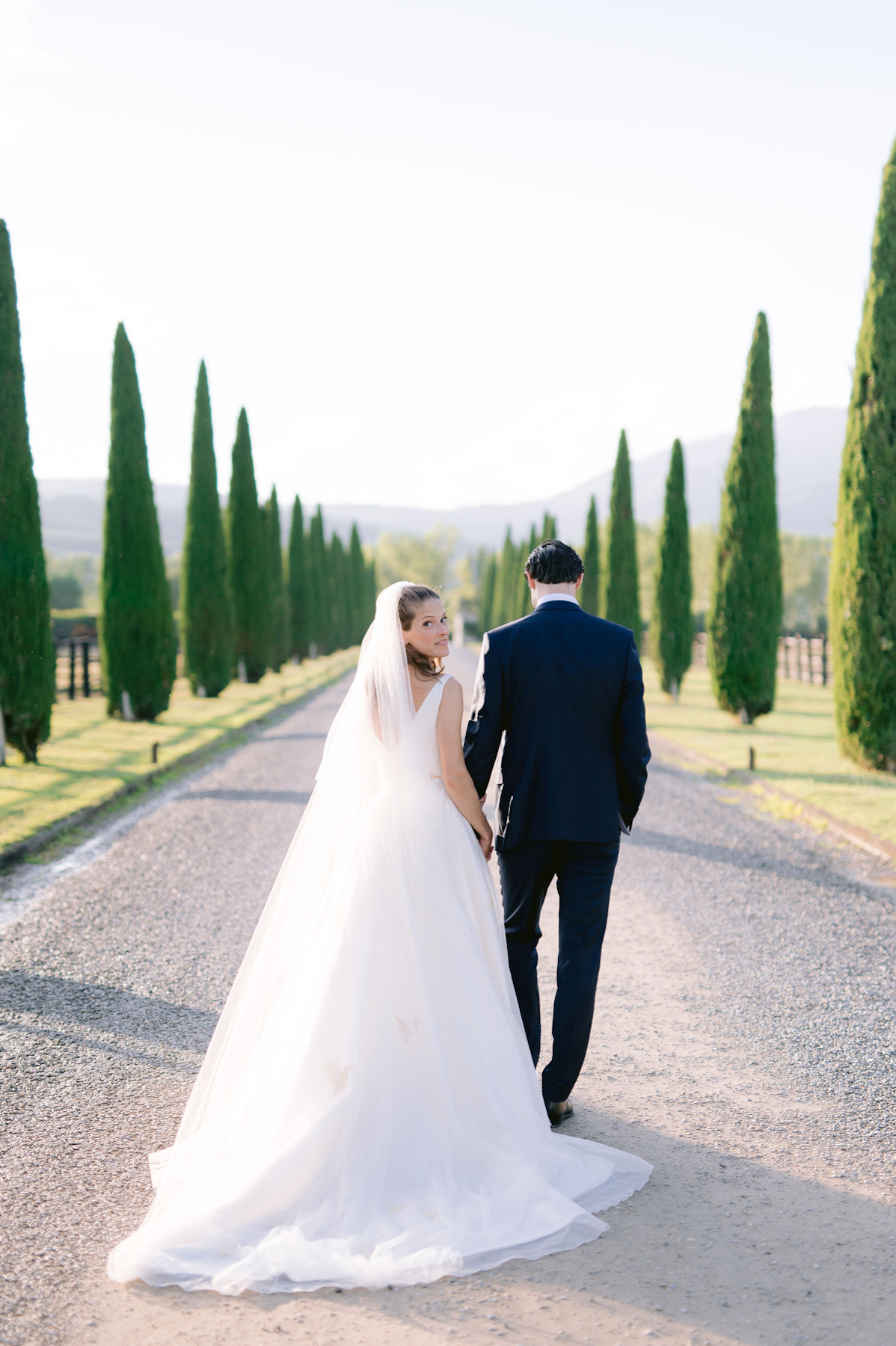 Photography – Verona Sposi @veronasposi
Phillipa Lepley is recognised globally as a leading British wedding dress and eveningwear designer, renowned for bespoke couture dresses of the utmost luxury. Her wedding dress shop in London, Chelsea, has over 50 dresses, all of which have been made in England from start to finish at her atelier.