Phillipa Lepley bride Nadja
Like Mother Like Daughter…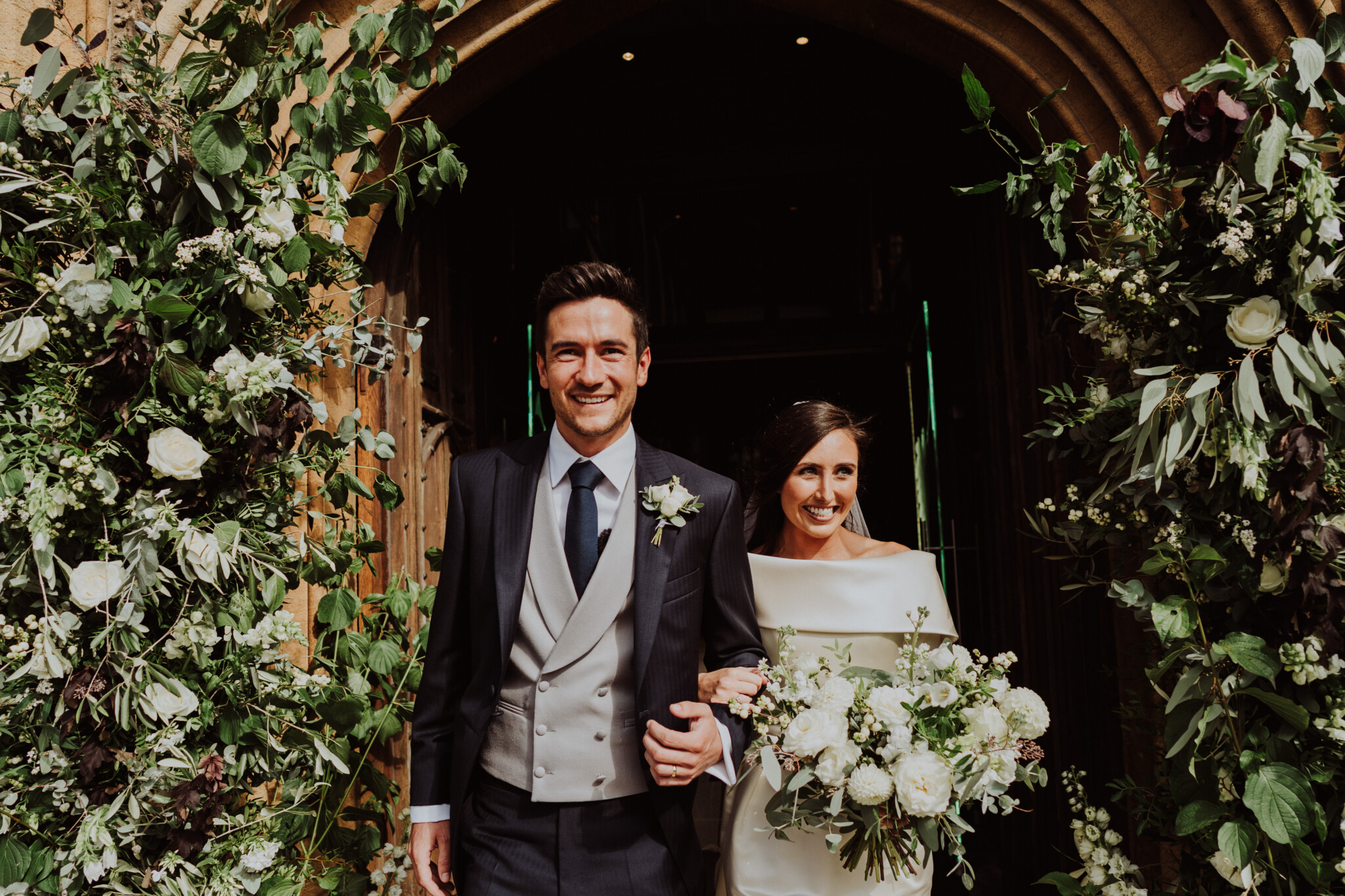 Phillipa Lepley bride Nadja booked an appointment at Phillipa Lepley because her Mother had had a Phillipa Lepley dress bought from Phillipa in 1989. Nadja did visit other dress designers' shops too, but it was a happy coincidence that she too fell in love with Phillipa Lepley's designs herself 30+ years later…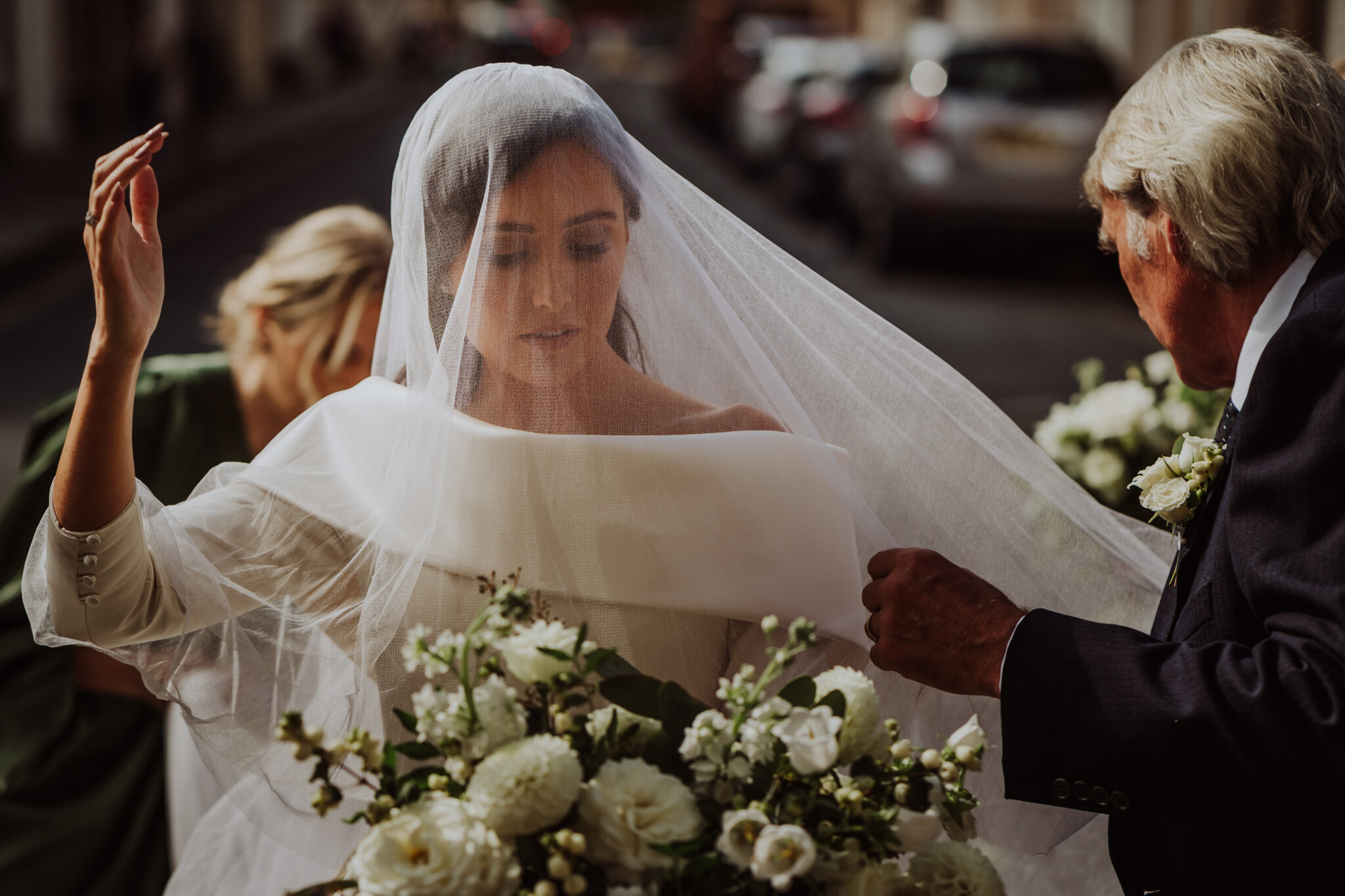 Nadja says, "I knew I wanted sleeves and duchess satin but I didn't know much more than that. I thought I had found a dress somewhere else but when we got to Phillipa's I saw a satin sleeve poking out from the other dresses on the rack and it caught my eye. It was the first dress I tried on there and I just fell in love with it instantly. The duchess satin Phillipa uses is so beautiful, and the colour is just exquisite!"
Nadja's over-riding memory from her wedding dress experience was the amount of tears at the first appointment. She says, "I came with my mum, maid of honour and her mum. We've been best friends since we were babies, so it was a very emotional day for everyone!"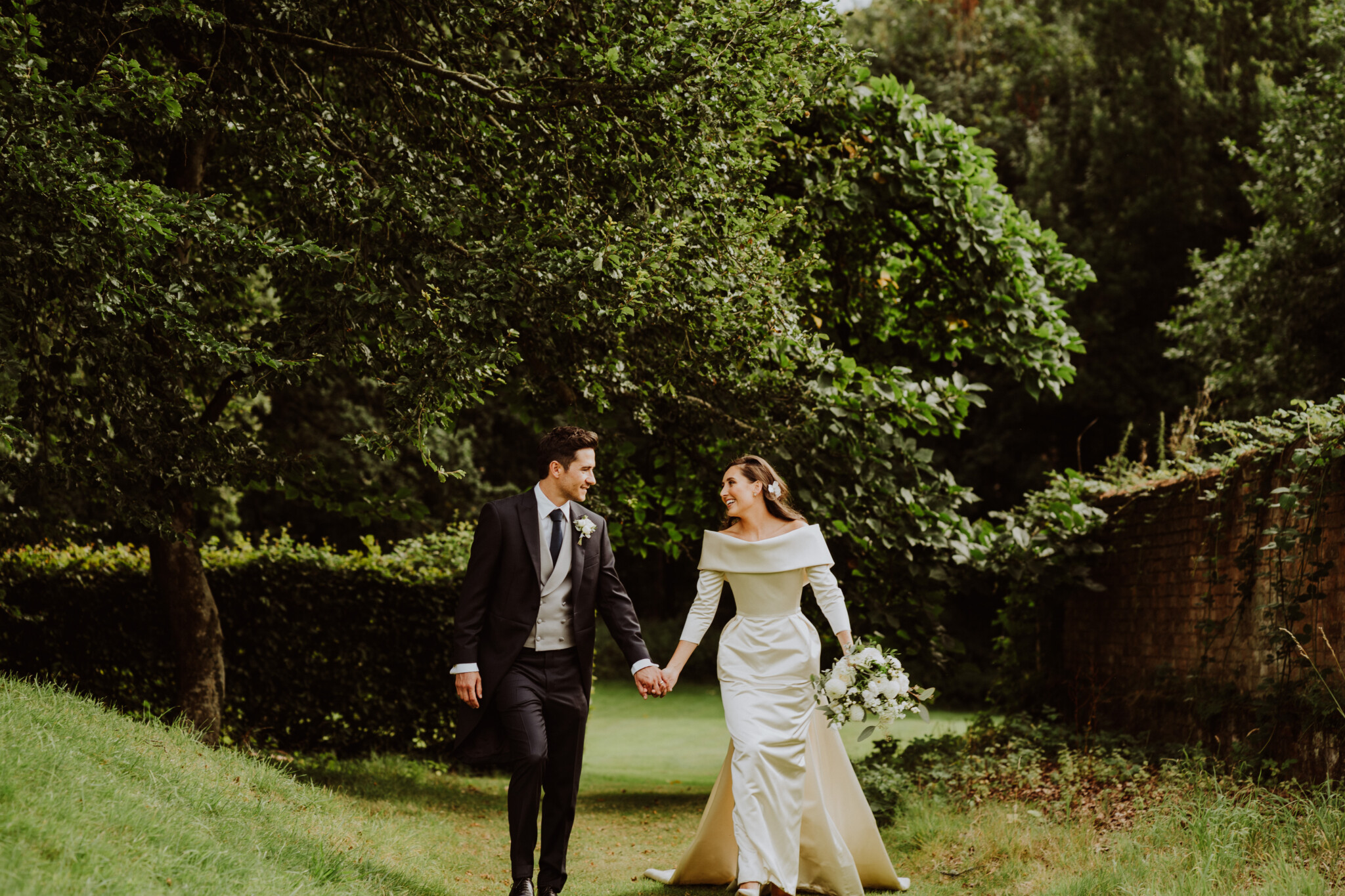 Speaking about the fitting process, Nadja says she was "in awe of the attention to detail". The Phillipa Lepley team guided her through the process of selecting exactly what she would like, facilitating various subtle tweaks that would make the dress perfect for her. She says, "it was such an enjoyable time going to fittings with my Mum. The team always made us feel so comfortable and they were so friendly. It is extremely clear how seriously the craft is taken and you can see from the amazing end result!"
Nadja remembers watching her parents wedding video over and over again as a little girl: "I used to watch the video of my parents wedding so often. One of the first things I said when I tried on my dress was 'I look like you' through tears to my Mum! While the dresses were very different in terms of style and material the straight skirt reminded me of my Mum's dress – which goes to show you can have something contemporary but also timeless."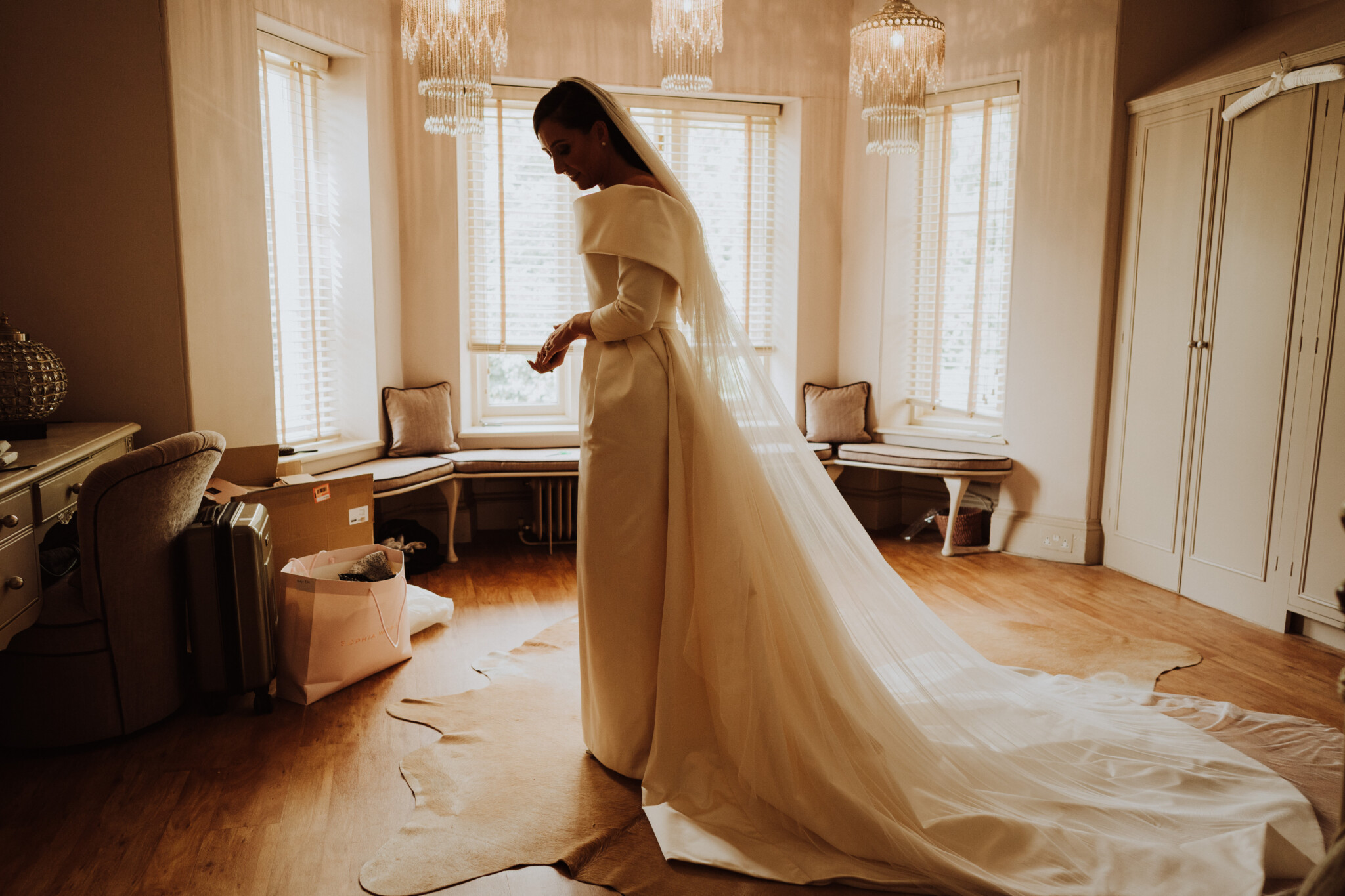 Nadja liked the idea of a 'big' dress but she did not want to be "smothered in fabric" as she is petite. She says, "The dress was the perfect compromise with the nipped in waist straight skirt at the front which felt very 'Hollywood glamour' but also the amazing train. The corset was also amazing and made me feel so confident – it was also surprisingly comfortable! 
Opting for a highly skilled, expert, independent designer was key to Nadja, because it enabled her to tweak the dress as much as she wanted with input from Phillipa at the first fitting. She says, "At each stage of the fitting I was able to make decisions with the team on every aspect of the dress, which was amazing, and there was no compromises necessary if something didn't feel or look right we could try it differently!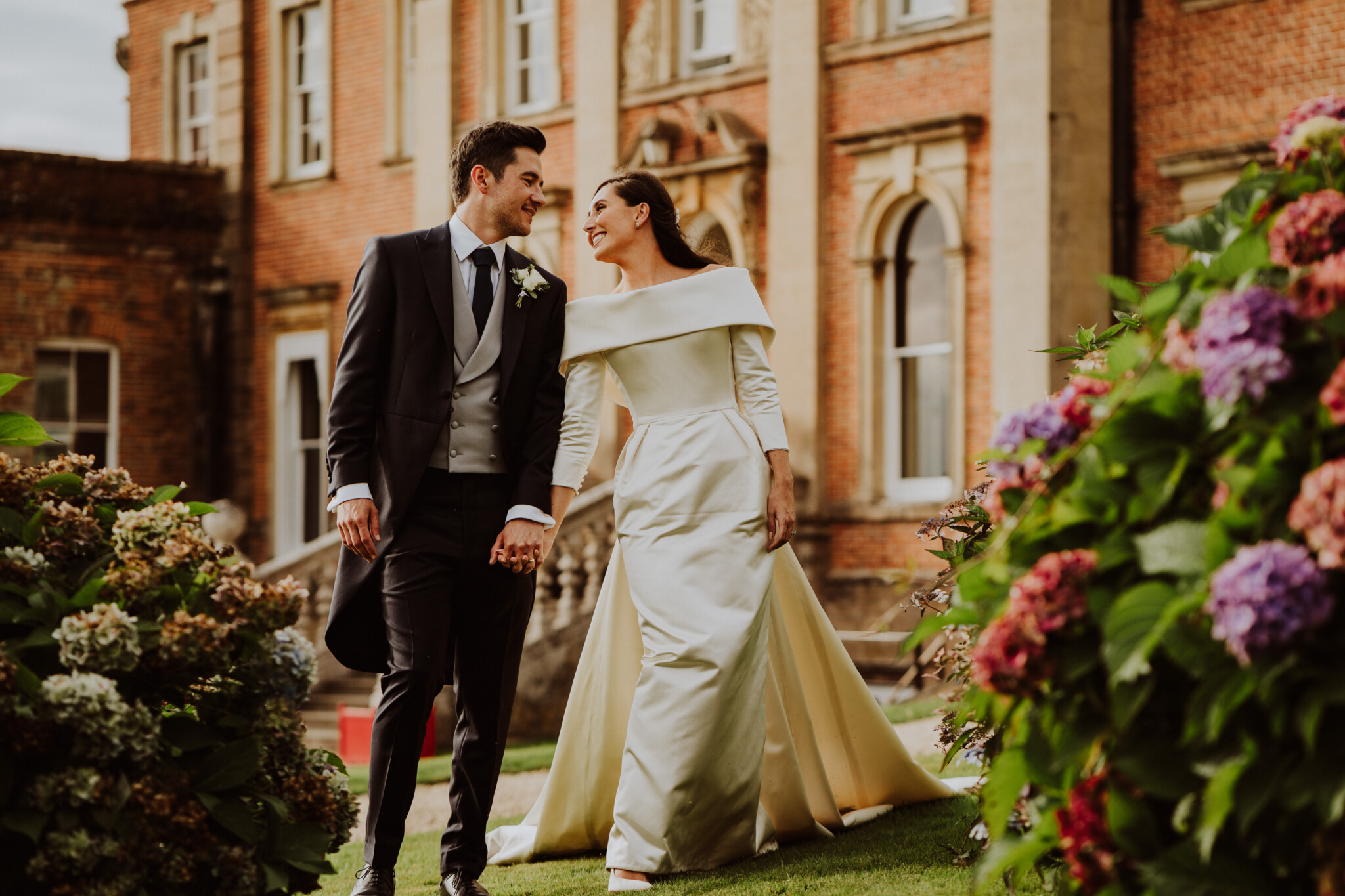 Looking back at her wedding day, Nadja recalls the ceremony as being particularly wonderful: "Walking down the aisle with my Dad. It was the same church my parents and Dan's parents were married in, so it is a special church to both of our families. We had to postpone our first planned date because of covid and so when we were planning we really didn't know how many people we would be allowed or what restrictions would be in place, there were also many guests that we hadn't seen since 2019. Walking down the aisle and getting to see everyone's smiling faces was just an amazing moment that the wedding was really finally happening after the worrying wait and of course seeing Dan waiting at the other end!"
Offering advice to other bride-to-be's, Nadja says: "Enjoy the build-up and the planning, trust your instincts and vision! I loved planning all the small details and seeing it all come together on the day was amazing. Our suppliers were all fantastic and even though the day flew by we enjoyed every moment!"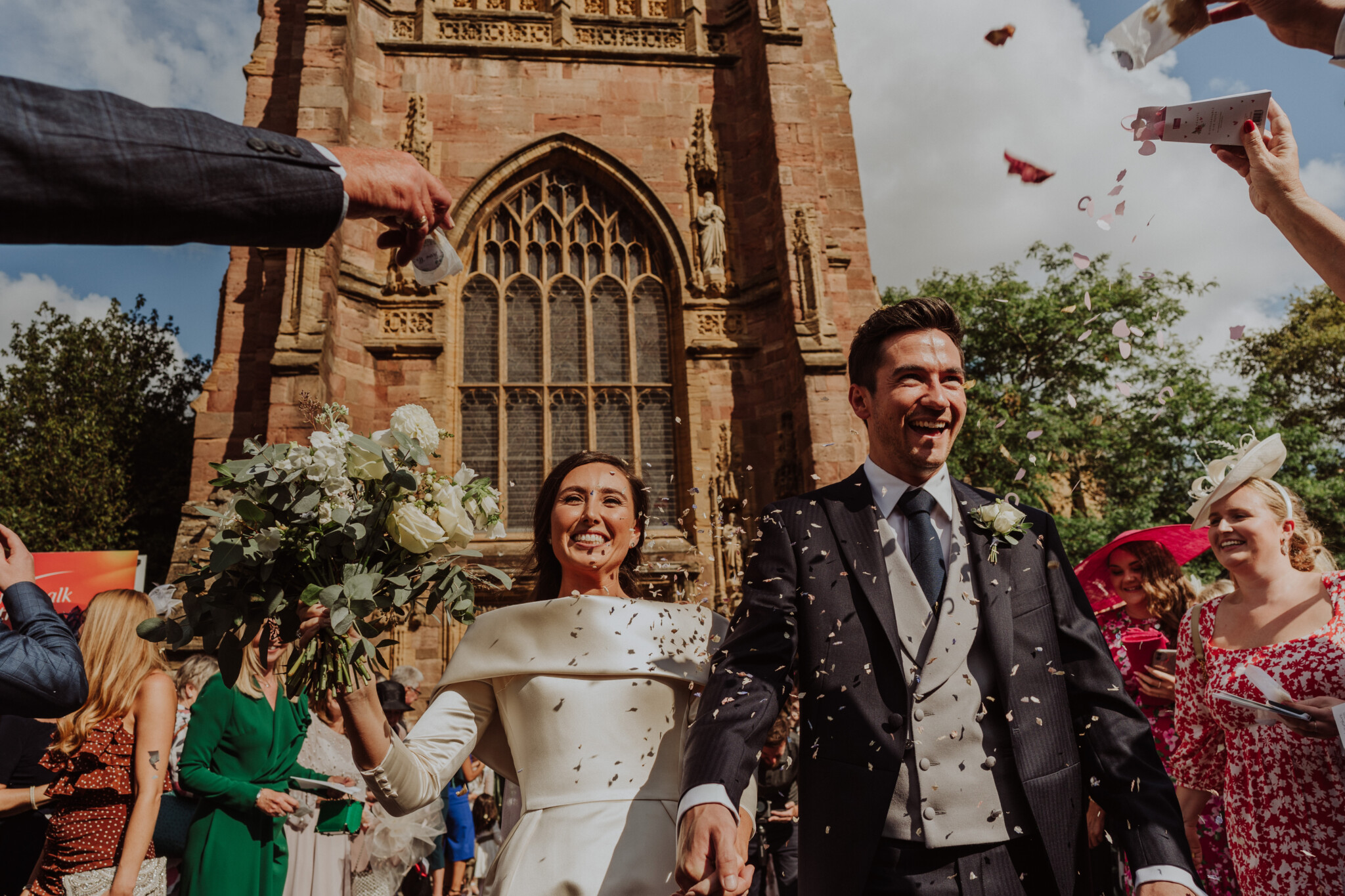 Photography – Amy Sampson @amysampsonphoto
Phillipa Lepley is recognised globally as a leading British wedding dress and eveningwear designer, renowned for bespoke couture dresses of the utmost luxury. Her wedding dress shop in London, Chelsea, has over 50 dresses, all of which have been made in England from start to finish at her atelier.