CHARIS'S BESPOKE LILY OF THE VALLEY CAPE
A Truly Personalised Wedding On The Croquet Lawn In Herefordshire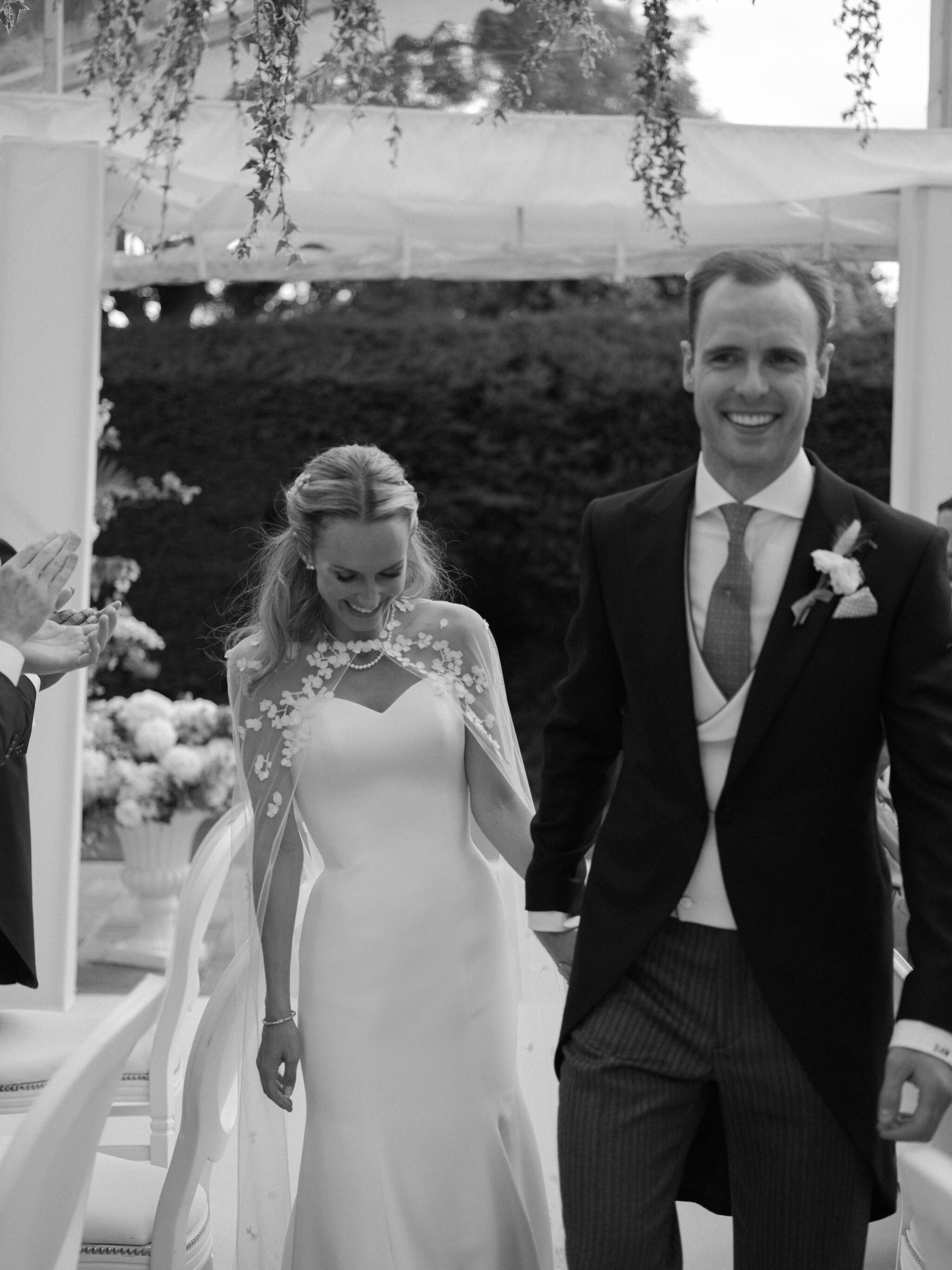 1) Please tell us how you discovered Phillipa Lepley and what drew you to choosing your dress here?
I have always lived in South West London and at the time we got engaged we were based in Pimlico, so I passed by the Phillipa Lepley shop a lot. I have always looked in when walking past and I always love everything in the window. It was the first shop I went to, and it ended up being one of the first dresses I tried on that I went for and then personalised to make it my own.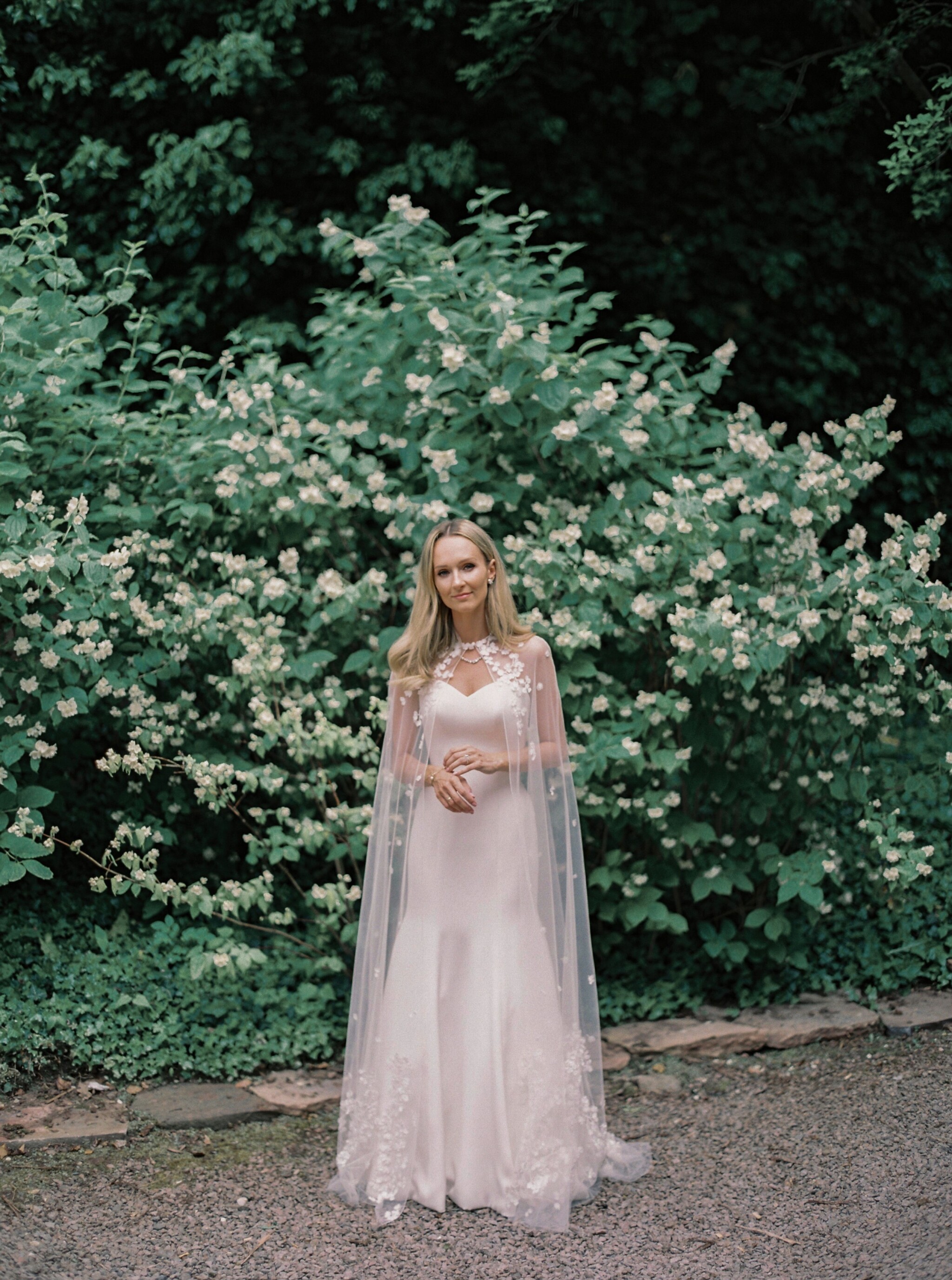 2) What will your lasting memory be of having your dress made?
What made the wedding dress experience so special for me was how seriously the Phillipa Lepley team took it, without being serious. They are masters of their craft and you feel in safe hands, but nothing is intimidating or too much trouble. The service and the attention to detail coupled with the friendliness was perfect. The experience felt totally bespoke, in the true meaning of the word.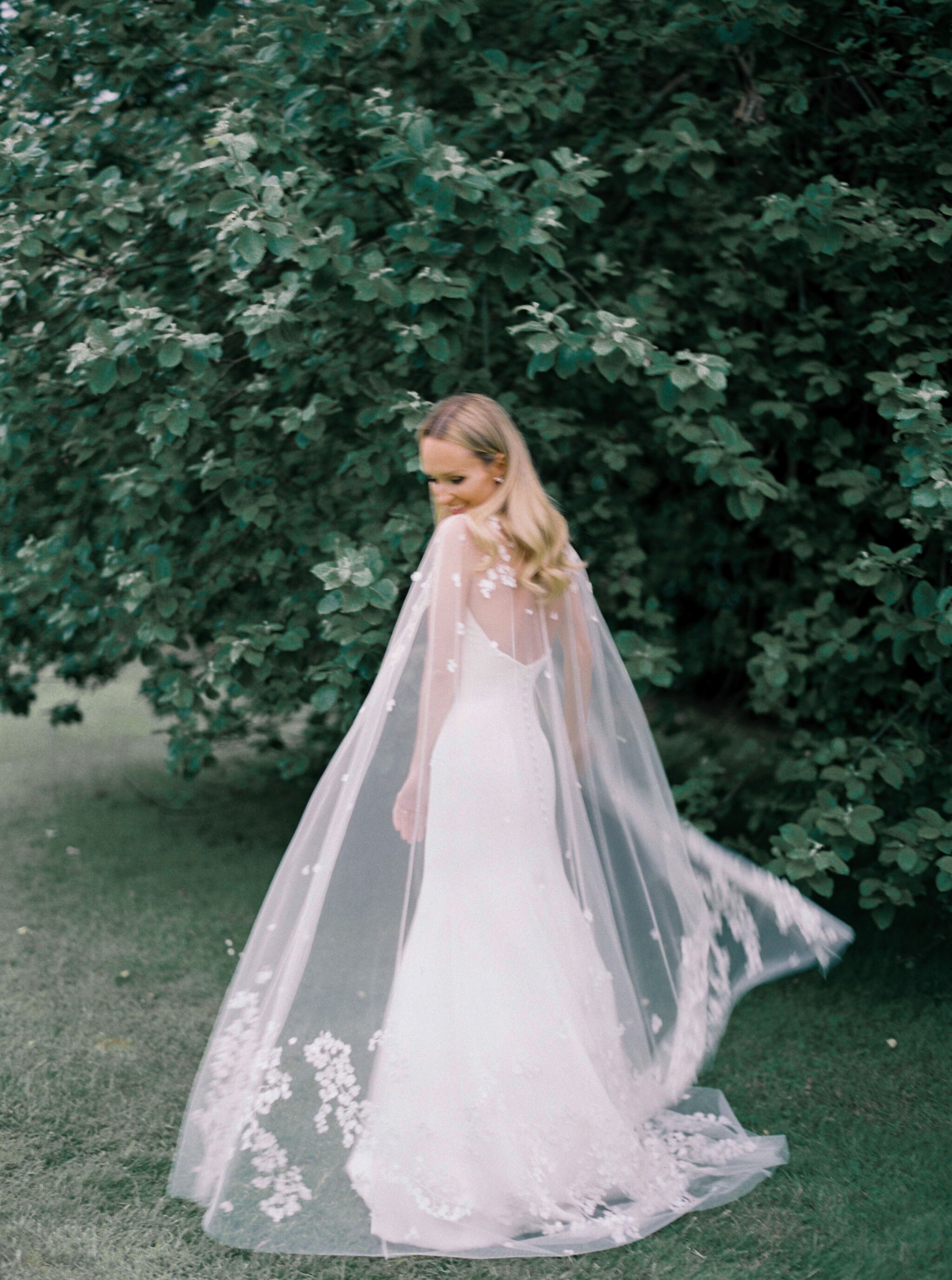 3) Please describe the dress in your own words, and how it made you feel.
The base dress was similar to one that I tried on but I wanted to change the overlay and details. Instead of a veil I asked for a cape, and the team reacted with such a can-do attitude – nothing was ever too much trouble or too complex. Lily of the valley is my favourite flower and it was my wedding flower too, so we made the veil out of a fabulous material that was covered in lilies. They even hid the button at the front of my neck under a tiny embellished lily petal, thinking of everything.
It was a simple strapless, fitted dress with a gentle fishtail. It felt amazing on! I loved how they tailored it exactly to how I wanted it to be. They saw things that I would never have thought of, constantly asking me if there was anything else we should tweak, so even the tiniest little detail would not go unnoticed. It was so comfortable, despite being quite atechnically restricted corset.
I am quite petite and so I hadn't sought out a dress with a corset but it worked so well for me because of the train and the weight of the skirt. Everything stayed in place perfectly, so I didn't need to worry about hoisting it up all the time.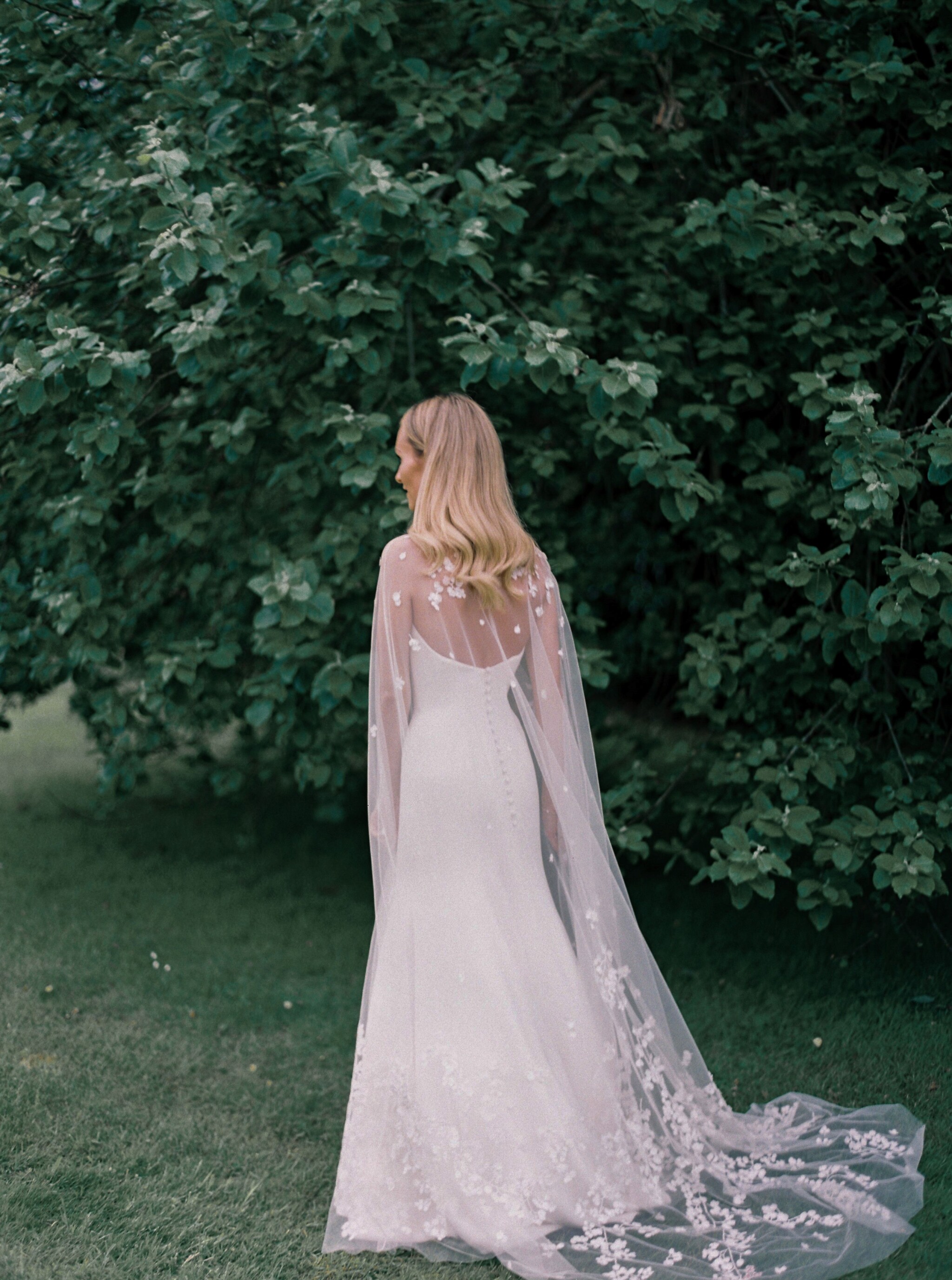 The stand-out feature was the cape which was totally bespoke and beautiful. It extended about a metre behind me, and was a lovely length, measured and cut to perfection framing the shape of the dress. I placed each pearl and each bead with the Phillipa Lepley team in the shop, and then we added two lovely details. The first was our initials, C&D, and the second was an ode to my mother who sadly wasn't at the wedding as she has passed away. Her favourite flower was magnolia, and so the team set about developing incredible ideas of how to incorporate magnolia in to the design. They embroidered one on to the dress, putting pearls on it and adding a bit of colour. It was discretely hidden so you wouldn't see it unless I pointed it out. It was not showy, but it was there and it was there for me, which meant a lot.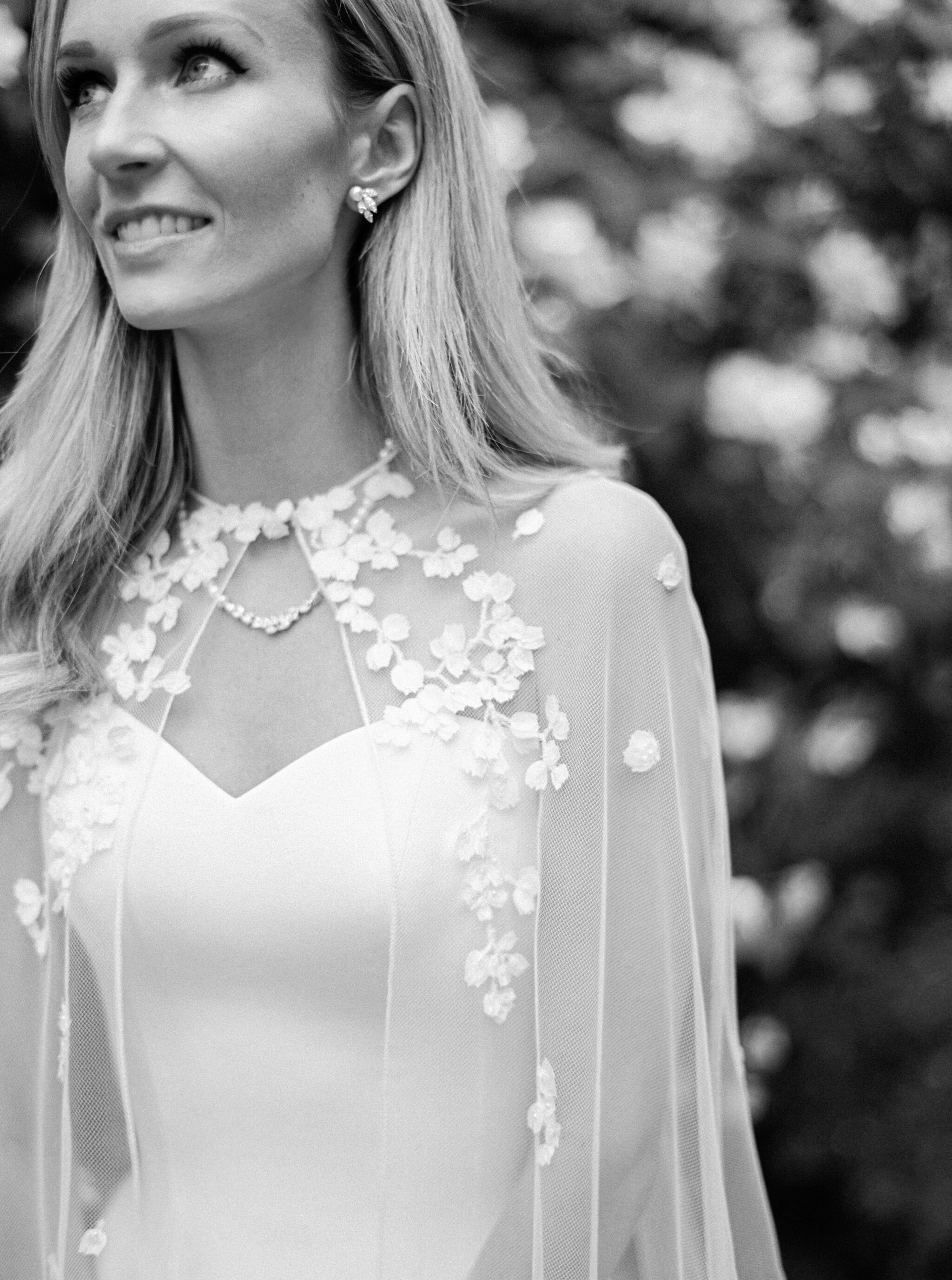 4) What did it mean to you to be working with an independent, London-based couturier?
I work in sustainability and my husband and I live and shop in a very mindful way, choosing as often as we can to supporting independent businesses. It was great that the shop was so local too, and I enjoyed the fact that I could walk there.
It really struck me how much Phillipa and everyone at Phillipa Lepley loved the dresses and creations so much. That was beautiful to see – there was so much passion and care.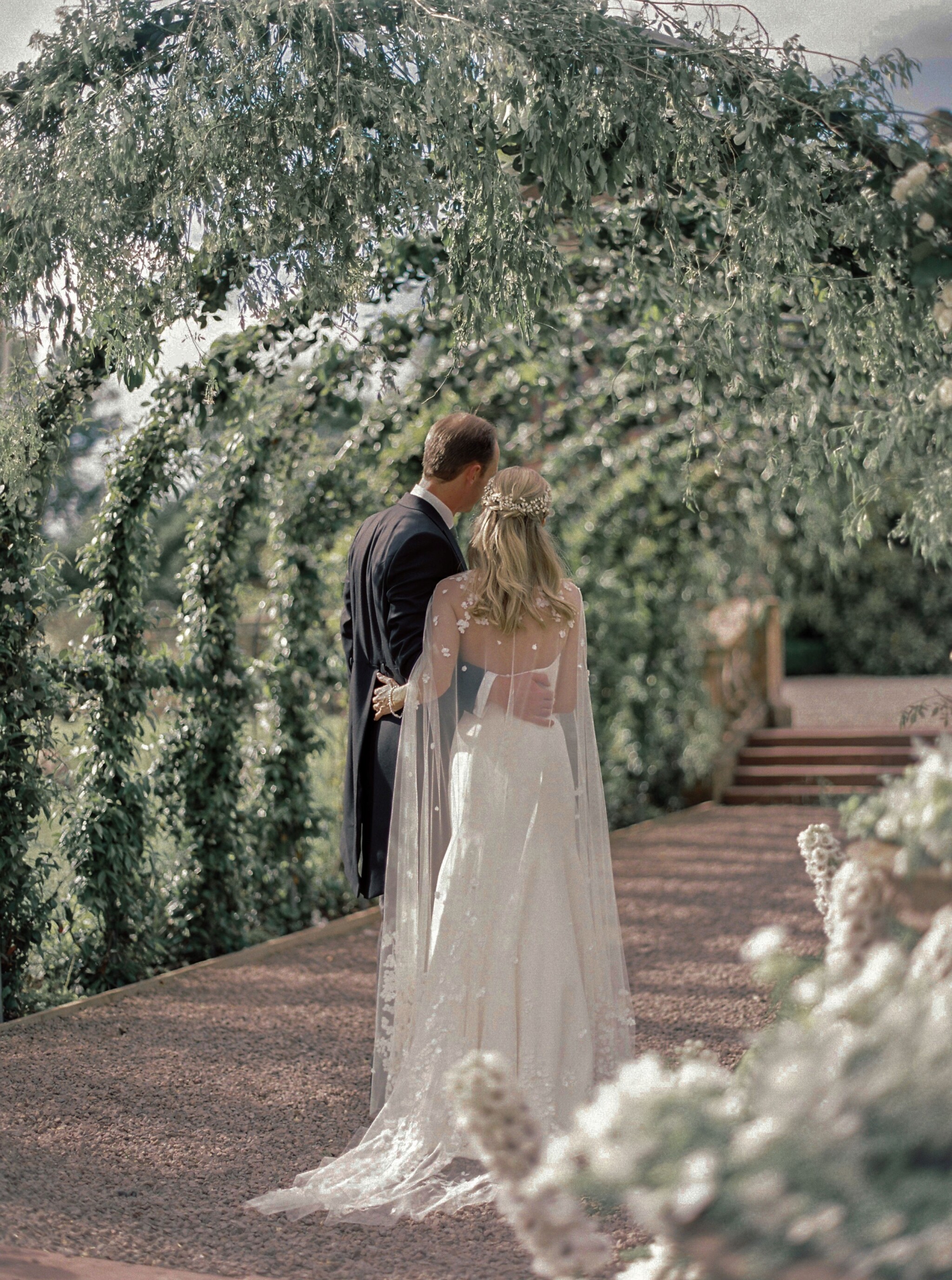 5) What was your favourite moment of your wedding day?
The wedding was at my family home in Herefordshire, where we had different parts of the day in different areas. The actual ceremony was on the front croquet lawn and the drinks reception in the rose garden. We both love nature and gardens – I very much share a love of flowers with Phillipa, which was another reason for having the very personal flower choices of lily of the valley and magnolia on my veil which was so meaningful!
There was one moment when my husband and I stopped and sat down, looking out across our wedding day happening in full swing. It was so beautifully designed by my planner and our florist. We stood in amazement and said to each other that it was perfect.  Seeing everyone having an amazing time was just fabulous.
6) What advice would you give to brides planning their wedding now?
I would recommend couples look at making their day as personalised as possible. We are quite traditional but because we personalised everything it felt modern in our own way. I personalised the dress, we personalised the napkins, we did personalised favour poems with memories of each guest and our cocktails were twists of our favourite drinks. Those were the things that people who were there who knows us well (which was everybody!) noticed and loved, and that was what made us look around and feel this was our wedding and it felt so special.
I would also advise couples to surround themselves with suppliers and people who are very positive and happy throughout the wedding planning process, it helped us to enjoy the whole period from start to finish (quite a feat after a covid postponement!). We tried to involve and work with people who were as upbeat and excited about the day as we were, which was infectious and wonderful to see.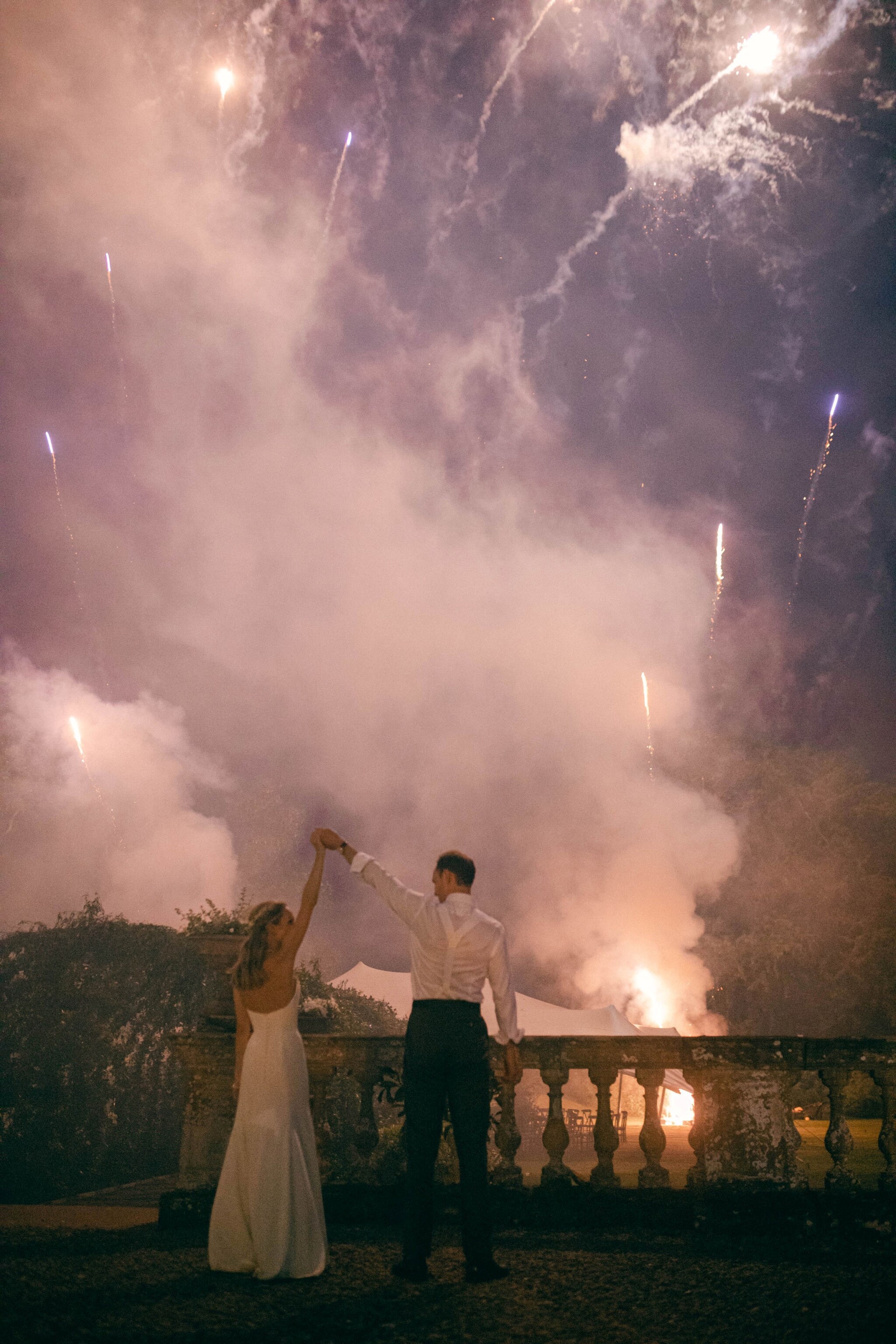 Wedding Planning & Design – Studio Sorores @studiosorores
Photography – Katie Julia  www.katiejulia.com @katiejulia_
Phillipa Lepley is recognised globally as a leading British wedding dress and eveningwear designer, renowned for bespoke couture dresses of the utmost luxury. Her wedding dress shop in London, Chelsea, has over 50 dresses, all of which have been made in England from start to finish at her atelier.