The Right Wedding Dress Shape For You
A guide to a selection of the key bridal silhouettes within the Phillipa Lepley collection. 
Phillipa Lepley is the go-to for feminine, timeless shapes and defined silhouettes with internationally renowned corsetry.
From full skirted ball gowns to slinky draping, there are endless possibilities to be considered to bring a bride's vision to life. Through an appointment or virtual consultation with us, our skilled team will be able to guide you through the exciting process of choosing your dress, helping you to select your perfect wedding dress silhouette.
BALL  GOWN
---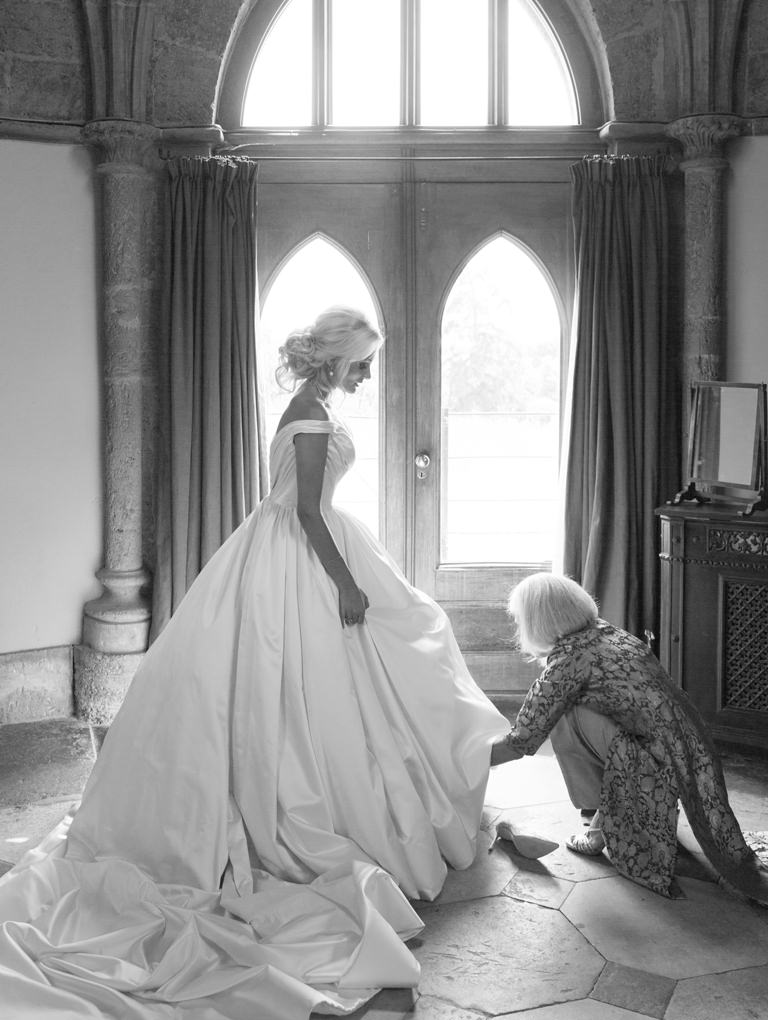 The epitome of fairytale fantasy, a 'ball gown' style wedding dress will be cinched at the waist with a full, voluminous skirt.
Phillipa Lepley has perfected the art of timeless full-skirted shapes and her iconic corsetry provides the perfect base silhouette – the drama of a full, princess style skirt offset by the narrow waist and feminine shaping her designs are renowned for.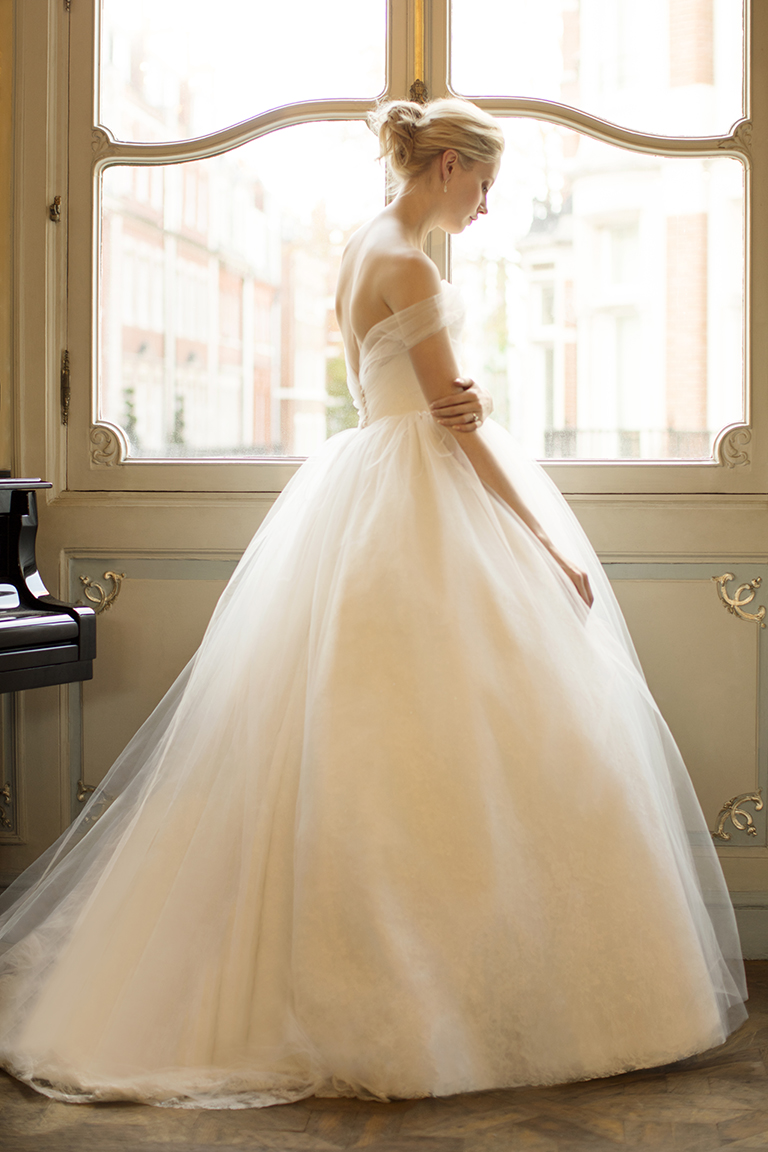 Phillipa says, "The balance and proportion of a waisted bodice and a huge fairytale full skirt is a classic – and one of my visual favourites. The contrast between the tiny bodice cinched at the waist with our defining corset, perched on a huge voluminous skirt is so dramatic… the bigger the skirt the smaller your waist looks. Its probably the only time in your life you can do big skirt fairytale drama so enjoy it! "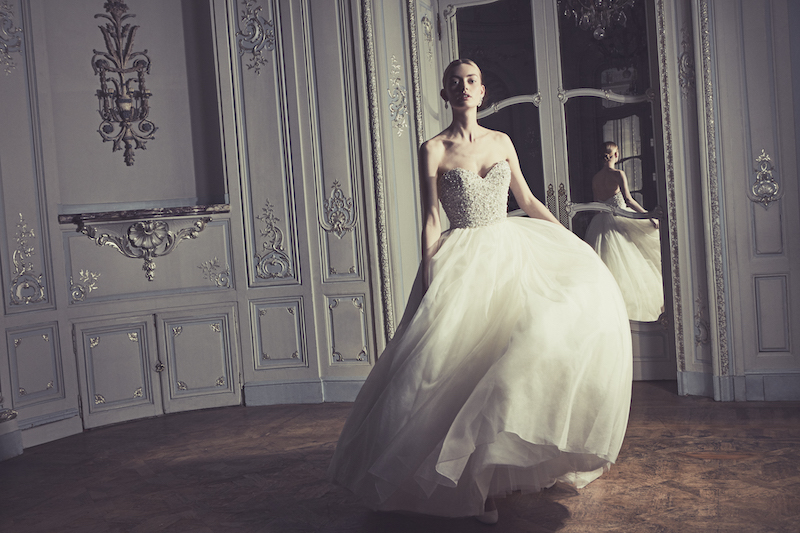 Whether covered in bespoke hand embroidery, finely ruched layers of tulle, light and airy silk organza, or sumptuously draped duchess satin, a ball gown silhouette is dramatic, youthful and breathtaking.
The grandeur of the look can be adapted to suit a bride's proportions and wedding day plans. A long train will add drama and statement, whilst a shorter train may feel more informal.
Completed with a hand embroidered silk tulle veil, a full skirted Phillipa Lepley wedding dress will always be utterly bridal and truly stand the test of time.
A LINE
---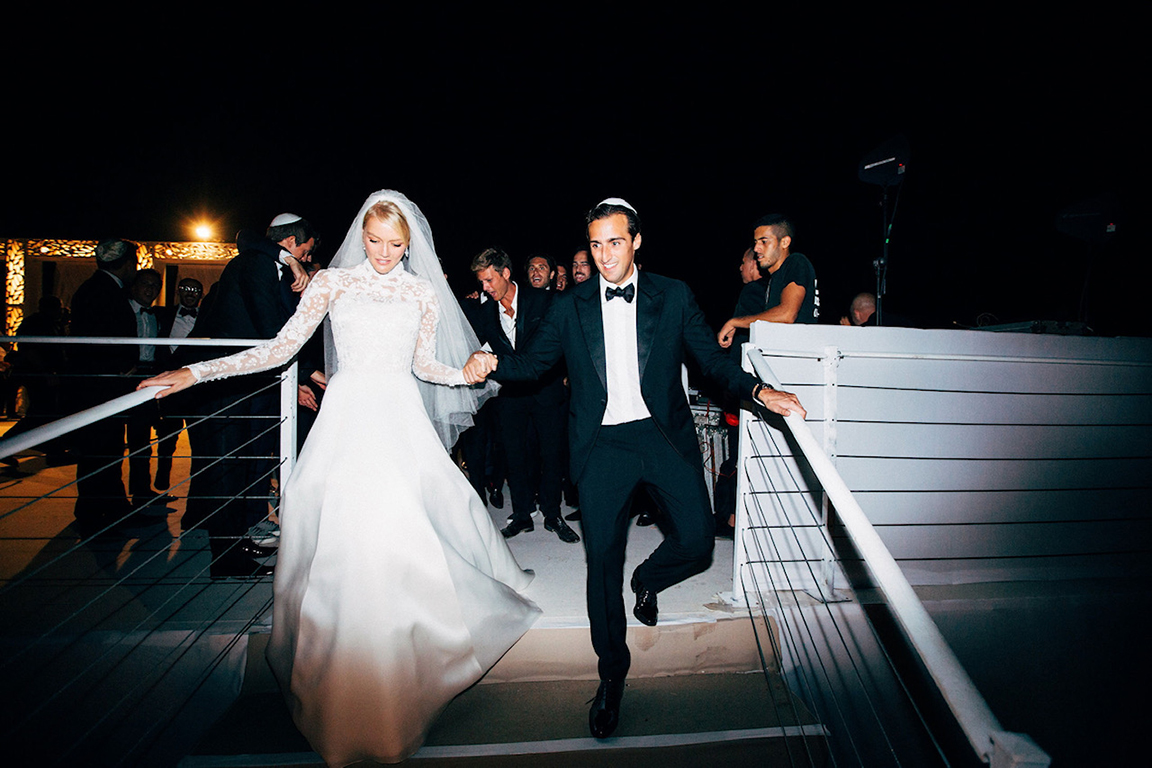 Originating in the French couture houses of the 1950s, the A-line silhouette has the potential to be the most multi-faceted of silhouettes. Fitted through the bodice and cinched at the corseted waist, the skirt flows from the waist, skimming the hips before sweeping out to a fuller skirt at the hem.
The allure of a Phillipa Lepley A-line wedding dress starts with the hidden corsetry. It gives a beautifully defined waist, allowing the skirt shape to follow the female form. Less voluminous than a classic ball gown shape, an A-line is a gentler overall line that still calls on balance and proportion to effortlessly flatter a woman's figure.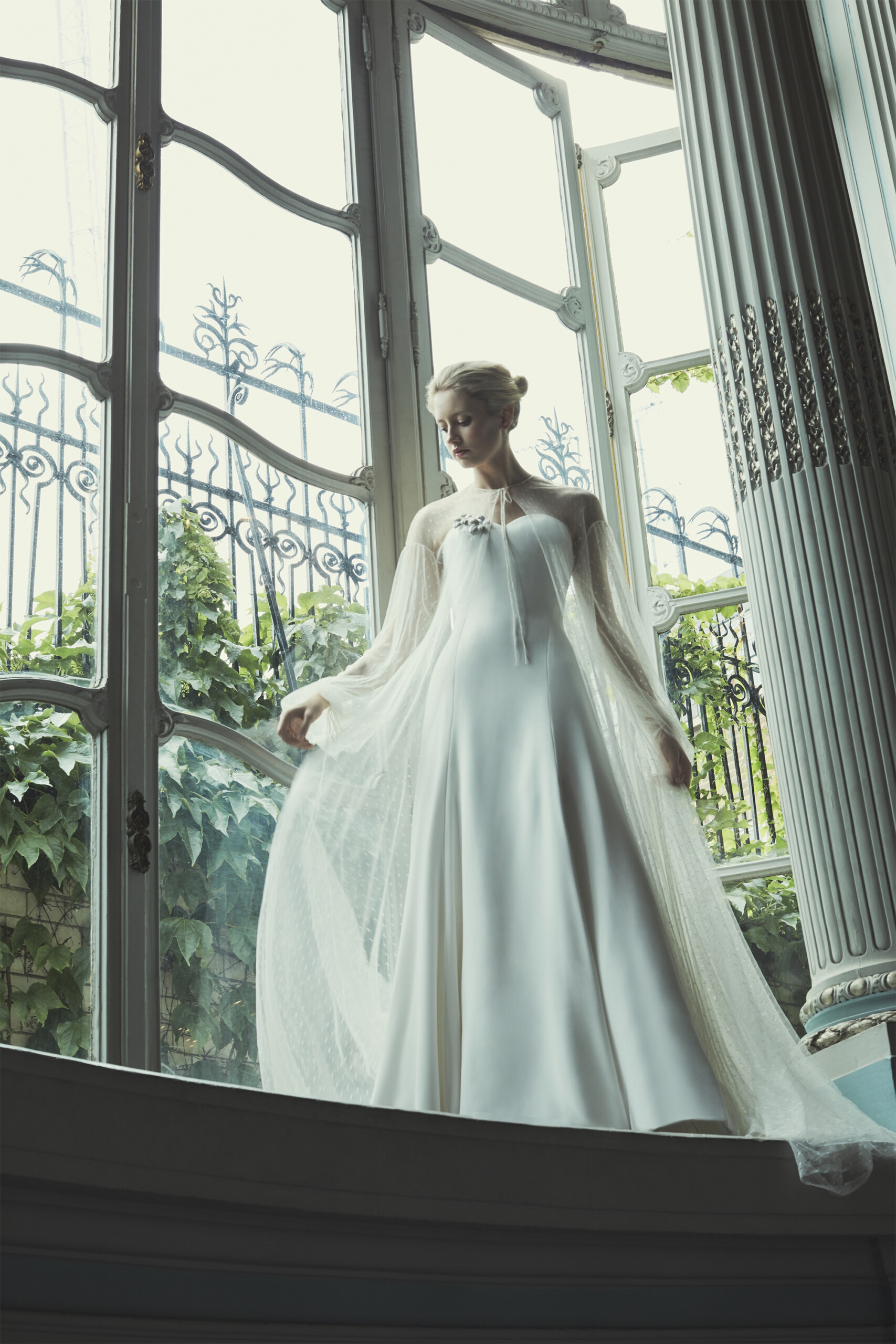 The versatility of this silhouette makes it the perfect choice for so many brides. Luxuriously draped in Italian duchess satin, this silhouette can feel more formal and grand. Flowing with light, billowing satin chiffon an A-line dress can be care-free and effortless. A long sleeved wedding dress would be perfectly balanced with an A-Line silhouette too.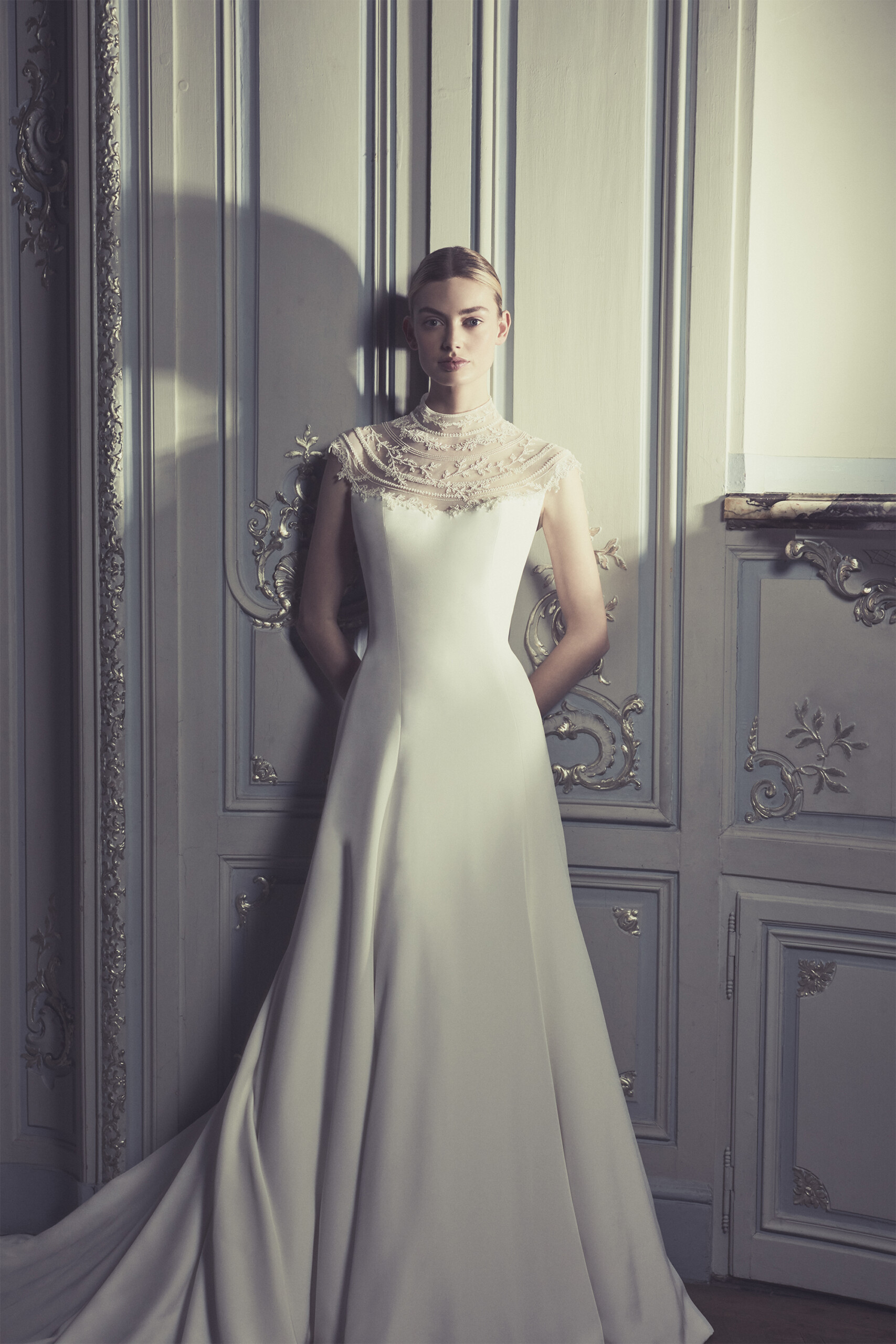 Under the skilled eyes of Phillipa Lepley and her specially trained team, an A-line wedding dress can be precisely designed to suit both a brides figure and her wedding day plans by playing with volume and proportion to create the perfect shape.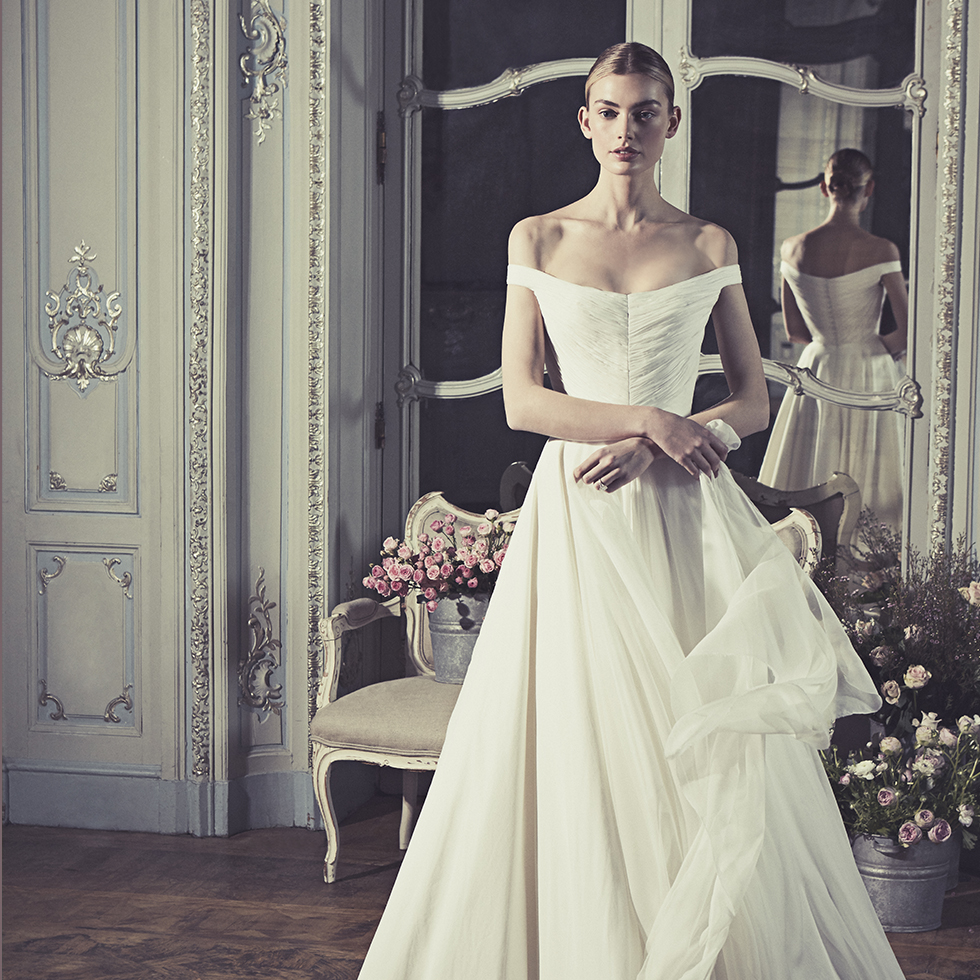 Phillipa says, "An A Line is a timeless classic – less is more and when the clean lines of this shape leave the body at just the right points it can highlight, elongate and define the female form. You can go big or small with an A Line – I adore its versatility! I always say, just look at the balance and proportion in the mirror and it will tell you what is right."
SOFT FIT & FLARE
---
A more figure hugging and sensual shape, a Soft Fit and Flare wedding dress is slim through the bodice and hips before the skirt flares out lower down the body.
This fitted silhouette serves to showcase a bride's figure and, at Phillipa Lepley, the signature hidden corsetry and contoured cut can create the most desirable, feminine hourglass silhouette.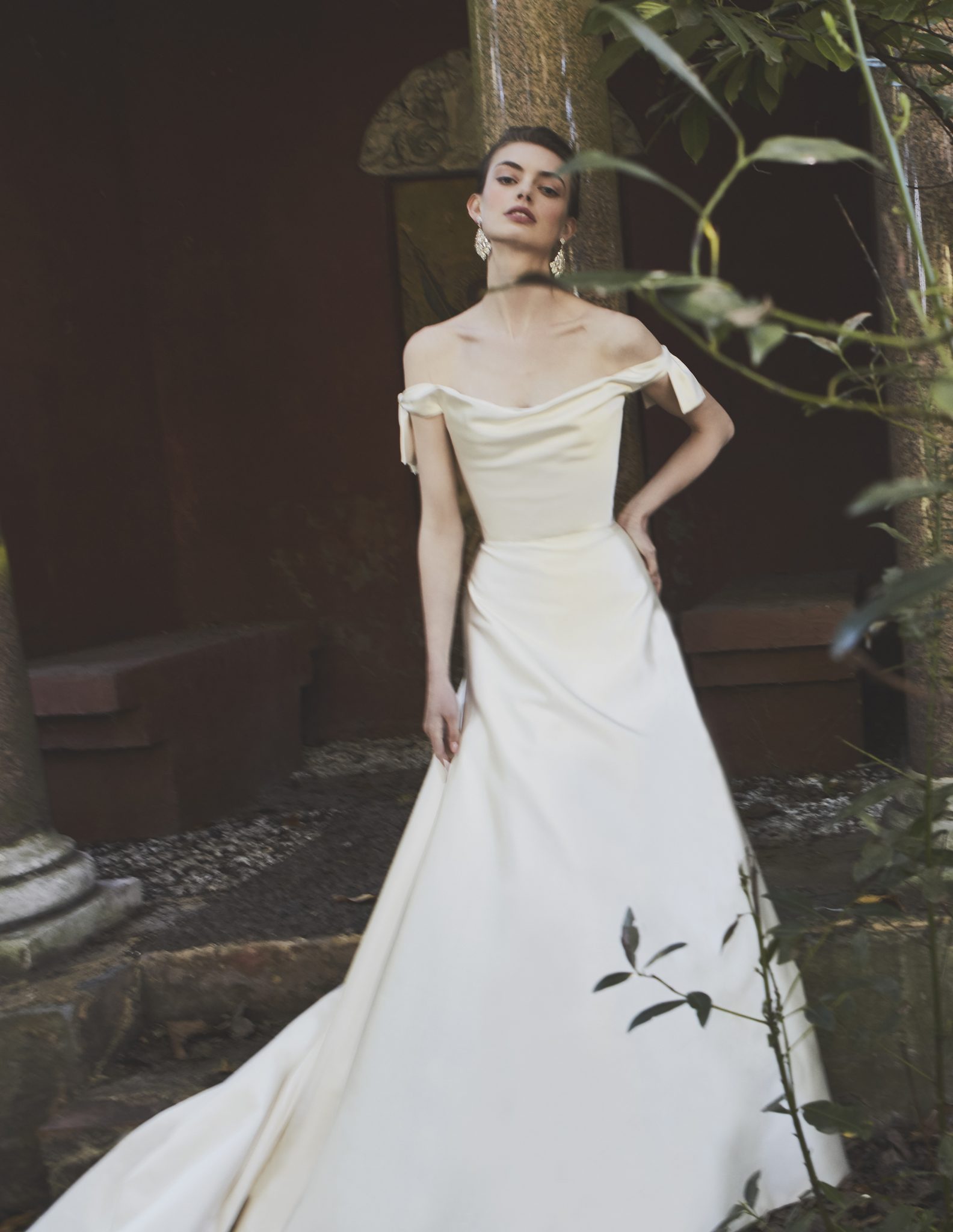 There are many variations of this elegant shape, playing with the key points of fit and flare to compliment and follow a woman's curves. Phillipa Lepley understands the complexities involved when designing and creating for each individual client's figure and through the creation of a couture dress, the placement of lines, shaping, fit and flare require specific and particular placement to suit.
The Soft Fit and Flare is an elegant silhouette that can give a sensational base shape to be built upon and taken in many different directions. Kept plain, it can feel chic and refined. The finest quality silks such as a glowing Italian duchess satin or a matt silk crepe will both provide a beautiful finish. With the lines tailored to suit the bride – sweetheart neckline or off-the-shoulder straps, strapless or swept up in ruched tulle balloon sleeves for a contemporary edge – there are unlimited options.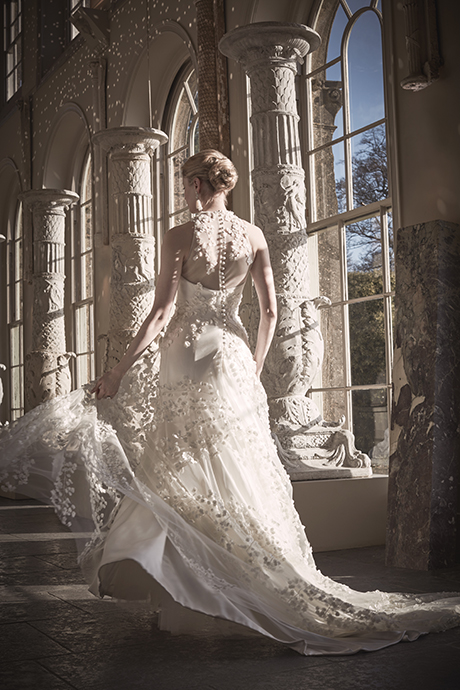 For a more elegant and romantic feel, this figure hugging wedding dress shape could be decorated with a hand embroidered tulle overlay or a heavily beaded French lace. Detailing such as this could work beautifully for an evening ceremony, a London wedding or surrounded by flowers in a garden marquee.
For Phillipa, the beauty is in the gentle hugging lines of this super feminine style, "I love the fluidity of this style and how the dress just gels with the body… the movement with the fabric fitted to the body, to the hip, moving so beautifully, caressing the figure – it really is the height of romance. And one can still go for big drama – layers of soft fabrics, slipper satins with gentle overlays of tulle or chiffons – heaven!"
At couture wedding dress designer Phillipa Lepley, a fitted silhouette can create just as much statement as a full ball gown skirt.
BIAS CUT
---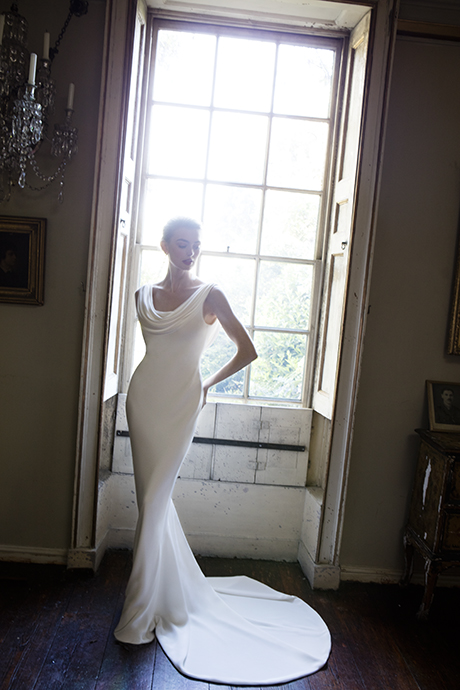 A bias cut wedding dress is a wonderful choice for brides looking for understated elegance; effortlessly beautiful, deceptively simple, and undeniably eye-catching.
In its simplest terms, a bias cut wedding dress means that the fabric used is cut at an angle to its grain. This allows the fabric to hug and follow the lines of the body, accentuating a woman's curves. At Phillipa Lepley the finest quality Italian silks are expertly handled to create timelessly designed, impeccably crafted bias cut wedding dresses.
For Phillipa, "This style is all about celebrating the bride's shape – it will show every curve of the body and has to be beautifully executed with the minimum of seams – you need the best pattern cutter to create the right lines, which I am very lucky to have. The fluid fabrics need to be expertly handled – moulded to each individual's curves. When this style works – 'bang!' Its amazing! A completely show stopping look."
A sleek and minimalist silhouette, the design can be elevated with a dramatically low scooped back, sumptuously draped fabrics at the necklines or a belt at the waist for added definition.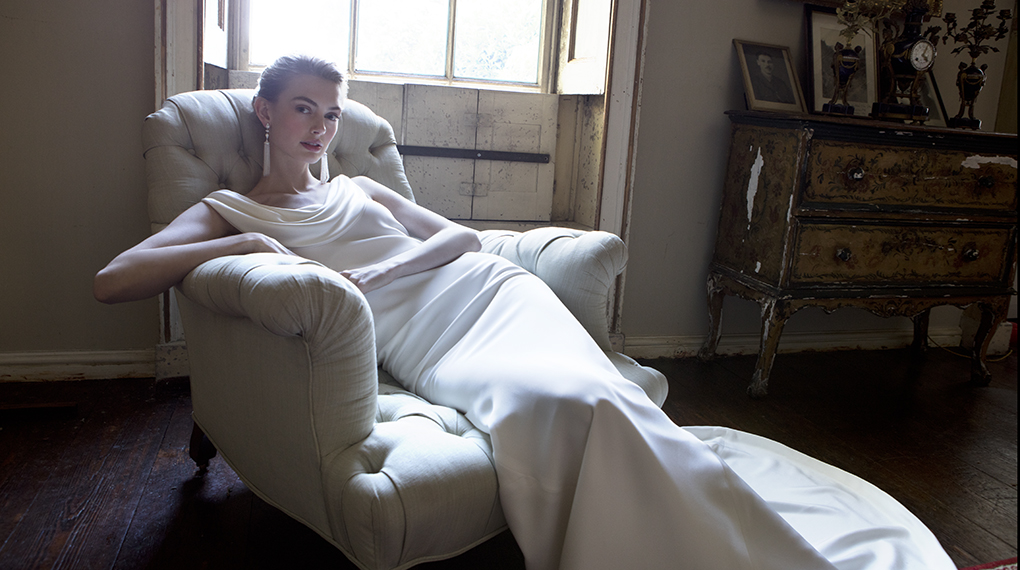 Closely tracing the contours of a bride's body, this style of dress is sensual and, with such gently flowing lines, soft silks and feminine curves, can suit many venues. Whether for an evening black tie ceremony or a destination wedding, this romantic cut with undulating curves creates a truly feminine silhouette.
An effortlessly beautiful wedding gown style such as this can also be a wonderful 'evening dress' option should the bride wish to change through her day whilst maintaining the special, bridal feel that a Phillipa Lepley gown emanates.
EMPIRE LINE
---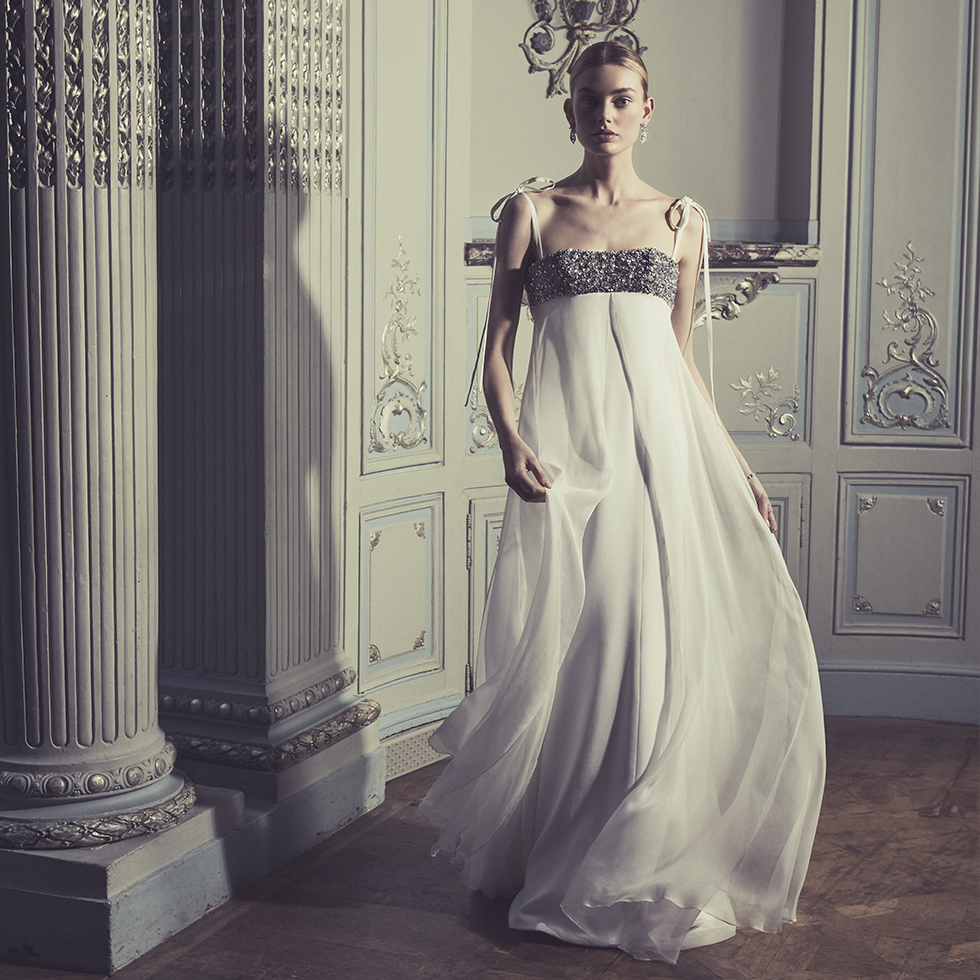 A romantic silhouette with flowing fabrics and perfectly placed seaming, an Empire Line wedding dress has an other-wordly, dreamy and ethereal appeal.
With its raised seam placement positioned just under the bust, a Phillipa Lepley Empire Line wedding dress draws on the expert eye of Phillipa and her team to ensure the perfect positioning on each client to compliment and highlight the décolleté. Elegant and graceful silks can cascade from the raised seaming, flowing down the body and carrying through to a long train.
Light, sheer silks such as rippling silk chiffon or flowing silk georgette could gently float in layers through the skirts, creating a whimsical, airy feeling. When combined with Phillipa Lepley's iconic corsetry, glimpses of the defined hourglass shape beneath create a breath-taking luxury bridal look.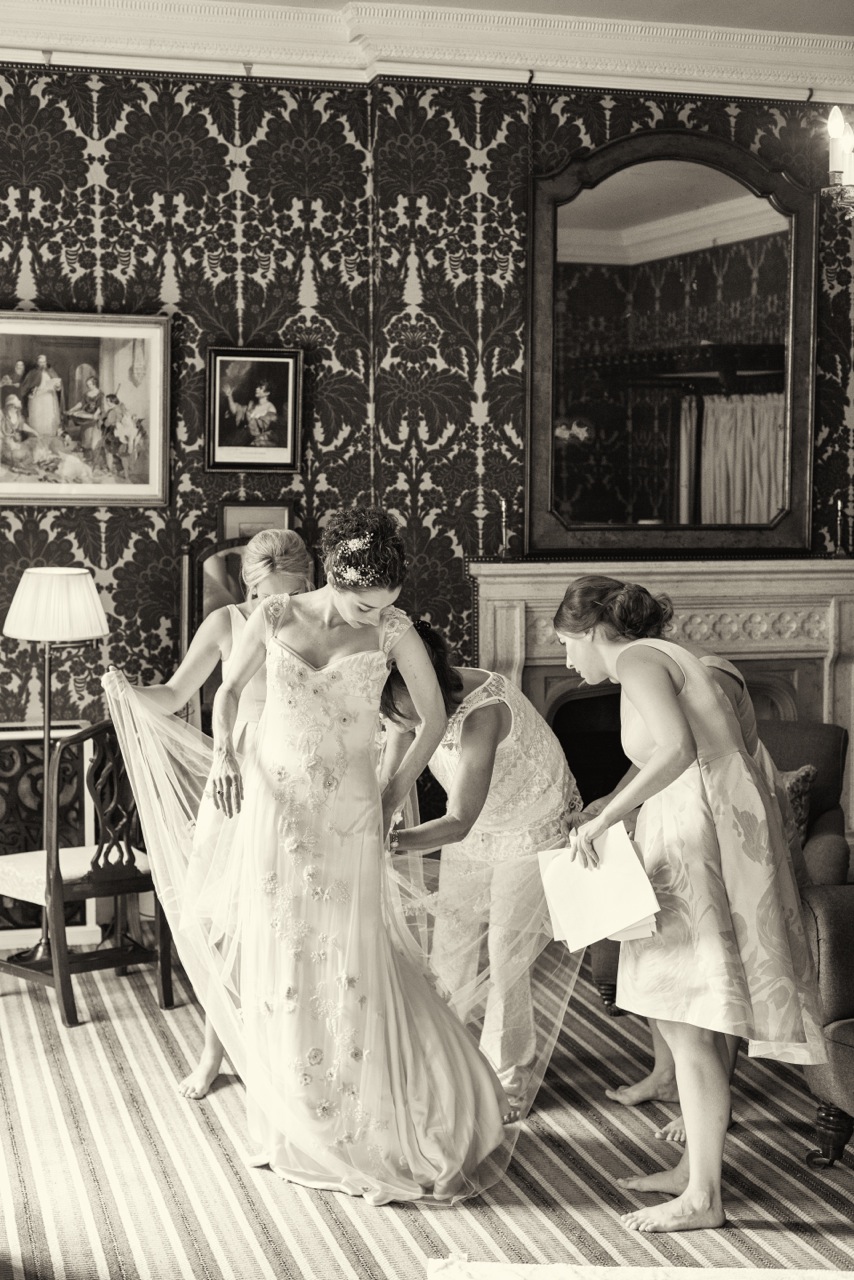 This timeless wedding dress shape can work in many styles – narrow 'tagliatelle' straps or cap sleeves could be added and would be perfectly suited to carry the intricate, delicate detailing that Phillipa Lepley is so renowned for; finely layered laces, hand embroidered florals and decadent beading can create a special and mesmerising bridal look.
Phillipa says, "I adore the way the silks flow in an Empire Line wedding dress – and to see a hint of amazing waist definition from the corsetry underneath can be so exciting! This style has a unique level of timeless sophistication – I always really love the femininity and romance of it – and am so inspired by mixing more contemporary looks with this classic period proportion. The youth and fun this style creates makes it a classic go-to design that will never date."
Phillipa Lepley is recognised globally as a leading British wedding dress and eveningwear designer, renowned for bespoke couture dresses of the utmost luxury. Her wedding dress shop in London, Chelsea, has over 50 dresses, all of which have been made in England from start to finish at her atelier.