Real Bride: The Finest Italian Silk
"The dress that Phillipa and her team created for me is my dream dress – it elicits all the feelings I wanted it to." Kalliope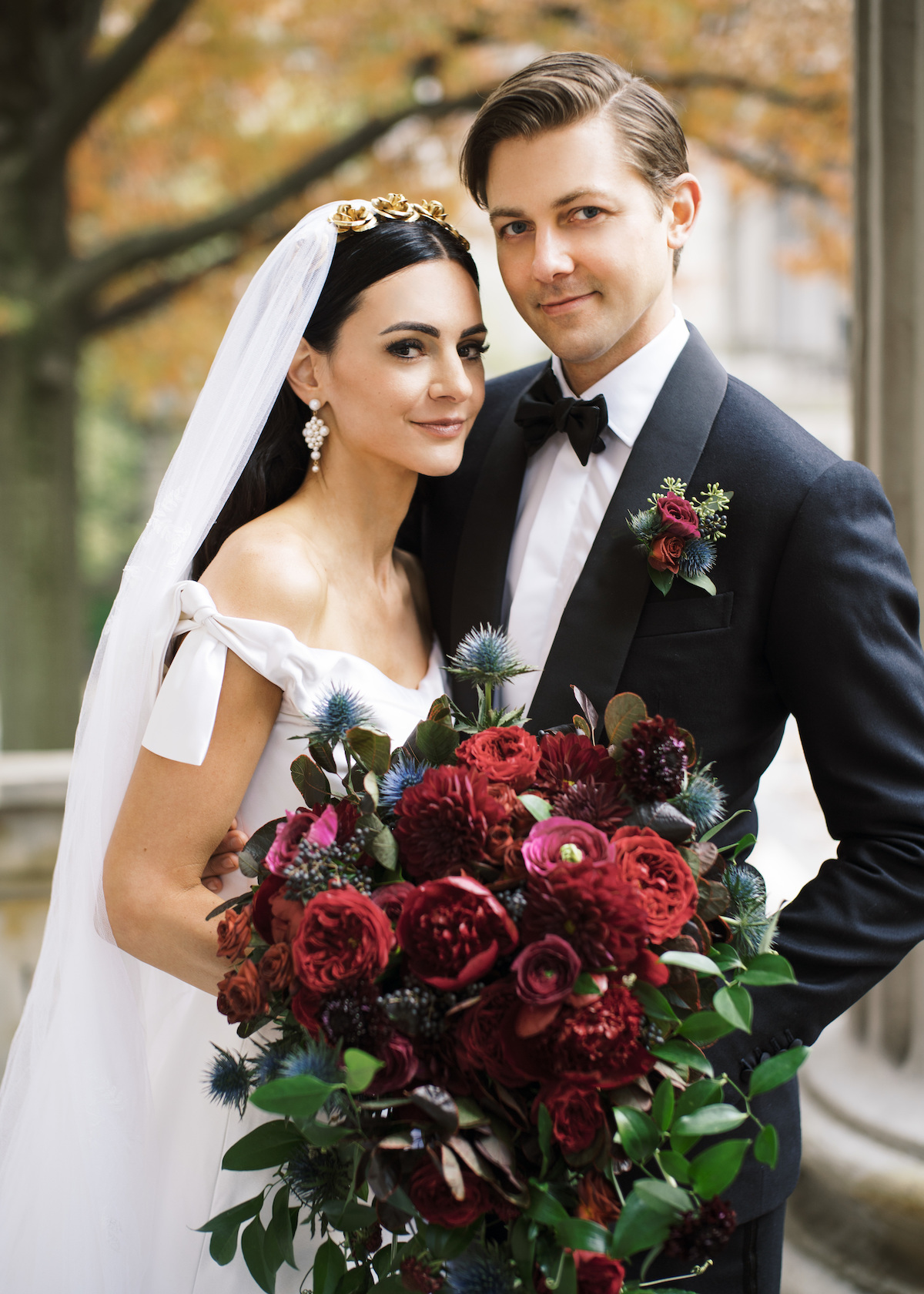 Having moved to the UK from New York Kalliope first discovered Phillipa Lepley whilst walking past her shop every day on her way to work. "I thought the shop looked really beautiful whenever I walked past which enticed me to go in".
Kalliope and her husband are American so they decided it would be more convenient for friends and family to hold their wedding in America. That said, Kalliope was especially keen to incorporate elements of the English culture in to their special day, as it was in London where the couple met and fell in love.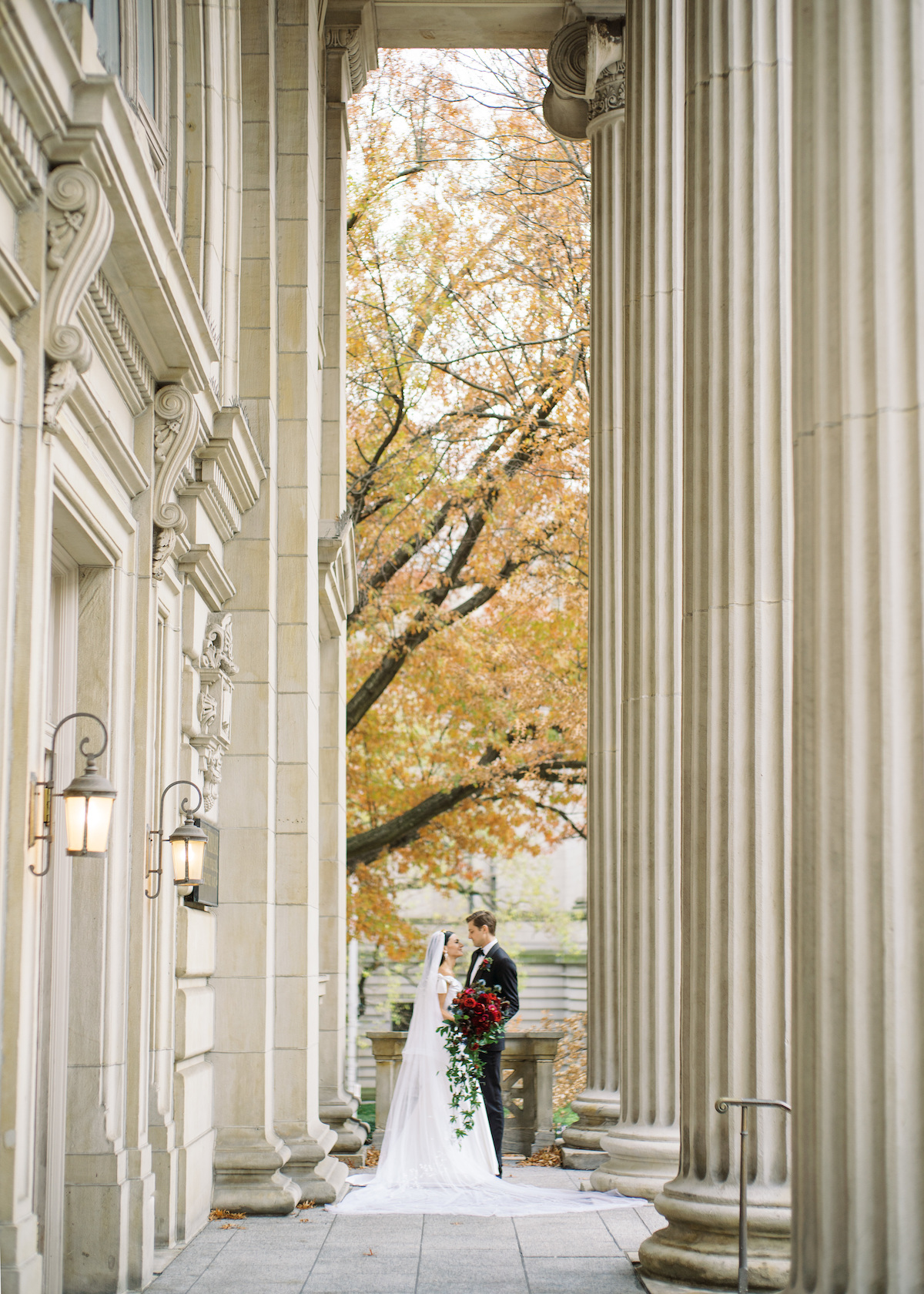 Both the bride and the groom agreed that commissioning a bespoke wedding dress and tuxedo from carefully selected British designers would be the perfect way to celebrate the place where their love story began. "I chose Phillipa as my wedding dress designer as I could create something bespoke and completely my own. The amount of detail and care put into her dresses is so unbelievable".
Going into Phillipa's Chelsea shop for her first appointment Kalliope had a clear idea about what she wanted her wedding dress to look like: A fitted ballgown with a clean silhouette.
Kalliope chose white duchess satin for her corseted Phillipa Lepley wedding dress; an incredibly beautiful and striking contrast to her dark hair and the rich emerald and ruby tones that would run through her wedding day.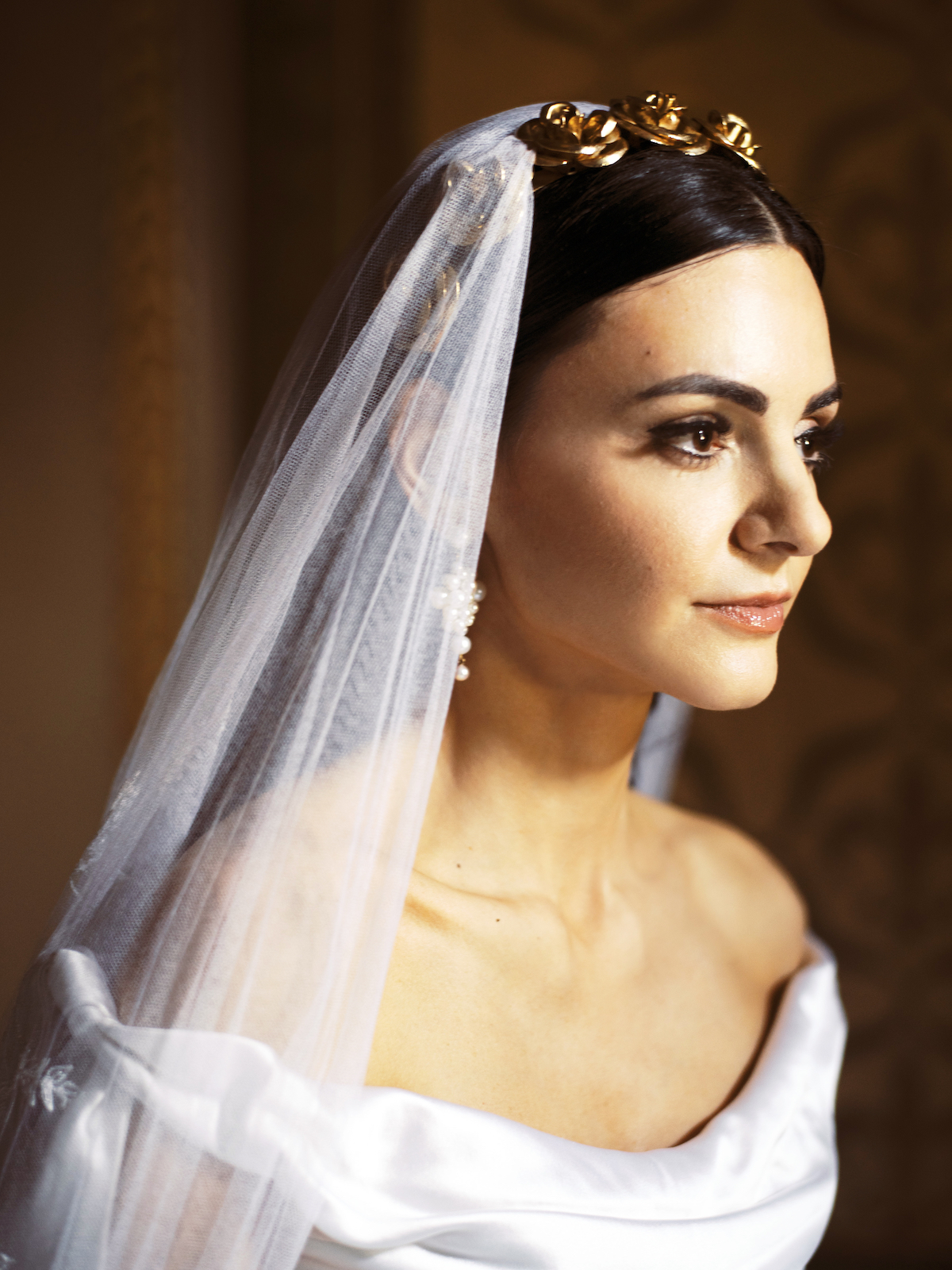 With her impeccable eye for detail and clear, creative vision for her dress, Kalliope wanted the drape through the neckline of her dress to be very organic and asymmetric. Using the finest Italian silk, our atelier team moulded deep, luxurious draping through the neckline, which was refined and brought to life for Kalliope through her fittings.
The sumptously undulating satin extended to the softly tied off-the-shoulder straps, and a soft A-line skirt created the perfectly balanced shape and silhouette that Kalliope had envisioned.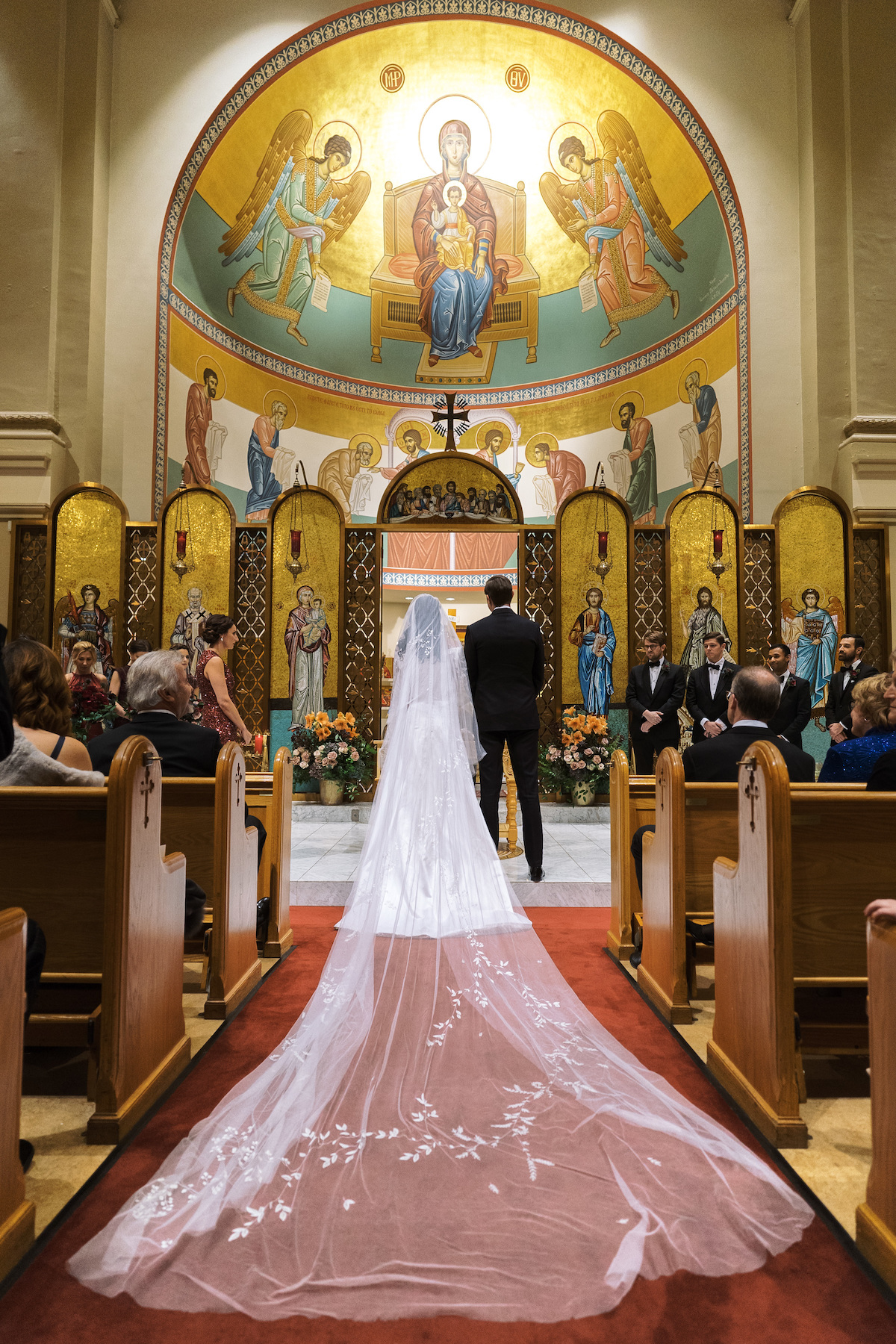 In the lead up to the wedding Kalliope decided not to wear a necklace with her dress and instead she wore a stunning bespoke gold headband which the veil was specifically designed around. "We built the veil around the headpiece so that it landed exactly the way I wanted it to. I wanted the flower detailing and the vines from the veil to show on my skin because I wouldn't be wearing a necklace. It required the team to embroider leaves in very specific places, and when the final design came to life it was amazing."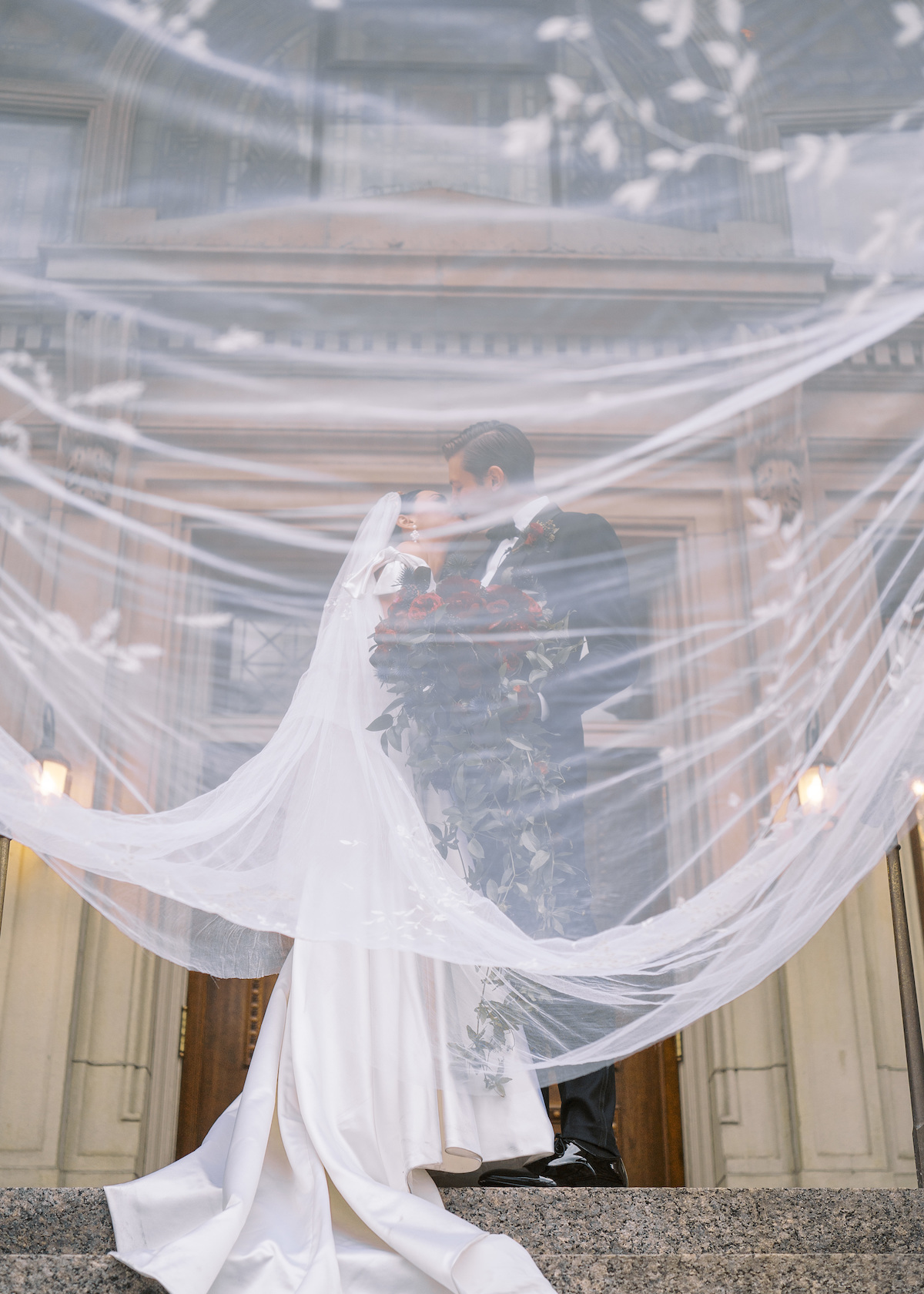 Kalliope's white silk tulle veil was hand embroidered with the finest threadwork leaves, vines and fern motifs trickling and winding their way over the full veil.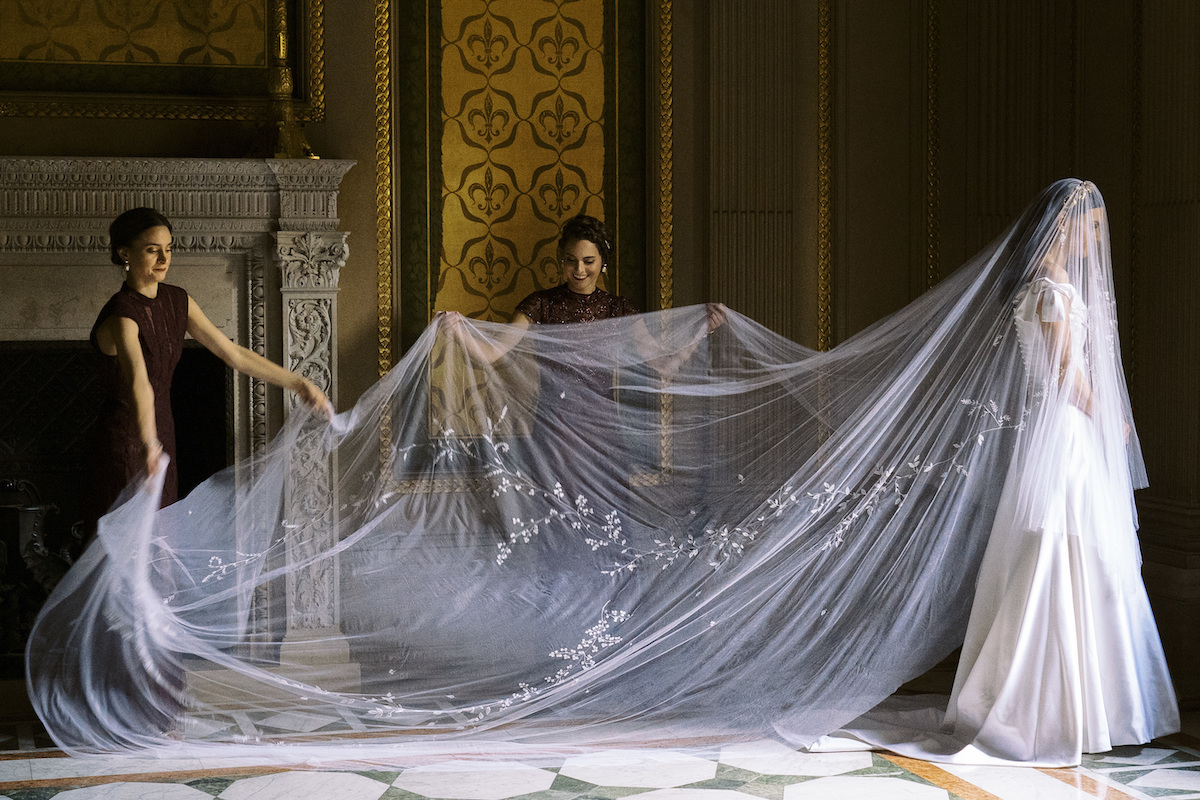 The end result was the perfect combination of classic elegance with a modern twist, that was exactly what Kalliope had dreamed of.
The Phillipa Lepley team provided Kalliope with videos of how to put the dress on so she could share them with family and the bridesmaids who helped her put the dress on, on the wedding day.
Phillipa Lepley is widely recognised as being the leading British couture wedding dress designer. Her wedding dress shop in London, Chelsea, has over 50 dresses, all of which have been made in England from start to finish at her atelier. Virtual consultations are also available via phone, email or video conference with a senior, highly experienced member of the Phillipa Lepley team.