Real Bride: A Timeless & Beautiful Bespoke Wedding Dress
"I just fell in love with Phillipa's designs" Sabrina
When Sabrina got engaged to her now husband Edouard it was a bit of a surprise. Living in New York, she thought she'd find a dress easily but soon discovered that her dream of a timeless and beautiful Grace Kelly-style wedding dress was not coming to life. "I wanted something classic, with a modern twist," she says.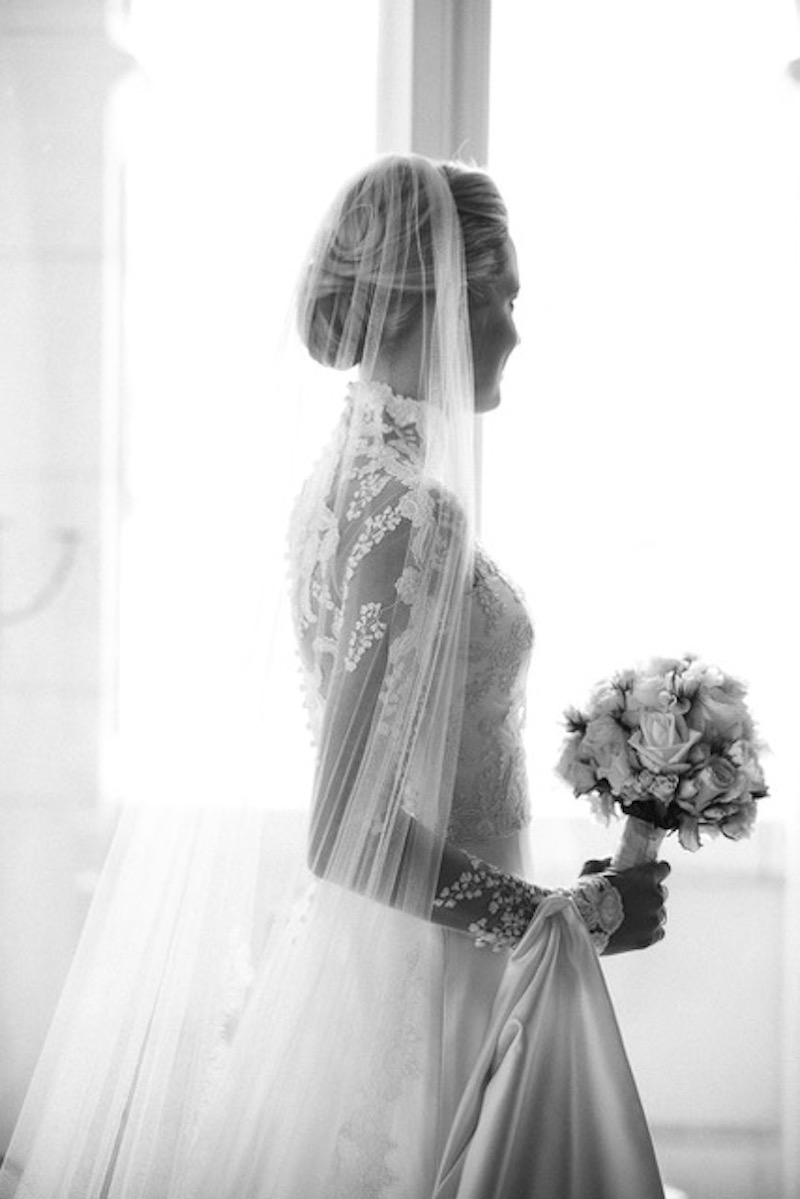 "I asked some friends about London designers and someone suggested Phillipa Lepley. I looked at her Instagram account and loved what I saw."
"I just fell in love with Phillipa's designs and the process seemed so easy. At other bridal shops I'd felt like I was being high maintenance for wanting to change the dresses, but not with Phillipa," she says.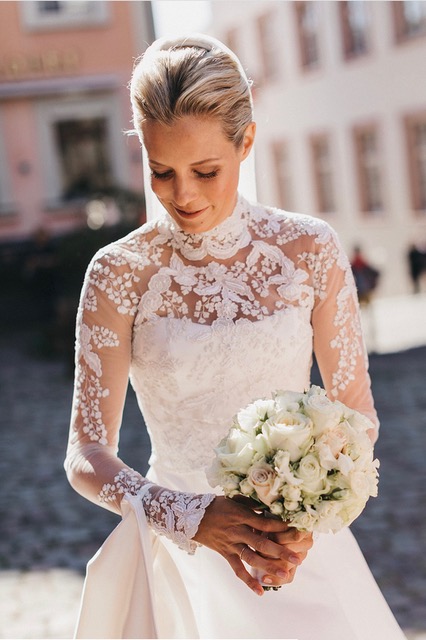 Sabrina knew she wanted a different look for the ceremony and evening, as is traditional in Germany. But she couldn't bare only wearing the dress for four hours. Together with the Phillipa Lepley team, Sabrina and her mother created two completely different looks with her duchess satin wedding dress.
The base dress – a timeless, corseted Phillipa Lepley silhouette created in Italian duchess satin – was meticulously fitted to Sabrina's body and the soft sweeping neckline drawn on her to give a gentle shape that complemented her frame and sat subtly beneath both her ceremony and evening overlays.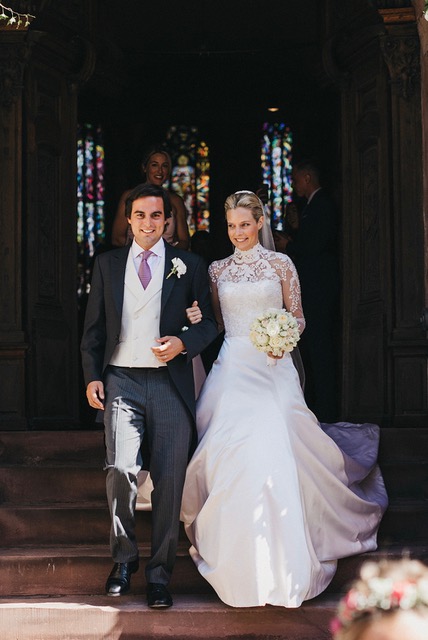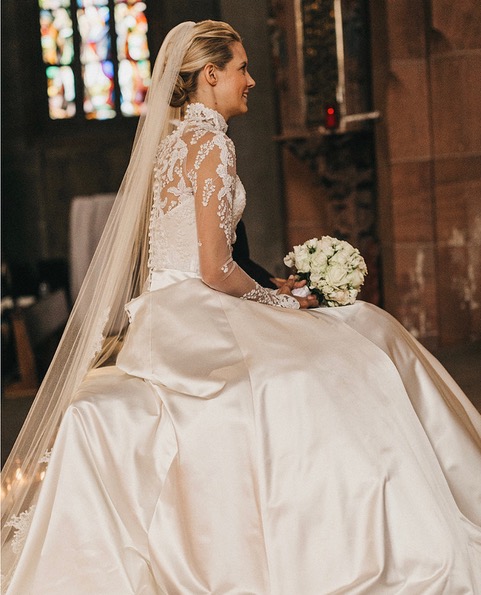 For the ceremony, Phillipa Lepley and her team created a bespoke, hand-embroidered tulle top for Sabrina to wear over her duchess satin dress. Cut with a high neck and long, full length sleeves, the floral motif embroidery grew organically through the neckline, bodice and back, trickling out over the arms, and up from the wrists.
The atelier team plan and design the artwork for an embroidered top such as this specifically to the bride's measurements, meaning that the combination of embroidery and sheer tulle is considered and perfectly balanced, and the client has the opportunity to add bespoke or personal details within the embroidery – for example a favourite flower or the name or initials of a loved one.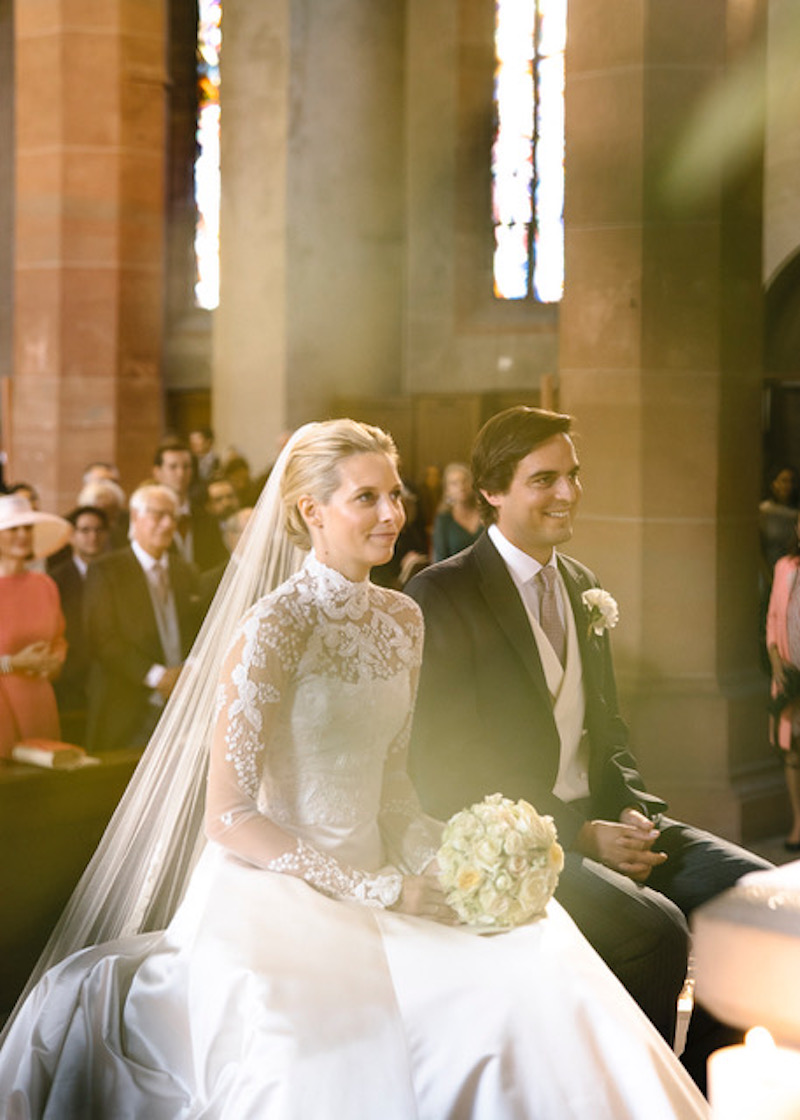 The cuffs, waist and neckline of Sabrina's top were completed with an embroidered edge. Delicate pearl and crystal beading was lightly scattered throughout and it was finished with hand-covered buttons and loops at the wrist and right down the back of the top, from nape of the neck to waist.  Sabrina chose a single tier, silk tulle veil edged with a French corded lace too.
Sabrina's ceremony look is the epitome of regal, timeless elegance. "This look got a lot of attention, I don't think I've ever had some many compliments in my life. Lots of people told me it was the most beautiful wedding dress they'd ever seen," says Sabrina.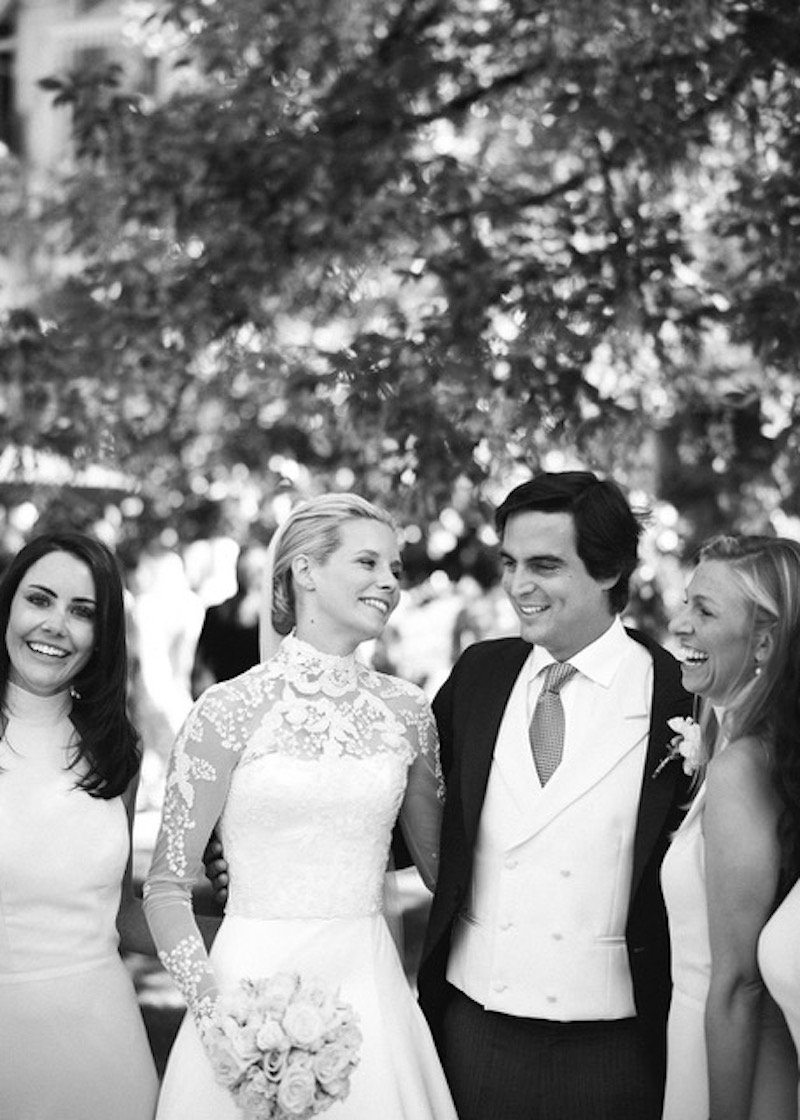 For the evening, Sabrina was able to remove her hand-embroidered tulle top and keep on her duchess satin wedding dress, adding a separate ' Lily of the Valley' petal overlay over the top.
The full length, embroidered tulle overlay completely transformed the dress! With a cutaway, high collar neckline, the team skilfully manipulated the Lily of the Valley stems of embroidery to appear as if they were growing through the dress – every branch of petals was carefully positioned to ensure a flow and movement to the design.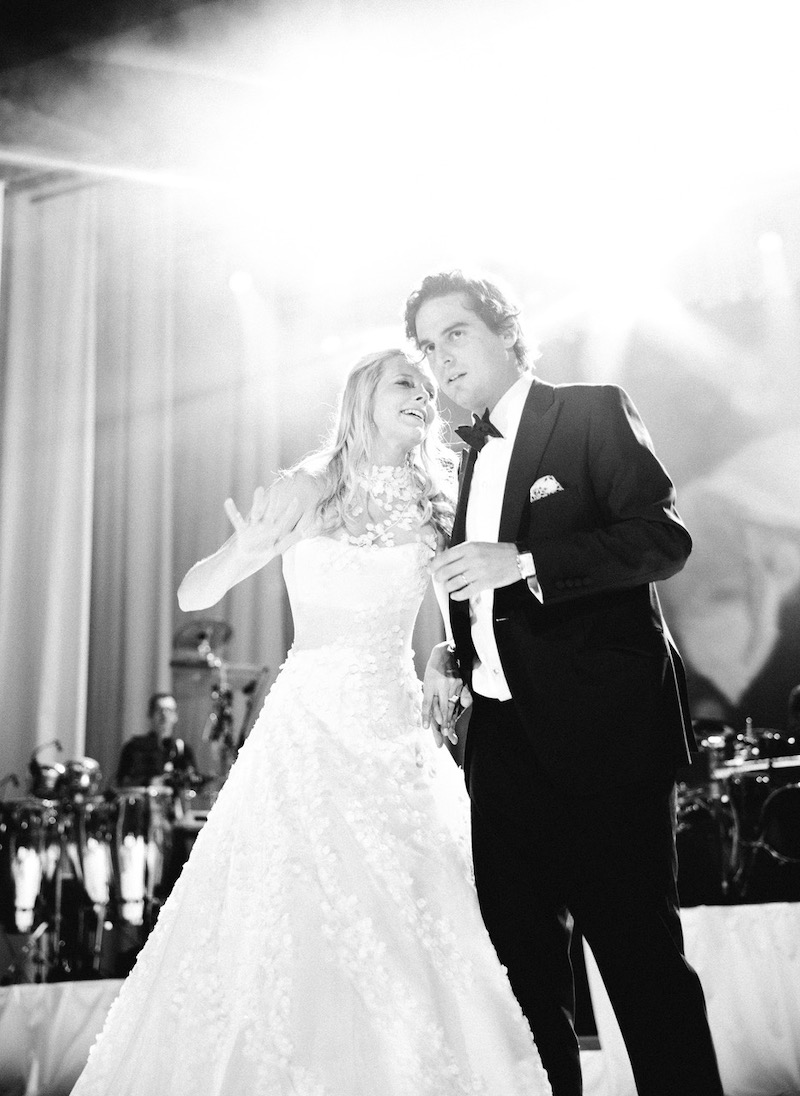 The embellishment team worked with Sabrina to develop a paler beading combination to complement the duchess satin base dress, and hand-beaded clusters of beads nestled within the 3D petals of the dress gave a subtle shimmer to the evening look.
Sabrina's couture Phillipa Lepley wedding dress allowed her two completely different looks through her day, while effortlessly maintaining an elegant, bridal feel throughout with the impeccably-fitted corseted base dress.
Phillipa Lepley is widely recognised as being the leading British couture wedding dress designer. Her wedding dress shop in London, Chelsea, has over 50 dresses, all of which have been made in England from start to finish at her atelier. Virtual consultations are also available via phone, email or video conference with a senior, highly experienced member of the Phillipa Lepley team.