In The Frow's Wedding: Designing Victoria Magrath's Couture Wedding Dress and Evening Gown
For In The Frow's Victoria Magrath's wedding in Provence in August 2019 she wore a Phillipa Lepley couture wedding dress and evening gown. Here we share the story of the dresses' creation.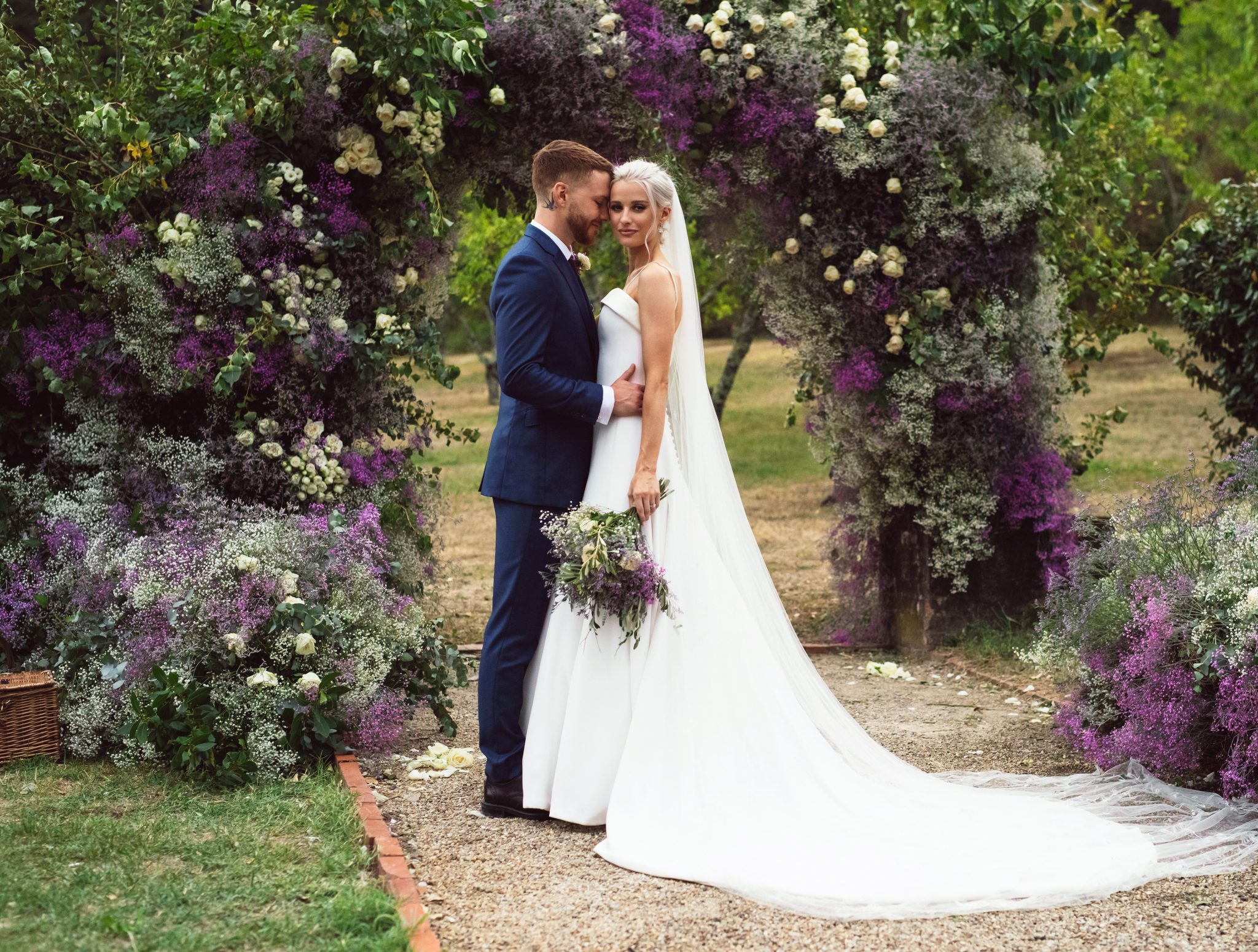 In February 2019 Phillipa Lepley was commissioned to design a couture wedding dress and a couture evening dressfor YouTube and Instagram star and author Victoria Magrath of In The Frow. Seven months later Victoria's wedding in Provence was a stunningly beautiful and stylish affair.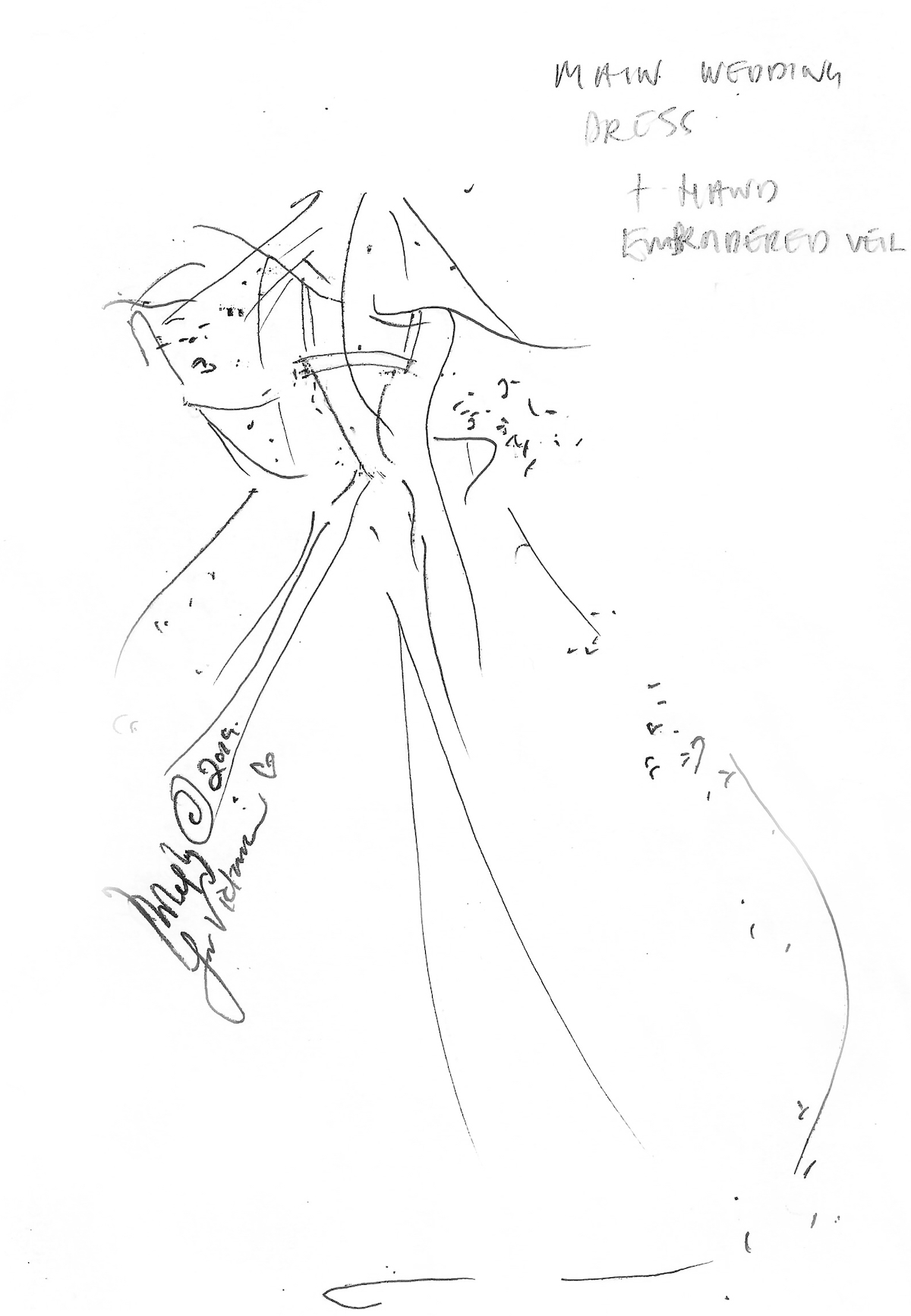 Phillipa's Sketch of Victoria's Wedding Dress
Victoria chose a corseted, silk crepe couture wedding gown with an Italian duchess satin band at the neckline, and delicate 'tagliatelle' duchess satin straps.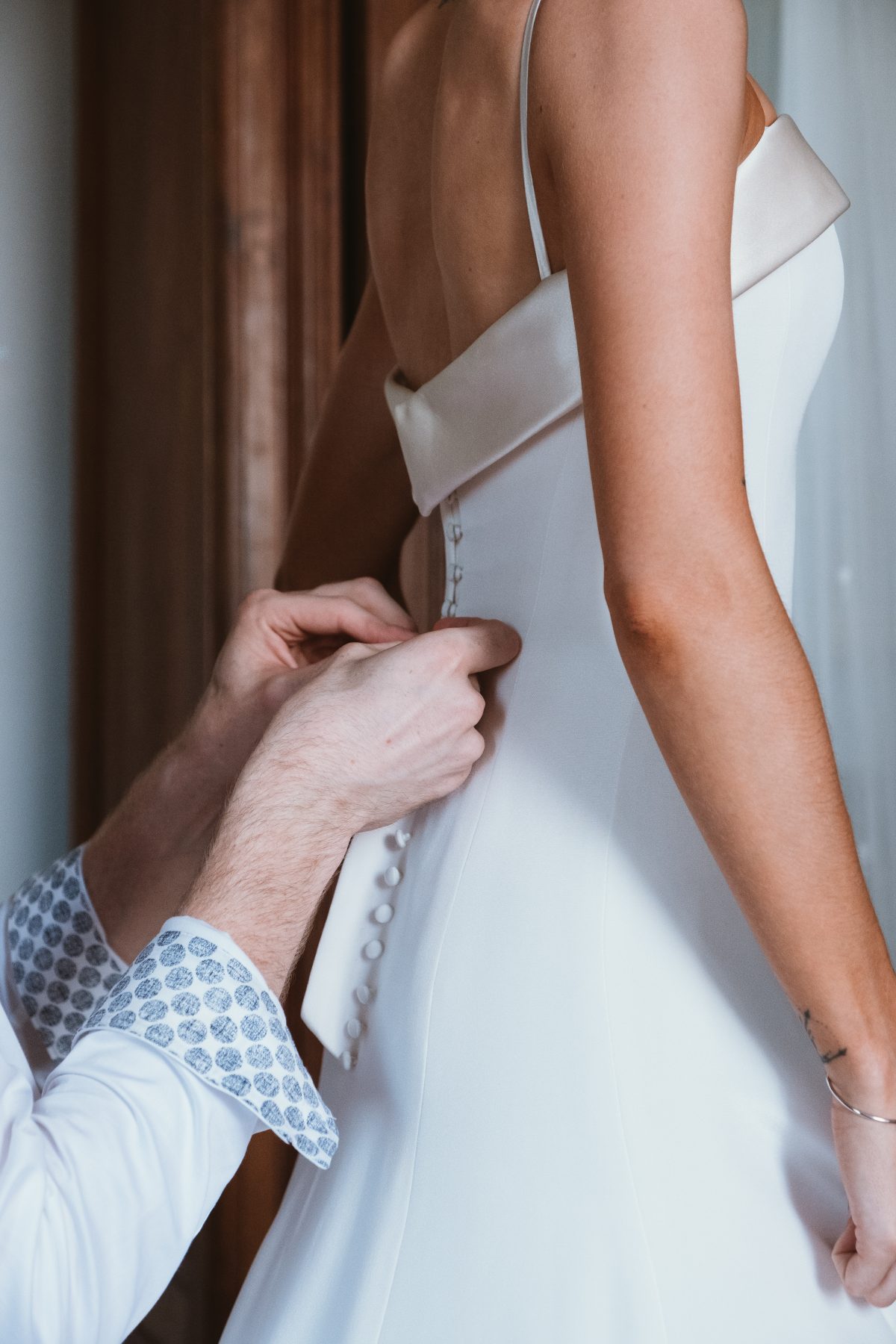 A Phillipa Lepley inner corset defined the waist, the silk crepe dress was moulded over the corset and skimmed the hips before falling into a full, undulating skirt with a dramatic long train. Intricate, cleverly-cut panelling through the dress further enhanced the silhouette. Each seam and panel was drawn on Victoria in her 'Toile Fittings' to ensure they were the perfect proportion for her slender frame.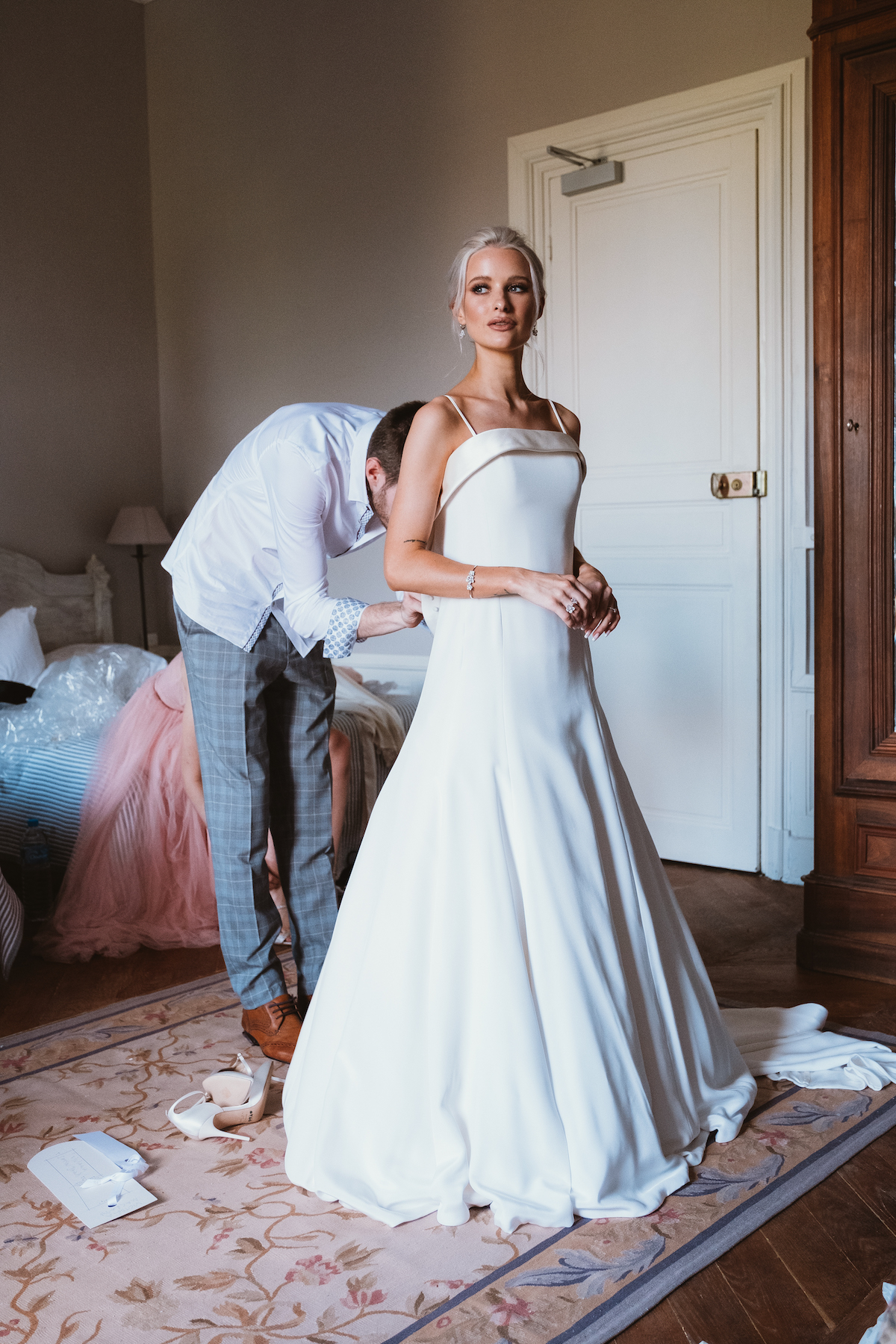 The duchess satin band and straps at the neckline were refined in scale and dimension to complement Victoria's petite frame perfectly. The rich, structured satin of the band was manipulated to sit slightly away from the body – a feature Victoria loved – to further frame her delicate features.
Victoria says: "Working with Phillipa was an experience that I will never forget. Phillipa is so warm with the kindest heart and so the love she has for her work radiates throughout everything she does. The process of customising my couturedresses was so special and Phillipa allowed me to dream when it came to what I hoped for. From measurements to silk fittings and the finishing touches, the whole team were so welcoming and warm but with a professional sophistication that you would expect. I couldn't recommend a Phillipa Lepley wedding dressexperience and a couture dress any more – it was the perfect choice for me and for anyone who wants that something extra special for the day and the evening."
Victoria Magrath's Wedding Veil
Victoria's hand-embroidered veil is a beautiful example of all that is possible when creating a bespoke, Phillipa Lepley wedding dress. The single tier veil was made from the finest French vintage loom woven silk tulle. It featured embroidery of white roses, Baby's Breath, Erigeron, Maiden's Hair Fern, Lavender and two bees hidden within the design. All these elements were chosen and designed with Victoria to create a personal and bespoke veil.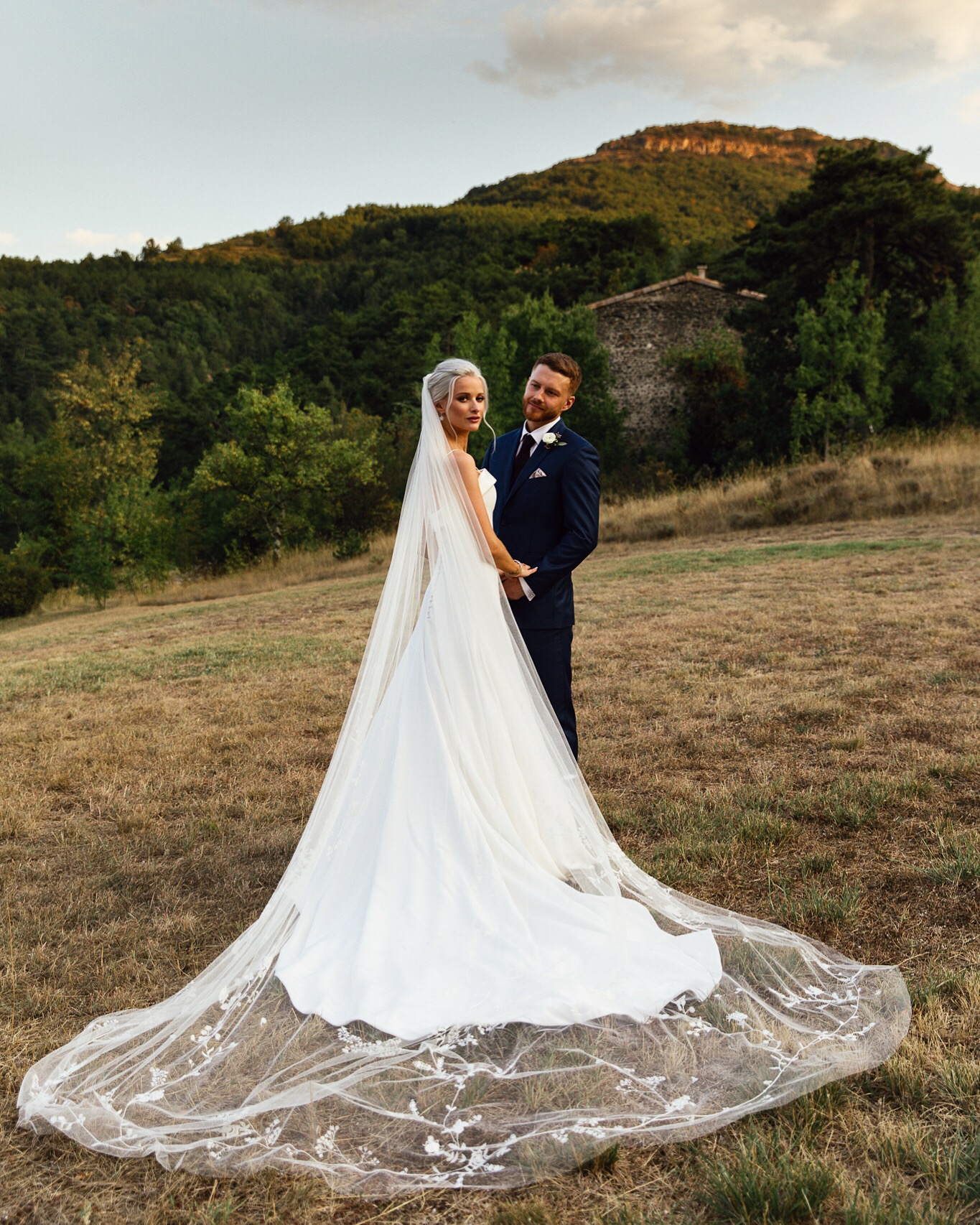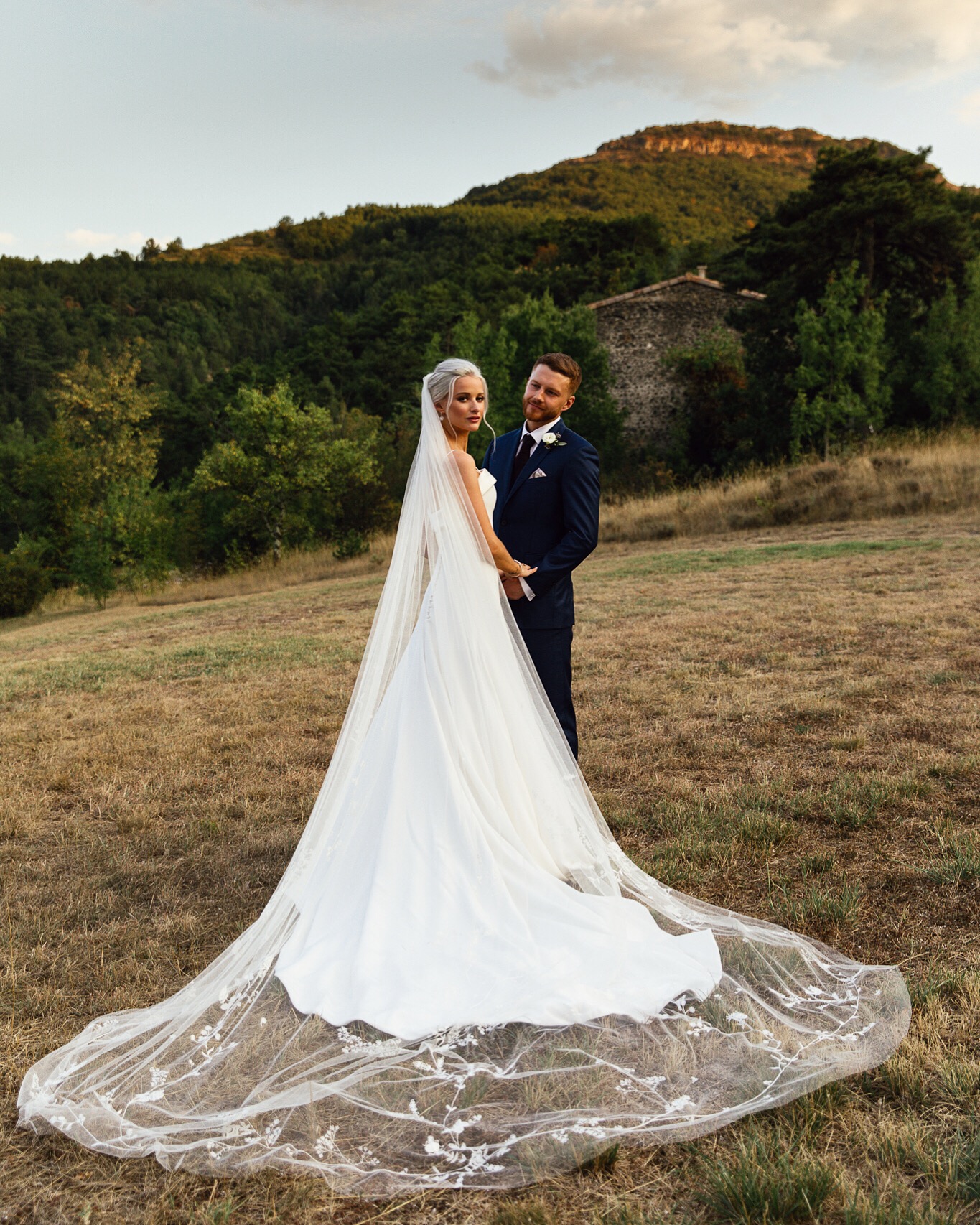 Victoria chose to incorporate some of her favourite flowers, as well as two bees, as a nod to Manchester where she is from. Cut to finish around two feet beyond the end of the train of the dress, the embroidery spreads and grows organically up the veil. It is extremely detailed but incredibly refined and delicate; an heirloom piece she can keep forever.
Selina Sparkle Organza Var
For the evening gown, we created a shorter, frothy tulle and hand beaded strapless dress for Victoria to party in.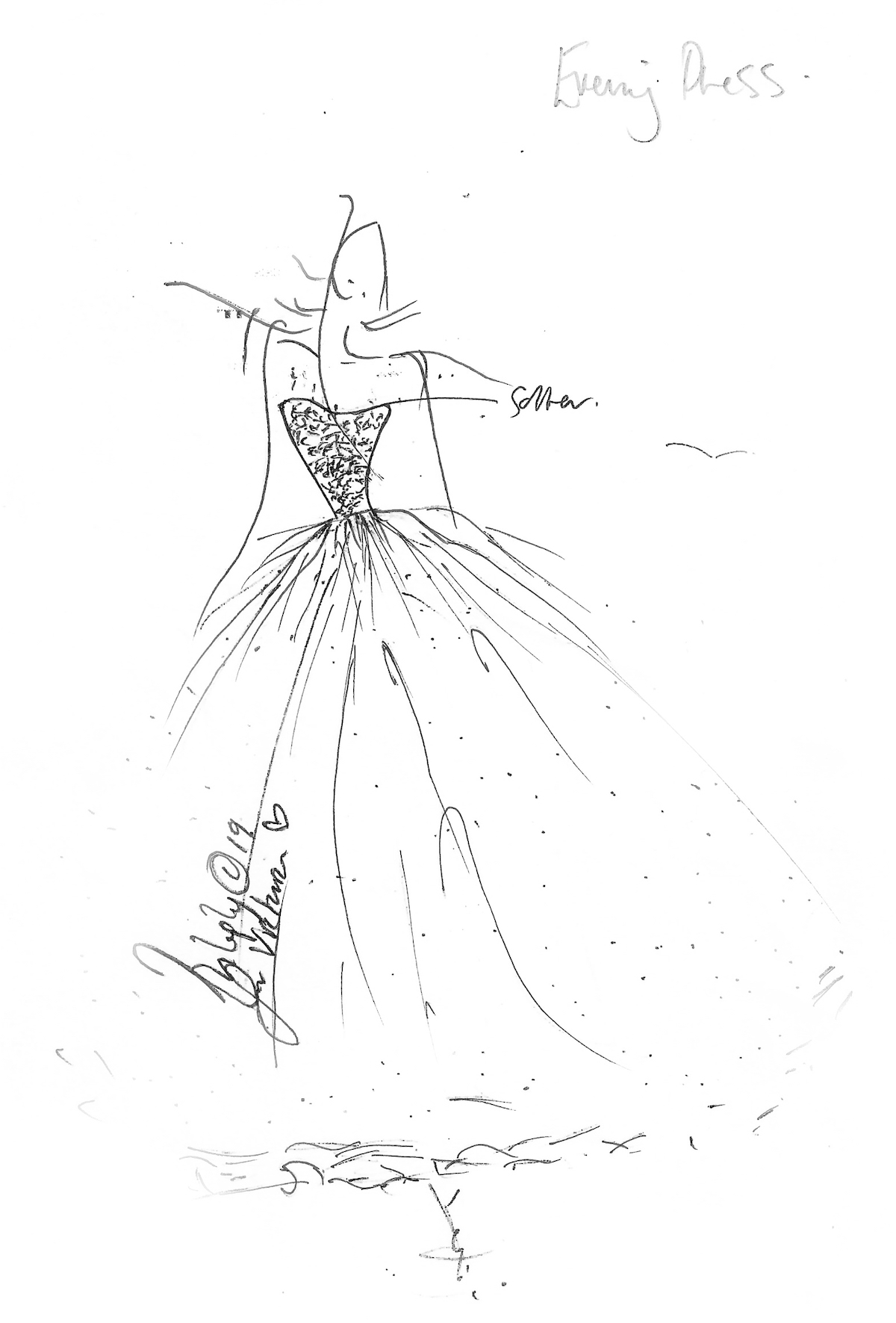 Phillipa's Sketch of Victoria's Evening Dress
Again made with a Phillipa Lepley corset within, the crescent necklined bodice was entirely hand-encrusted with diamantes and crystals of varying scales and shapes. The multi-faceted beads sparkled as Victoria moves.
To add personal detail to the wedding dress, The Phillipa Lepley team embellished a 'V' and 'A' (Victoria and her new husband's initials) into the very low, almond-shaped back neckline of the dress. Each letter was made up of crystal and diamanté 'navette' stones, nestled into the decadent beading of the bodice. Every bead skilfully positioned and patiently hand-sewn on in our Chelsea atelier.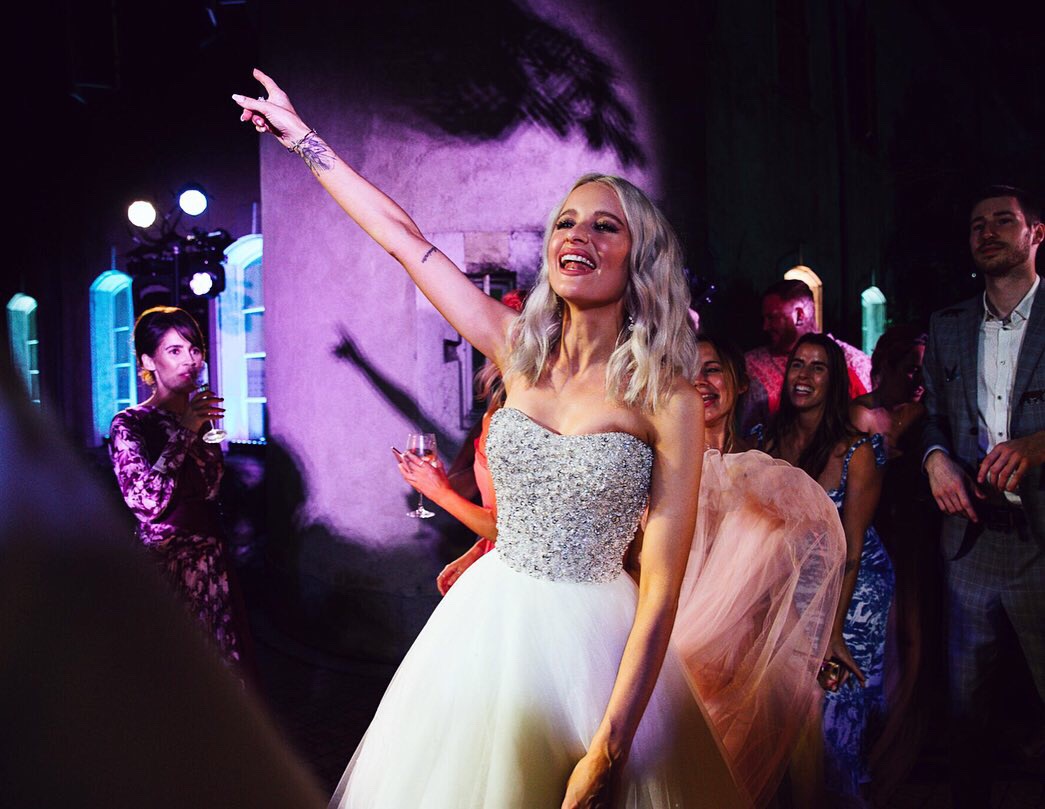 The voluminous, 3/4 length tulle skirt was made with layer upon layer of finely gathered tulle to give a fun and balletic feel to the dress. The very top layer of the skirt was lightly scattered with the most delicate crystals, ensuring that the dress subtly glimmered from every angle. The skirt was finished with hidden pockets, skilfully concealed within the layers of tulle.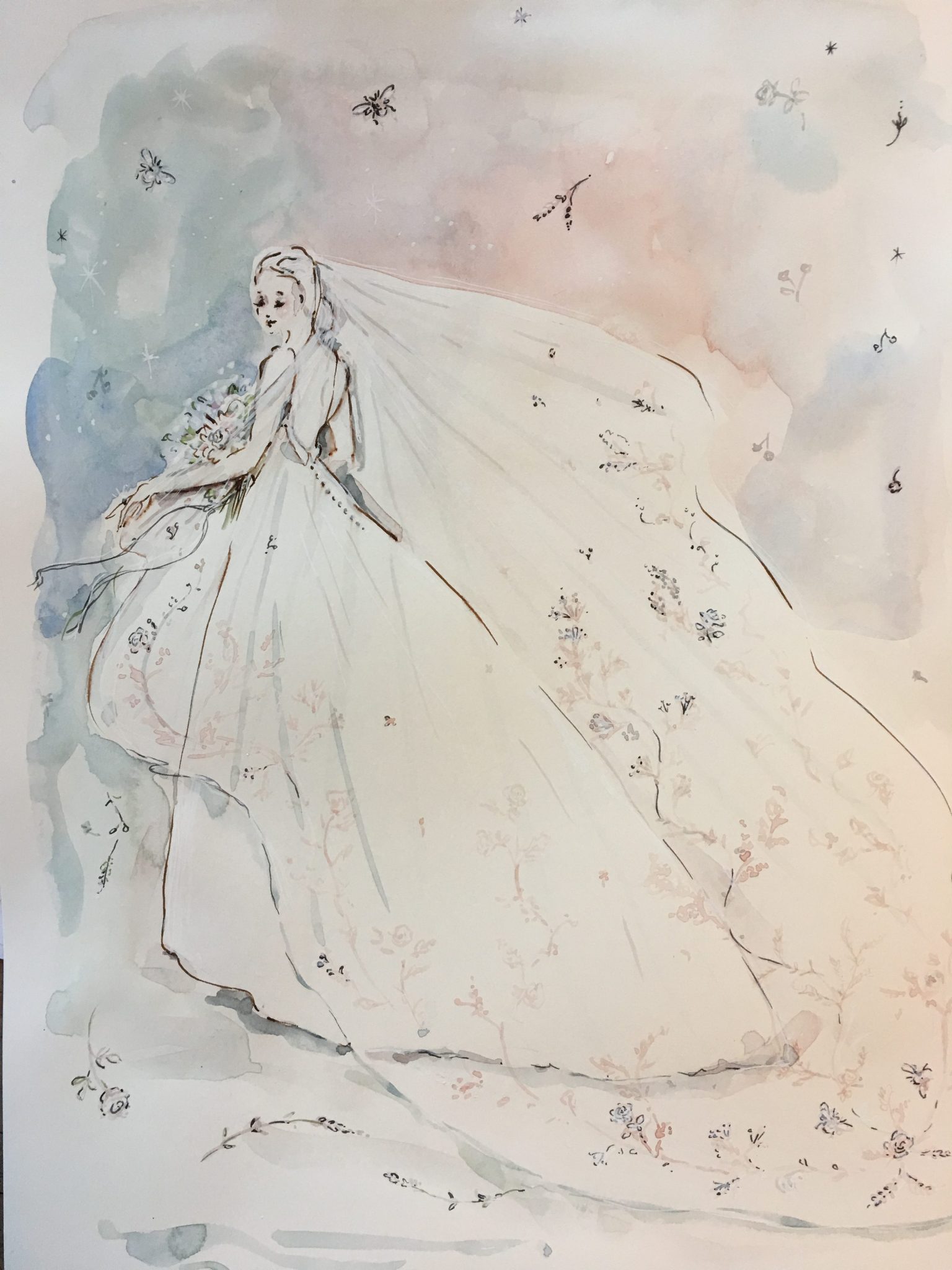 Susannah Garrod's Painting of Victoria Magrath's Wedding Dress
Phillipa commissioned her favourite fashion illustrator Susannah Garrod to paint a picture of Victoria in her couturewedding dress. She gave the picture to Victoria as a surprise at the final fitting.
WATCH THE VIDEO OF THE MAKING OF VICTORIA'S MAGRATH'S WEDDING DRESS:
Video by Kyle Galvin
Wedding photography by Rob Walker and Lyndsey Goddard
Phillipa Lepley is recognised globally as a leading British wedding dress and eveningwear designer, renowned for bespoke couture dresses of the utmost luxury. Her wedding dress shop in London, Chelsea, has over 50 dresses, all of which have been made in England from start to finish at her atelier.