An Exquisite, Hand-embroidered Floral Wedding Dress
"I first came across Phillipa Lepley on Instagram and was immediately drawn in by the elegance and femininity of the designs. I also loved the fact that they were made in England with such exquisite care." Jane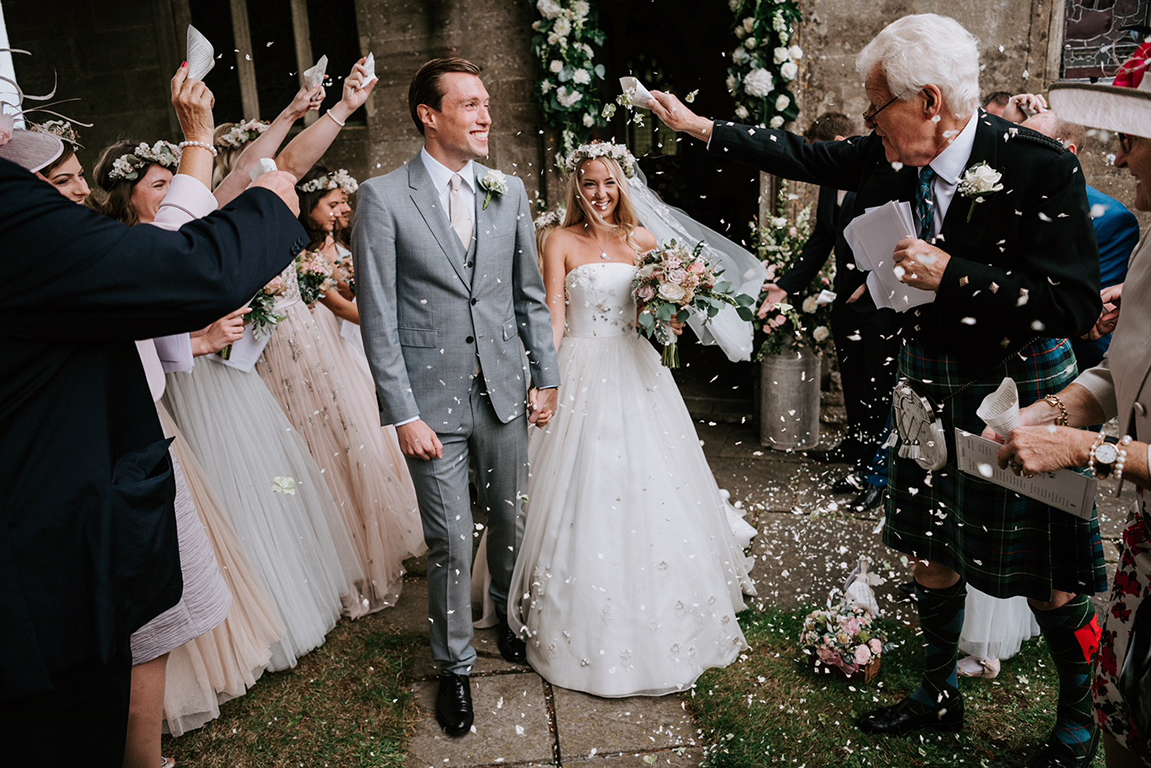 Like so many brides, when Jane began her wedding dress journey she thought she had a clear idea in her mind of what she was looking for, but in the end, the dress she chose was completely different. "I went into the Phillipa Lepley shop saying I wanted a simple, plain dress that was not off-the-shoulder because I thought that was something my mum and husband-to-be might like. I came out with a strapless organza creation covered in floral embroidery," Jane told us.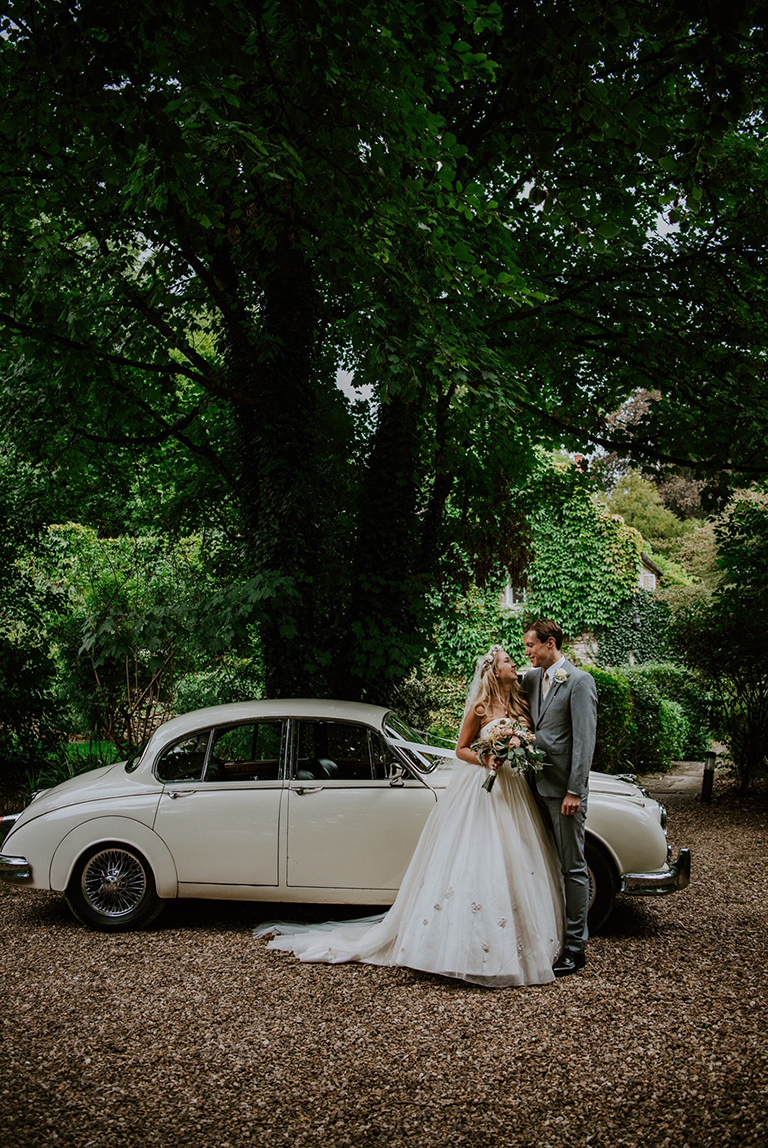 The bridal team at Phillipa Lepley, including fittings co-ordinator Laura, helped Jane try on a selection of dresses that she chose from our collection. "I'd had a good friend who had recently been married and felt depressed and overwhelmed by the entire wedding dress shopping process; she'd tried on hundreds of dresses and hated them all," Jane said.
"I felt slightly wary so did plenty of research into different wedding dress designers to make sure that I wasn't trudging round endless unsuitable shops. Initially I tried on anything that caught my eye, but Laura soon recognised the shapes and styles that I was drawn to and began collecting a narrower selection."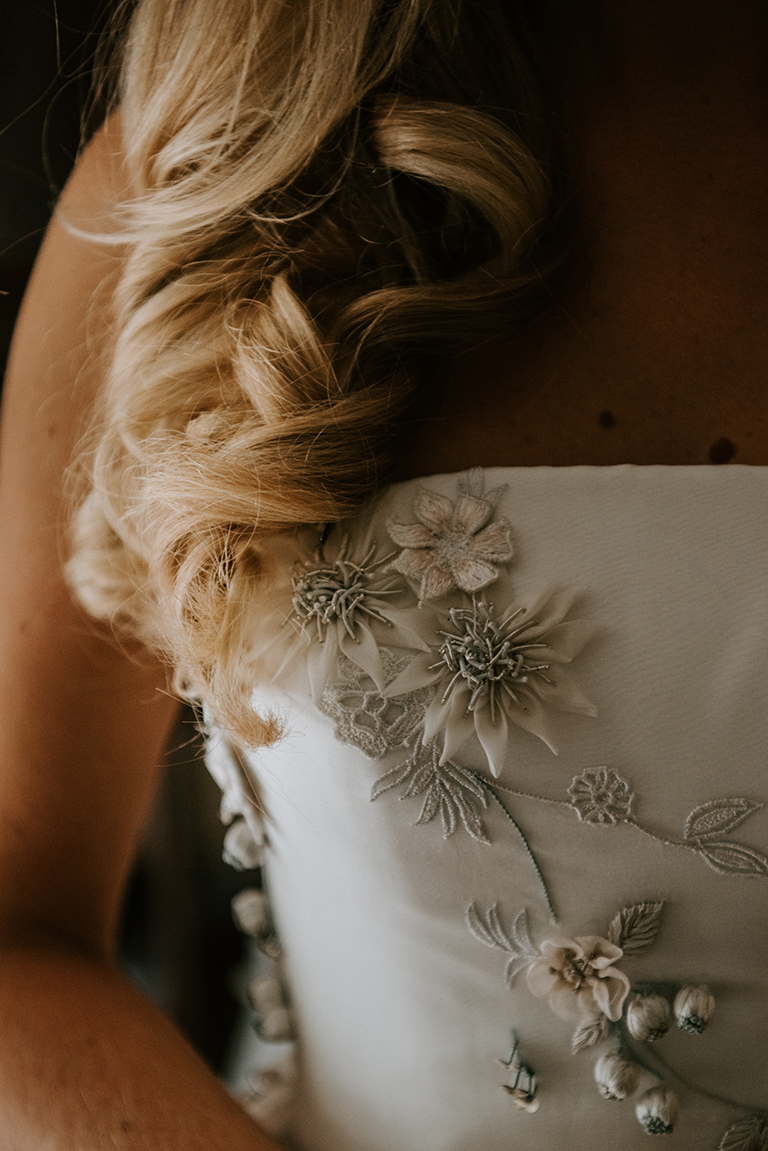 Jane fell in love with her wedding dress as soon as she saw it. "I always found it very difficult to picture what my wedding dress would look like. It was only when I saw the dress in the shop that it suddenly felt like I couldn't imagine wearing anything else," she said.
"I adored my dress from when I first saw it but I was concerned that everyone would think that it was overly fussy. Laura kept me focused on the fact that it was most important that I loved it, regardless of what anyone else might think."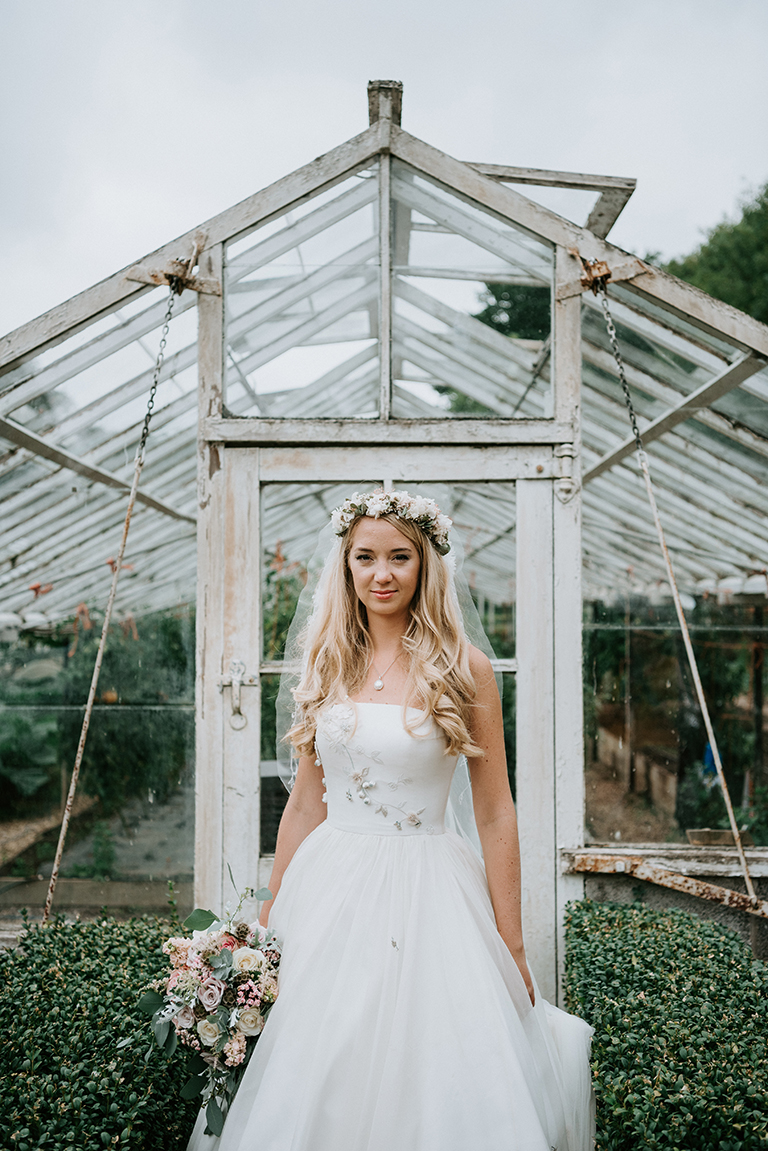 Jane's Phillipa Lepley dress had a corseted, strapless bodice and full skirt, which gathered at the waist for added volume. The silk organza overlay was hand-embroidered with our 'Dahlia Garden' coloured embroidery – a design that was meticulously planned and drawn out in our Chelsea studio before being hand-embroidered onto the silk organza.
Pale pinks, greens and metallic threads combined with 3D floral motifs spread organically up the hem of the dress and through the back of the train. Flowers moulded out of silk organza, satin stitch embroidered petals, round embroidered seed heads finished with French knots and gold trimmed delicate beads mounted on bugle beads create layers and levels to the embroidery. It is a celebration of different techniques. The embroidery trickled delicately over the bodice of the dress too – the amount and placement of which beautifully complemented Jane's petite frame.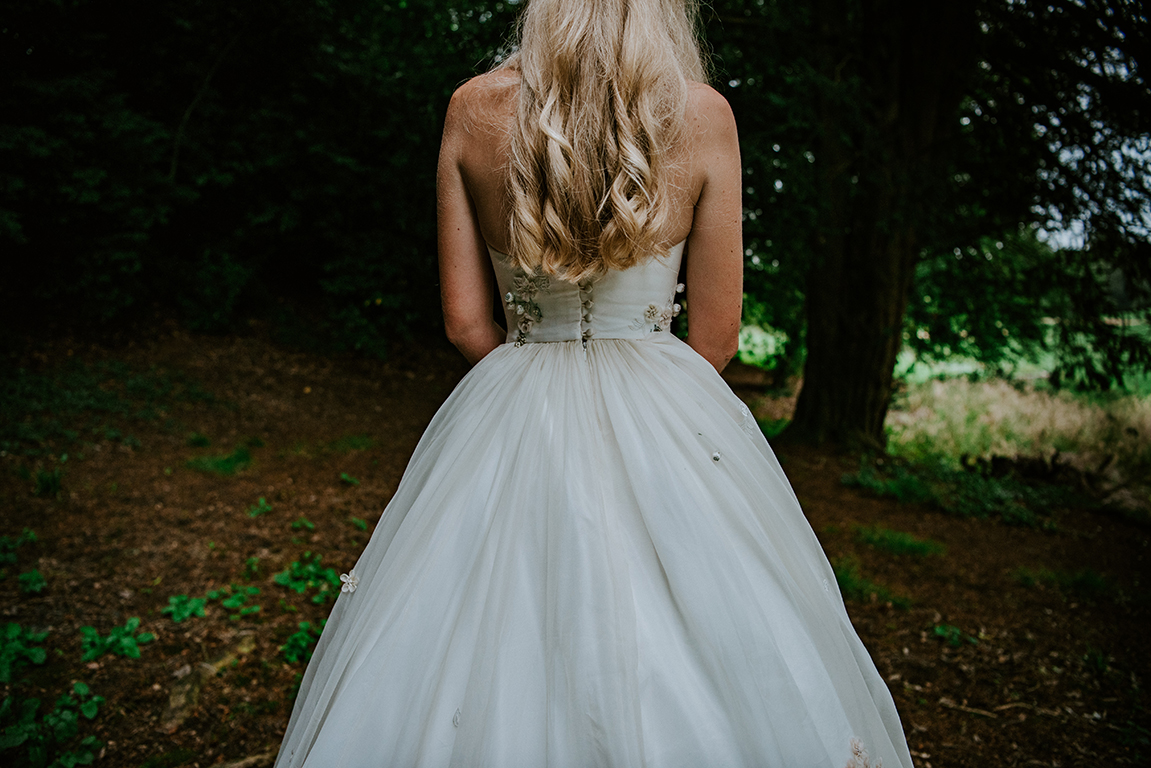 Jane needn't have worried about what other people thought of her wedding dress. Despite being emotional and nervous putting her dress on the big day she told us that "it was amazing seeing the looks on my bridesmaids' faces."
Her husband was just as astounded by her choice. "I can't lie – he looked nervous as hell when I walked down our tiny aisle. But he loved the dress and said he couldn't imagine me wearing anything else – everything about it was so me."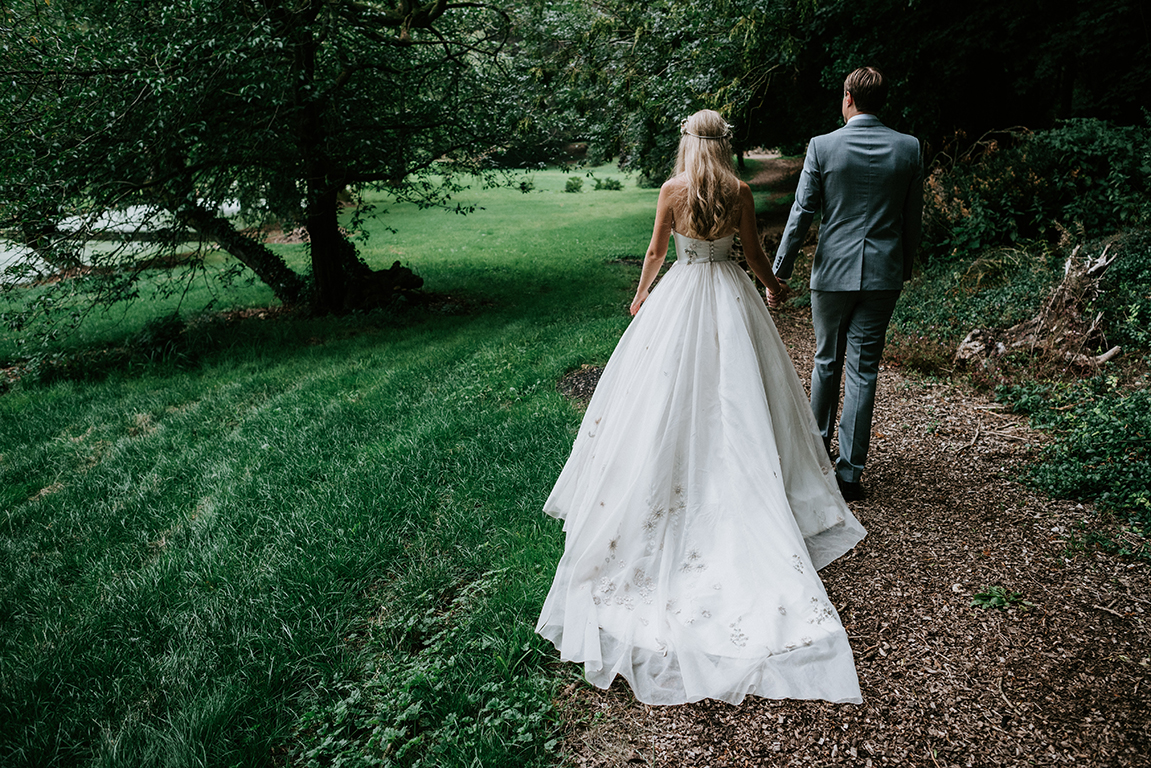 From her own experience choosing her wedding dress, Jane would now encourage all brides-to-be to "choose something that you love, not something that is necessarily in fashion or will fit a certain wedding 'look'."
She also shares her words of advice for how to really enjoy your wedding day. "Relax and just enjoy the day," she says. "Don't just see it as a series of tasks to complete whilst you are on display. I ate piles of food, played all the lawn games, danced to our band for hours, pulled faces in the photo booth and had an all-round incredibly fun and life-affirming time."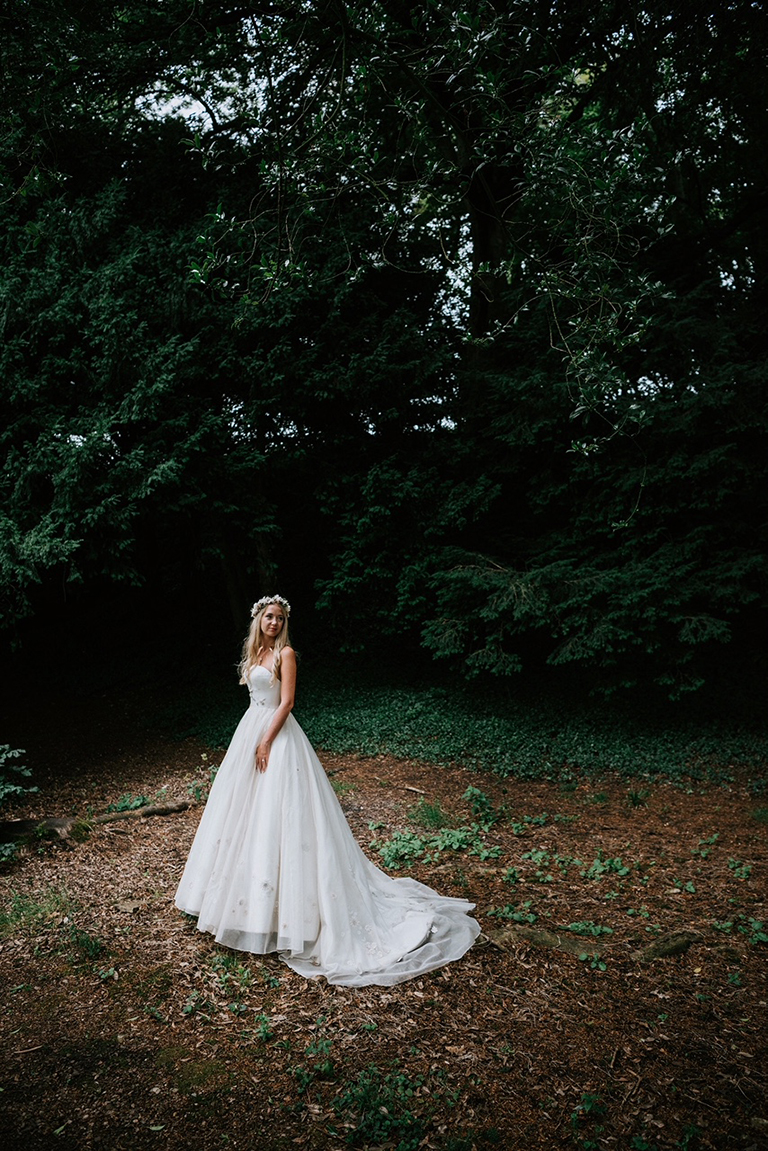 Phillipa Lepley is recognised globally as a leading British wedding dress and eveningwear designer, renowned for bespoke couture dresses of the utmost luxury. Her wedding dress shop in London, Chelsea, has over 50 dresses, all of which have been made in England from start to finish at her atelier.