Wedding Dresses With Hidden Sentimental Details
The creation of a Phillipa Lepley couture wedding dress is an exclusive and unique process. The attention to detail and personal service involved conjures an incredibly special connection for the bride to her wedding dress.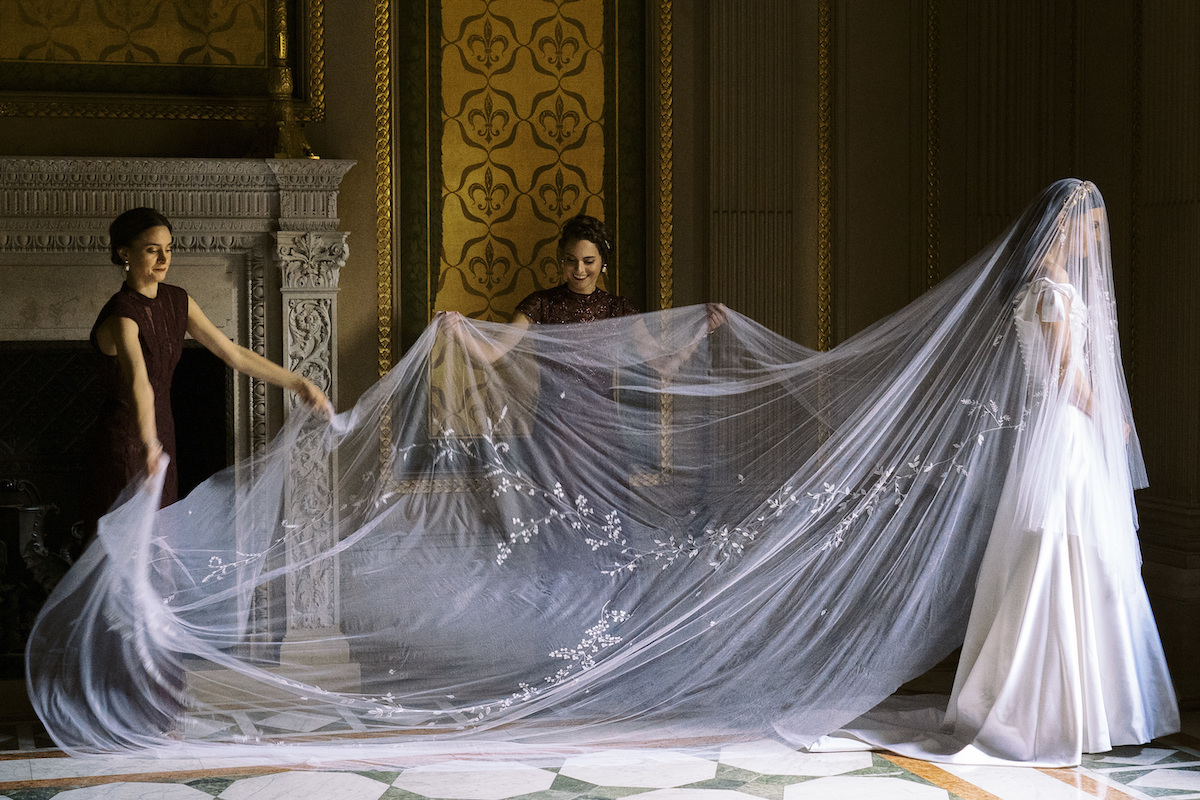 Photo by Joey Kennedy
As we all look towards the future and celebrating marriages with loved ones again, Phillipa Lepley's couture bridal service allows her clients the opportunity to include the most personal of touches within their wedding dress design – an embroidered initial, a small charm or a private message – considered, meaningful touches that will make the day's celebrations, and the memories created, all the more special.
A silk tulle veil, created in-house using the finest of French laces and embroidery techniques, can carry such meaning. Personalised with the bride and groom's wedding date and initials, or hand-embroidered with a family emblem, a Phillipa Lepley veil often serves to start a family tradition – creating an heirloom piece that can be handed through the family, passed down generations.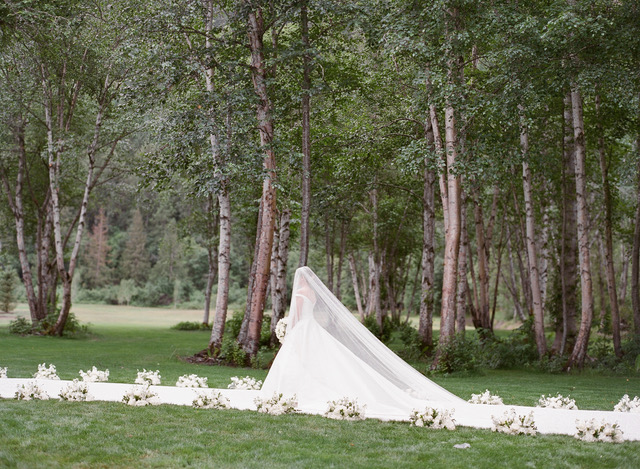 Photo by Blush Wed Photography
Bride Nina worked closely with Phillipa and the embroidery team to create a veil that told the story of her and her husband's marriage. Nina chose flowers that "represented things such as love and respect which really helped symbolise our feelings surrounding the marriage". No detail was overlooked in the creation of her completely bespoke veil – a final personal note was a pair of dog paws incorporated into the embroidery – their shape replicated exactly from the prints of her beloved dog who had sadly passed away the year before.
The team at Phillipa Lepley can work directly with brides to develop their own personal detail on their veil whether that be monogrammed initials or a wedding crest, or characters illustrated to tell a story of family. These personal details will be brought to life with hours upon hours of skilled work and planning from the Chelsea atelier's 'petit mains' and treasured for years to come.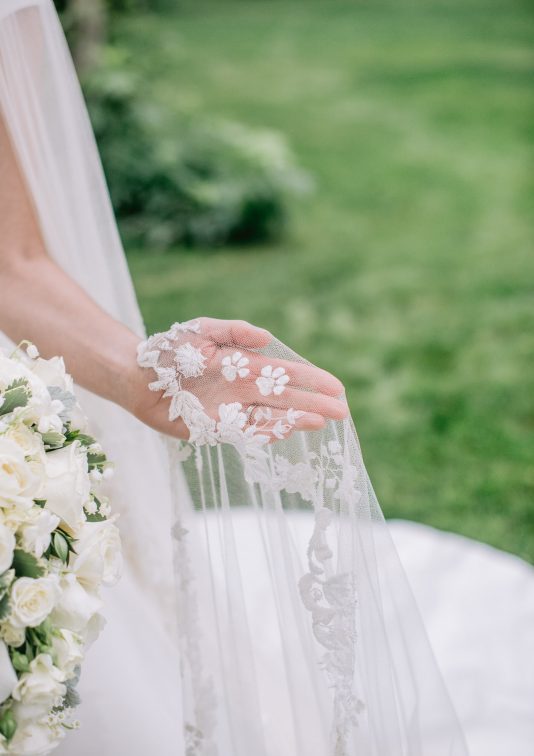 Photo by Blush Wed Photography
For another bridal wear client, her French lace trimmed veil carried such special and fond memories from her wedding day, she has chosen to drape it over the crib of her new-born baby, where it will start to take on more new, wonderful memories.
Personal detailing can also be included within the wedding dress itself – whether that be a bride's favourite flowers being incorporated into the embroidery, the design of a significant piece of jewellery serving as the inspiration for the placement of an embellished overlay or the name of a loved one stitched into the linings of the skirts.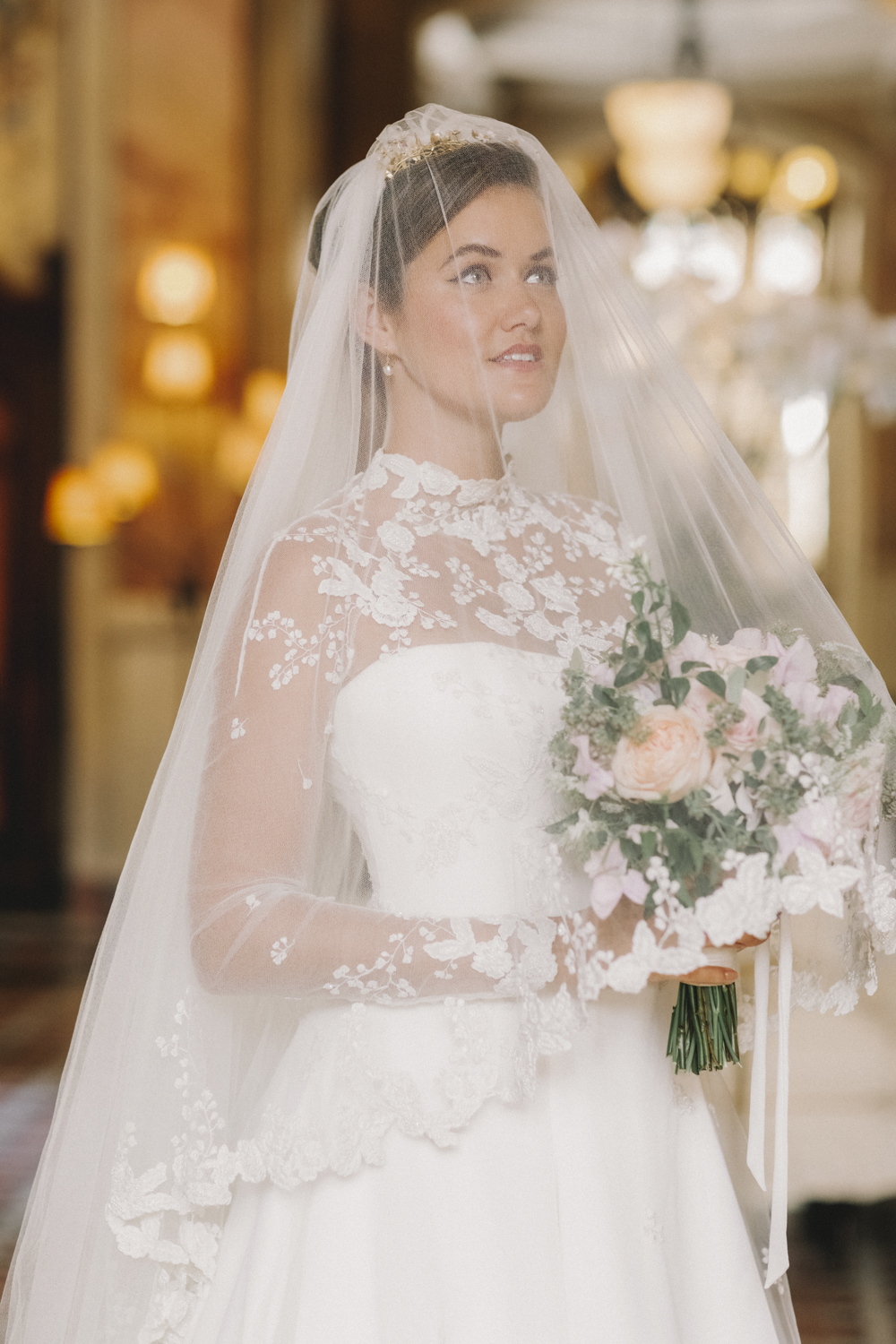 Photo by Rosie The Londoner
Many brides choose a much more hidden way to add personal detail to their couture wedding dress: a small item of jewellery from a loved one could be captured within a silk organza case hidden inside the dress; fabrics from a mother or grandmother's wedding dress could be stitched into the lining of a pocket or nestled within the layers of petticoat skirts. A private way to remember a family member and feel they are with you on the day.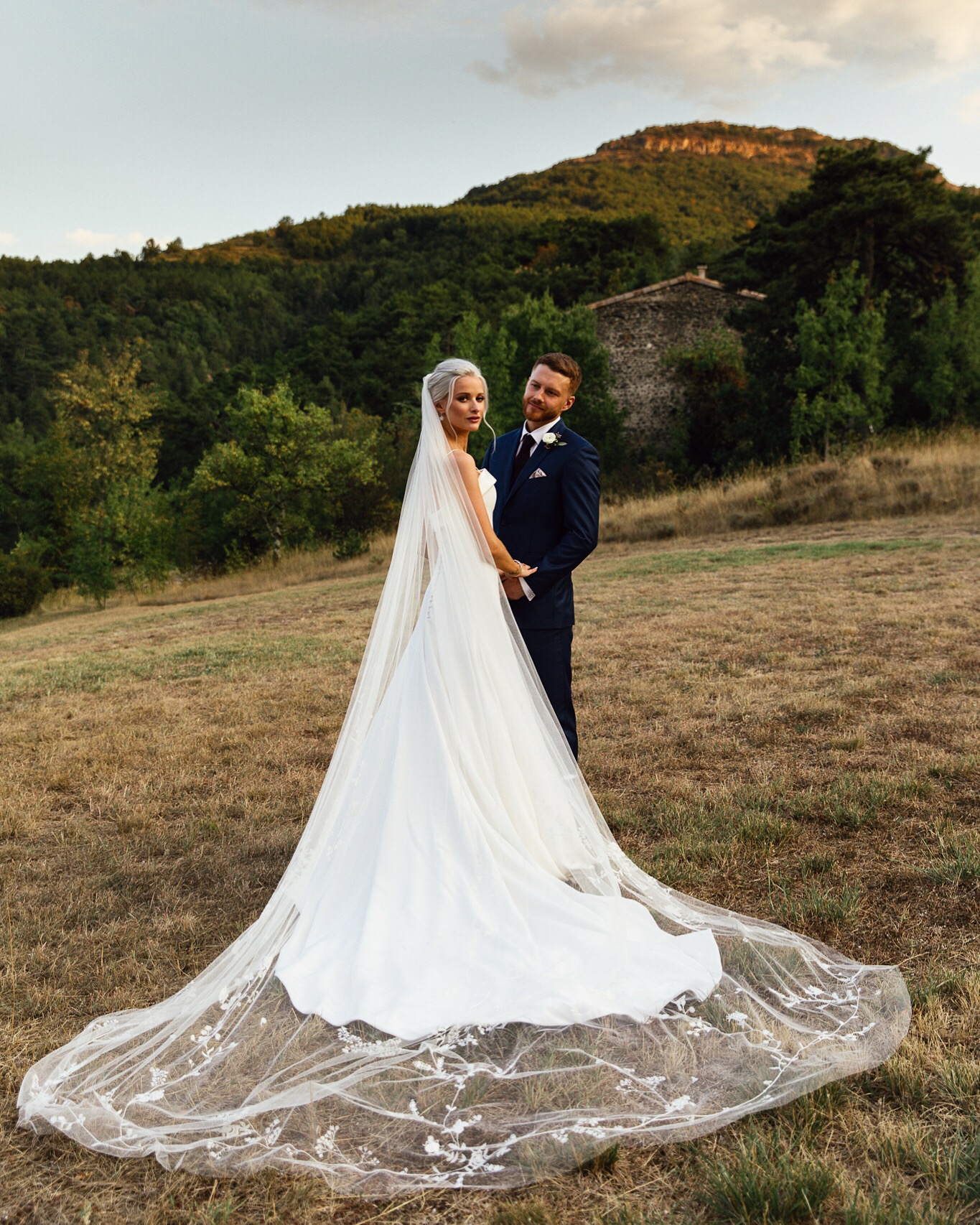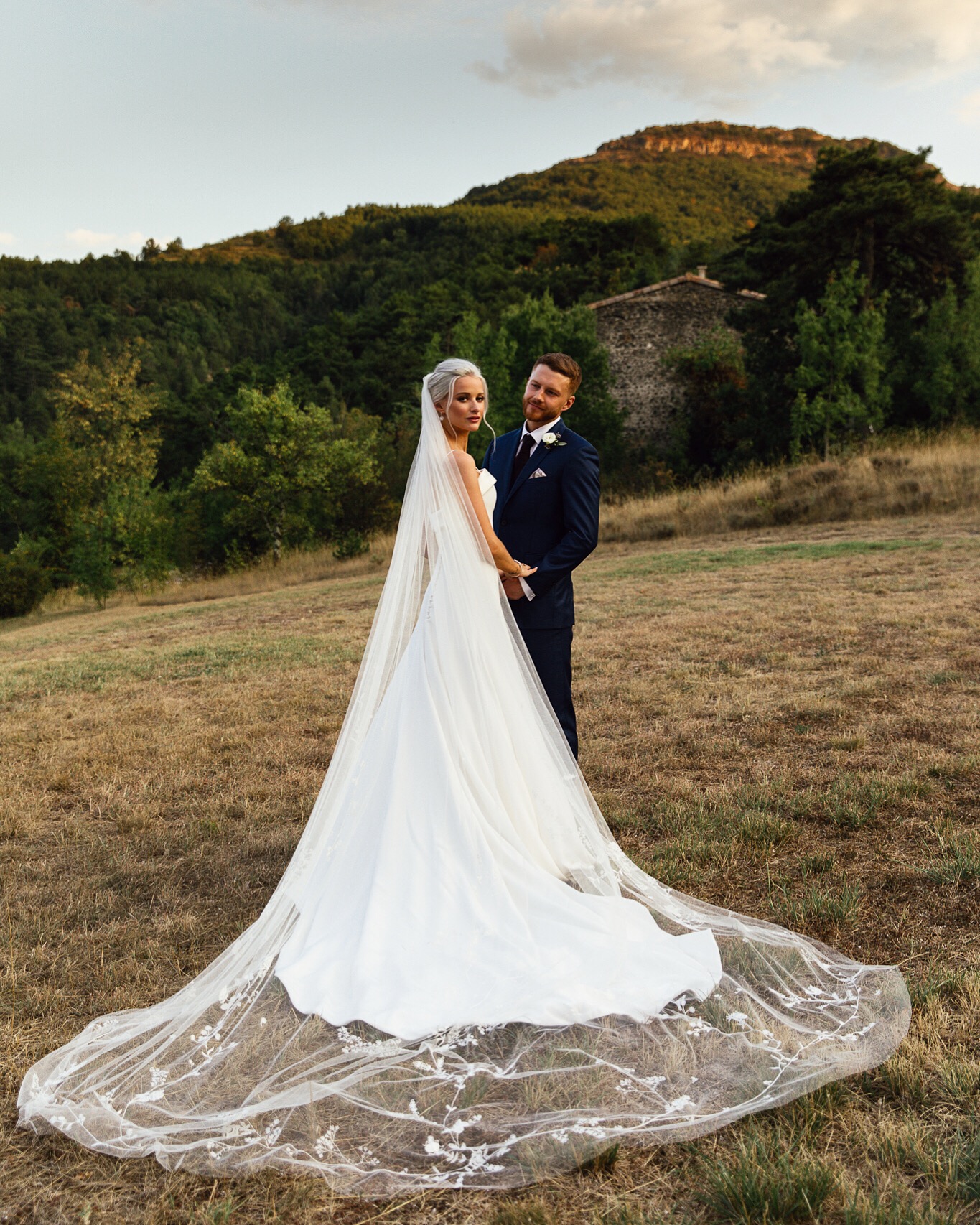 Photo by Lyndsey Goddard
For In The Frow's Victoria Magrath, both her dress and veil were created with meaningful elements that Victoria chose herself – hidden details that carried personal meaning for her. For her hand embroidered silk tulle veil, as well as a selection of her favourite flowers, Victoria chose to incorporate two small bees as a nod to her and her husband's Manchester roots.
For her evening dress, our in-house embellishment team created a bespoke design – incorporating her and her husband's initials – 'V' and 'A' – into the decadent beading at the back closure of her bodice. These touches were subtle, considered details that elevated the special and personal feel of both her bridal looks.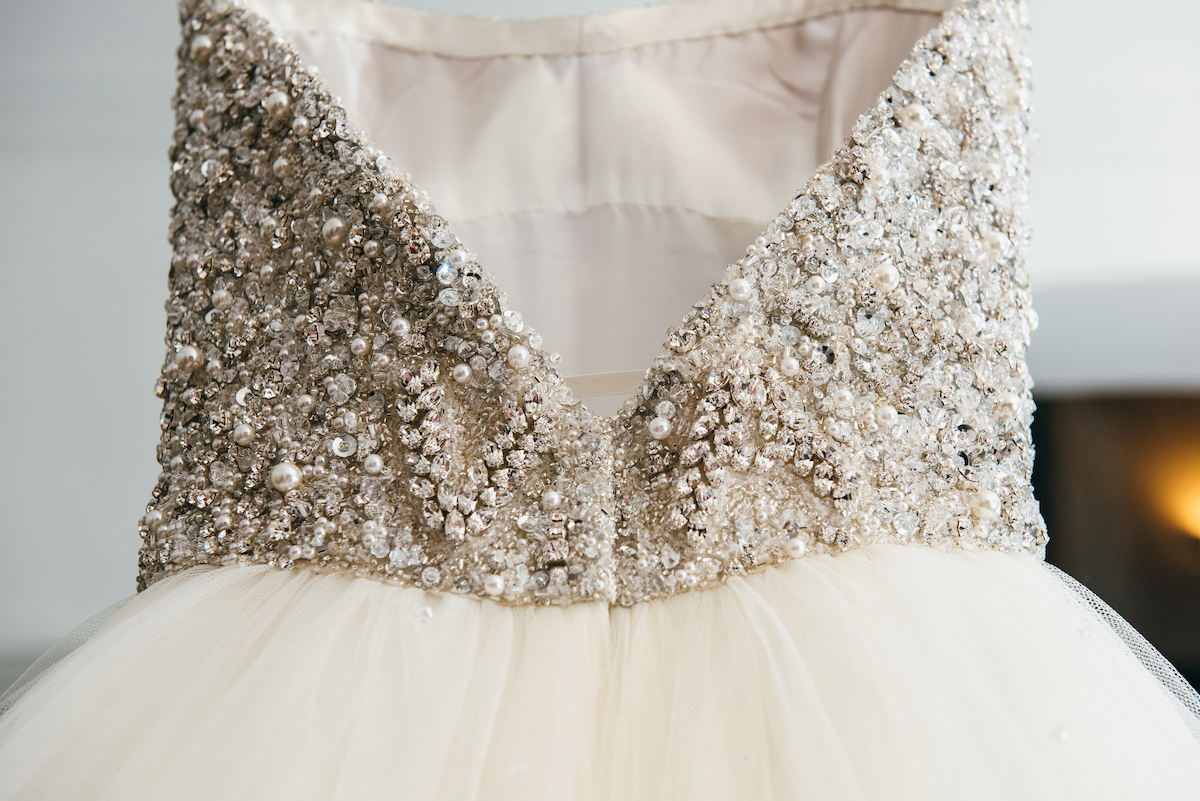 The journey of creating a couture Phillipa Lepley wedding dress is in itself a magical process to savour and treasure, but with the unrivalled skill and ingenuity of Phillipa Lepley's specialist team, bespoke and personal designs can be brought to life, culminating in impeccably crafted wedding dresses that will carry memories for years to come.
Phillipa Lepley is recognised globally as a leading British wedding dress and eveningwear designer, renowned for bespoke couture dresses of the utmost luxury. Her wedding dress shop in London, Chelsea, has over 50 dresses, all of which have been made in England from start to finish at her atelier.