New 2020 Couture Bridal Collection
"Every collection excites me more and more as my team create legendary works of art and completely unique pieces." Phillipa Lepley
Phillipa Lepley's newest couture wedding dress collection features a selection of bridal gowns each one more show-stopping and stunning than the other. Created out of the finest floaty chiffon, richest duchess satin and lightest silk organza, the couture gowns highlight beautifully the unparalleled skill that goes into creating each of the couture wedding dresses.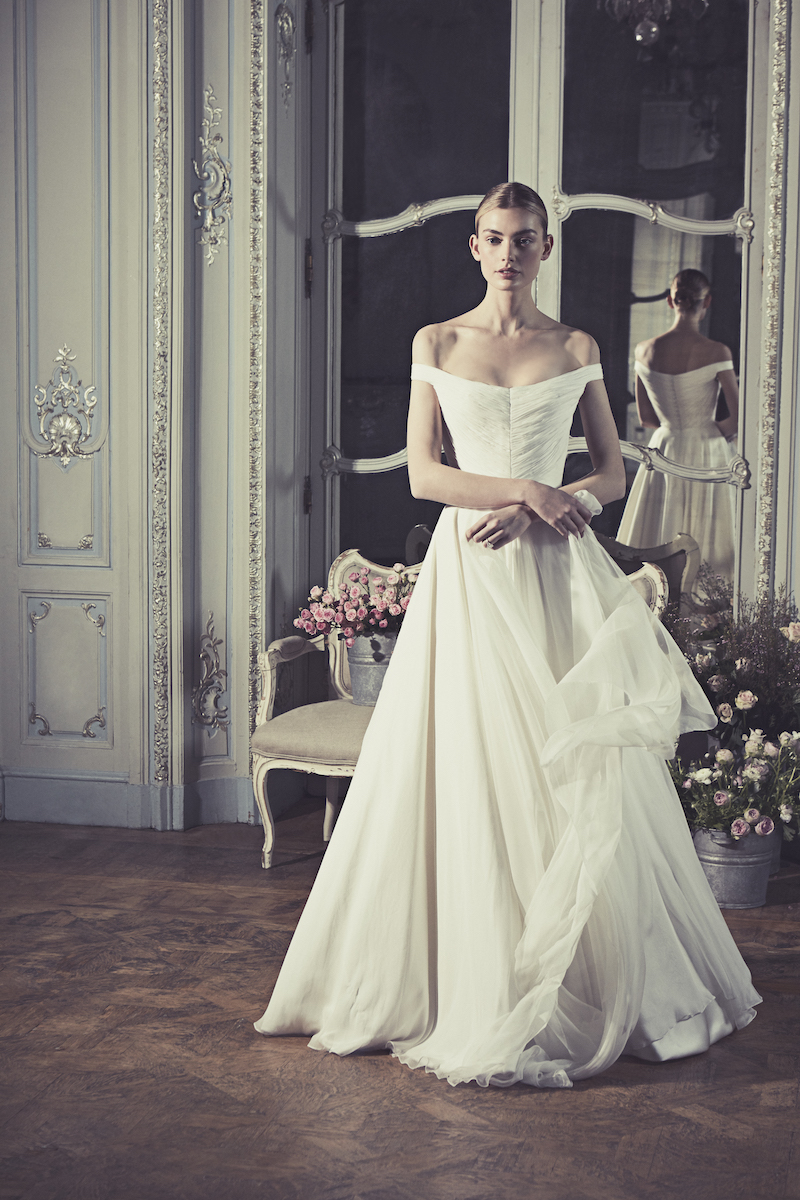 This collection features a number of classic, timeless wedding dresses where the designs have often been inspired by the simple beauty of the fabric. While some use sleek, clean fabrics such as duchess satin and silk organza, others reflect Phillipa's love of meticulous embellishment and hand-embroidery with impressive all-over, symmetrical decoration.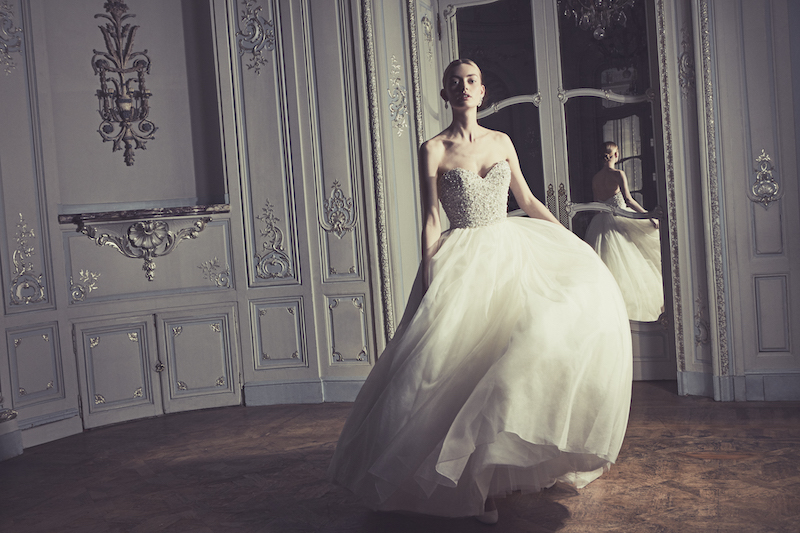 The level of craftsmanship that has gone into creating this collection is evident in the seamless, bias cut dresses and impeccably skilled drapery, as well as the more elaborately embellished dresses. There are classic, full-skirted ivory wedding gowns where the satin or silk speaks for itself, as well as bolder colours, such as a stunning turquoise gown. While the incredible embellished designs include a bodice completely covered in vintage diamante crystals and clever French knots encrusted with tiny pearls, hidden in embroidered flowers.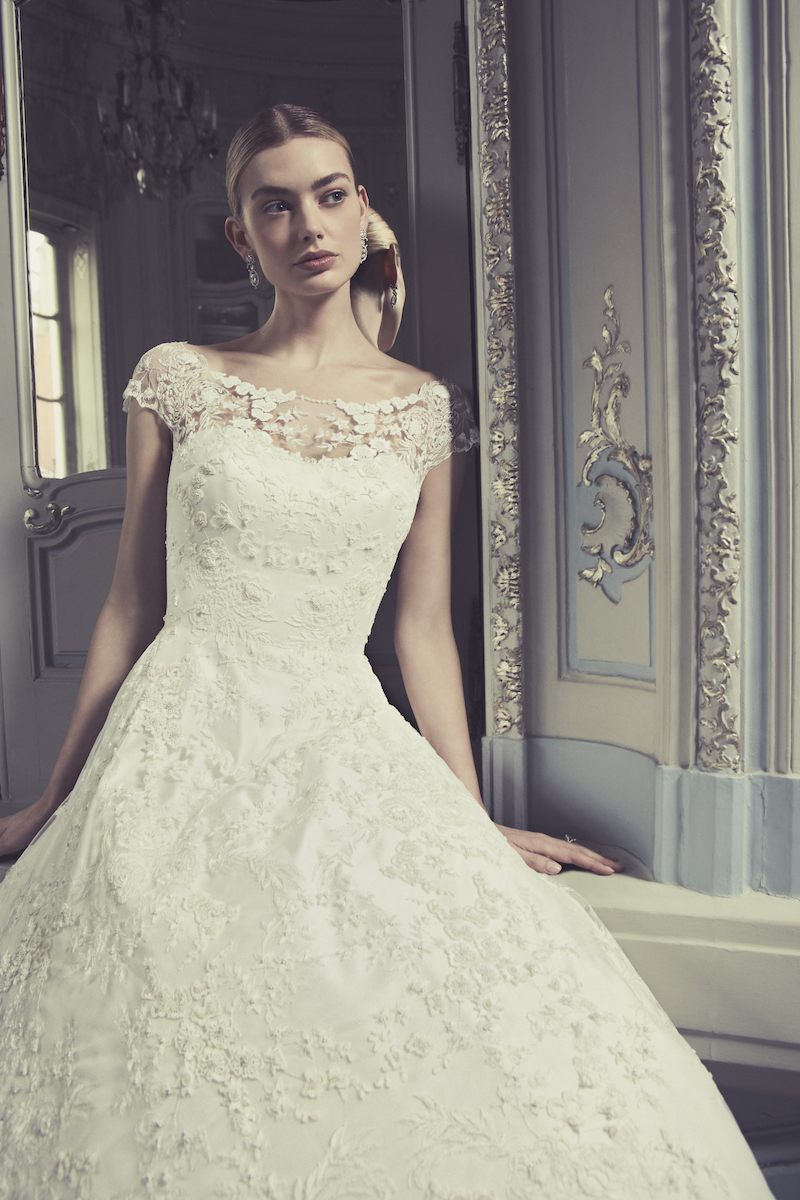 Phillipa says "Every collection excites me more and more as my team creates legendary works of art and completely unique pieces. Our hand-embellishment gets more and more refined and beautiful and our clean dresses more immaculate. This collection is so varied – each piece is a character in its own right, which suits the variety of clients and weddings we are creating for."
Despite each dress being individual in its design, there is a strong sense of elegance and feminine grace running through this wedding dress collection, shown through incredible attention to detail and romantic touches. Strong designs are softened with hand-tied bows or exquisite beaded embellishments. All are perfectly proportioned and created from start to finish for each bride in the Chelsea atelier.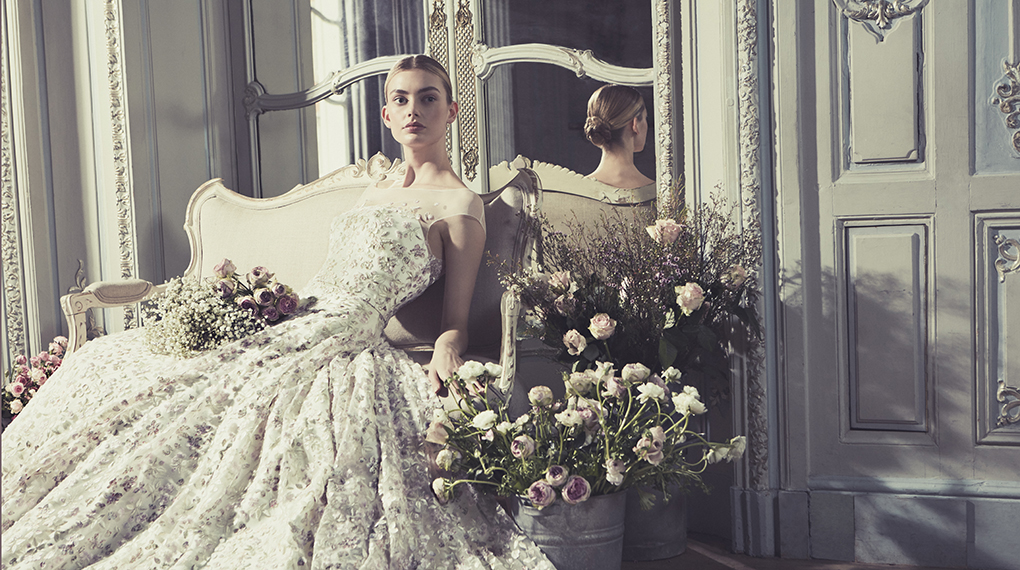 "I'm delighted that we've added to the previous collection's dusty pink themes along with the soft hues of Swiss embroideries that weave their way through this new collection," says Phillipa.
A perfect example of this is Vienna Pale Fairytale, a romantic pink wedding dress for a bride looking for a less-traditional choice for her wedding. Phillipa says: "I just fell in love with this shade of pink."
The completely unique couture dress is made from a beautiful slipper satin base and strapless bodice, with an exclusive, Swiss embroidered pink floral tulle overlay that brings movement to the design. Pink, ivory and silver floral embroidery cascades down the dress, which is completed with a sheer scoop neck, cap sleeves and dramatic train.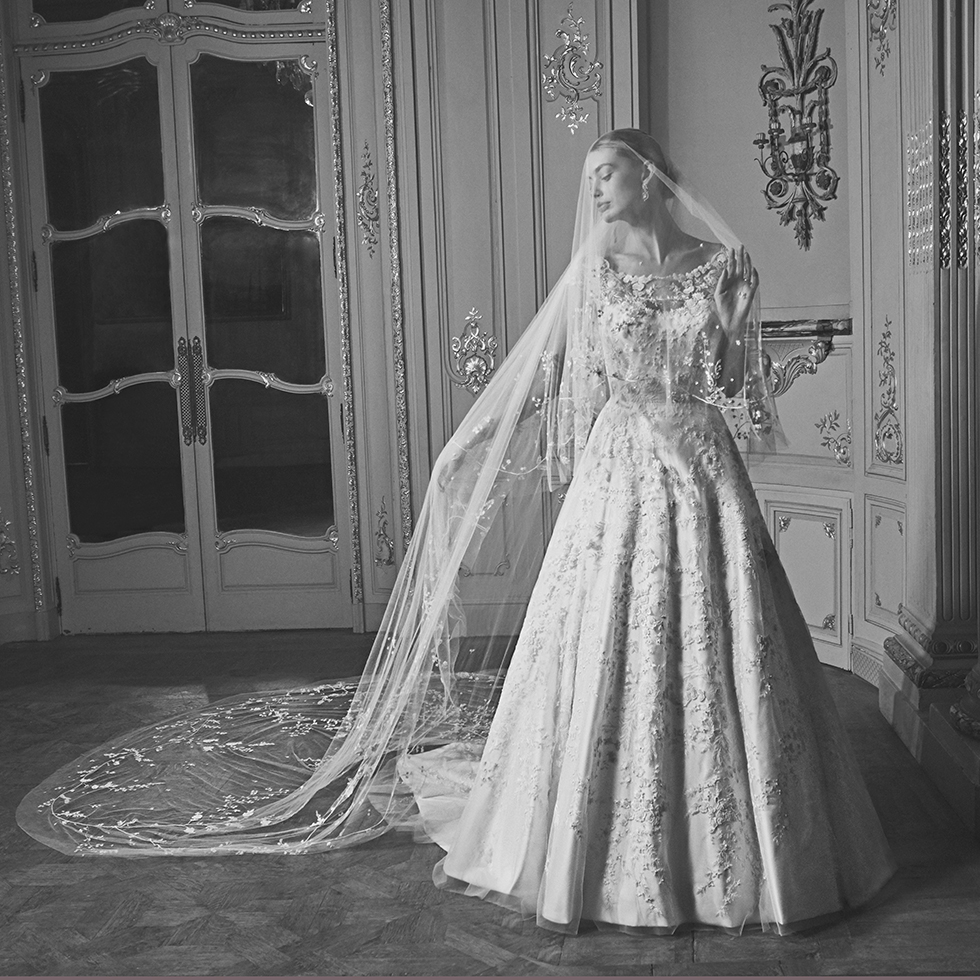 Similarly, Marielle Magnolia Peonies, one of Phillipa's favourites in this collection, depicts extensive floral hand-embroideries in a stunning, unique, symmetrical design. Extensive work went into sampling each flower, meticulously placing it onto a paper design before the atelier sewed it onto the tulle. The magnolias and peonies are made up of gorgeous French knots, beautiful and subtle and made from a combination of shimmery pearls and matt beads. The neckline, sleeves and hem are finished with a tiny floral edging on one layer of the sheer tulle. The classic fit-for-a-queen dress and its accompanying veil is a stand-out piece among the collection.
Contrasting to this intricate embroidery is Vienna Decollate Bow, a clean, gorgeous duchess satin dress, which speaks for itself. The timeless, feminine design is incredibly regal and shows off the very clever techniques used to craft a bias cut dress with no seams and fabulous drapery that falls around the bride's body perfectly.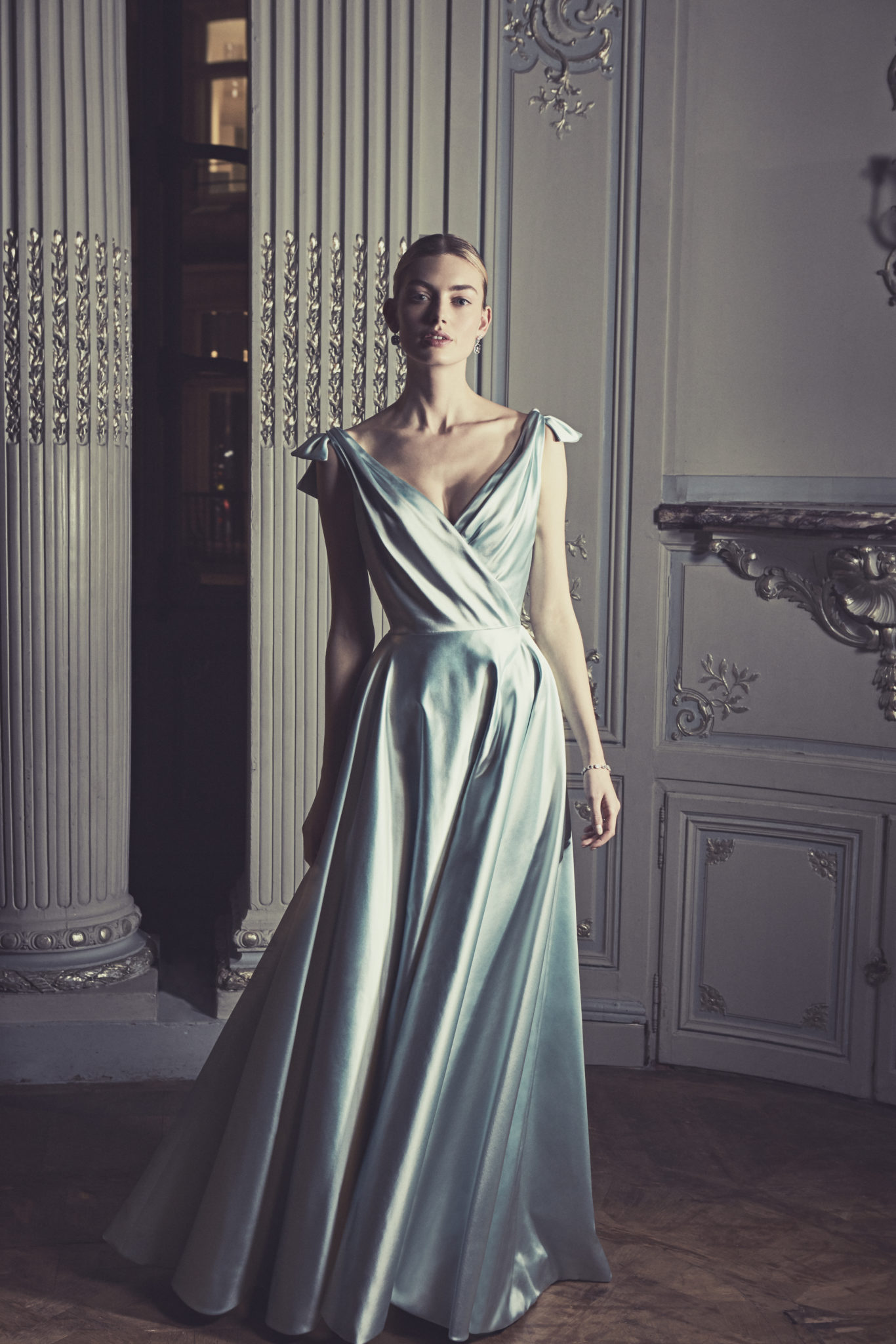 In the same way, the exquisite bias cut Vienna Crossover Turquoise uses only one piece of heavenly turquoise bias satin that has been moulded over the bodice in a cross-over design, flowing into Phillipa's signature shoulder bows, creating a bodice and skirt with side seams only and an effortless look.
Long-sleeves are a particular feature of this couture wedding dress collection. Found in the pristinely-moulded Cornelia Satin Coat, a slightly fifties inspired heavy-weight duchess satin coat dress with a gorgeous tie back – another of Phillipa's signature designs – and 'crumpled collar', which is held in place with swing catches and finished neatly with band button holes.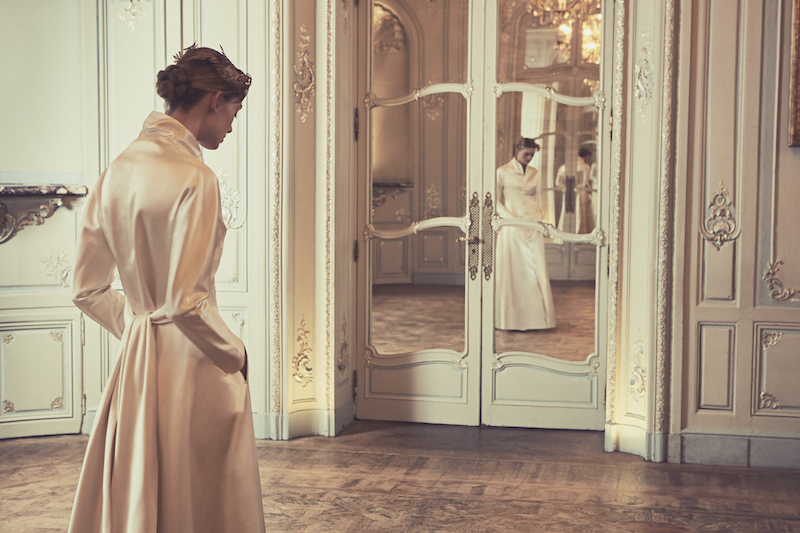 Likewise, long sleeves add to the drama of Auteuil Crepe, a panelled, seamless, bias cut dress with no corset, deep plunging v back and bateau neckline. While the big, billowing sleeves of Vienna Wisteria Organza, a hand-painted, printed silk organza dress, with a crunchy full skirt are incredibly romantic.
Finally, a touch of glamour and sparkle is brought into the collection through the abundance of hand-embroidered vintage crystals which are used in two stunning dresses. The top of Selina Sparkle Organza is covered tiny, tiny beads before flowing out into a huge, full-skirted organza silk skirt that gathers at the waist, while Claudette Rocks, a soft empire line, crepe dress with a chiffon overlay features a stunning, thin slither of vintage encrusted diamante crystals just across the bust creating a completely striking effect.
Phillipa Lepley is recognised globally as a leading British wedding dress and eveningwear designer, renowned for bespoke couture dresses of the utmost luxury. Her wedding dress shop in London, Chelsea, has over 50 dresses, all of which have been made in England from start to finish at her atelier.