Phillipa Lepley's New Couture Wedding Dress Collection
Phillipa Lepley's new couture wedding dress collection features floaty tulle, slipper satin and silk brocade bridal dresses, many of which have been daintily embellished displaying unparalleled artistry
There are sleek and full-skirted classic ivory wedding gowns and a number of bolder coloured and patterned bridal dresses, all of which are the epitome of elegance. Highlighting wedding dress designer Phillipa's love of fine embellishments and showcasing her skill in creating wedding dresses that are perfectly proportioned, they are all created from start to finish for each bride in the Chelsea atelier.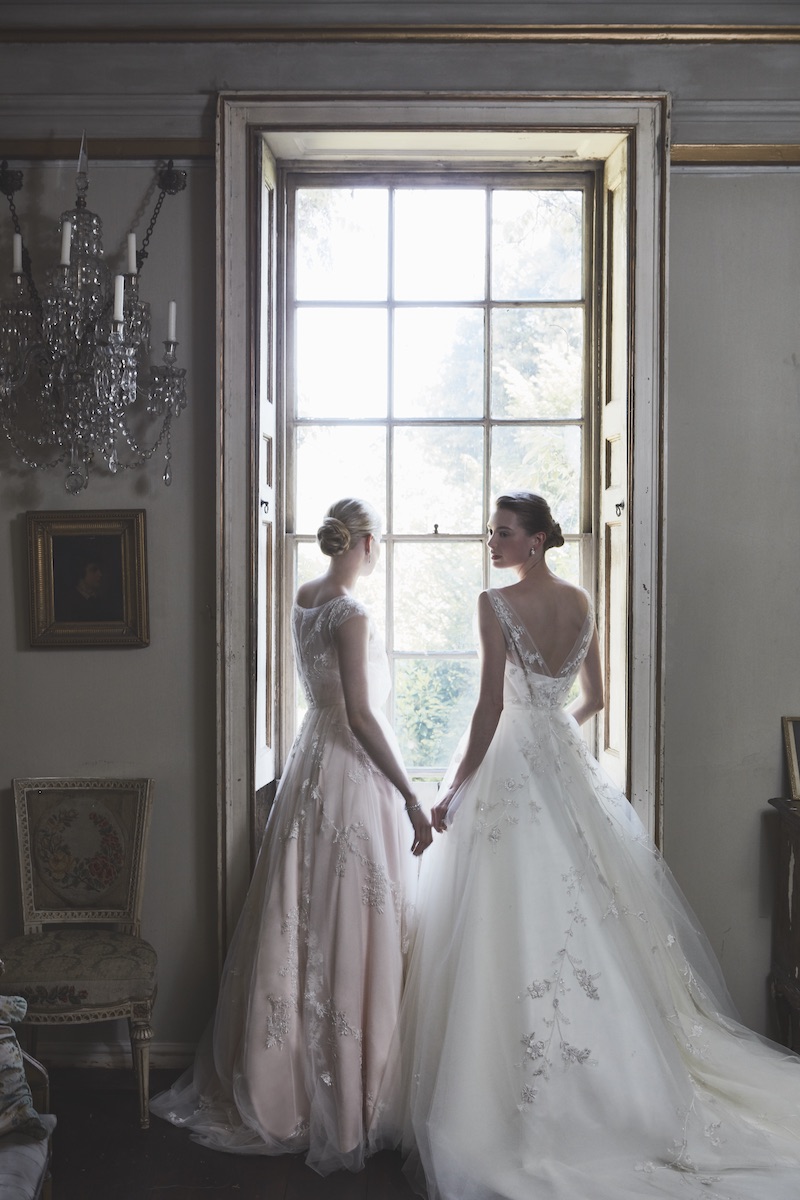 The flowers incorporated in to many of the designs this season are bigger and more prominent than in previous wedding dress collections. This is reflective of Phillipa's growing love for the countryside and her new garden, and in particular wildflowers she has grown such as cowslip, meadow buttercups, wild carrot, cornflowers, oxeye daisies and wild red clover.
Phillipa says, "I am so thrilled with the new collection, within which there are so many incredibly varied bespoke dresses. Each one is totally unique, yet they are all so feminine and charming in their own way. I have really pushed the boundaries in terms of technique in the making of this collection – the craftsmanship is exceptional, and the quality of fabrics is second to none.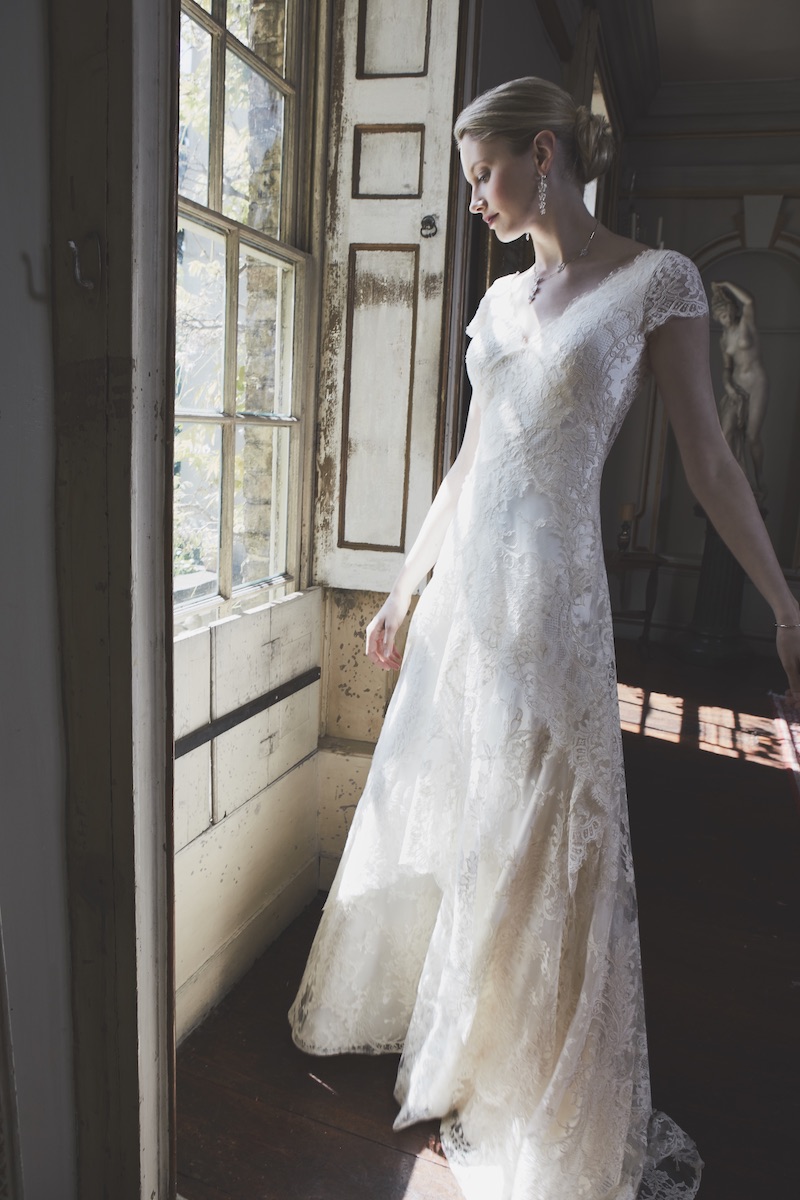 Some of the new dresses are incredibly fresh and quite simple, and some are more elaborate both in terms of colour, shape and embellishments… There is definitely a 'Debutante ball gown' theme running through, with a classic underlying tone of pure sophistication. Simple clean shapes are often softened with super feminine little hand tied bows as their only detail.
I have worked exceptionally hard, with my talented team, to re-create the beautiful, inspiring scenes around me at home in the English countryside. We have spent hours and hours painstakingly creating exquisite embroideries incorporating specific flowers that make my heart sing!"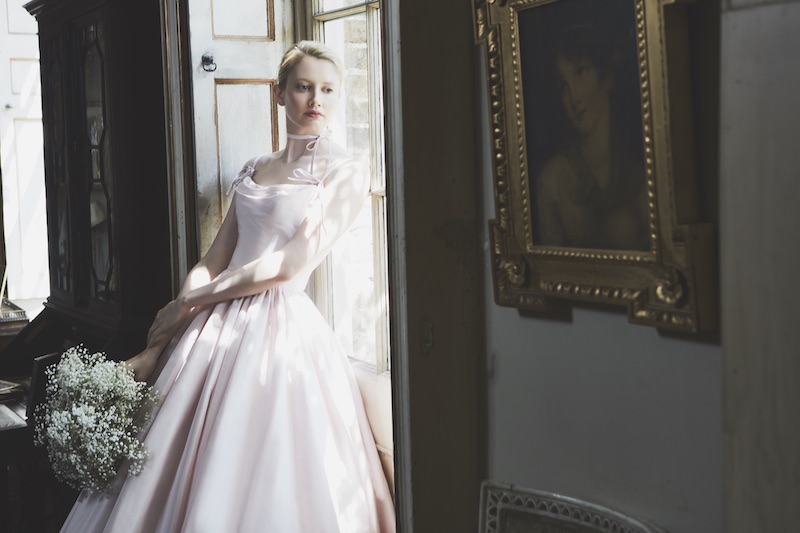 A noticeably stand-out favourite of Phillipa's is 'Toulouse Pink Taffetta', which is a stunning sugared almonds pearly pink, full-skirted dress with the prettiest hand-tied straps and bows at the bust. Whilst the colour choice makes this a memorable option, it is incredibly soft and airy, lifting the bride without overpowering.
A similar shade of pink has been used underneath an embroidered tulle overlay in 'Persephone Pink Honeysuckle'. The pink underlayer is muted by the soft tulle layers draped over the top, neatly belted and hand-tied with bows at the waist. An abundance of hand-embroidered crystals and tiny bright white beads are hand worked throughout the top tulle layer and are highlighted cleverly with the soft pink underlay. The unique symmetrical floral beaded design flows over the whole gown, enriched with Phillipa's flowers of the season.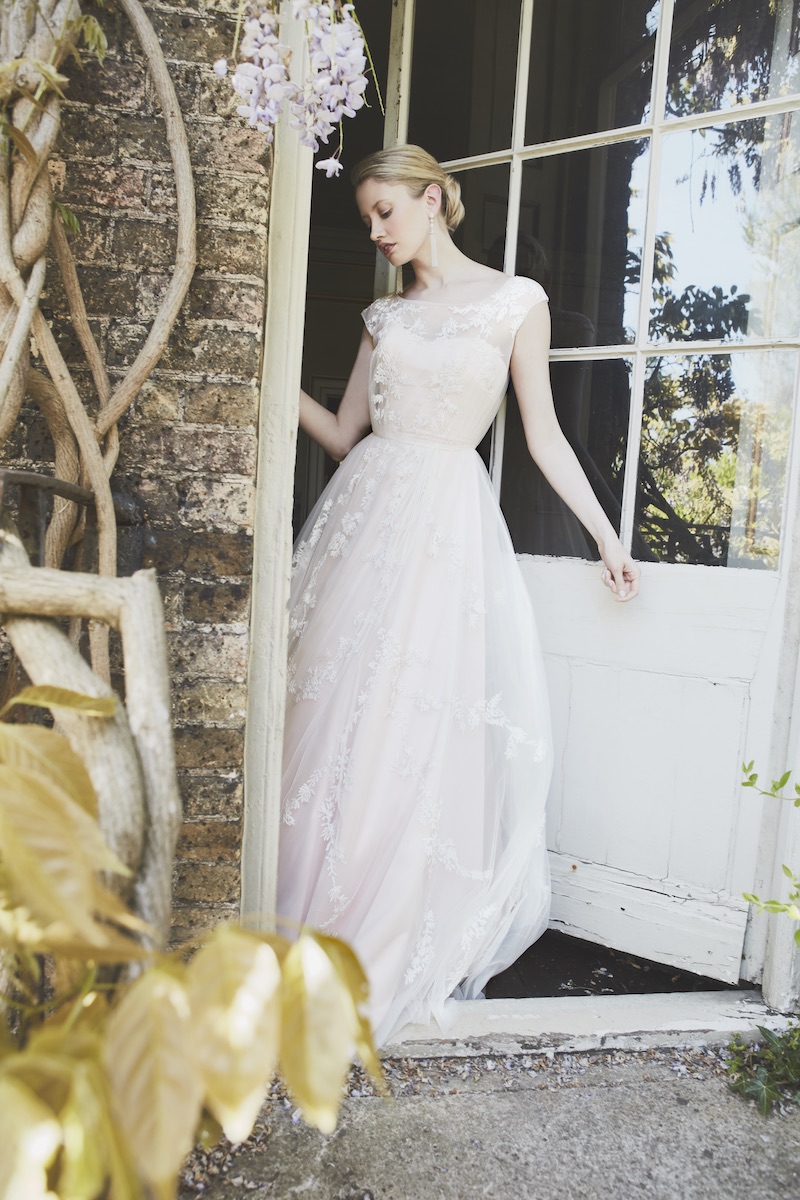 In the same way, embroidered tulle has been draped over a classic, clean balletic corseted bodice in 'Frothy Flowers'. The extensive floral hand embroideries on this dress, and in an accompanying veil, were inspired by the flowers Phillipa has cultivated in a new wildflower meadow at home. Extensive work went in to sampling each flower, to ensure it is the perfect most beautiful depiction before work could begin on bridal gown. The tulle beautifully transcends into a low V at the back, with the flowers showing incredibly over the bride's skin.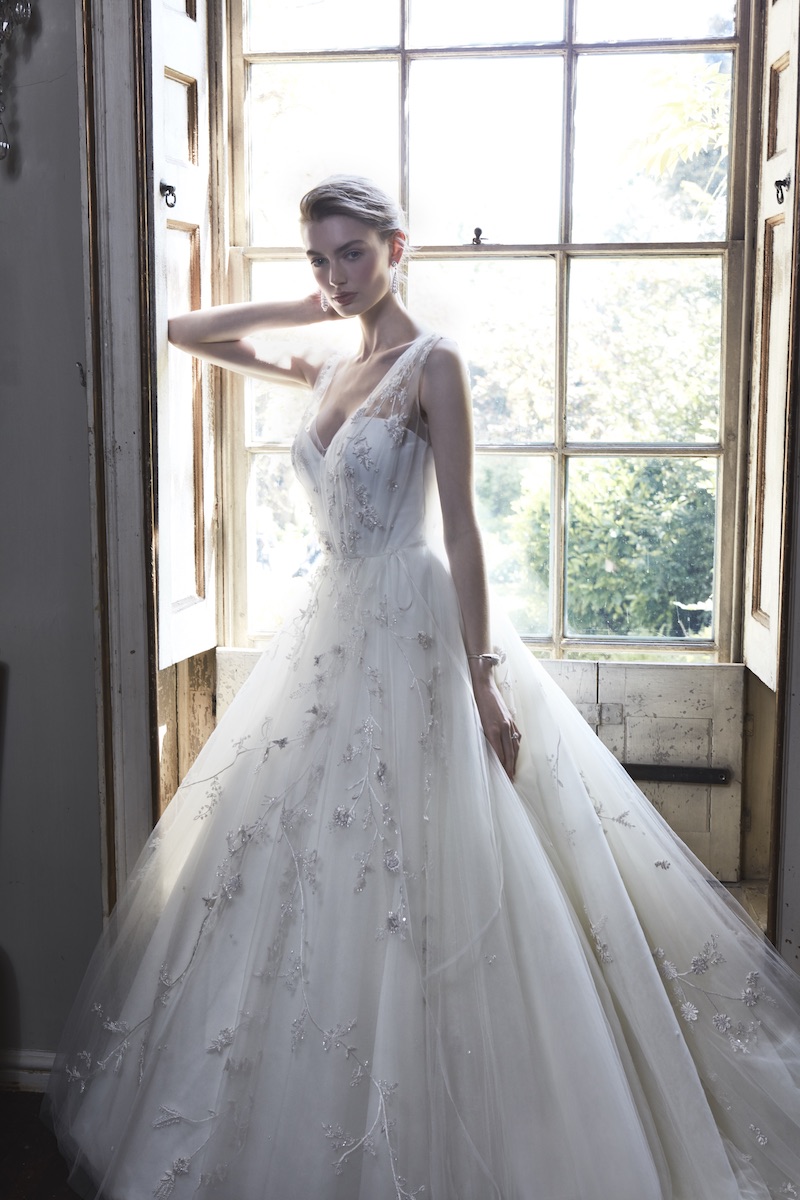 Clean Duchesse satin dresses hold their shape perfectly, looking edible and chic. Phillipa believes Duchesse satin is made for sculpting, and the bodice has been perfectly moulded in 'Venice Low Shoulder Bow' to show off the female form exceptionally. The skill showcased here is very clever use of one piece of bias satin, that has been moulded over the bodice flowing into the shoulder bows, creating a bodice with no seams and an effortless timeless piece.
Phillipa has also worked with British brocades from Suffolk for the first time, as seen in 'Toulouse Suffolk Brocade'. The brocade has been woven in to a pretty geometric design, and again finished with elegant, hand-tied straps at the rear of the bodice.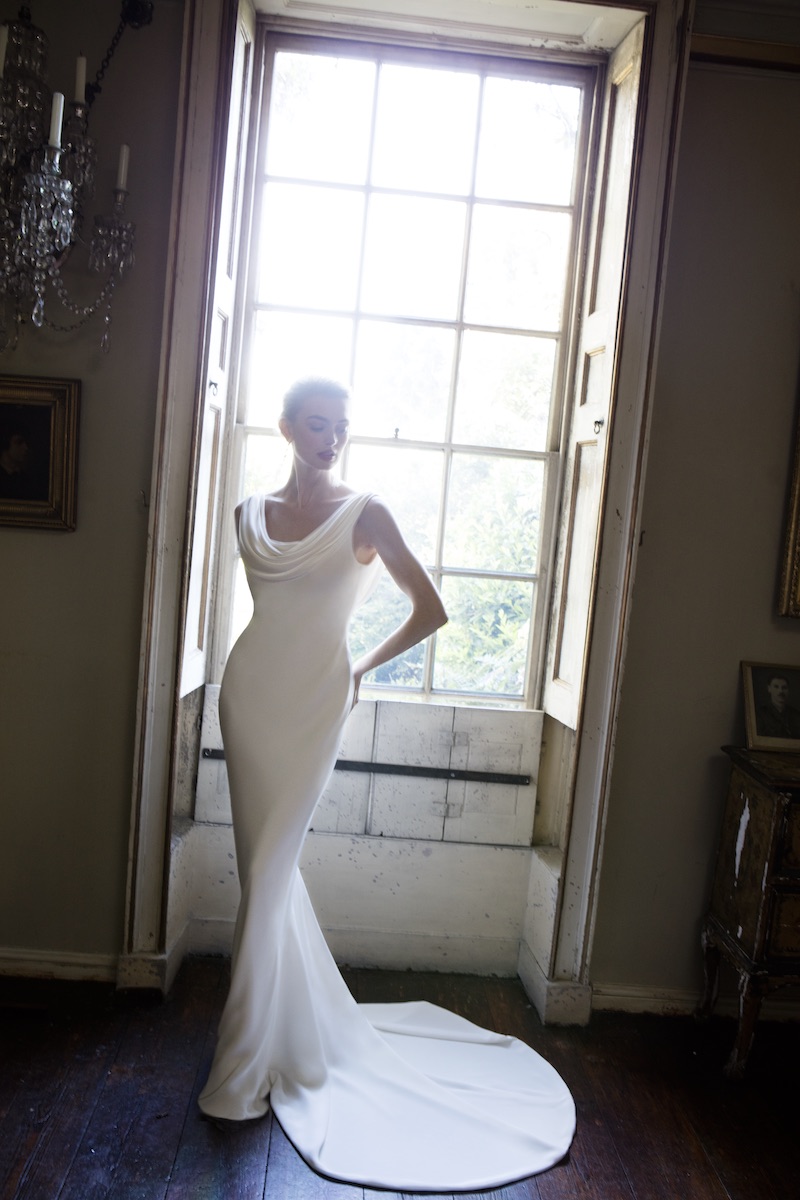 Finally, 'Chausson' is a pristinely-simple double lined Slipper satin 1920's style wedding dress with elegant drapes of fabric drawing the eye to the neck and face. Demure yet slinky, it is made from the most luxuriously soft satin that 'just lays' on the body and flatters the figure, talking magically to a woman's curves.
Phillipa Lepley is recognised globally as a leading British wedding dress and eveningwear designer, renowned for bespoke couture dresses of the utmost luxury. Her wedding dress shop in London, Chelsea, has over 50 dresses, all of which have been made in England from start to finish at her atelier.