The Meadow Corset And Skirt
Inspired by the picturesque meadow garden she grows at home, Phillipa designed The Meadow Corset and Skirt to showcase her favourite wildflowers and unite her passion for gardening with her love of fine hand-embellishment.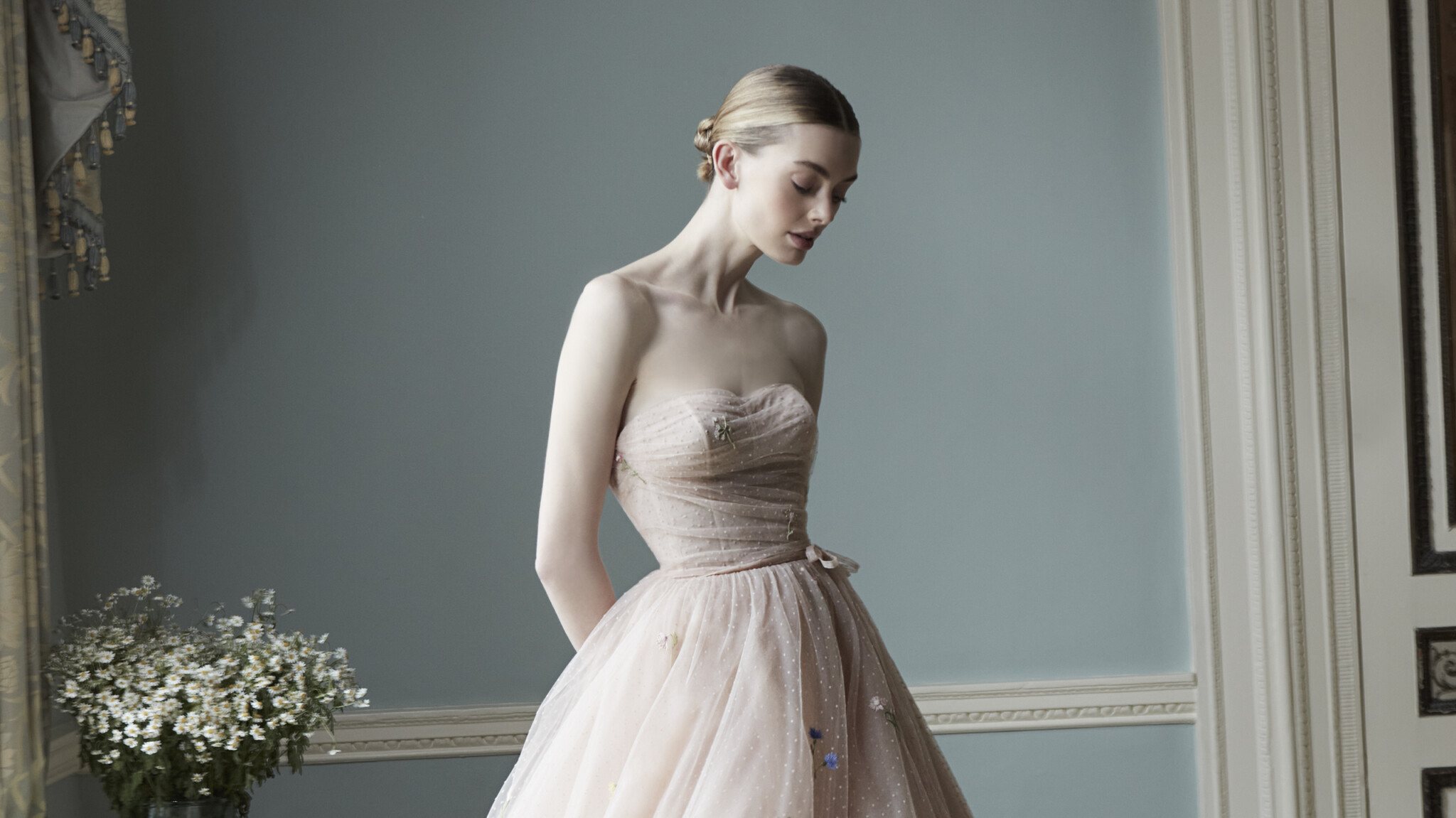 Phillipa Lepley is renowned for state-of-the-art corsetry, and pushing the boundaries further still, The Meadow Corset incorporates a fresh approach to the world re-knowned Phillipa Lepley corset. Inspired by the 1950s feminine silhouette and using a specialist 'bobbinet tulle,' an incredible lightweight yet defining foundation has been created for this showstopping gown. Lined bust cups and a softly moulded bodice establish a flawless silhouette and a natural lightness simultaneously. Draped over the bodice is a spot tulle used throughout the dress, creating wispy folds to achieve a delicate, ethereal and deceptively effortless look.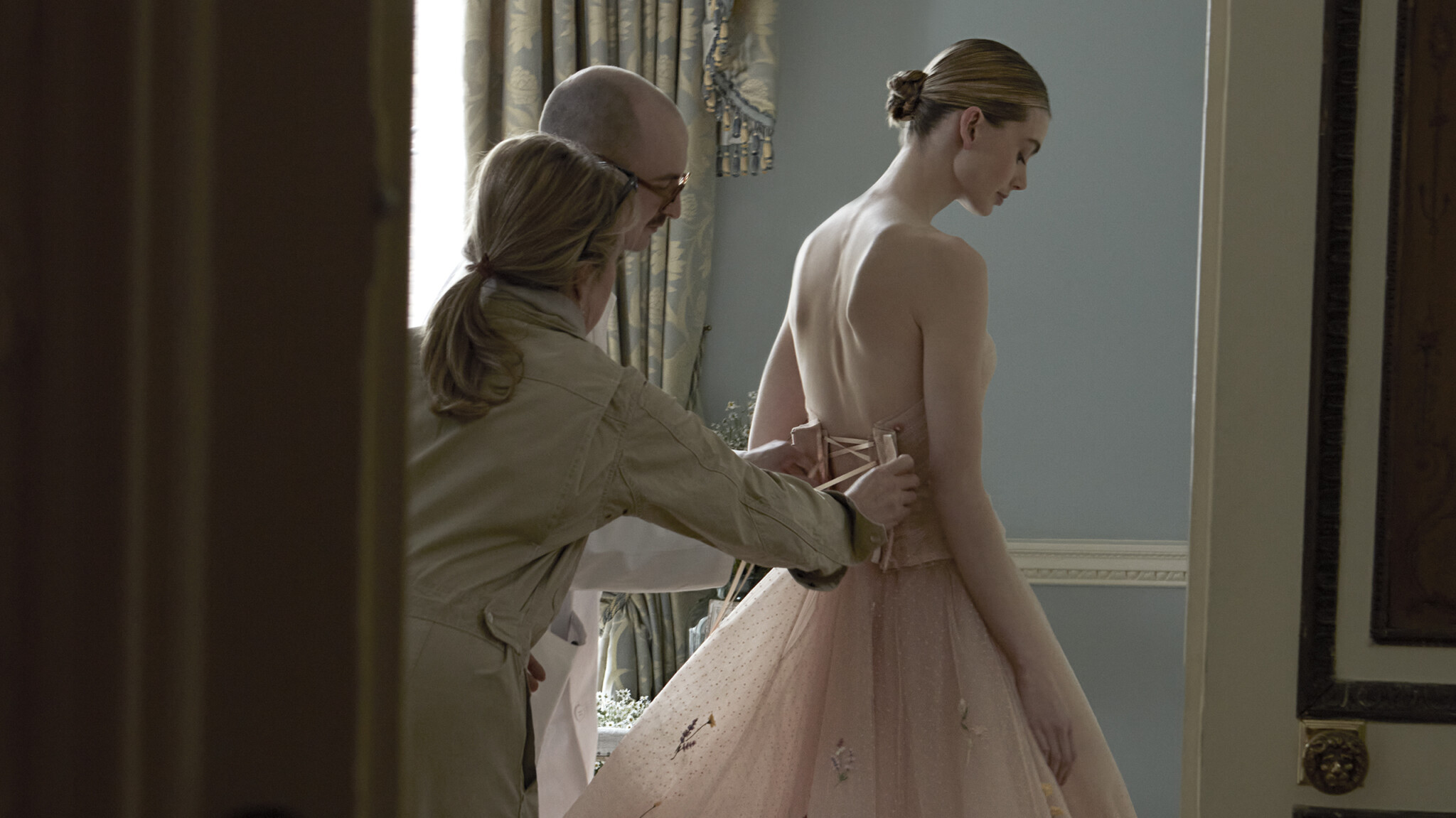 Phillipa has perfected the art of incorporating the voluminous 'ballgown' shape into her avant-garde designs, and the construction of the The Meadow Skirt highlights the cutting-edge craftsmanship of her specialist artisan team. Layer upon layer of tulle in a variety of pinks and natural colours creates an extraordinary volume and blends almost miraculously to establish a refined, balletic dusky pink. Each layer is staggered at the seamless waistline to ensure a defined centre point before descending into layers of alternating circular and gathered tulle, resulting in the most enchanting sense of movement and showcasing impeccable modern artistry.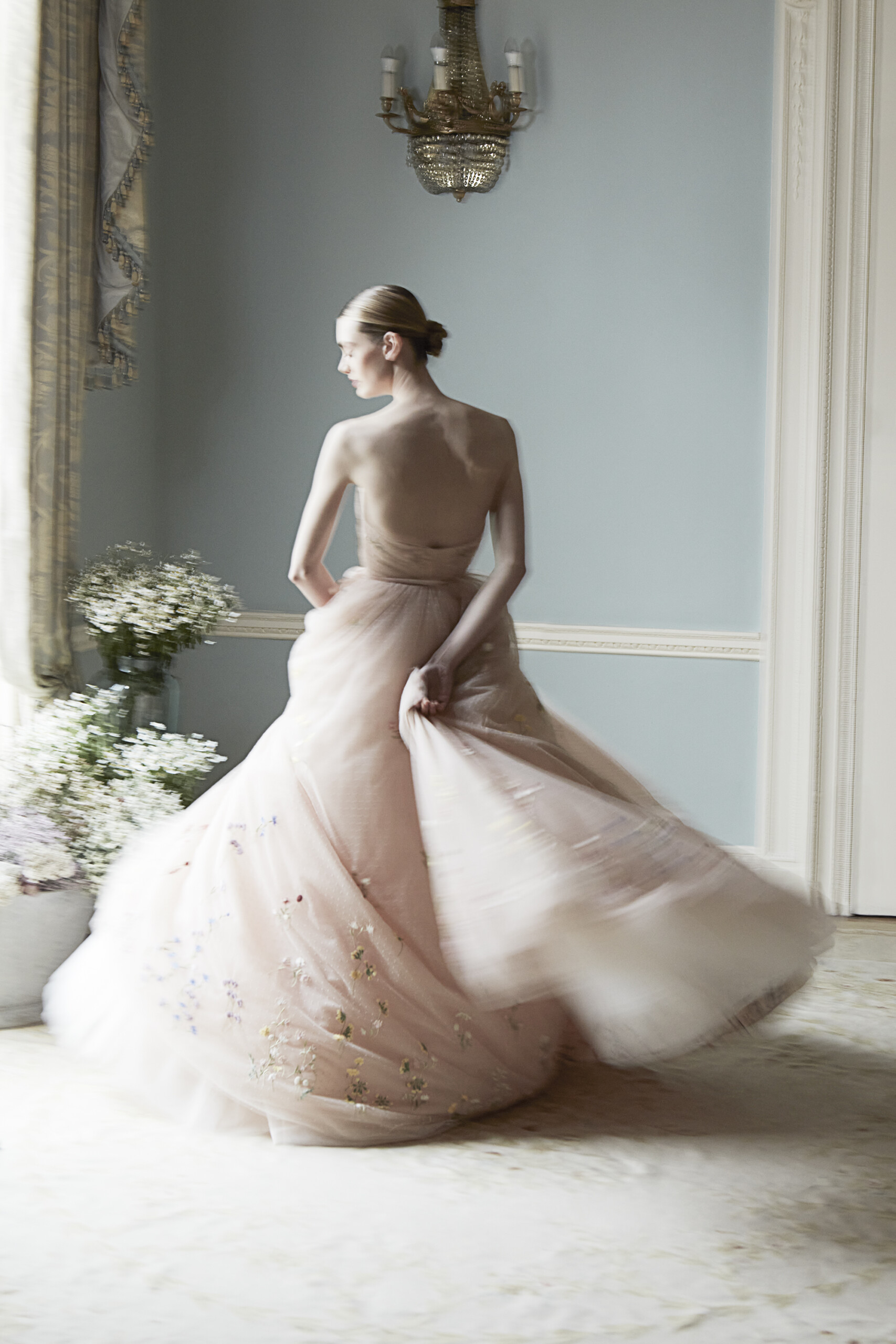 Cascading down the dusky pink dotty tulle gown are a multitude of Phillipa's favourite wildflowers including cow slip, erigeron, lavender and rosemary. Each wildflower has been placed with precision and hand-embroidered onto the gown using just one skein of thread for the most delicate and intricate effect. Couture techniques such as stem stitch, satin stitch and very fine French knot detail are used to depict these spirited wildflowers, resulting in the most breathtaking and refined couture gown.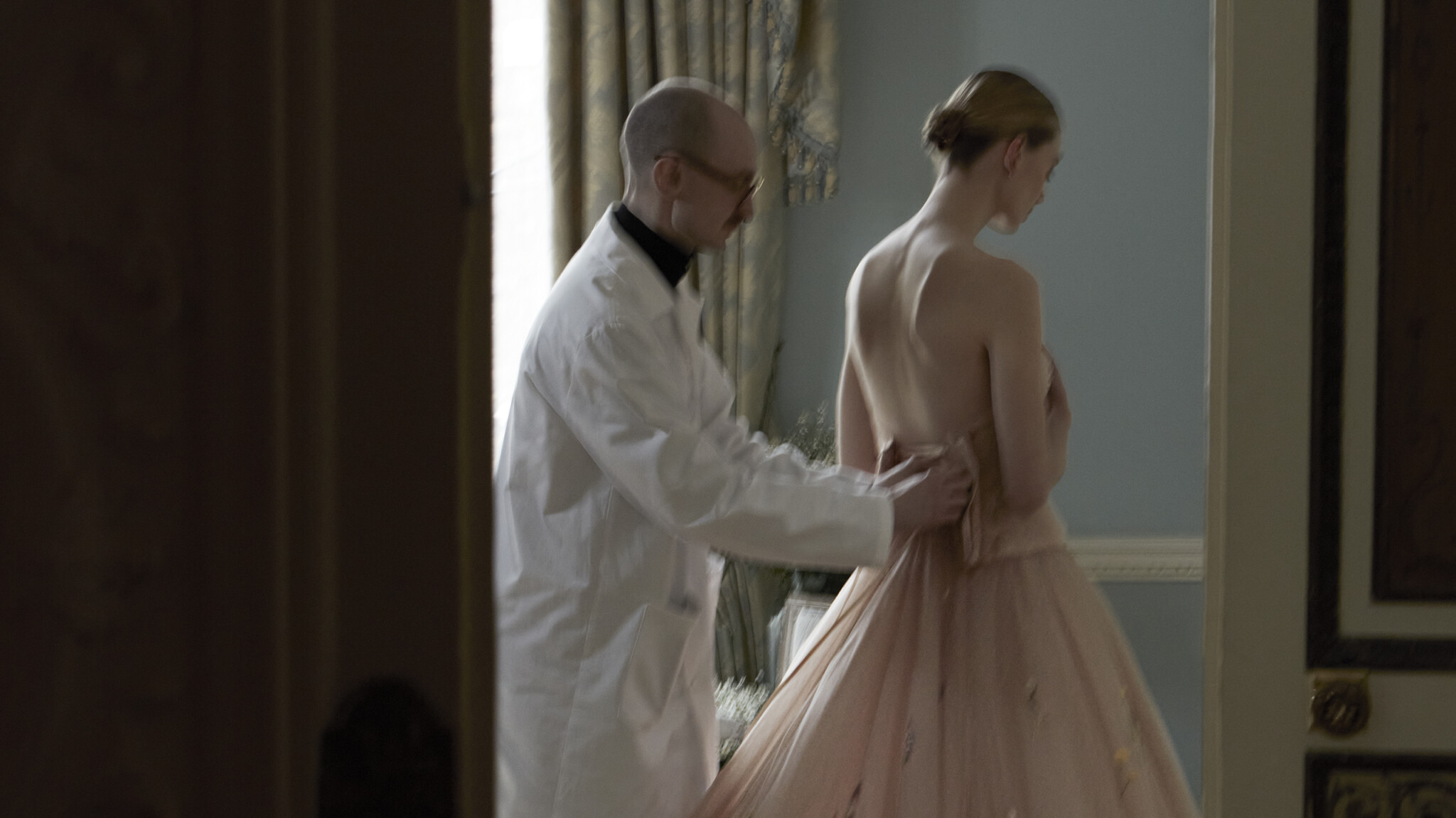 Though Phillipa's designs are steeped in timeless tradition, she continues to innovate and inspire year upon year. The Meadow Corset and Skirt have been specially and considerately designed as two separate pieces to maximise versatility, allowing the modern woman her own interpretation on this astonishingly beautiful look.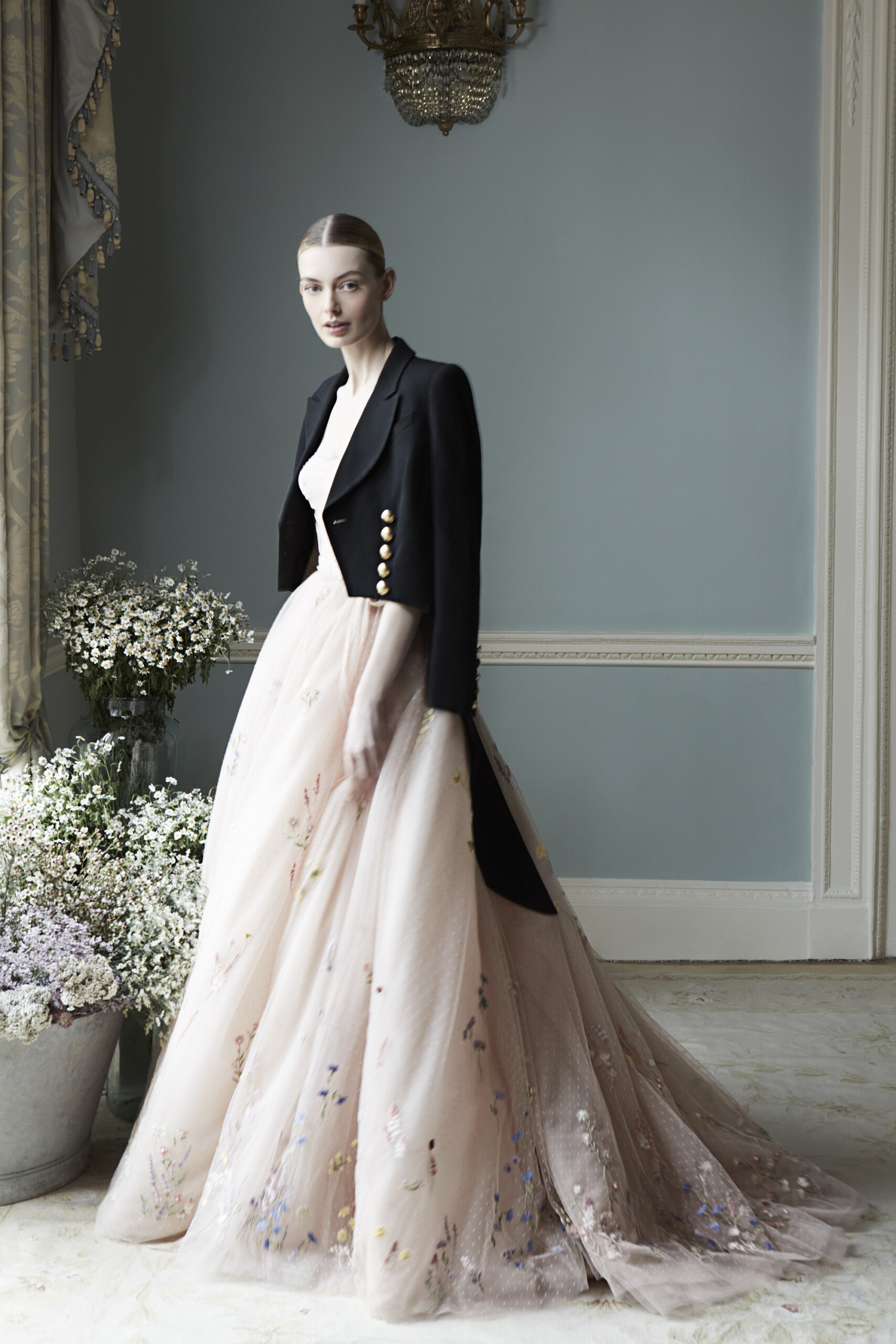 Phillipa Lepley is recognised globally as a leading British wedding dress and eveningwear designer, renowned for bespoke couture dresses of the utmost luxury. Her wedding dress shop in London, Chelsea, has over 50 dresses, all of which have been made in England from start to finish at her atelier.