Real Bride: Bespoke Silk Zibeline Wedding Dress
"I want us to get married again just so I can buy another Phillipa Lepley dress! Going to Phillipa was so much more than just buying a wedding dress – the whole experience has created memories I'll cherish forever"
Vancouver resident Nina came to London on vacation, and although she hadn't planned to buy her wedding dress overseas she fell in love with Phillipa Lepley's designs. She travelled back and forth from Canada to London over the course of two years to complete her Phillipa Lepley wedding dress. Working closely with Phillipa at the initial stages to create a completely bespoke silhouette and design, her silk zibeline wedding dress vision was brought to life at the Chelsea shop.
Speaking about her time in store, Nina described it as a wonderful experience: "The team were such experts in the field and held my hand every step of the way, but they never took over so I really felt all of my choices were so personal".
Starting with the base structure, Nina's figure was defined and moulded with her bespoke Phillipa Lepley corset, creating a 50s inspired, elongated bodice that defined her waist perfectly. The off-the-shoulder neckline had the gentlest curve to echo Nina's collar bones before descending to a V back neckline. The necklines were refined to the millimetre on Nina – carefully drawn on her during her Toile Fittings and expertly brought to life in silk by the skilled atelier team.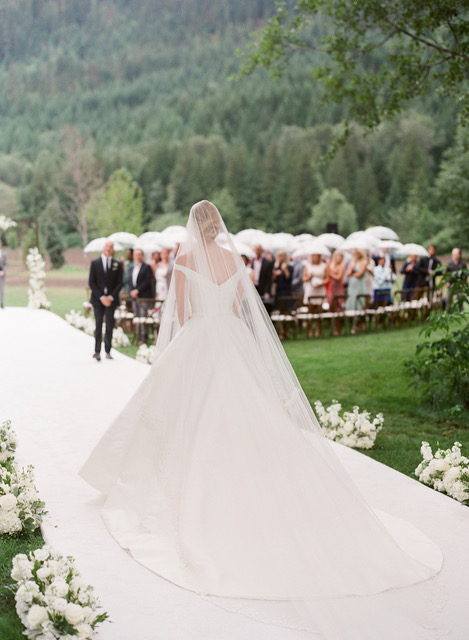 Nina envisioned a very full, dramatic skirt shape, and so Phillipa and her team developed a custom skirt, cut with multiple panels, to maximise the fullness and undulation of the silk zibeline. As Nine walked the skirt and train were held with specially created petticoats with added fullness. Delicate finishing touches completed Nina's dress – small, silk covered buttons and a 6mm silk zibeline belt fixed through the dropped waist. Nina also chose to add a personal detail – a small family locket sewn in the hidden silk organza pocket inside her dress.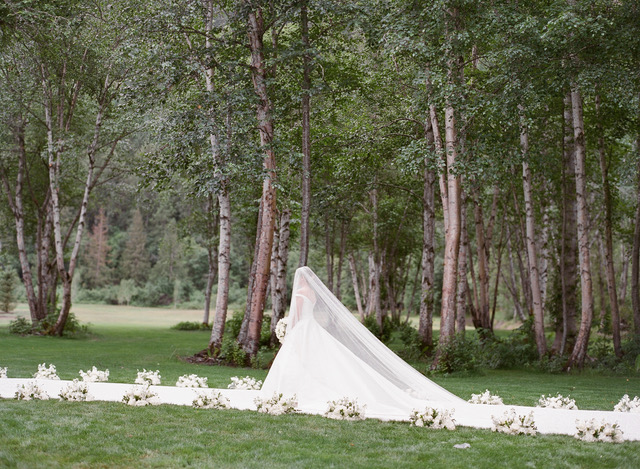 Nina and her husband wanted their wedding to represent love and passion without featuring the obvious cupid and heart decorations. "Phillipa actually suggested putting my favourite flowers on my veil which I thought was a great idea, so I went home to research various flowers and chose the ones that represented things such as love and respect which really helped symbolize our feelings surrounding the marriage". Roses, Lily of the Valley, Jasmine and Maple leaves were incorporated by the embroidery team into a completely unique and personal organic design to edge the full circumference of Nina's veil.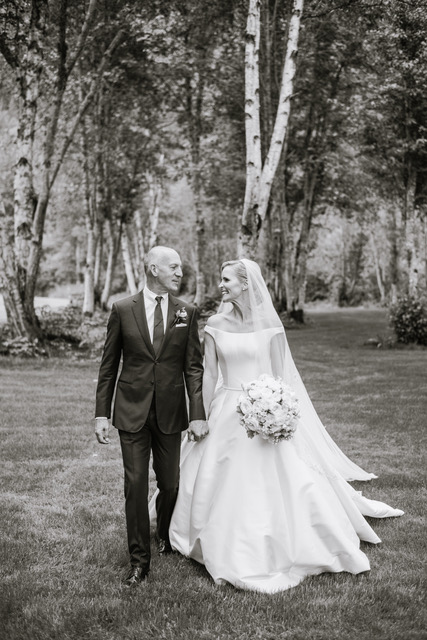 Finally, Nina added one last special and personal detail to her veil – a pair of dog paws embroidered in the exact form of the prints of her beloved dog who passed away the year before.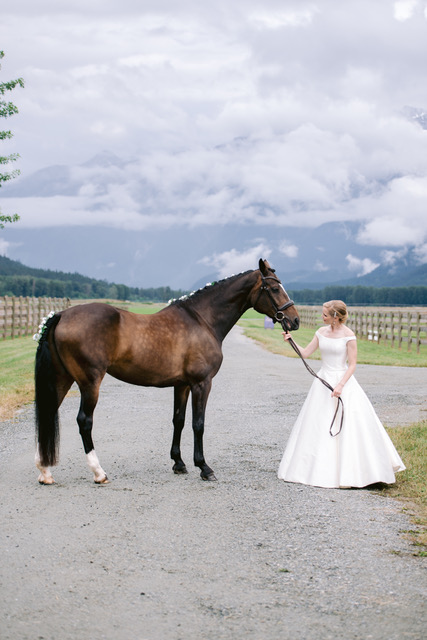 On her wedding day Nina said she had never felt so glamorous, and she never wanted to take her dress off: "It was so mesmerising to look at. Martin looked so happy and filled with love and pride as I walked down the aisle towards him."
Phillipa Lepley is recognised globally as a leading British wedding dress and eveningwear designer, renowned for bespoke couture dresses of the utmost luxury. Her wedding dress shop in London, Chelsea, has over 50 dresses, all of which have been made in England from start to finish at her atelier.